Reina Gossett, Atlantic is a Sea of Bones, 2017. Video still courtesy of the artist
7 Films by Black Artists Give Voice to Marginalized Communities
A new program of videos screening worldwide on World AIDS Day focuses on sidelined figures within black communities across the US.
Reina Gossett, Atlantic is a Sea of Bones, 2017. Video still courtesy of the artist
In 1989, in response to the deepening AIDS crisis and in conjunction with the second annual World AIDS Day on December 1, the Visual AIDS organization arranged the first Day Without Art. A call for "mourning and action" saw museums and arts organizations nationwide put their regular programming on hold in favor of exhibitions and events aimed at raising awareness and remembering those lost. In the years that followed, Day Without Art grew and diversified; in 1998, it became the Day With(out) Art, the added parentheses stressing the incorporation of more visual projects and encouraging participation by artists living with HIV. Since 2010, Visual AIDS has also worked with artists and filmmakers to distribute videos to art institutions, schools, and AIDS organizations.

This year, premiering today in three cities and screening at venues worldwide, a program of seven short videos titled ALTERNATE ENDINGS, RADICAL BEGINNINGS spotlights work by those marginalized within black communities throughout the US, including but not limited to queer and trans people. Curated by Erin Christovale and Vivian Crockett, the program includes commissioned works by filmmakers that center on stories excluded from mainstream narratives about AIDS. (It should be acknowledged that in 2016—as is seldom reported or addressed—African Americans accounted for 44 percent of all new HIV diagnoses in the United States despite comprising 12 percent of the population overall.)
In 100 Boyfriends Mixtape (The Demo), Brontez Purnell's superb black-and-white short, the filmmaker stars as young Oakland hustler. Talking on a rotary phone while soaking in the tub, his conversation efficiently and effervescently conveys his sharp wit and illuminates the profit-driven, heterosexist culture that is his foil: "Was that due today? Oh. My god. I got so many jeans. What do you mean, how did I get 'em? I fucking shoplifted these motherfuckers! I liberated them from capitalism! No. It's, like, my favorite thing to, like, walk into the Levi's store and pretend that I have, like, a well-paying job, and then I just wait for the security guard to fucking waddle his ass over to, like, the other section and I just grab that shit and I run . . . I'm, like, soak-fitting my jeans. Got tested at the clinic. . . . Turns out I still have HIV. Turns out that shit is here to stay."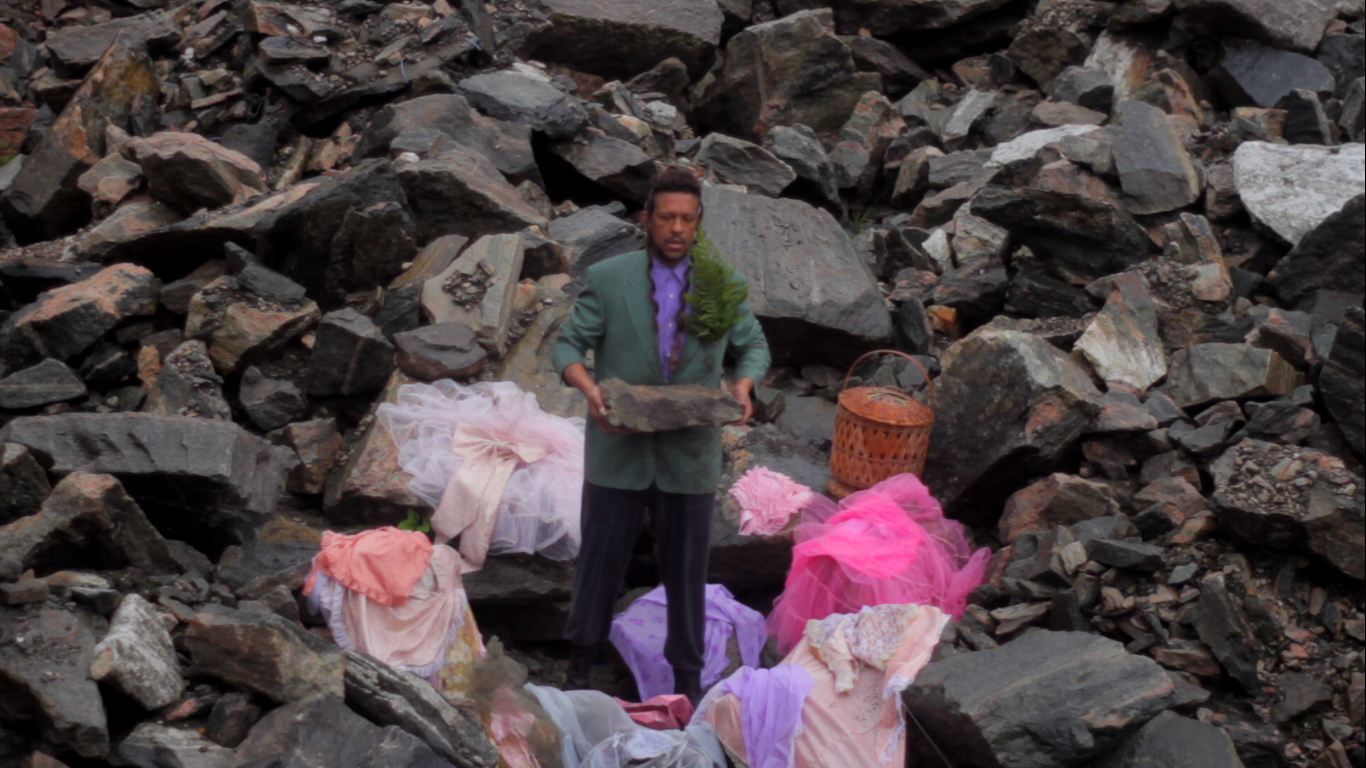 Cheryl Dunye and Ellen Spiro's non-narrative mini-drama Diana's Hair Ego Remix unfolds in a Southern hair salon that also functions as an ad hoc community center combatting AIDS. Specializing in "curlers and condoms"—as well as in activist gatherings—the place buzzes with urgent real-life conversations around race, place, and gender, intertwined with the subtle variations of socioeconomic class and a common desire to look great. Kia LaBeija's lyrical Goodnight, Kia unfolds as a stream-of-consciousness merging of an individual's psychological, domestic, and public environs. Visual static is cut with ambient piano jazz and sirens. LaBeija waits pensively with head resting on a windowsill at night, stands against a building beneath neon signs, and floats angelically in water backlit by pink light. We see childhood photographs, an apartment hallway with its fire extinguisher and doorbell, maybe just as they've always been.
Tiona Nekkia McClodden's black-and-white video The Labyrinth 1.0 (1995) shows public sex through fragmented black bodies, some male, some female, in front of urinals partially obscured by public restroom dividers. Pants rolled up and dropped inspire curiosity about what's unseen, anticipated, and desired. Mykki Blanco's Stones and Water Weight dwells compellingly for several minutes on a pile of rubble, hinting at the aftermath of disaster. Entropy figures in Reina Gossett's Atlantic Is a Sea of Bones too; she's shown looking out at the now-abandoned pier where she explains she used to spend time when she was homeless, and voguing on what's now a balcony of the new Whitney building.
Stories of origin and transformation color every work in ALTERNATE ENDINGS, RADICAL BEGINNINGS. This is true not least in Thomas Allen Harris's About Face: The Evolution of a Black Producer, in which the director and producer quotes Jamaican-born cultural theorist Stuart Hall's assertion that every step of representation is part of a media-generated process. And, as Day With/With(out) Art has been doing for nearly three decades, taking the reins of that process has everything to do with ensuring that silence, fear, or an avoidable lack of awareness never gain the upper hand.
The Day With(out) Art 2017: ALTERNATE ENDINGS, RADICAL BEGINNINGS premieres today at four marquee screenings in New York, Chicago, and Los Angeles, and is screening in 100 venues worldwide.

Tagged: