Anna Maria Maiolino, In-Out Anthropophagy (In-Out antropofagia),
from the series Photopoemaction (Fotopoemação), 1973/74. Black-and-white analog photograph. Photo by Max Nauenberg. Courtesy the artist and Hauser & Wirth © Anna Maria Maiolino
Two Museum Shows Prove That the World has Always Been This Unhinged
A pair of outwardly diverse exhibitions in New York—one historical, the other contemporary—both end up speaking to our profoundly unsettled present.
Anna Maria Maiolino, In-Out Anthropophagy (In-Out antropofagia),
from the series Photopoemaction (Fotopoemação), 1973/74. Black-and-white analog photograph. Photo by Max Nauenberg. Courtesy the artist and Hauser & Wirth © Anna Maria Maiolino
If "Are you kidding me, now what?" is one of the primary thoughts going on in your head these days, two current exhibitions in New York feel spot-on for our topsy-turvy zeitgeist. Both give prominence to reasonably unreasonable responses to inordinately calamitous times. And both provide opportunities to consider the power of stagecraft to manipulate, create, and undermine sociopolitical reality, and to remember the inevitability of uncertainty and vulnerability.
Delirious: Art at the Edge of Reason, organized by Kelly Baum for the Met Breuer, includes work made between 1950 and 1980 by 63 artists from Europe, South America, and the US. Hence, the work here was made by people living in the aftermath of World War II, the Holocaust, and the Vietnam War, and in the midst of global cultural upheaval. The exhibition doesn't take the stock events and phenomena that usually characterize this era as its organizing principles, however. Instead, Baum has gathered her inclusions into four categories that fly compellingly in the face of reason: "Vertigo," "Nonsense," "Excess," and "Twisted."

The tumult evidenced and created by Delirious artists seems to have trickled down to another oddly current exhibition, Generation Wealth, a visually seductive yet sometimes repellant show of color photography by Lauren Greenfield at the International Center of Photography. Greenfield began photographing people, predominately in LA, in 1990: a decade after Delirium's cutoff. Her scope eventually became global over the course of the project, which reaches its apotheosis and nadir—in this case they're the same thing—around 2008, with the Great Recession. As she followed conspicuous displays and crashing declines of wealth with her camera, Greenfield's purview broadened from California to China, Dubai, Iceland, and beyond. Her images are rife with alcohol, eating disorders, plastic surgery, drugs, sex, spending, and posturing as exemplified by the likes of Kate Hudson's posse but also by actual gang members, as well as homeless, bankrupt, and other anonymous laborers in the industry of affluence, including strippers, nannies, club promoters, and pool boys.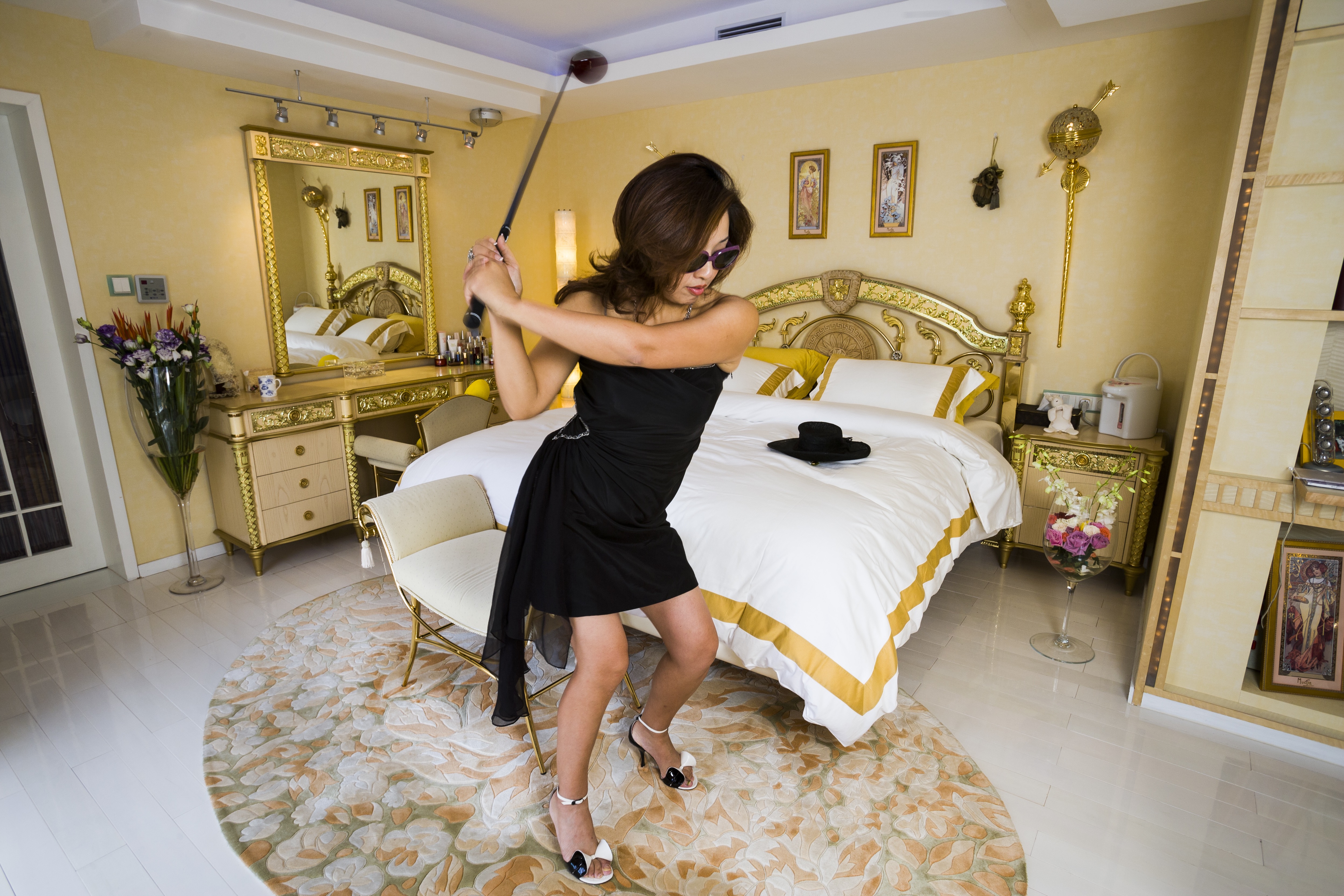 The debasement and manipulation of language is among the primary strategies on display in Delirious. Take Martin Wong's Attorney Street (Handball Court with Autobiographical Poem by Piñero) (1982–84), a painting reminiscent of a medieval manuscript in its minute detail. The poem in the title runs across the top of the canvas: "I was born in a barrel of butcher knives · Raised between two 45's on a Saturday night · Where the jungle was bright and the hustler were [sic.] stalking their prey · Where the code was crime in neon lights and the weak are doomed to pay . . . "

Beneath the text, Wong, who lived in the East Village, has painted a six-story tenement building. In front of it, he imagines a graffiti-covered wall and some 76 hands in various configurations. Their gestures, given the context, look like gang signs, but in fact are sign language and complete the Piñero poem:
It's the real deal Neal
I'm going to rock your world
Make your planets whirl
Ain't no wack attack
The text is inscribed on a label affixed to the painting's frame, not unlike the kind one might see on the grand gilt surround of a historical painting at the other Metropolitan Museum of Art. Wong thus pays homage to codes endemic to the street, and to his neighborhood. What to the uninitiated may hint at danger are in fact covert means of communication for the disenfranchised and the disabled, and objects of Wong's affection.
Greenfield gravitates to documenting actual gang culture, and sometimes-silly yet lucrative suburban knockoffs thereof. Her 1995 portrait of G-Mo and his crew, the Redrum Kick, shows the torsos of three young black men standing in front of a pink stucco Calabasas mansion belonging to N.W.A.'s manager Jerry Heller. Unsmiling and flanked by two men in shades, G-Mo throws an old-school windows sign. "Gangbangers, street life, forty-ounce, pimps, hoes, South Central—every city has that. LA just happened to glamorize it and make it popular," G-Mo explained to Greenfield during one of many interviews she conducted with her subjects.
Greenfield's discussions are a striking aspect of her project. By letting her subjects speak of their own experience, she renders them as much more than an anthropological collection of freak-show specimens. G-Mo sagely continues, "Whatever looks appealing, young kids want to imitate. . . . They don't tell you none of the bad stuff. They just show you here's so-and-so from such-and-such gang—look at his gun, and look how rough he is. They don't tell you, though, he's getting shot at, and he's running for his life. They don't tell you that he just shot somebody, and he just wants to jump off a freeway or something."
In 2007, Greenfield also shot two gawky-looking teen girls, sophomores at Harvard-Westlake high school in the affluent Pacific Palisades. Both have expensive-looking haircuts and wear long necklaces with ornate crucifixes. In conversation, the pair agrees on fashion. One announces that the "leader of the vegetarian club is very hot," and reasons that it makes good sense to drop four figures on a handbag, but is in poor taste to wear ostentatiously costly fashion to school. Gabby, a denizen of Brentwood, confesses, "I've never been to the worst areas of LA, but I've heard of Compton and South Central and Inglewood. What's that one street with all the homeless people? What is it—Death Row? Wait, not Death Row." Her friend Alyssa helps her out, "No, not Death Row. Skid Row!"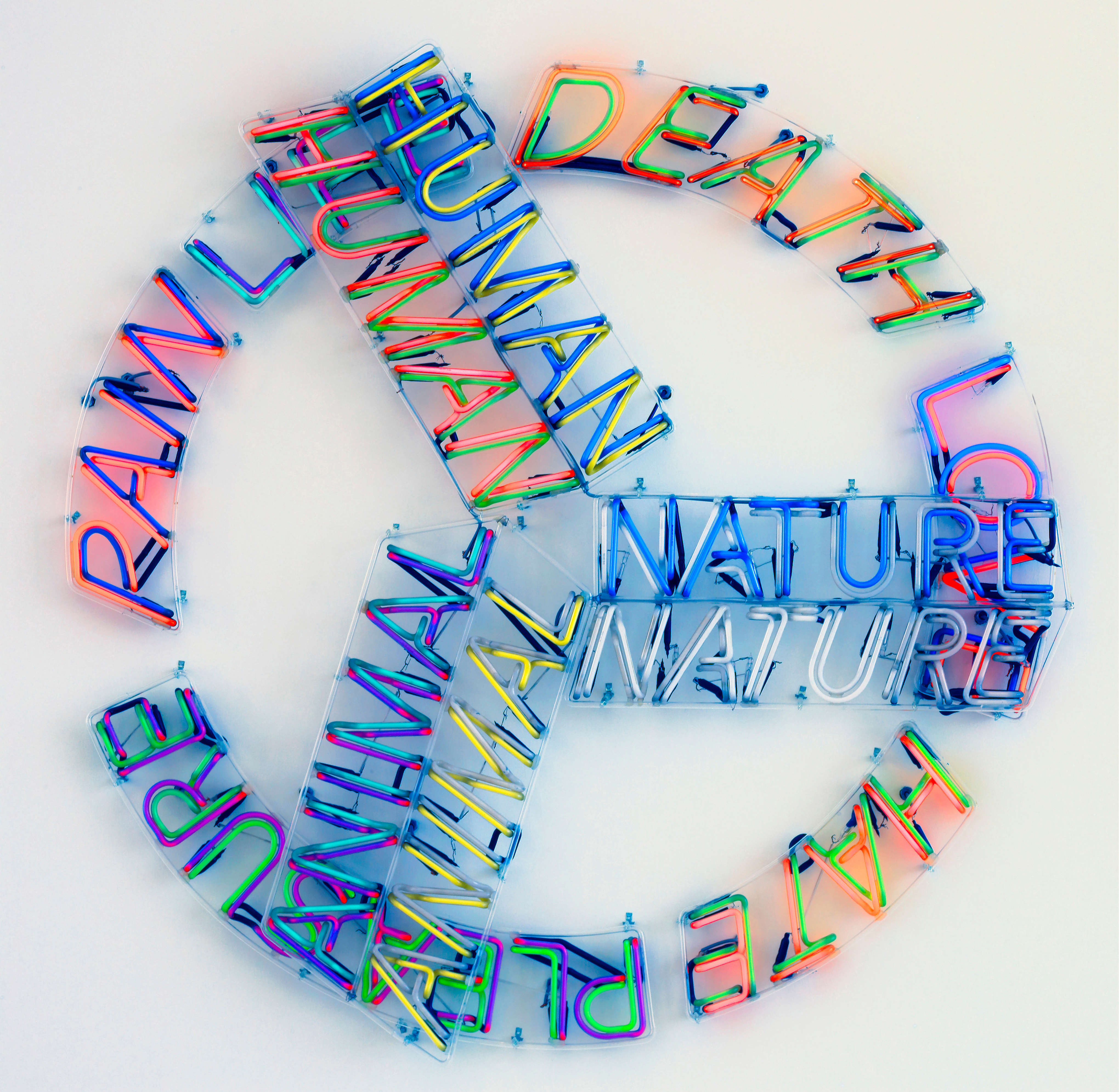 The dizzying matter of imitation comes up in Delirious as well, and particularly nicely in Lynda Benglis's video Now (1993). Here the artist mimics a video of herself reflected in a mirror. With static audio and neon colors, the video confuses which is the "real" Benglis: the recorded her, or the recording of her reflection. Mel Bochner's Color Crumple (#3) from 1967 also warps a singular representation of reality, evidencing the artist's intuitive attraction toward the counterintuitive. This photo began as a grid taped on a table, which Bochner photographed at an angle so as to make it seem to be receding. Then he re-shot the already distorted grid, printed it on metal, and scrunched the metal up. Despite its technical photorealism, Color Crumple (#3) calls into question the veracity of any photograph.
Camilla, goddaughter of Yusha Auchincloss and one of Greenfield's subjects, concerns herself with imitation too. With Camilla, however, it's a matter of ancestry. Her godfather was Jackie Kennedy's stepbrother. A portrait of the leggy blonde smiling aboard her friend's yacht is accompanied by text in which she elucidates what happens behind closed doors at the Ida Lewis Yacht Club in Newport Beach: "You have to bring a blazer if you are going to go to the Sky Bar. You can't wear jeans. It's the place, and in order to get into the Sky Bar you have to pass three different—not bouncers, that would definitely be the wrong word—sort of gatekeepers." She goes on, without a shred of irony, "You know, It's really exclusive up here. We are going to have to keep you down here 'til we deem you worthy. . . . Your last name does matter."
Social climbing and imitation have become the livelihood of Sara Jane Ho, another of Greenfield's muses and founder of the etiquette school Institute Sarita in Beijing. Her twelve-day course on becoming fancy in the ways of the West costs $16,000 and teaches students "skills" for the wealthy, including how to fold a napkin, how to wear a hat, and the proper pronunciation of foreign luxury brand names. Greenfield's portrait of Ho depicts her mid-instruction, an encouraging expression on her face. The 1995 camp classic Dream Girls comes to mind as a precedent. In the movie, a former drifter and newly minted Vegas superstar, on a splurge with her newfound wealth, discovers Versace and buys herself a nice, form-fitting dress. Her managers don't have the heart to tell her that Versace doesn't rhyme with "mace." (But then again, never mind. It's whatever you want it to be if you're paying for it. As another of Greenfield's subjects, the owner of Atlanta hip-hop club Magic City, says, "All people's money is green—that's all this is about.")

Repetition figures prominently in both Generation Wealth and Delirious, in each instance demonstrating how meaning is manufactured and tweaked. In Delirious, particularly in its "Excess" section, repetition is used to deprive something of content, like a word uttered over and over until it sounds alien and abstract. Hannah Wilke, for example, uses postcards; one from 1976 has a photograph of the singular tomb of General Ulysses S. Grant, to which Wilke has affixed little pink vulvas, pussy-hat style, made of kneaded erasers, as though they're marching across the image in military formation. Yayoi Kusama uses genitalia (and footwear) to transform another common object: Her all-white Ladder (1963) is a household stepladder that'd been covered with makeshift sculptural penises and real high-heeled shoes, as if it overrun by erotic pestilence.

Also in Delirious, Piero Manzoni's white Achrome (1961–62) similarly leaves viewers to wonder what exactly they might be looking at. Bread rolls dipped in kaolin and affixed to a canvas in a grid resemble, yes, rolls. But in their abstract doughy fleshiness, a protrusion emanating from each roll's central, puckered orifice, other not-quite-namable things may come to mind. In Martha Wilson's Breast Forms Permutated (1972), on the other hand, a grid of nine black-and-white photographs of women's breasts desexualizes anatomy through repetition that encourages scrutiny of a compare-and-contrast variety: Why are they all lopsided, even on the same person's torso? They're all so much the same—weird yet beautiful and boring, so very human—in their polymorphous diversity.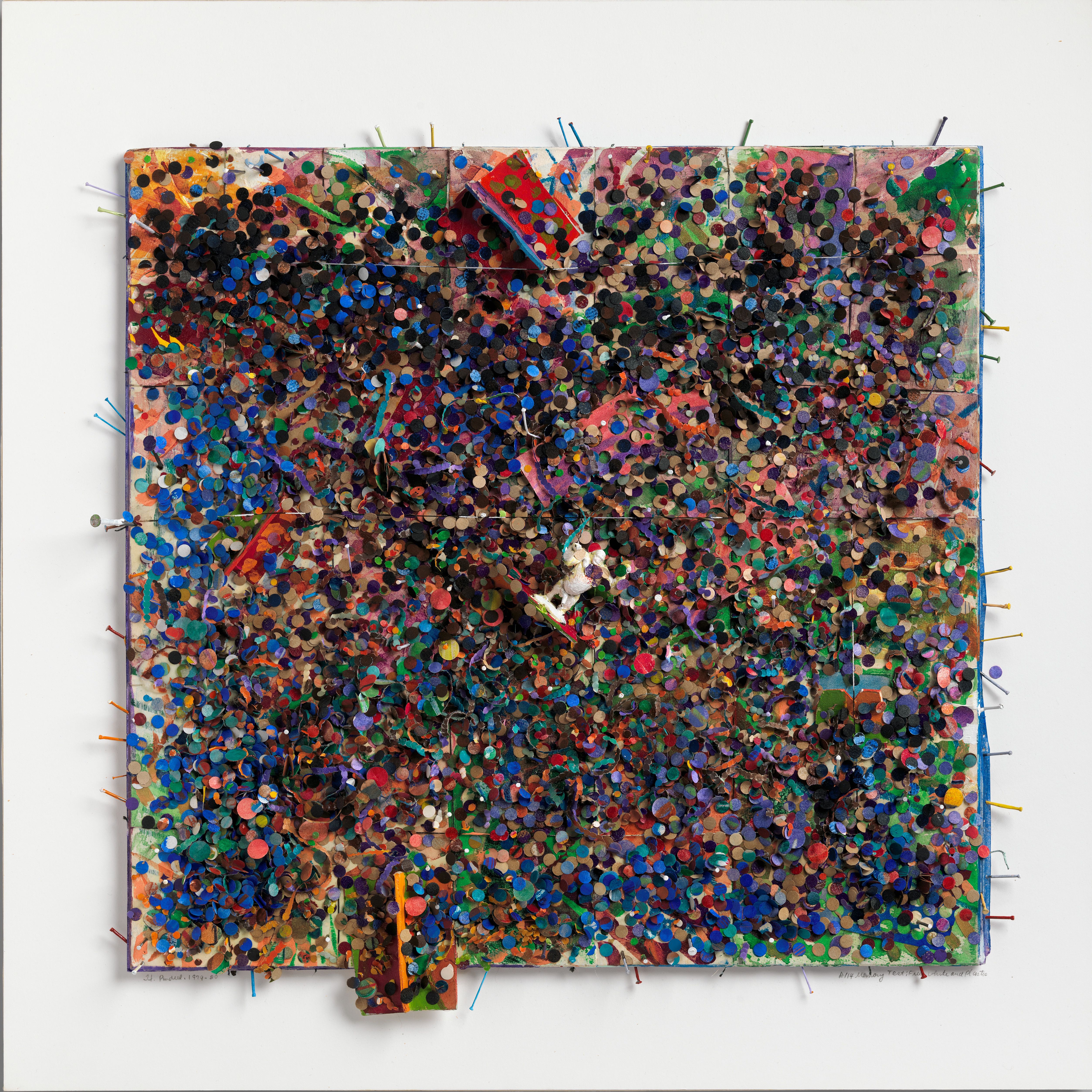 Repetition comes up in Greenberg's project as well, in part due to her own process and the nature of her project. She culled this body of work from some half a million photos, all made in a curious quest for finding "it," it being the blatant pursuit and loss of wealth. Breasts abound in Generation Wealth, many in Greenfield's oeuvre having gone under the knife for the sake of augmentation, and are discussed as status symbols to be acquired much in the way of Birkin bags. Birkins, for the cognoscenti, retail between $12,000 and $300,000, and serve as, Greenberg notes, "a known quantity to people as diverse as teenagers in LA, CEOs in China, psychologists in New York, a socialite in Toronto, and a party official in Moscow."
For all of the careful signifying Greenfield's subjects engage in, the image of hers that really stands out is a shot of the largest house in America, which could also be called an epic fail: another imitation, this one named what else but Versailles. The sprawling, single-family home was designed to include an indoor roller-skating rink, six swimming pools, two movie theaters, a bowling alley, a wine cellar with a fireplace, a 10,000-square-foot spa, a discotheque, and a bomb shelter. The incomplete structure, formerly owned by a former Miss Florida and her time-share tycoon husband, failed to sell for $27 million after many months on the market. So, Bank of America foreclosed on the property, empty pools and all.

Greenfield captured the couple's twin girls descending a staircase in what was to be the home's great hall, a pair of present-day Infantas Margaritas in a construction site. A digital rendering of the unfinished great hall in all its intended gilt glory leans against a structural column to the right of the staircase. The reality, however, is one of two children in an all-too-real scenario in which the cracks—the apparatus behind the façade—show. Orange plastic mesh sits at the base of the staircase. A couple of soda cans sit on the bottommost step, reminders of the real physical needs of people who did the real labor involved in creating the uninhabited home's illusion of omnipotence.
Sarah Valdez is a New York-based writer and editor.
Delirious: Art at the Limits of Reason 1950-1980 is on view at the Met Breuer through January 14, 2018.
Lauren Greenfield: Generation Wealth is on view at the International Center of Photography through January 7, 2018.