Rodarte exhibition installation view at the National Museum of Women in the Arts, D.C.; Photo: Floto+Warner
The Rodarte Sorcery Lands at the National Museum of Women in the Arts
The museum's director discussed why the institution chose to organize its first major fashion exhibition on the sister designers.
Rodarte exhibition installation view at the National Museum of Women in the Arts, D.C.; Photo: Floto+Warner
Rodarte is so magically on the nose. This has occasionally made the designers Laura and Kate Mulleavy the object of mirth, but it's also the origin of their sorcery: they have created a full universe, a language, and a way of being. Of course they designed a collection of dresses inspired by Star Wars. Of course they show densely sequined and ruffled gowns to a soundtrack of My Bloody Valentine and Kate Bush. Of course they directed a dreamy psychodrama movie about California starring Kirsten Dunst. Of course they staged their breathtaking Spring 2018 show in a marble cemetery in Manhattan—and it rained.
So the National Musuem of Women in the Arts is staging its first major fashion show focused on one designer—and of course it's Rodarte. Rodarte is intimate. It's artisanal. It's sisterly. It's not blustering or pedantic—it's the beauty that emerges from the feminine imagination. In other words: a perfect match.
"What we know about group shows is they do good things for artists. They are great resume builders," says Susan Fisher Sterling, the museum's director. "But what we also know is that it's very important for artists to have survey exhibitions, and over the course of the museum's lifetime, we have done a lot of what we would call early- to mid-career surveys." As opposed to a retrospective or group show, "it really is a boost to the artist or the designer to do it in mid-career."
The museum recruited Jill D'Alessandro, the curator in charge of costume and textile arts at the Fine Arts Museum of San Francisco, to put together the exhibition; the NMWA doesn't have a dedicated fashion curator, nor do they collect fashion at the moment. (It did show a Mary McFadden retrospective in 2009, put together by the Galleries at the Moore College of Art and Design.)

Still, Rodarte itself is not a household name or even aesthetic, which makes it a curious choice for a museum exhibition. The brand's clothing runs into the thousands—and even tens of thousands—of dollars; it isn't accessible to the average person in the way that other designers' work might be. (You don't see women with Rodarte bags on the subway, for example.) The fact that the Mulleavys primarily make formalwear only adds to that remove, but that was also part of the museum's thinking, Fisher Sterling says. "We wanted to work with designers who might not be as well known, who were not a household name, and be able to put a spotlight on the incredible work that they do."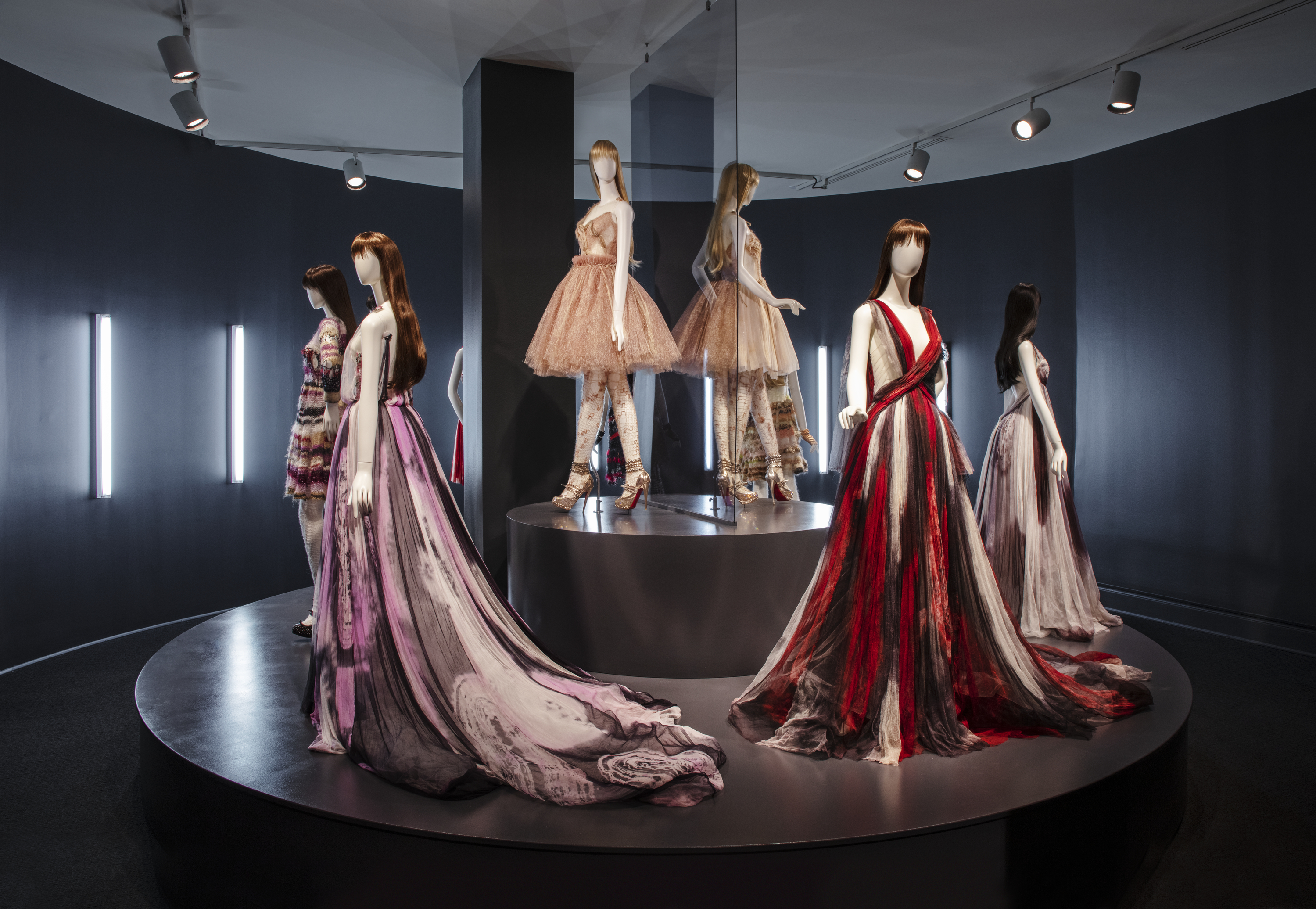 There are certainly other female designers have a more formalized, or direct, relationship with art: Rachel Comey, for example, whose mid-century modern color palette, clean lines, and kinetic jewelry make her beloved in the art and design world. The Row worked with the Noguchi Museum to stage their Fall 2018 show, and they frequently cite artists from Egon Schiele to Alberto Giacometti as design inspiration. But the Mulleavys, Fisher Sterling says, "talk about their work as a visual language," which the museum found appealing. "The work is artisanal, and also has this interesting relationship to the art and film scene out in LA."
And to put it simply, Fisher Sterling says, "They are fashion designers. That is their realm, and they make that realm magical. That's the key."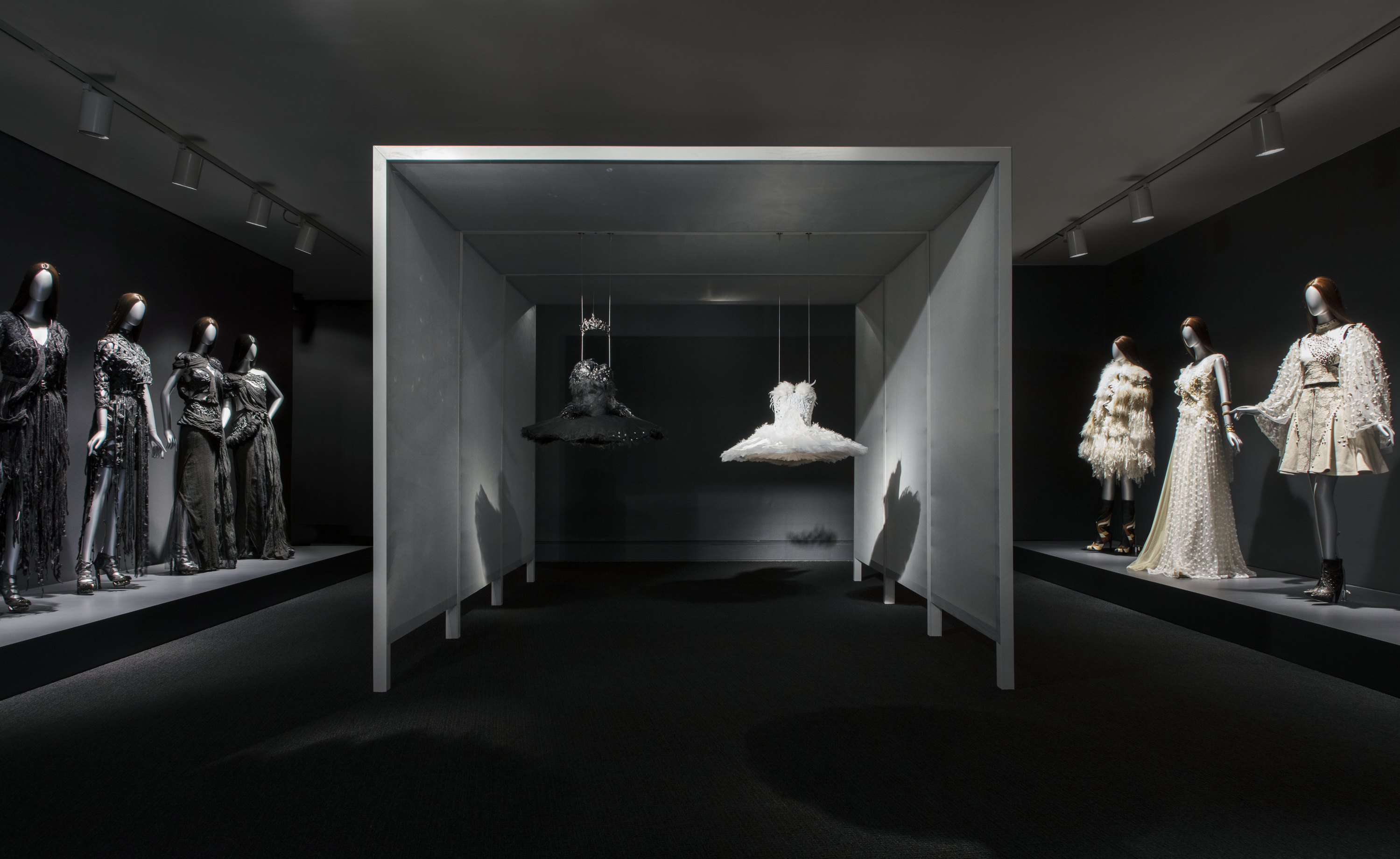 Rodarte isn't kind quite the intellectual's designer, like Rei Kawakubo or Prada; they are a nerd girl's designer, made for gentle and sensitive weirdos. They love cult classic movies and '70s rock 'n' roll and lace baby's breath through their models' hair. I asked Fisher Sterling about the idea that Rodarte's clothing is more an artistic practice than a commercial one, a question raised in a 2016 story by the museum's hometown fashion critic, Robin Givhan, in the Washington Post. "I look at it as going back to a model of fashion houses [in the early twentieth century] where it really, in some ways, pays attention to women and their bodies, and the idea of what it means to have a bespoke object, in the sense that not a lot of pieces are produced," she says. She also mentioned the Mulleavys' resistance to the pace of fashion, and their insistence on showing two collections a year. "I think that being a contrarian is not necessarily a bad thing."

The NMWA is also aware of the unique responsibility it has as an institution that focuses only on female artists. Of course, it shares the goals of most other museums—to create compelling and provocative exhibitions, to engage visitors, and to challenge assumptions and encourage critical thinking about art—but because it focuses exclusively on the work of women artists, it creates opportunities and offers a platform that other museums may not. "Based on experience, what I know about mid-career surveys is they give artists, designers, craftswomen, others who work in different media, an opportunity to see a good chunk of their oeuvre in its entirety," Fisher Sterling says. "I think there's something that is absolutely frightening and galvanizing about that kind of moment. That's why mid-career surveys are important, because they're a moment of stocktaking. And I mean that in the most positive way, as in: 'Look at what you've done. Keep going.'"