Sir Babygirl Is Making Pop Music Outside the Gender Binary
Sir Babygirl, a.k.a. Kelsie Hogue, sits down with GARAGE in advance of their upcoming album "Crush on Me."
Photo by Flynn Hannon.
It's hard to think of any phenomenon more gendered than pop stardom: the branding of pop music has long traded on the gender binary, with "Britney," say, turning into shorthand for a certain strain of glittery, bleached blonde early 2000s femininity, and "Justin" conjuring spiked tips and boy band swagger.
Over the last few years, though, openly queer, trans, and gender nonconforming artists—such as Sophie, ANOHNI, and Christine and the Queens—have softened the stark boundaries between "straight cis male" and "straight cis female" that have long been used to market to the pop music audience, complicating our understanding of what pop superstardom can or should look like. This is the cultural moment that self-described "queer pop star" Sir Babygirl—a.k.a. Kelsie Hogue—has entered into; though they're eager to play it with its tropes, Hogue grew up idolizing the pop canon.
"Britney and Christina," Hogue says immediately when asked which pop stars influenced them most as a kid. "Christina was huge for me, and then Britney was huge image-wise. I remember 'Hit Me Baby' came out, and I was like, 'Let's fucking go.' That extreme, cartoonish femininity was so fun and appealing." We're sitting down for coffee at Little Skip's, a Bushwick spot that Hogue describes as having "major queer playground vibes," and their Wednesday morning look—lime-green hair, pink baseball cap, black crop top, and jeans—simultaneously sticks out and blends into the sea of undercuts and fluorescent knit caps around us.
Sir Babygirl's debut singles—"Heels" and "Flirting With Her," which garnered raves from Pitchfork, Stereogum, and NPR—wouldn't be out of place on the cafe's sound system. Their full debut album, Crush On Me, comes out on February 15, on the heels of last week's video release for "Haunted House," a hyper, spooky club anthem about the horrors of, well, socializing. "When I made the 'Haunted House' video, it was important to me that everyone aligned with the idea and the vision, and so through that, a lot of the people involved ended up being queer," Hogue explains, adding that queerness wasn't a prerequisite: "They were just the right people for the project."
Hogue cycled through a cacophony of different lives—theater kid, dissatisfied music venue employee, wannabe stand-up comedian, performing "secret agent" at a spy-themed restaurant in Chicago, queer Instagram memelord —before becoming Sir Babygirl. "I chose that name because I had a really shitty ex in the Boston music scene. We were thinking of crazy queer girl names for a possible duo, and I was like, 'Sir Babygirl.' It was this beautiful indication that we should never be together—she was just like, 'That is so extra. That is so much.' I was like, 'Maybe it's just enough.'"
Hogue started playing saxophone as a child (to emulate Lisa Simpson) and took voice lessons for years before applying to NYU's musical theater program, about which they now feel somewhat differently: "I didn't get in, thank God. We all have dream girls that curved us." Hogue ended up at Boston University's theater conservancy, forming a band that was "very white girl ukulele music. You gotta embrace that moment, and then throw away the ukulele." A "Kathleen Hanna awakening" led to Hogue developing a more "punky, poppy" sound infused with comedic riffs inspired by Eric Andre and Maria Bamford, which eventually morphing into a flirtation with electronic music.
"When I realized I wanted to make pop music, I was just like, 'How the fuck does that work?'" says Hogue, who learned classic pop song structure through a songwriting elective at their well-funded public middle school near Dartmouth, "this little liberal dot in New Hampshire." They drew inspiration from pop icons including Charli XCX and Sophie: "'When I Rule the World' by LIZ came out, and I was just like, 'Oh, you can make hard pop music? I didn't know you could do that.'"
Even for a musician who's found their voice, the road to bona fide pop stardom can be a tricky one, and it's often necessary to make compromises in order to succeed. For female-identifying musicians in particular, the pressure to morph into a hyperfemme, overtly sexualized version of yourself is intense—even a trope: think A Star is Born's Ally being pressured to dye her hair Cheeto-orange and gyrate on the SNL stage to "Why Did You Do That?" in order to earn mass appeal. For Hogue, though, Sir Babygirl's music and image are part and parcel, and they haven't succumbed to the pressure to perform gender on unfamiliar terms. "I made this album in almost the most isolation you could make it in," says Hogue. "I was alone in my studio, I made all the demos, and then worked with an engineer in Boston, who's fucking amazing and the first non-cis dude I've ever worked with." The pop stars who came before Hogue have emboldened them to play with gender expectations: "You know how people say that Lady Gaga's a drag queen? Before her, we didn't really see a lot of feminine drag from women pop stars."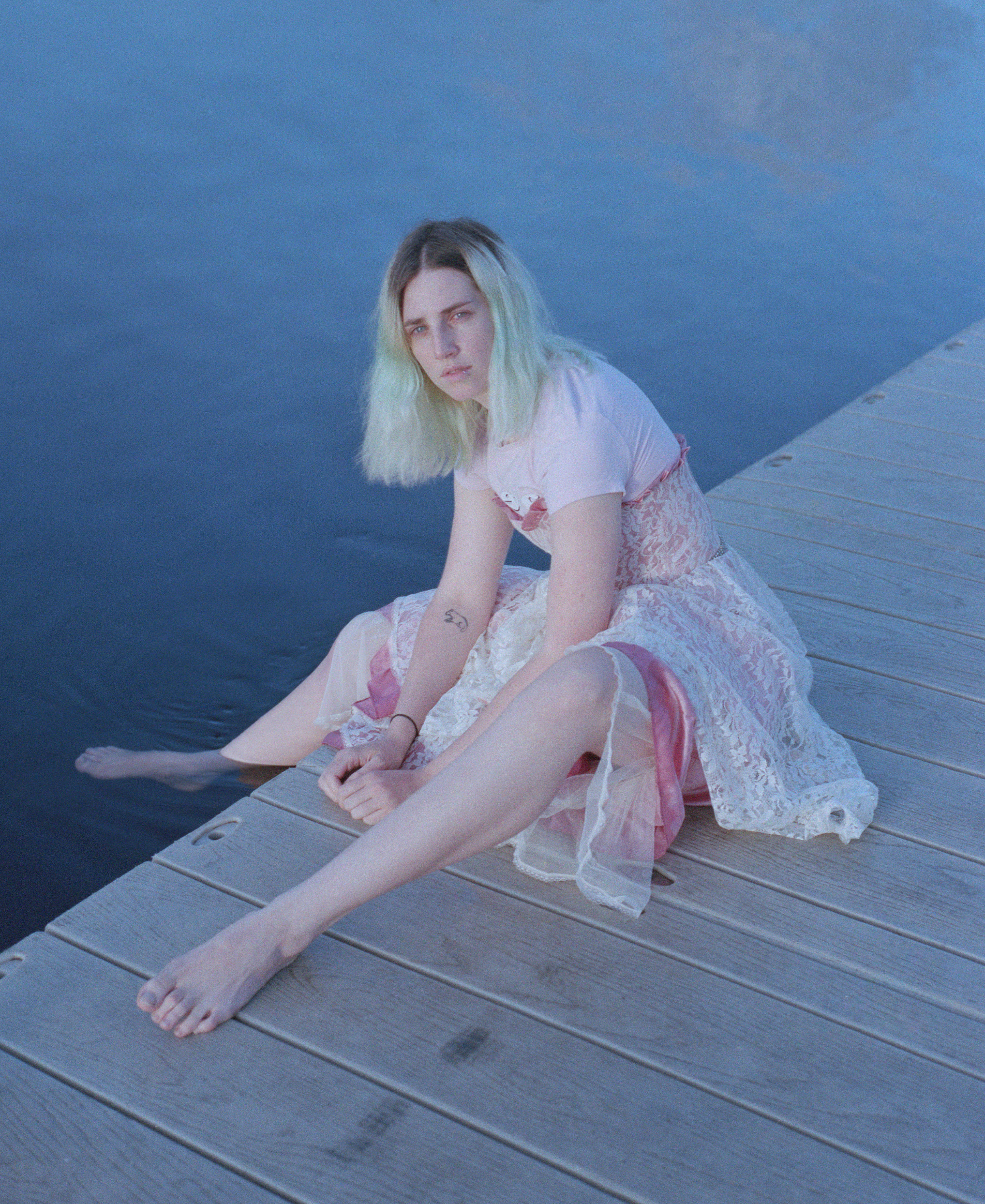 There's a purposeful element of exaggeration, of performance, to Sir Babygirl's onstage femininity. "When I'm asked to do soft femininity, like workplace femininity for jobs and stuff, nothing makes me feel more nauseous. Masculinity is a world I feel more comfortable in. I love appropriating skater-boy culture. I really like sports uniforms." Hogue's definitive vision for Sir Babygirl's persona is embraced by their indie label, Father/Daughter Records, which is home a host of other acts—from Lisa Prank to Remember Sports to T-Rextasy—who all seem to be doing precisely what it is they want to be doing, both creatively and image-wise (or, if it's an act, it's a pretty convincing one).
When we talk about the rise of LGBTQ and gender nonconforming individuals in pop music, Hogue is optimistic: "There are so many sick queer and genderfluid women coming up, from Kehlani to Hayley Kiyoko, and I hope the floodgates just keep opening. I don't want to be the lonely queer woman in the room." But they're also pragmatic: "Is this renaissance happening because being openly gay is monetizable now?" For Hogue, gender—like music—is less a fixed identity than a constantly evolving project. "At this point, I use 'he,' 'she,' and 'they,'" Hogue says of their pronouns, "but I specifically really like 'he' and 'she.' I like that both-ness. The two come together and create Sir Babygirl, create Kelsie, but I don't feel gender neutral. I feel very much like a girl, and very much like a boy."
This duality expresses itself in Hogue's style, which they describe as "very inspired by '90s cartoons, like Ashley Spinelli from Recess and Helga Pataki from Hey Arnold, who got to be super-androgynous." Hogue names her older brother and Gerard Way as more style inspirations, adding that she selected her debut album's campaign colors to toy with gender expectations: "I love pink, but blue seemed too obvious. Not into that. I was like, 'Green.' There's something theatrical and slimy and gross about green mixed with pink." For Hogue, pink and blue are two options among many, but they don't define the whole picture.