Artwork by Antonio Patruno Randolfi, @mystendhalsyndrome from "Self Portrait" by William Sidney Mount, 1832
hat and sunglasses MARNI
The New Marni Mens Collection is Mental and Perfect
A riot of shaggy sweaters, trippy undertones, and vibrant, psychedelic colors make up the cozy-girl dreamscape of Francesco Risso's sick, sad, world.
Artwork by Antonio Patruno Randolfi, @mystendhalsyndrome from "Self Portrait" by William Sidney Mount, 1832
hat and sunglasses MARNI
Imagine you're the grandpa in Willy Wonka and the Chocolate Factory. You've finally dragged yourself out of your family-sized bed because the Cheshire Cat from Alice in Wonderland randomly slid into your DMs and convinced you to book a super kawaii girls trip to Kyoto. You wake up from your NyQuil overdose with a one-way ticket to Japan and $7,000 dollars worth of vintage mohair sweaters in your eBay cart. That is your brain on Marni Menswear Fall 2019.

Francesco Risso has established the Italian heritage brand as our go-to trippy destination in Milan and his latest collection did not disappoint. I can say with cento percento conviction that the Marni man is the woman I have always wanted to be—also known as some vaguely psychotic hoarder who lives in an alternate universe where time is circular and '70s psychadelica and '90s grunge inhabit the same aesthetic moment. Kurt Cobain is the most overused reference in modern menswear, but this collection gets it right—tugging at our nostalgia susceptible heartstrings but making sure to fuck it up just to the point of abstraction. It's untidy, and ugly, and divine, and glorious.
And for the first time in the history of this column, I am obsessed with, quite literally, everything.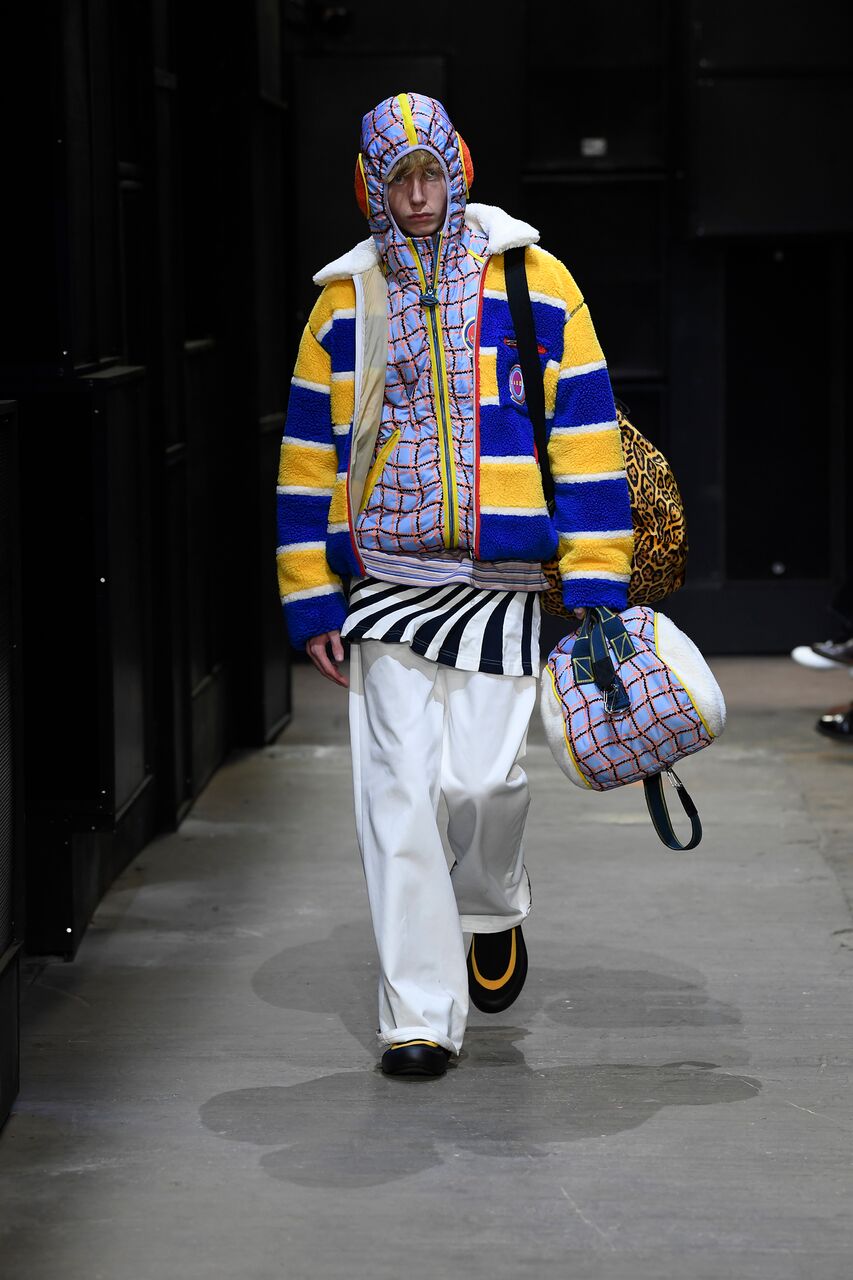 These are the kind of clothes that benefit from haphazard conditions. They are at their best when jumbled together and layered, like a loud blue python oxford shirt hidden beneath a modest great sweater, or a super-sized and super cozy striped sweater set paired with wide leg pants. Then, of course, there was the striped henley transformed into an enormous shearling puffer, an electric blue tiger-striped scarf, and a mixed-and-matched sweater that is literally stapled together that we all absolutely need. Trust me: these are our new staples, not mere statement pieces. Next season is going to be about that "effortless" energy. But not in the sense of being easy breezy and yet magically pristine. Effortless as in requiring absolutely no work or thought because all of the Marni menswear you own is already perfect.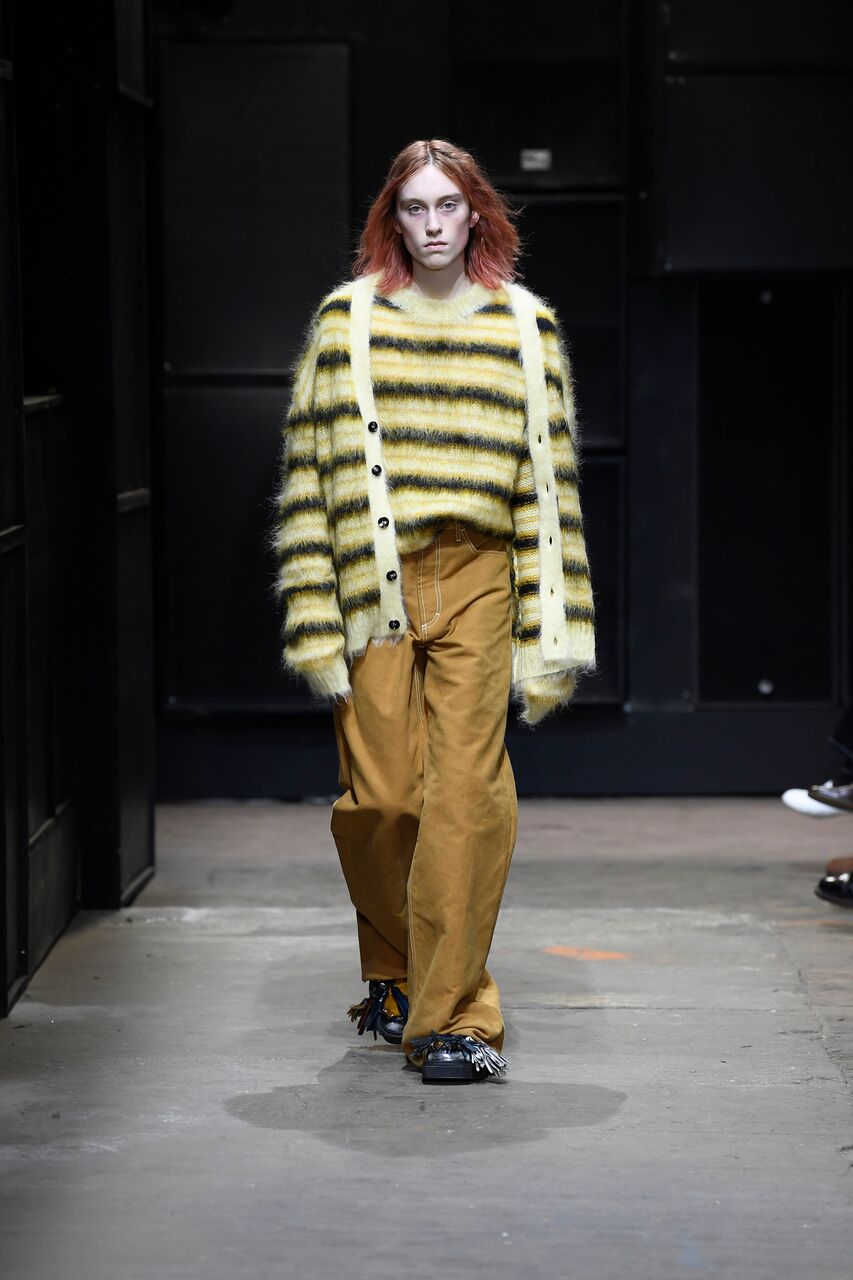 If you don't believe me, consider this manic poem extracted from the show notes. If you don't want to dress in this mood, we need to talk...

"OMG, here they are.
We have set them on fire so far.

A tangle of neurons, antiphons, emotions.

They protest for everything and wear notions.

One becomes the other, the other becomes one, nobody is ever alone under the sun.

The extravagant non-diagnosable are unbreakable heroes, the indefinable aliens mingle with the indefensible weirdos.

Ephebic fauns are not left standing like huns.

Dangerous goonies are also a little gluttonous.

In the index, they are certainly not typical.

They are kids, with something criminal.

They are terrible, but incredible.

Never following the tide, they want to explore the other side.

In sync, they enchant and think.

They hug you, then they curse you.

Here is the tribe of the ruthless early life.

It never stops, so it is prompt.

They are fierce, but they do not pierce.

They only pierce the farce of arrogance and intolerance."