Rashaad Newsome, Five (St. Croix), 2015. Photo: Quiana L. Adams, courtesy of Rashaad Newsome Studio
Voguing Is an Act of Political Resistance, According to Artist Rashaad Newsome
Newsome makes "work that is with, for, and about the community."
Rashaad Newsome, Five (St. Croix), 2015. Photo: Quiana L. Adams, courtesy of Rashaad Newsome Studio
Voguing hit the mainstream as long ago as the '80s, but its influence on pop culture has persisted—check out FKA Twigs's video for Glass & Patron, for example. The contemporary art world has been slower to catch on, however, and Rashaad Newsome didn't premiere his vogue-related project Five until 2010's Whitney Biennial. "It was the first time voguing had ever been done in a museum context," Newsome told GARAGE from his Brooklyn studio, "and it generated a new interest in vogue as a legitimate performance practice. Before that, you never saw it."

Now, to coincide with Five's belated European debut at festivals in Hamburg and Berlin, Newsome is also gathering footage for a related documentary film that he plans to debut in 2019. "Voguing is part of the queer black and Latina diaspora, and as a participant, I feel it's important to make work for and about that community."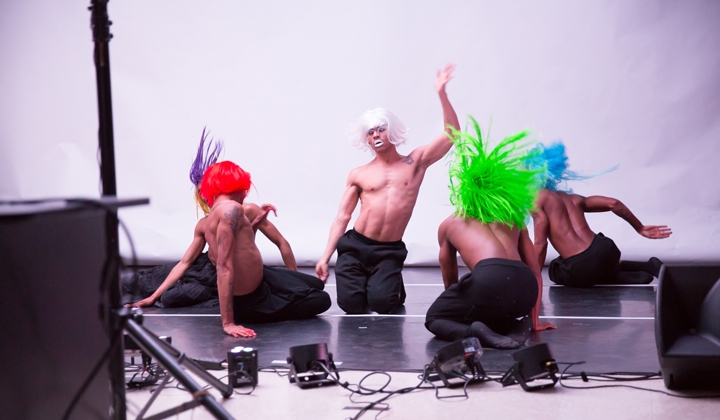 Newsome's performance—the title is a reference to the five key vogue move classifications: hands, catwalk, spins and dips, duckwalk, and floor performance—involves more than just dancers on a stage; there are also live musicians, outrageous outfits, an MC, and an opera singer, producing a joyful cultural mashup. Newsome is fired up by the form's inherent diversity, too: "Let's say you have a background in ballet, or West African dance," he explained. "Voguing incorporates that; it keeps collecting information like tumbleweed and there's no other dance form like that."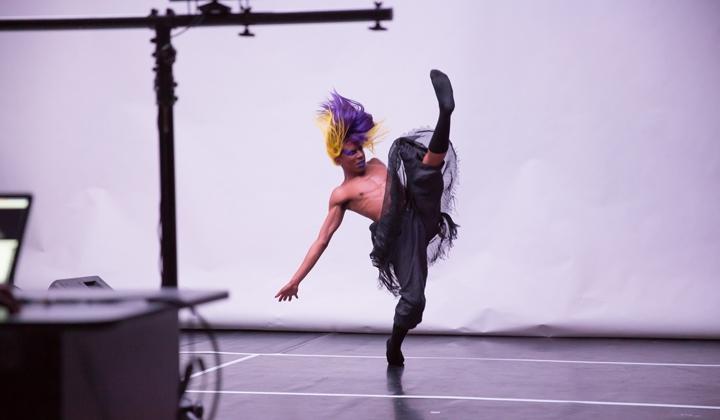 In the wake of the upcoming performances, Newsome plans to produce a set of aluminum sculptures that echo the dancer's motions. "If you can imagine the line of the dancer's hand and turning its movement into physical form, that's the sculpture," he said. "It's in the lineage of action painting; it's post-action painting. I want to challenge the ephemeral nature of performance." Newsome also goes against vogue's established routines by excising house music from the mix. "We have a synthesizer to reference the post-punk and goth industrial sounds that were dominant in Germany in the 1980s," he explained.

Newsome has already shot scenes for his film in Paris, London, Tokyo, South Africa, and São Paulo, underscoring the dance's ongoing international popularity. "I'm interviewing and filming folks in different communities and tracing the cultural production of how queer black and Latino youth culture found itself all over the world," said Newsome. "It's about the globalization of this practice." And while Newsome has brought voguing into a contemporary art context, he sees it as something that should control its own authorship.
"How do marginalized people find some upward mobility by using the culture they create when it's not being celebrated by the masses until it's adjacent to whiteness, or being recreated by white America?" he asked. "Voguing got going around the same time as the AIDS crisis began, and as more people swooped in, the conversation was soon driven by people who weren't part of the community. It's not that people can't participate in the culture, but those who create the culture need to have agency over it. This is work that is with, for, and about the community."
Voguing is, then, inherently political. "Vogue, as a culture, was created as a form of resistance," Newsome concluded. "I'm using it as a way to challenge what sculpture and drawing can be. That's the job of the artist—to push things forward."
Five will be performed at the Kampnagel Festival, Hamburg, on January 26 and 27, 2018, and the CTM Festival, Berlin, on February 1 and 2.