Photograph by Joe Scarnici for Getty Images.
Was the Golden Globes Red Carpet a Win for the Fashion Industry?
E! refused to ask who made the dresses that helped bring the protest to life.
Photograph by Joe Scarnici for Getty Images.
First things first: Tracee Ellis Ross—who has emerged in the past year as one of the best-dressed women in Hollywood, and is definitely the most capital-F-Fashion actress working right now—may have just revived Marc Jacobs. Dogged by rumors about its financial and leadership struggles, the brand announced late last week that it is closing its European stores, but the leading news in the universe of Marc Jacobs this week will be Ross in a black Marc Jacobs halter dress with an abstracted bow at the neck and a sculpted black turban (an accessory that was in fact criticized following his show in September), her hands on her hips like a figurehead at the prow of a ship.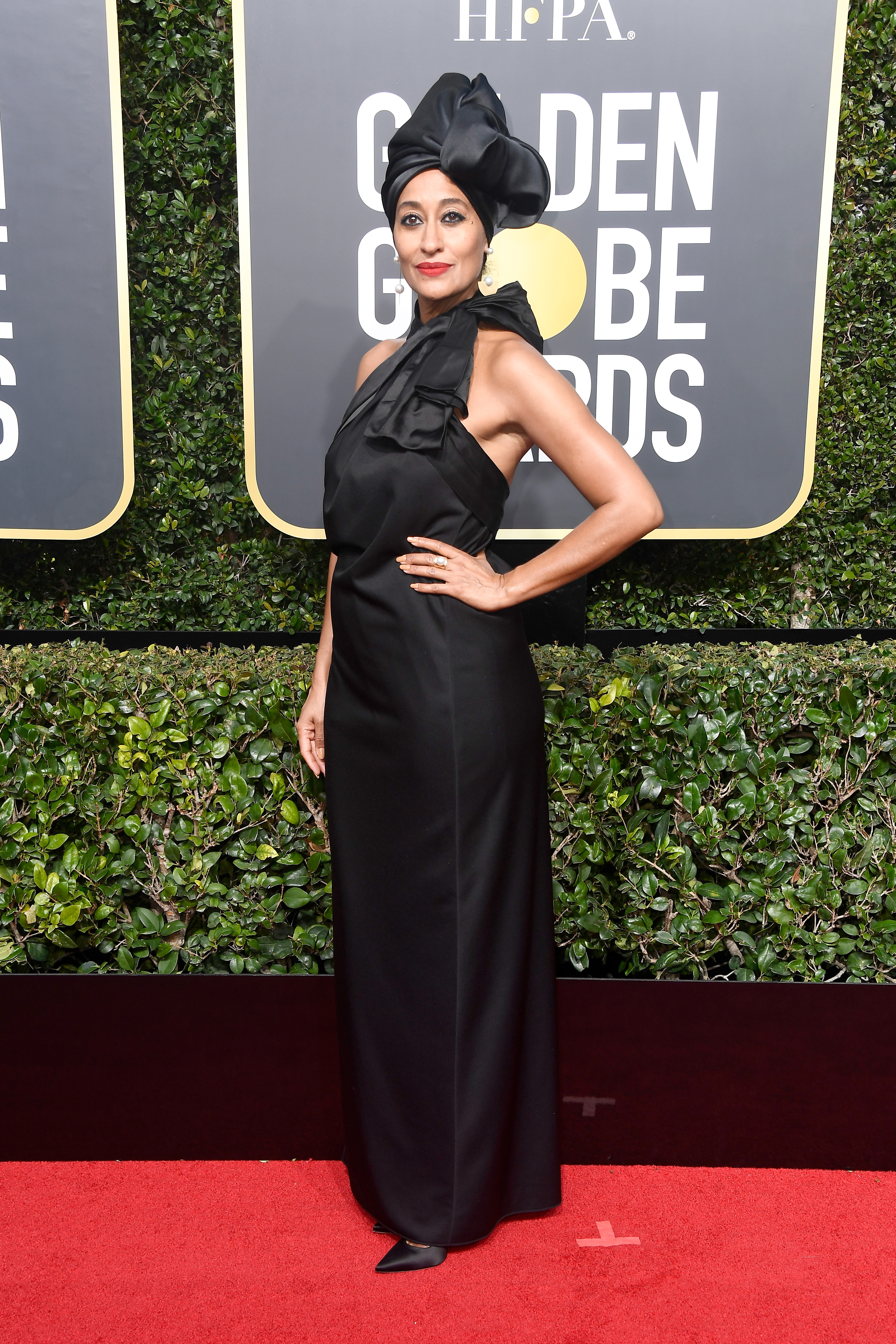 But how did we know it was a Marc Jacobs dress? E! correspondents, in an attempt to accommodate the network's awkward new role as a platform for political and social statements, decided not to ask the question they invented (that, indeed, minted an entire industry out of the red carpet): "Who are you wearing?" Instead, in a nod to the protest coordinated by Hollywood class president Reese Witherspoon, which encouraged actresses to wear black on the red carpet in solidarity with the Time's Up movement, they asked, "Why are you wearing black?"
It was an admirable effort, but it also had the unfortunate effect of cutting fashion designers out of the conversation. The red carpet has become one of the primary ways casual fashion observers and obsessives become familiar with designers and brands, and it was only through social media that audiences learned the names of the designers whose work helped bring the protest to life. Women are long past thinking that talking about clothing means you have lollipops for brains, but many red carpet correspondents apparently find it too easy to revert to punny language and cutesy copy when speaking about clothing, so they decided to skip it entirely. (In the pre-show for the pre-show—oh, I know—one correspondent said the dreaded "glambot" was "wearing black in solidarity.") It's curious, because fashion is one of the few things everyone can have an opinion about; like a pop song, it either moves you or it doesn't, and whether or not you want to think about why is really up to you.
The women looked divine and powerful: Viola Davis in a "Madame X"-esque velvet Brandon Maxwell, with a waterfall of diamonds swathed into a necklace. Issa Rae and Kerry Washington in Prabal Gurung (who, between his work with Michelle Obama and his red carpet finesse, is setting the standard for American glamour—he has enormous staying power). Saoirse Ronan in Atelier Versace—she has that Tilda Swinton otherworldliness, where you get the sense that currents from another planet are flowing through her fingertips. Millie Bobby Brown, who plucks Calvin Klein from its arty heights and gives it cool humanity. Isabelle Huppert in Chloe, which is really doing marvelous things under its new creative director, Natacha Ramsay-Levi—she crafts a kind of sharp paganism rather than the swingy, mopey hippie thing that seems to pass for "bohemian" these days. What's more, Huppert in Chloe—along with a few actresses in Dior Couture, such as Elizabeth Moss, who wears the brand's too-prim sportswear well—was one of the few female designers represented on the carpet. In a strange way—perhaps it was the subdued mood, or perhaps it was merely the glow that comes when women are confident in what they're wearing and what they have to say—everyone looked remarkably like themselves. This is the kind of odd compliment that could only flow out of Hollywood, but what I mean is that there was less a veneer of the grand Cinderella moment, and more a sense that every woman was wearing a dress she wanted to wear.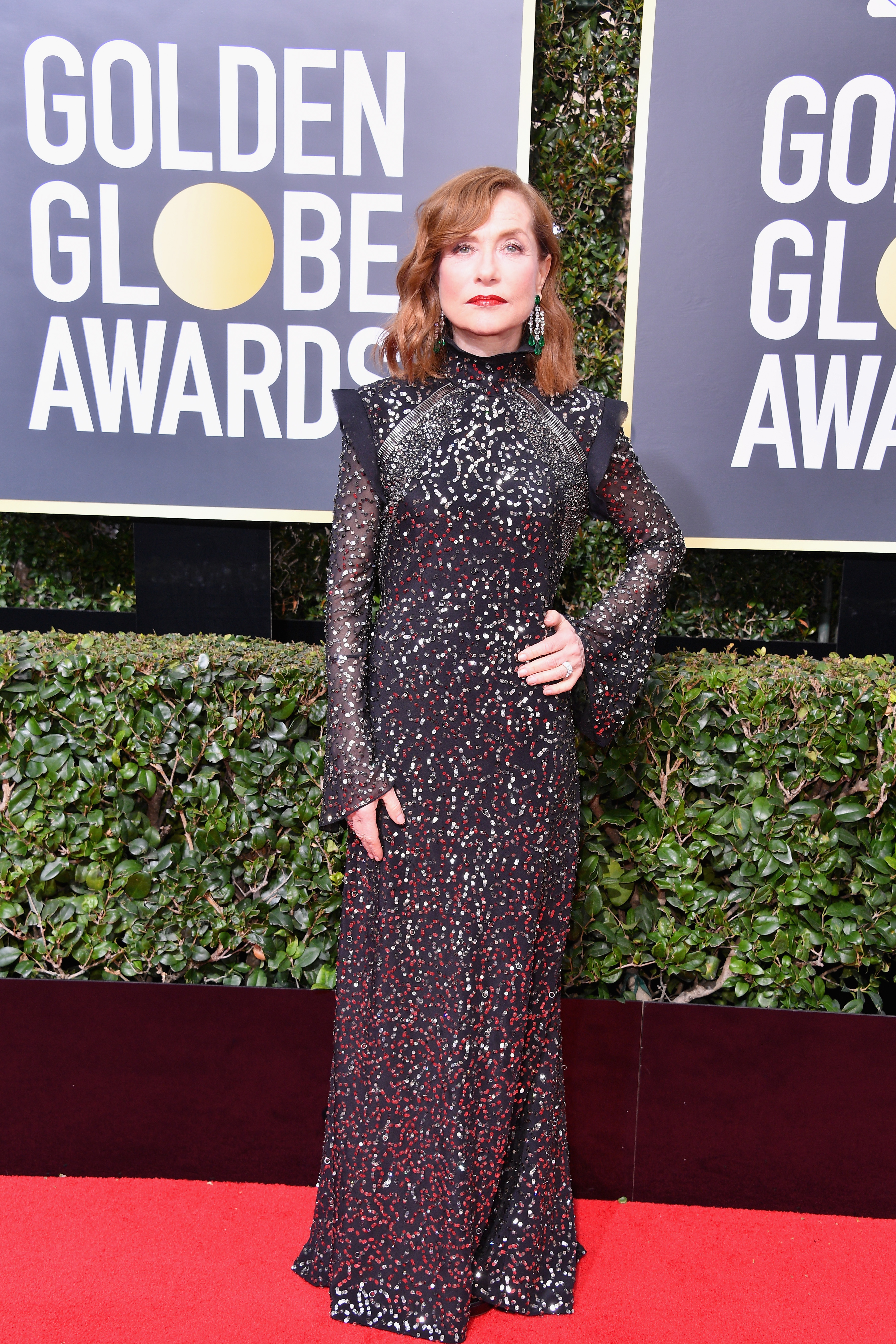 But E! strangely skipped over these significant collaborators, the designers themselves. It's worth thinking about how much effort went into the mechanics of this behind the scenes: stylists (who are, frankly, the horse whisperers of Awards Season; think of the deft hand that Micaela Erlanger played, for example, in helping craft Lupita Nyong'o's campaign season leading up to her Oscar win for Twelve Years a Slave). Stylists work with actresses to craft a careful campaign of its own: a series of dresses that hit different notes and tones for each required press appearance, with the Globes and Oscars as the tent poles. Those tent pole dresses are often custom-made, a process that begins months in advance, and considering the protest was announced in late December, a number of stylists were likely scrambling to find black dresses—a particular challenge because, countless stylists have told me in past interviews, wearing black is the one red carpet no-no. (It doesn't photograph well, allegedly, but try and tell me that after last night.) Designers, of course, had to comply with last-minute switches and dig up new dresses, possibly from past seasons. Rumors were flying that stylists and designers were "running out" of dresses—an actually believable version of Donald Trump's assertion that Washington, D.C. dress shops had sold out of gowns leading up to the inauguration.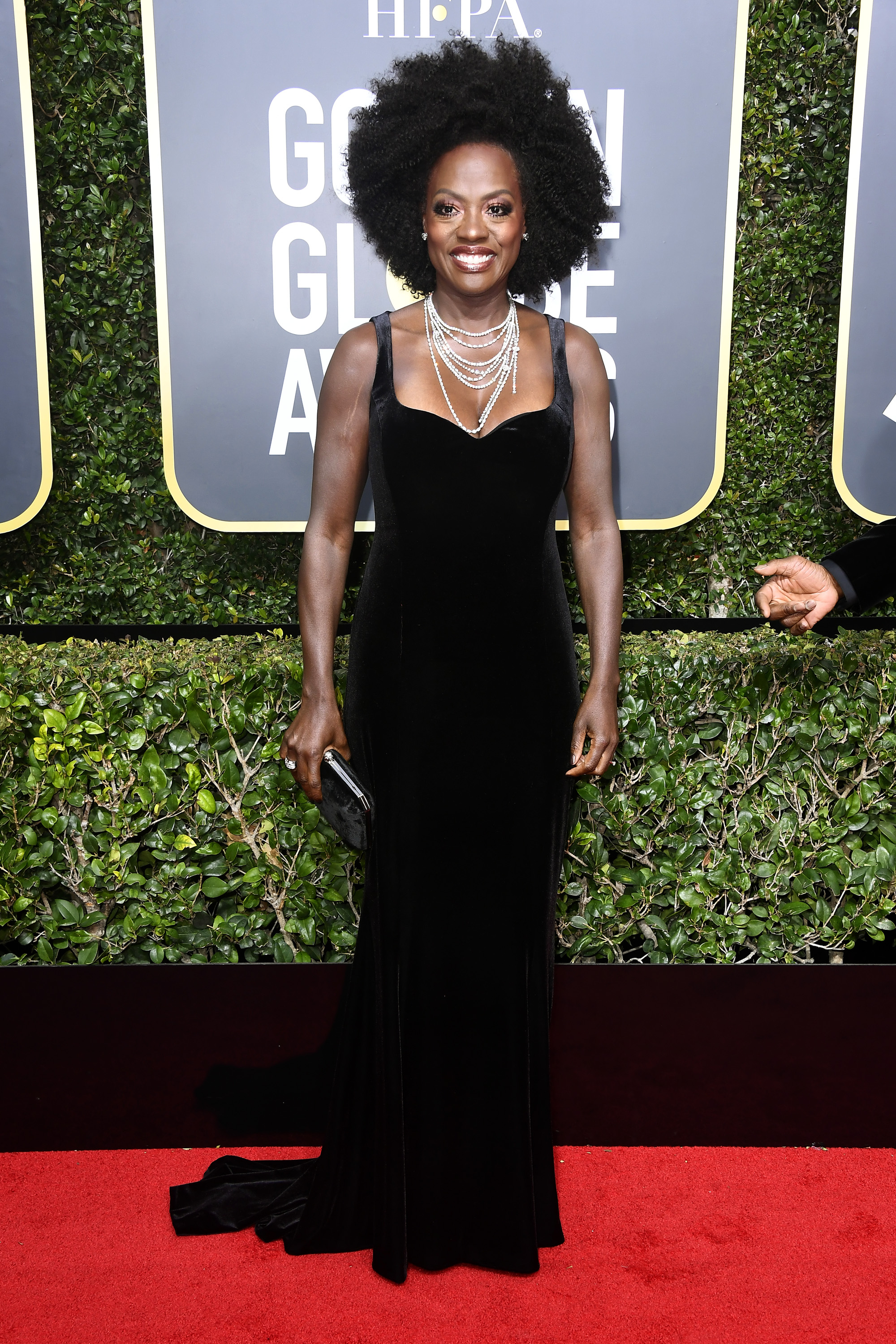 It's a particular shame given fashion's struggle to grasp how to make a political statement; a designer's intention, of course, only goes so far, and can be subverted or twisted or completely thrown out once the garment is on the person who paid for it. (See: Kellyanne Conway in Gucci.) That's left many designers attempting activism through t-shirts and slogans; that women will pay $710 for a Dior t-shirt claiming they look like a feminist says much more about the fashion industry's glib embrace of political awareness than a "This is What a Feminist Looks Like" t-shirt can convey. This should have been a major moment for the fashion industry, and I wonder if it somehow got lost in the shuffle.
Coco Chanel is often credited on tote bags and sad coffee mugs with saying some pretty boneheaded stuff, like something I don't even want to get into about being "classy and fabulous." But she also said something truly marvelous about the black dress, which she divested from its purely funereal function as a widow's uniform and plunked into every realm of a woman's life, turning the costume of feminine tragedy into a statement of inimitability—perhaps her greatest reinvention, aside from her own persona. Anyway, Chanel said: "I imposed black…for black wipes out everything around."
Whether or not the protest continues in clothing is moot: women are now empowered to say what they want, and speak their mind, on what had previously been a space notoriously dedicated to frivolous extemporizing. Last night, the dresses wiped out everything around. I just wish the labels hadn't been wiped out, too.