Kerry James Marshall is Making His Own Pop Art
The artist's new show at David Zwirner in London questions the legacy of "white artists' rebellious father-son relationship to art history."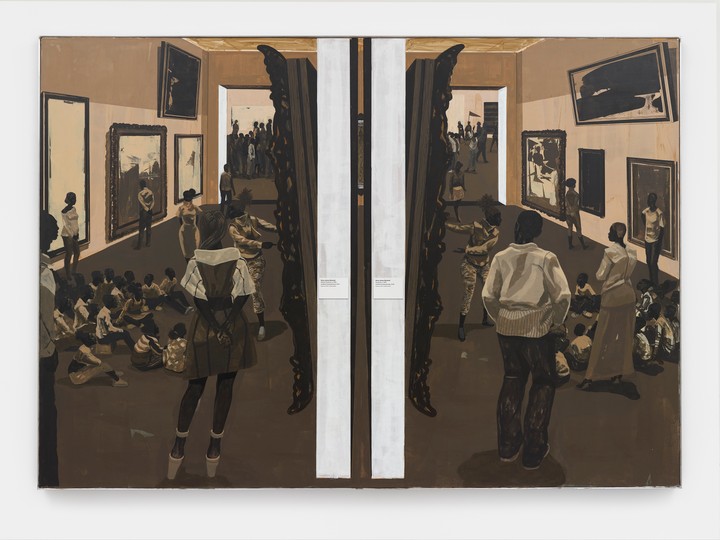 Kerry James Marshall, Untitled (Underpainting), 2018 courtesy of The David Zwirner Gallery
"This is how advertising becomes painting: they do more than is necessary, and less than is required," says Kerry James Marshall of the four canvases he calls his auction paintings. The titular works in his show History of Painting at David Zwirner, London, they record the results of four fine art auctions in 2007, re-imagined as bargains on a grocery store flyer. Lots by Andy Warhol, Roy Lichtenstein et al are presented as if they were packaged steaks on price promotion. "This is my Pop art," says Marshall.
History of Painting is Marshall's first show of new works since his 2016 retrospective Mastry. It's a multi-level game-play. He moves nimbly through familiar art-historical subjects: paired portraits of a couple; a landscape with huntsman; a woman glimpsed undressing. There are virtuoso flourishes that look like he's having fun, maybe even showing off, handling paint in diverse ways: tight, meticulous, old-masterly in the portraits; looser, brushier, in the landscape. All are populated by Marshall's intensely black figures, foregrounding the history left unpainted and unshown in museums that form the historic pillars of the white establishment.
There's a reason Pop—that genre of modern art most fetishized at the auction market—sits at the show's heart. Marshall says he couldn't identify a single black artist that was making works "that fit the Pop model, because our relationship to these products and commodities is just different."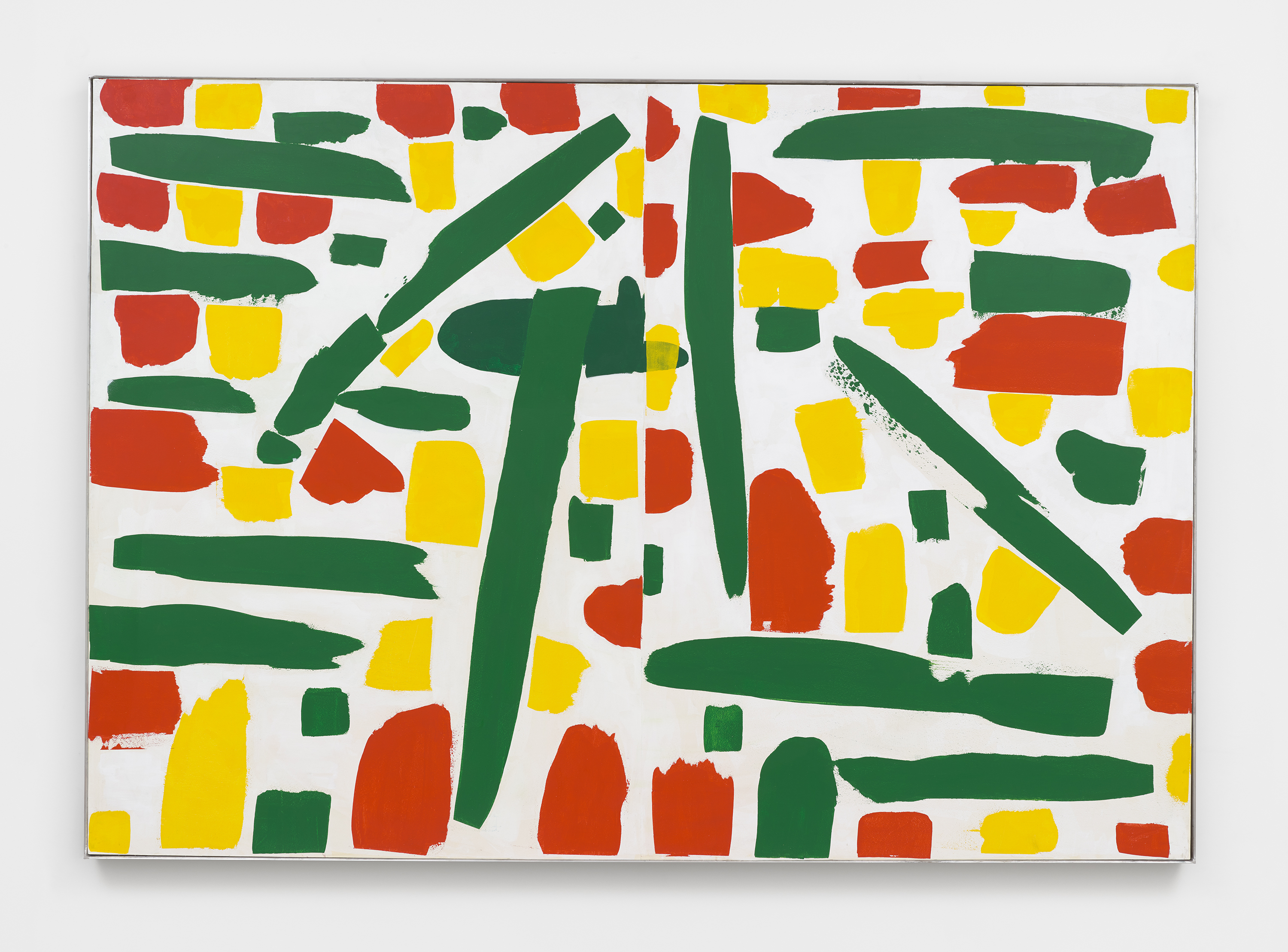 "If your image is not used to advertise those products broadly, then you don't have the same relationship to those things. Even when it came to comic books: well, black people didn't see themselves in comics, so that choice was not available to you, because you're not broadly represented. If you find yourself in a position where you're celebrating that, then that's a denial of some aspect of who you are in celebration."
There is also the question of legacy, of white artists' rebellious father-son relationship to art history: "We're not driven by the same imperative to undermine the academy, let's say, or to take common supermarket products and elevate those to the status of art: we don't think about stuff like that."
History of Painting is also a history of Marshall's own painting. Black Boy is an update of those kindergarten etchings where you'd cover a sheet of bright color with a layer of black, then scratch through to produce a line drawing. From Marshall, Black Boy is shocking in its crudeness—a picture carved around the letters B-O-Y—but it's a strong declaration of personal history: a childhood encounter with black as un-nuanced flatness, a site of no picture, a color in which a face can only be made visible through its removal.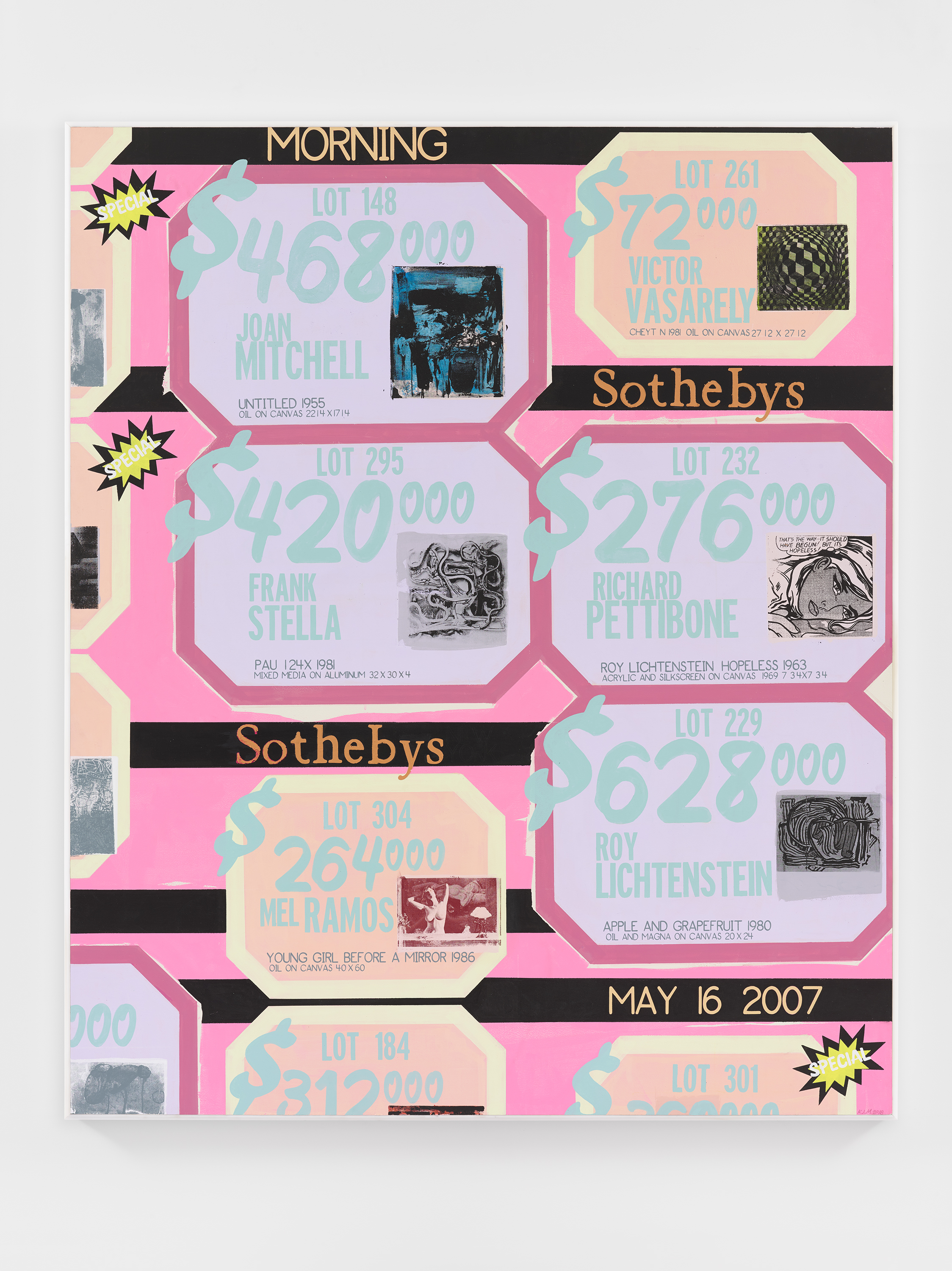 Earlier this year, Sean "Diddy" Combs bid $21.1m for Marshall's 1997 painting Past Times at a Sotheby's auction, and this history —of paintings as goods—gives the show its title works. "In the end, what do art works end up as?" ask Marshall. "Objects that can be exchanged, that can become commodities too, so why isn't that a reasonable subject for a painting?"
The four auction paintings each show a sale from a different house: one Christie's, one Sotheby's, one Philips and one for the New York house Swann. With the exception of a Basquiat painting, the works at the first three are by white artists, and the dollar sales prices largely six and seven figures. Prices at the Swann auction offering Faith Ringgold and Sam Gilliam are notably lower. "Not a lot of black artworks circulate through those auction houses—more now than ever before, but if you go back historically, not much. Swann is the only auction house that does a separate African American fine arts auction even now." (The next sale is, by coincidence, today, October 4th.)
The most complex and allusive of Marshall's new works is Untitled (Underpainting). A single canvas presented as if it were a mirrored diptych showing the interior of a grand museum gallery from opposite ends. Underpainting is a technique used in the Renaissance—visible in Leonardo's unfinished St Jerome in the Wilderness (c. 1480)—in which monochrome is used as a base layer. Marshall's museum interior carries these restrained colors: it appears to be populated entirely with black visitors, but this is just an 'underpainting,' so how can we be sure?
Two wall plaques are stuck to the canvas, both for the painting we are currently looking at. One describes the artist Kerry James Marshall as 'African American' and the other simply as 'American.' What difference does that small gesture of categorization make to the way the visitors in the picture might read the painting they are looking at? What difference does Swann's distinction between African American and American fine art auctions make to the perception of works being sold?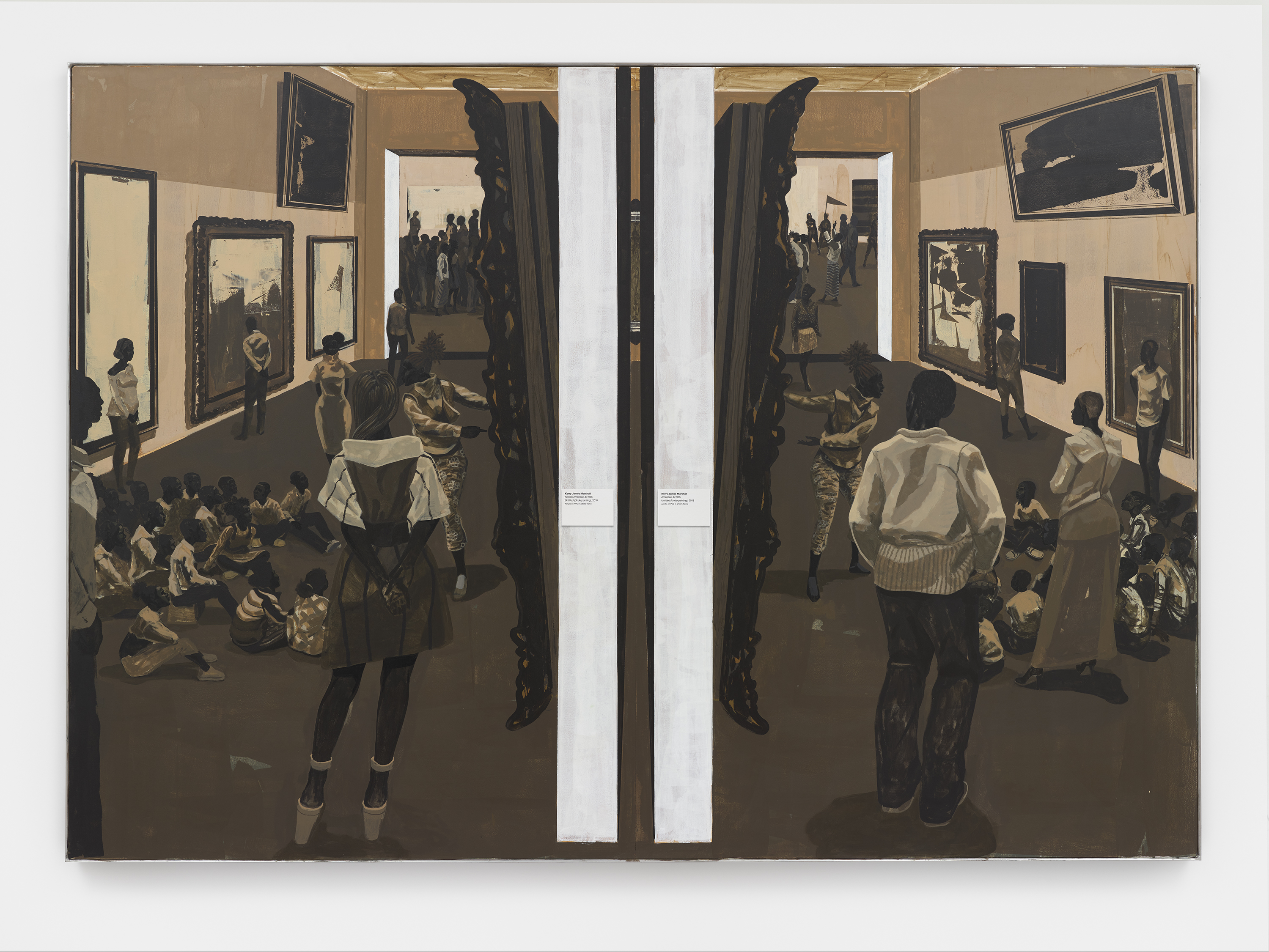 During the press view, Marshall had described peering through the door of the chapel at primary school and seeing the sanctified white space within, with its gilded decoration and statues. I tell him he might as well have been describing an art gallery. Marshall says he approaches both art and religion with irreverence: "We know what the gallery represents. Because you know how much they're charging for some things, there's always this reverential posture you're suppose to take. But stuff is not special just because someone made it—the artworks have to earn your attention too."
Marshall was nine at the time of the 1965 Watts riots. It was two years after his family moved to Los Angeles from Birmingham, Alabama. Around the block from his 48 th Street home he remembers a Jack in the Box fast food restaurant with a clown figure on top. Marshall watched the riots unfold from a neighbor's home: "all the lights were out, but a lot of buildings were on fire. And against the wall of flame, that Jack-in-the-Box was turning. It showed how absurd everything was: it just seemed so weird."
Marshall realized early on that "there was a discrepancy about what you could see going on and what's happening underneath, and you had to figure that out."
His paintings broadcast that discrepancy. The incongruous, personal and mundane co-exist with the big-picture history we are taught is important.