Aesthetic Horoscopes: The Signs as Celebrities on Jet Skis
You can guess which Sagittarius said: "The key is to not drive your jet ski in the dark. This is against the law."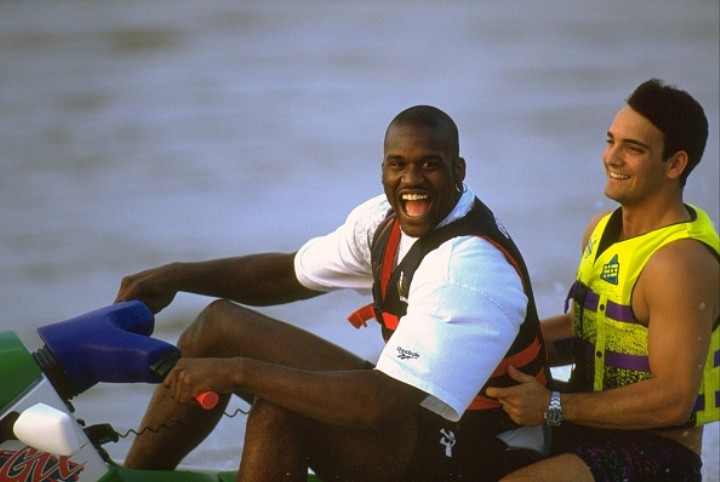 Photo by Bill Frakes /Sports Illustrated/Getty Images
Summer is drawing to a close, and you may hear the ocean breeze whispering: Come on, you've played it safe all year. Jump on a jet ski and take control of your fate. Although the one-of-a-kind aquatic Vespas were invented just four decades ago, in 1972, they've become a favorite of celebrities from Amber Rose to Helen Mirren. Courtney Perkins of @NotAllGeminis takes us for a spin through the signs of the zodiac as celebrities riding jet skis.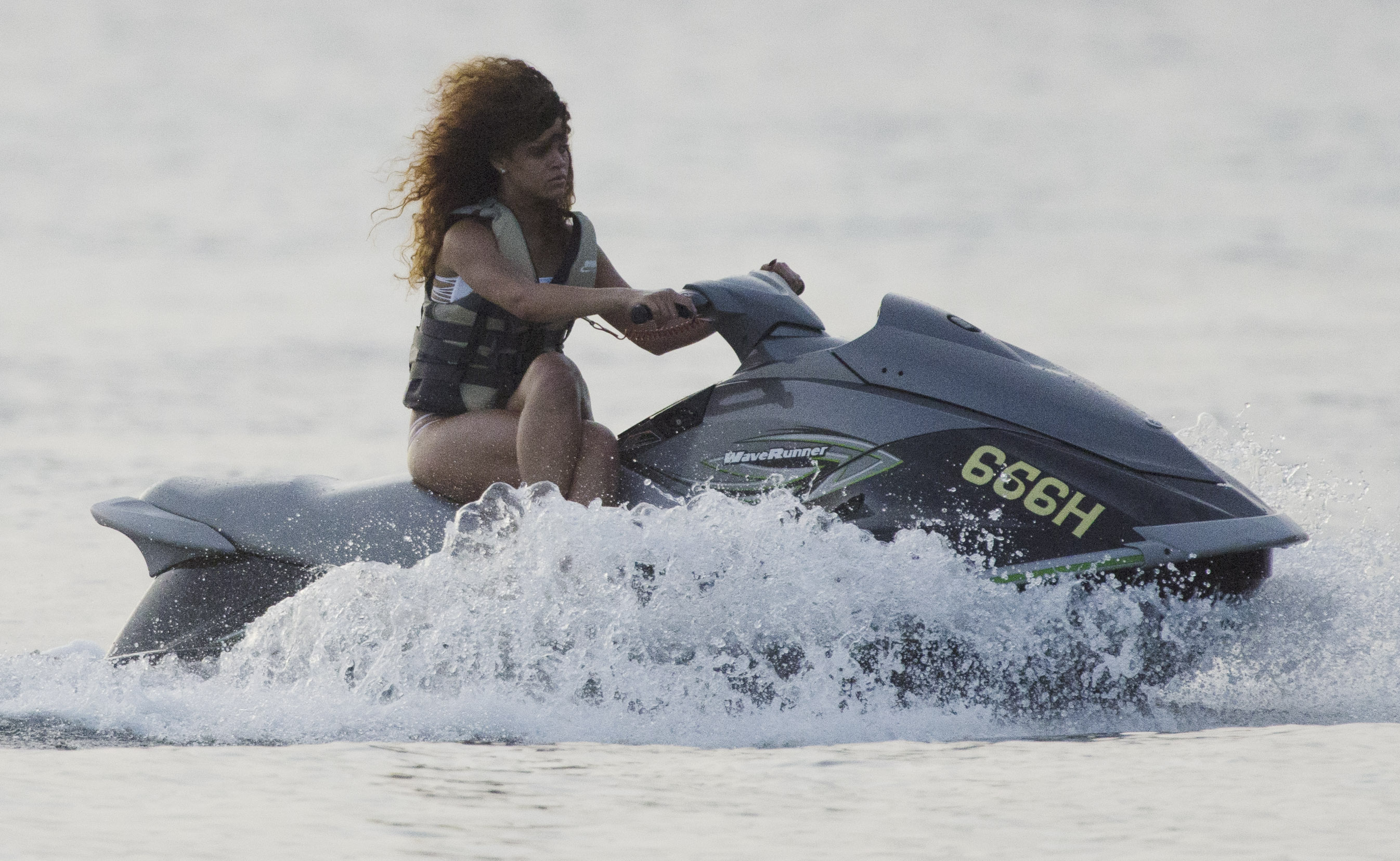 Aries: Rihanna riding side-saddle, 2011
Disclaimer: Yes, Rihanna is a Pisces, but she's also rocking an Aries rising, Aries moon, Aries Venus, and is Aries dominant. (And I really wanted to include the picture of Shaq as a Pisces. You'll see.)
Rihanna, a natural daredevil, jetsetter, and all-around badass. Obviously, she is constantly on jet skis. If you Google "Rihanna jet ski," you will see a vast multitude of glam vacations, life jackets, and seaside looks. Yet nothing tops Rihanna mean-mugging riding a jet ski side-saddle, entirely indifferent to the danger around her. Aries are brave and reckless, and by far the most likely to not give a single shit about the perils of the ocean.
Taurus: Enrique Iglesias and dog, 2011
Taurus makes a home wherever they go, and that extends to Enrique Iglesias bringing his precious dog along with him on a jet ski ride, as pictured in the video for "I Like How It Feels feat. Pitbull & The WAV.s." Lucas the German Shepherd is clearly living young, wild, and free, while Enrique is embodying the classic Taurus trait of needing everything they touch to be soft. Taurus is also known for exclusively hanging out with a well-trusted entourage: who is more trustworthy than man's best friend?
Gemini: Scott Disick flaunting a red-flag-filled relationship with Sofia Richie, 2017
Remember how Scott Disick (35, recently divorced with three children) is dating Sofia Richie (19, cannot legally drink in the United States)? Here is a photo of his flirty, reckless, careless Gemini ass probably actively hurting his ex Kourtney Kardashian's feelings by making out with someone fifteen years younger than him on a jet ski in Mexico.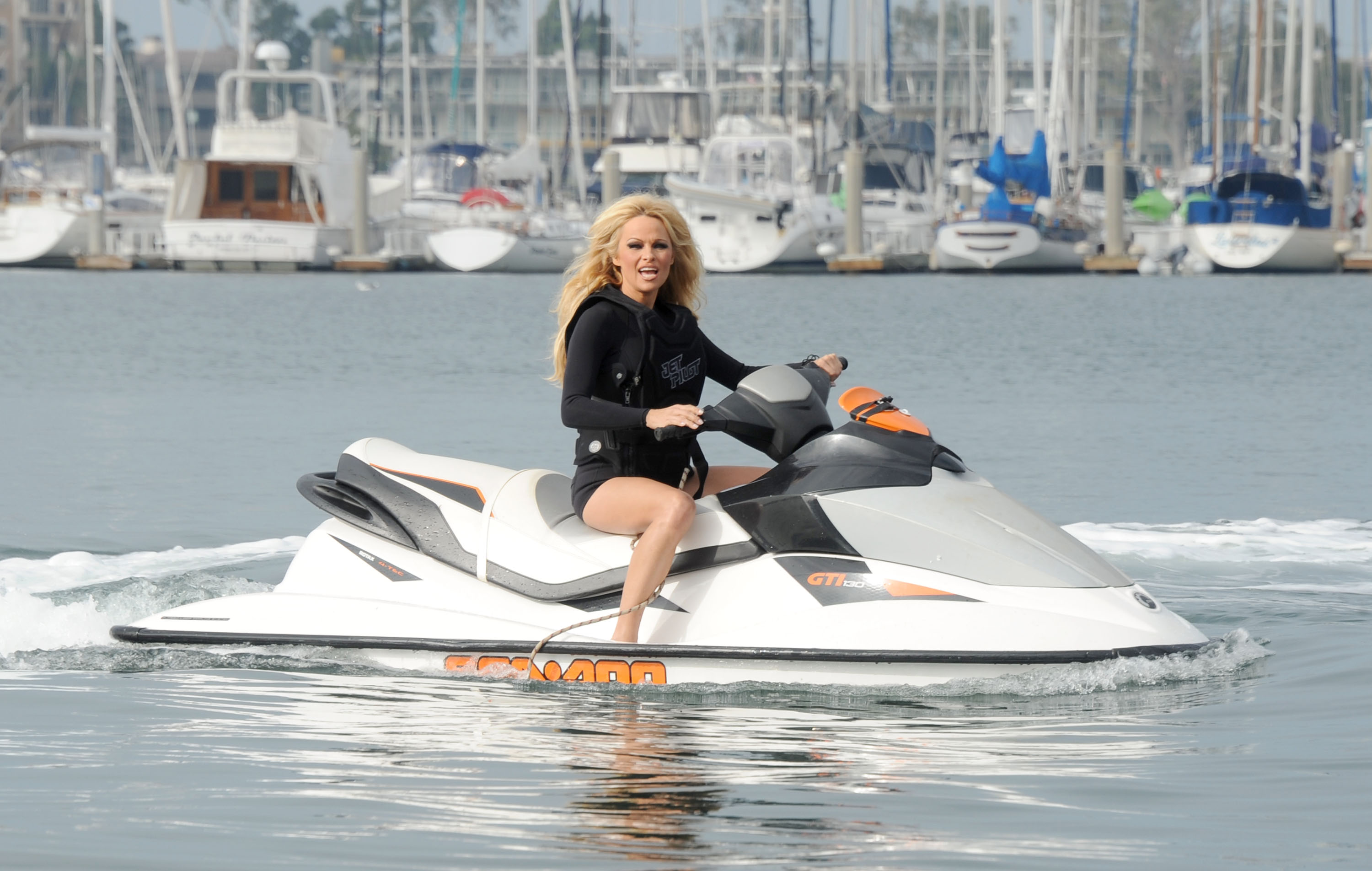 Cancer: Pamela Anderson saving the whales, 2012
Cancer is a water sign, and often feels very connected to the ocean! Clearly, this extends to Pamela Anderson, swimsuit icon and star of Baywatch. Cancerians are also one of the signs most closely connected with animals, and here we have Pamela jet-skiing into a press conference for a campaign by the nonprofit conservation group Sea Shepherd to save the whales! Feels counterintuitive? Sure! But the group's Operation Zero Tolerance Antarctic Whale Defense needed a hero of the waves, and Pamela obliged.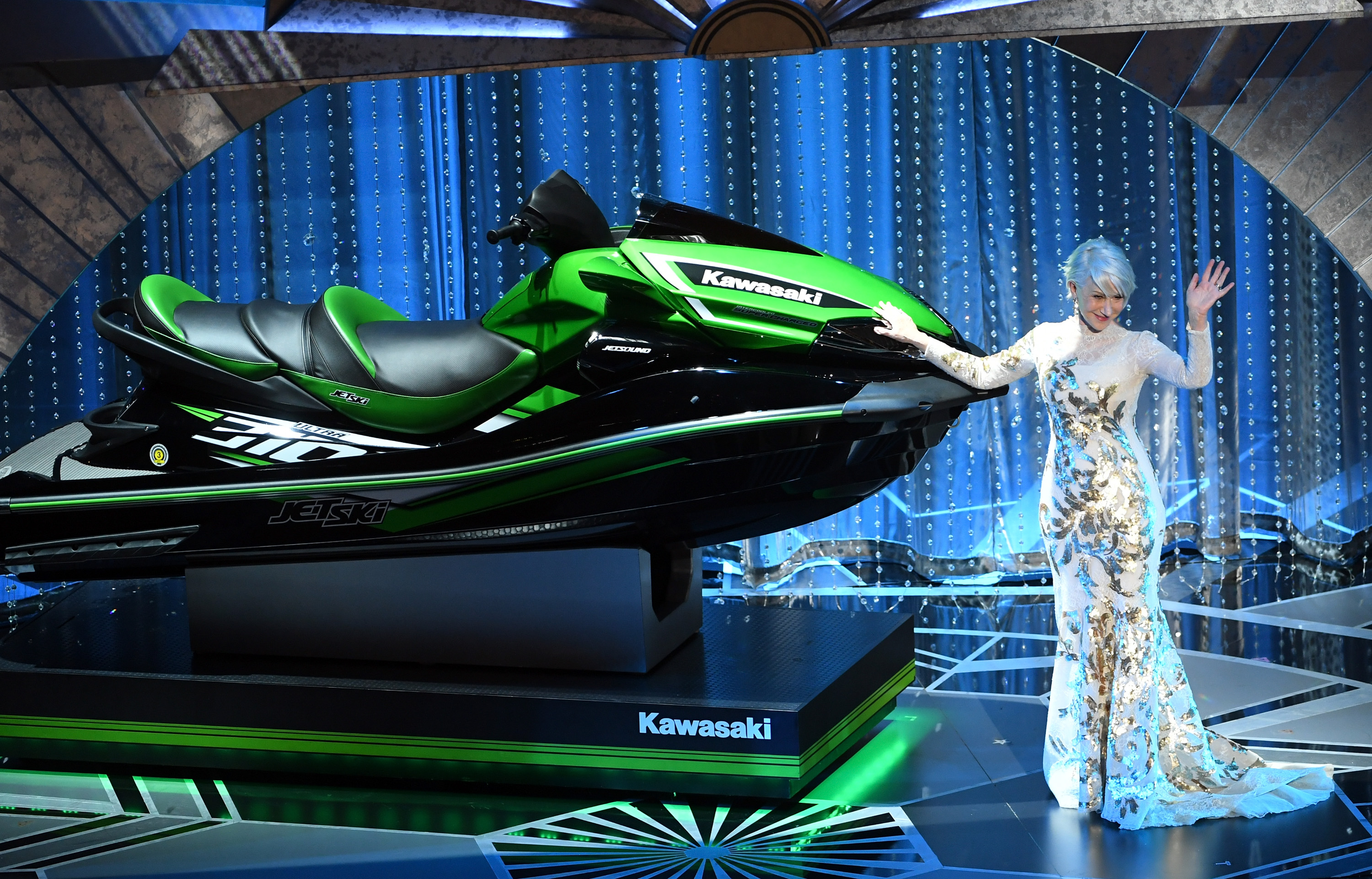 Leo: Helen Mirren with the jet ski at the function, 2018
Why ride when you can stride? Do you know how uncomfortable it is to mount a jet ski? Here we have Helen Mirren, Leo icon, choosing instead to display the motorcycle of the ocean with a gorgeous gown and a smile at the Oscars. This is certainly the most glamorous, Leo-approved way of interacting with a jet ski. Get my hair wet? Ruin my makeup? I think not. I will attend the most anticipated event in film and assist in bestowing the gift of a free vehicle and trip to Lake Havasu upon one of my celebrity friends.
Virgo: Beyoncé and Jay-Z and safety helmets, 2016
The Carters are avid skiers of the ocean, but the most Virgo jet ski occurrence of all is the Italian Helmet Incident. Virgo is the zodiac's natural caretaker, and Beyonce has clearly tucked the Carter family into helmets and life jackets for everyone's safety. Obviously the life jackets are important for floatation, but like…helmets? Is that necessary? Jay-Z did not think so, and the world was instead blessed with fantastic meme fodder.
Libra: Amber Rose and 21 Savage in love, 2017
Not one, but TWO Libras appear on a wild jet ski, clearly in love, engaging in the wet, fairytale romance they've both dreamed about! Libra is the sign of relationships, and this happy duo was clearly thriving in the excitement of a new partner. Sure, they also displayed classic air sign fickleness when they broke up only a few months later, but hey! That's not the point!
Scorpio: P. Diddy in a suit on a jet ski, 2008
Scorpio is an intense, passionate sign that secretly loves its reputation for intimidation. Is there any greater power move than arriving in a suit on a jet ski, as P. Diddy does in this commercial for his fragrance, aptly titled "I Am King"? Immediately, Sean Combs is sending the message of: richer than you, better than you, more well-dressed than you! Go ahead! Try to argue! You can't!
Sagittarius: DJ Khaled, lost at sea, 2015
Sagittarius is the eternal wanderer, the centaur, the traveler. Lost in thought? Yes. Lost on a jet ski? Also yes. Take a moment of remembrance for the December evening in 2015 when DJ Khaled got lost at sea and Snapchatted the entire thing, offering major keys to success despite the fact that he was fully wandering the waters off-course. But Sagittarius is also the philosopher of the zodiac, and loves nothing more than a hard-earned lesson. For example: "The key is to not drive your jet ski in the dark. This is against the law."
Capricorn: Liam Hemsworth in Protective Mode, 2011
Capricorn is astrology's most authoritative, protective figure. Can you see this guarding stance Capricorn Liam Hemsworth is taking to protect his woman, Miley Cyrus?! He cares about her! He wants to keep her safe! Capricorns reliably take safety precautions to guard the ones they love, and honestly his caution here is probably worthwhile given that she's a Sagittarius.
Aquarius: Harry Styles with his little shorts, 2013
The water bearer or the water cruiser, am I right?! No, but really, there are so many photos of Aquarian Harry Styles on jet skis. Aquarius is a sign that loves adventure, rebellion, and has a strong need for freedom. Nothing more freeing than Harry, the wind in his hair, and the open seas.
Pisces: Shaq having the time of his life, 1994
Would you look at how happy Shaq is here; how gleeful he looks on the waves? Pisces truly rule the water, both as a water sign and as the sign most likely to be found on a jet ski. Pisces icons like Rihanna and Justin Bieber are jet-ski fiends. Nothing recharges a Pisces' batteries like a little time spent on the lake, the beach, crying, etc. The fish lives to swim. And to jet ski.