The Night is Short, Walk On Girl. Image courtesy of GKIDS.
Anything Lewis Carroll Could Do Masaaki Yuasa Can Do Better
This surreal anime has underwear thieves, a psychedelic journey into the night to find a children's book, and unreasonably powerful school festival organizers—what more could you want?
The Night is Short, Walk On Girl. Image courtesy of GKIDS.
To what lengths would you go to get the classmate you have a crush on to notice you? Does colluding with a Japanese school festival organizer who fronts an NSA-style operations center that collects data on a student body sound like it would be in your wheelhouse? If so, boy do I have the anime for you: The Night is Short, Walk on Girl. Directed by Masaaki Yuasa and released in Japan last year to great acclaim, the film received its US premiere over the weekend at the Japan Society in New York and will see a limited theatrical release this August courtesy of GKIDS.

The titular girl is only called otome (a word that means something like "maiden") or referred to as "The Girl with Black Hair" by her senpai (an upperclassmen, or anyone in a more senior role whatever the context), who carries a huge, burning torch for her but doesn't have the, um, courage to do much besides engineer coincidental meetings and encounters with the object of his secret affections. She, on the other hand, is a bottomless pit for booze, but in an adorable kind of way where one night out on the town in Kyoto drinking turns into a psychedelic journey to find a mythic alcohol accompanied by encounters with a deadbeat dad who collects old, traditional erotica; an underwear thief who considers it a matter of principle to sport the same pair of unmentionables until he finds the woman he loves; and other assuredly fine people. The girl, who in the end really just wants to find a copy of a fairytale book she had as a toddler, even has a run-in with "The God of the Old Book Market" at a gathering of used book sellers. The god puts in an appearance to make sure that the vendors aren't ripping customers off, and to explain a novel connection between authors Yukio Mishima and Jules Verne!
The director Masaaki Yuasa—whose popular series Devilman Crybaby is currently streaming on Netflix—isn't known for films that make much sense. He's moreso an auteur of the manic; he choreographs sequences that slide in and out of visual dazzle or cheerful nonsense, like a Lewis Carroll for the what's-the-WiFi-password set. Our first red flag comes when the girl gets low with a delightfully outré dance, and when the rest of the cast follows suit rather than ostracizing her for her outlandish style, we know we're in a world that cares little for the conventions of dull reality. By the time we're introduced to the aforementioned school festival organizer, always a reliably egomaniacal figure in anime, we have been groomed to accept that yes, this is the man who has the necessary élan to help senpai get the attention of his beloved girl. The underwear thief sullies the heroine's hapless upperclassman time and time again throughout the film—and the used book god even tries to frame him for child molestation—but he knows he must bear all this and stay the course to find that freaking picture book if he ever wants to have lovey-dovey school days before the crushing advent of professional life. Life is short, smooch on lovebirds.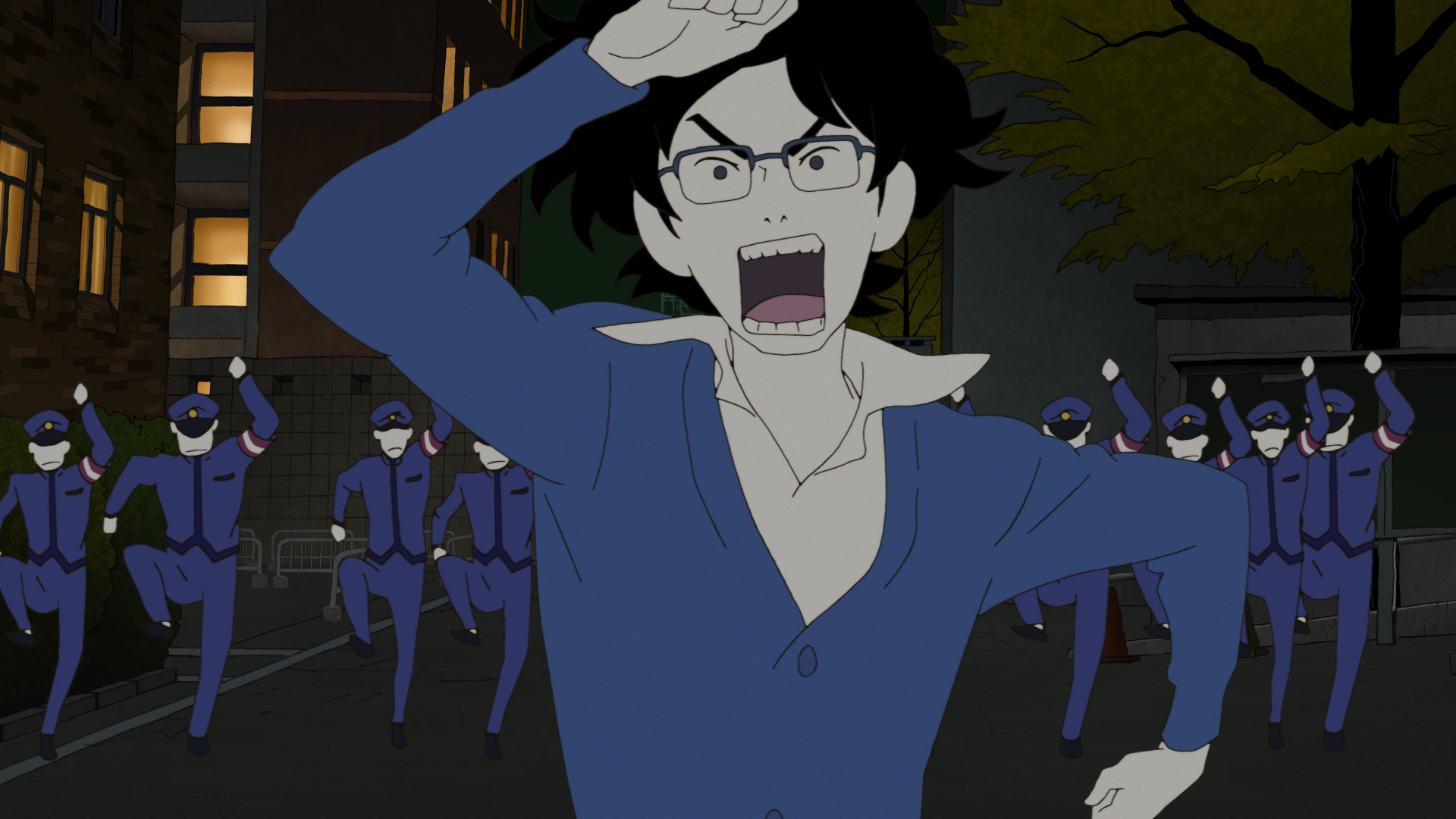 The Night is Short, Walk On Girl premiered in the US as part of the Japan Society's Japan Cuts Film Festival, which ran through July 29. The film is now playing at Metrograph in New York through August 30 in Japanese with English subtitles.