Hilma af Klint, Group IX/SUW, The Swan, No. 17 (Grupp IX/SUW, Svanen, nr 17), 1915. From The SUW/UW Series (Serie SUW/UW). Oil on canvas, 5 x 5'. The Hilma af Klint Foundation, Stockholm. Photo: Albin Dahlström, the Moderna Museet, Stockholm.
Hilma af Klint Did It All First
On the occasion of Swedish painter Hilma af Klint's first major solo exhibition in the United States, which opens at the Solomon R. Guggenheim Museum in October, we examine what contemporary artists can learn from this prescient visionary
Hilma af Klint, Group IX/SUW, The Swan, No. 17 (Grupp IX/SUW, Svanen, nr 17), 1915. From The SUW/UW Series (Serie SUW/UW). Oil on canvas, 5 x 5'. The Hilma af Klint Foundation, Stockholm. Photo: Albin Dahlström, the Moderna Museet, Stockholm.
In 1906, in a small studio in Stockholm, the 44-year-old artist Hilma af Klint began a decade-long solo project among the most extraordinary and ambitious in modern art: The Paintings for the Temple. Guided by a voice she'd first heard as part of a female collective that practiced automatic drawing séances, af Klint created a series of 193 abstract canvases (some as large as 10 feet wide) and works on paper. As if expelled from a metaphor machine, her endlessly multiplying, esoteric imagery sought to reveal an unknown world by exhausting signs and symbols from the known one. "The pictures were painted directly through me, without any preliminary drawings and with great force," she wrote in her journal. "I had no idea what the paintings were supposed to depict; nevertheless, I worked swiftly and surely, without changing a single brushstroke." Af Klint did not exhibit any of these paintings in her lifetime, and her will stipulated that they could not be shown for 20 years after her death.
Several factors here should give pause. The date: at least five years prior to the celebrated "birth" of abstraction. The place: a city on the far periphery of avant-garde breakthroughs. The inspiration: a higher calling, perhaps spurred by her affiliation with the 19th-century spiritual movement Theosophy, that evokes the embodied testimony of the 16th-century Catholic mystic Saint Teresa of Ávila. The person: an artist trained at Sweden's Royal Academy of Fine Arts, but secluded by gender and geography from a larger modern art discourse. The paintings: unique compositions that conjure scientific and spiritual discoveries through a prescient merging of abstraction, diagram, color theory, symbolic form, and experiments with authorship and scale. And finally, the secret: an unflagging commitment to produce an astonishing and expansive body of work that would not be seen—let alone celebrated—during its creator's life.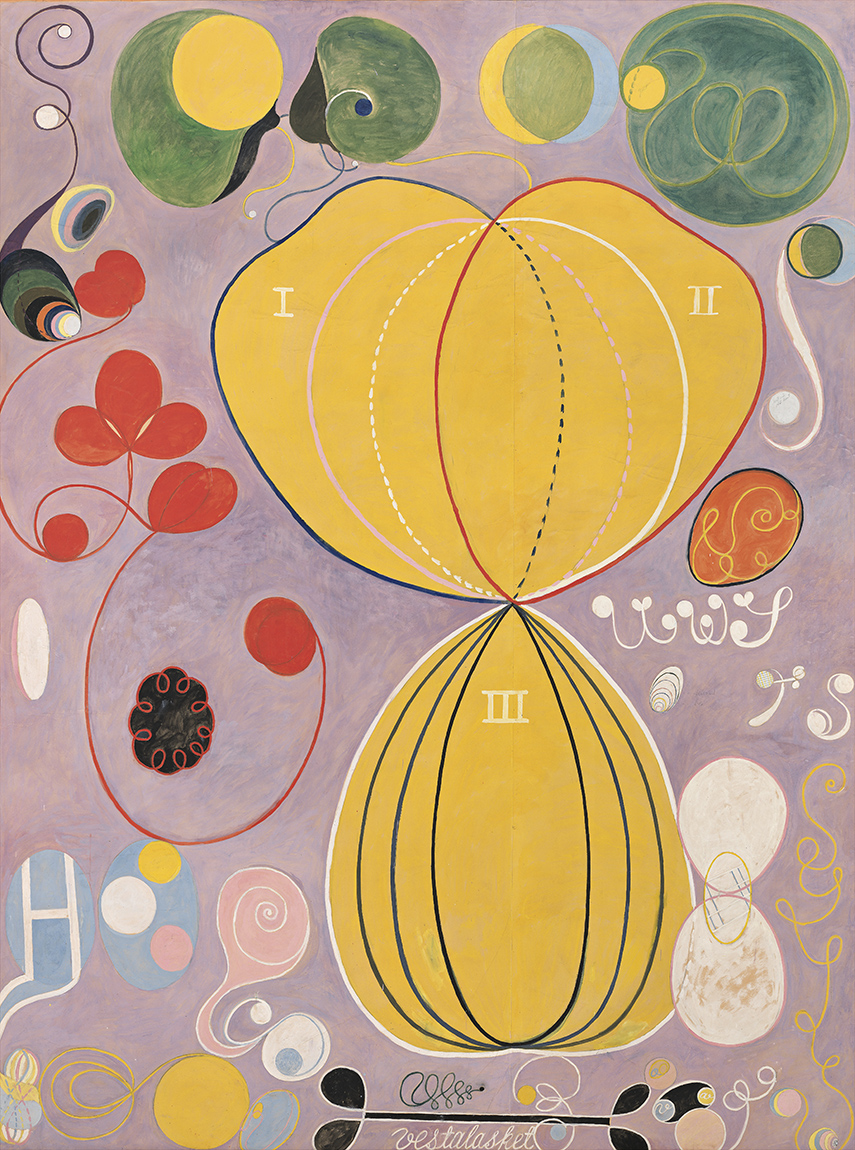 The concealment lasted longer than af Klint might have expected. She died in 1944, leaving behind one of the world's largest archives of abstract art: more than 1,000 paintings and watercolors and more than 125 notebooks. Forty-two years later, a few canvases were shown in Maurice Tuchman's The Spiritual in Art: Abstract Painting 1890–1985 at the Los Angeles County Museum of Art. Exhibitions at P.S. 1 Contemporary Art Center (1989) and the Drawing Center (2005) in New York followed; and more recently, major solo surveys at the Moderna Museet (2013), in Stockholm, and the Serpentine Galleries (2016), in London. This fall, North America will finally get a comprehensive introduction via the Solomon R. Guggenheim's retrospective, opening in October. (Af Klint once described the ideal building for her paintings as spiral-shaped, reflecting Theosophy's interest in interior and exterior paths of development.)
A contemporary fascination with af Klint is about more than the romanticized narrative of the forgotten—then rediscovered—masterpiece, a narrative latent with history's less lucky ghosts. Today, with everything instantaneously exposed and shared, we are further compelled by the question of how someone could paint such overwhelming compositions for so long without any recognition or feedback. To create in isolation is one thing; to isolate that creation, another.
Af Klint did not seek the company of her male peers or the confirmation of success. But every secret needs a receiver, a keeper, to exist, and she had a crucial community of four other women: Anna Cassel, Sigrid Hedman, Cornelia Cederberg, and Mathilde N. Collectively, they called themselves De Fem, or "the Five." They met weekly on Fridays and began exercises in automatic drawing as early as 1896 (eat your heart out, André Breton). By 1906, af Klint had made and kept hundreds of graphite and pastel drawings, but most were signed collectively "D.F" (for De Fem). Looping spirals, triangles, connected dots, forms resembling cracked-open seedpods, bending feathers, tornadoes, and shells travel vigorously up and over the page like warm fronts on a weather map—all motifs that reappear in af Klint's paintings a few years later. In fact, it was De Fem that seemed to allow her access to an independent calling and to branch out on her own. (In 1916, the Five secured land and construction for af Klint to build a larger studio.)
Af Klint modeled her talent as a passive abandonment of ego, first via De Fem's joint authorship, and then as a receiving instrument of the "High Masters." (Theosophy was founded on the premise of wisdom passed from the spiritual realm to humans through reincarnated guides or masters; receiving knowledge and visions through séance states figured in many religious offshoots of the period.) And yet, among the most remarkable things about her practice is its self-possession. Quivering on the edge of the organic and the occult, her summoning of a raw creative force is part of the works' radical invention. She had enough confidence in her art to fold her ambition into it. Af Klint did not ask for her work to be destroyed, only delayed. She did not wait for the world to discover her paintings. The world had to wait for them.
Hilma af Klint: Paintings for the Future opens at the Solomon R. Guggenheim Museum on October 12, 2018.
A version of this story appears in GARAGE Issue 15, publishing September 2018.