Clothing throughout by Marine Serre. Photograph by Estelle Hanania. Styled by Benoît Bèthume.
Why Everyone Is Obsessed with Marine Serre
Is fashion designer Marine Serre a political provocateur, a peacemaker, or merely the most important designer of her generation?
Clothing throughout by Marine Serre. Photograph by Estelle Hanania. Styled by Benoît Bèthume.
If things are as bad as they seem, and we indeed colonize the moon, the Olympics—which will still happen in this dystopian future because, like cockroaches, well-funded institutions always survive apocalypses—will already have the perfect uniform for its lunar gymnastics team: 26-year-old French designer Marine Serre's crescent-moon-print bodysuits. They are the perfect mixture of whimsy, athleticism, and futurism that the new frontier will require. (France's Union Sportive de Créteil Gymnastique Acrobatique et Trampoline models them in this story.)
But let's bring ourselves back to Earth and to a microcosm called the fashion industry, which is so enthralled by Serre that just three seasons of work, and only one proper runway show, have generated discussion, admiration, and curiosity far beyond the pages of magazines and the borders of Instagram posts. Serre's clothing is a sensual and efficient act of equilibrium worthy of a balance beam. (And yes, Serre practiced gymnastics as a child.) A gown merges an elastic, racerback sports-bra bodice with a silk, empire-waist ball skirt. A pair of skintight, flesh-tone, crescent-moon-print boots appear under a billowing abaya of scarves. The synthetic fabrics of the present come together with the grand textiles of the past; the sci-fi silhouettes of the West with the breathable shapes of the East. Serre's garments are smart without being snobby, referential without being appropriative. Stretch jersey is treated with the same delicacy as silk moire, and sunglasses are as practically stylized as pockets.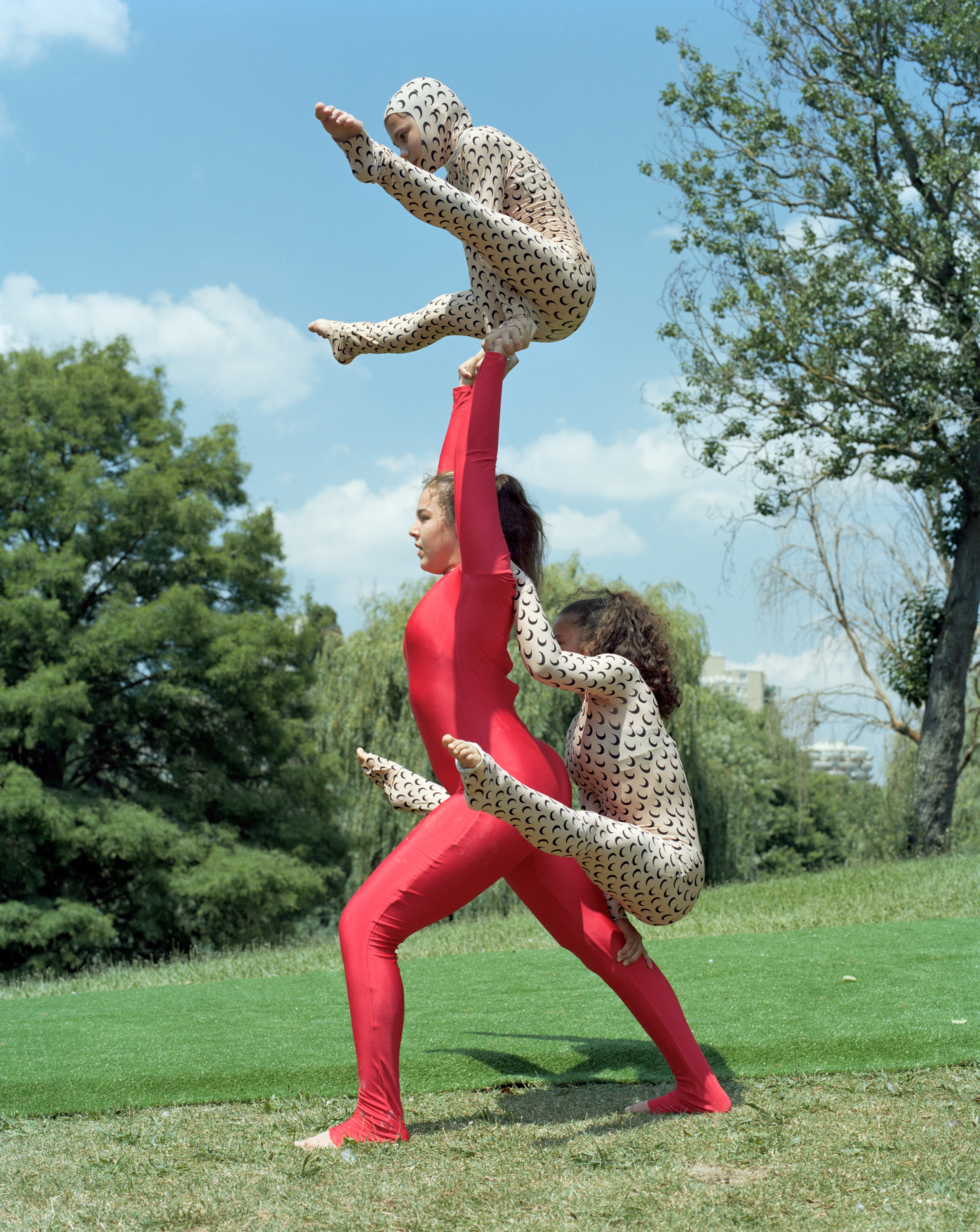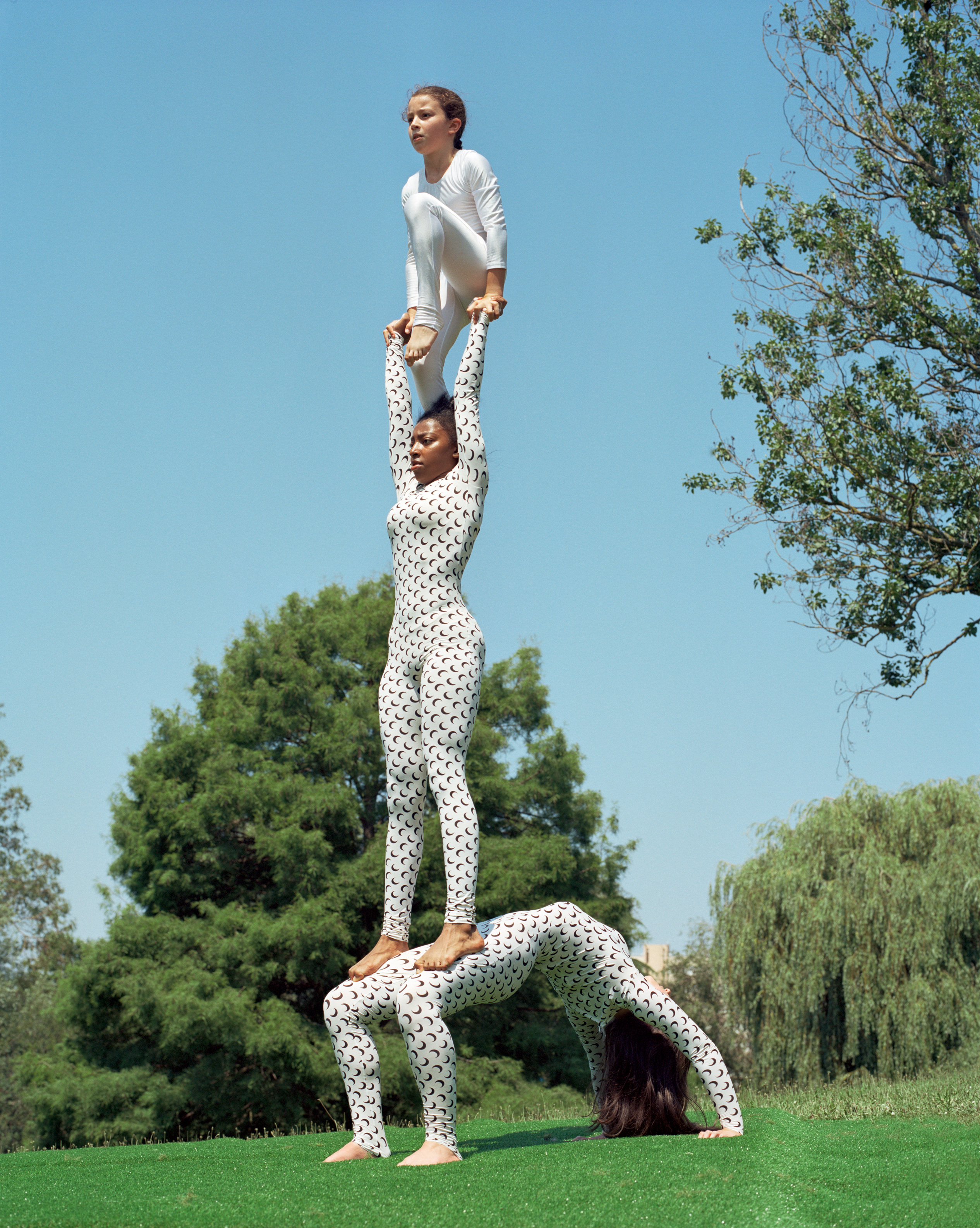 But these combinations are no mere gimmick. Many of the scarves in her fall collection were printed with the word "Futurewear," but whereas the rest of us believe that involves bunkers and assembling prep kits in designer tactical vests—see: my lede, the news—Serre imagines the future by engaging with the problems of the present. These range from micro (a safari jacket with enough pockets for women to ditch their bags) to macro (dresses made from recycled scarves to reduce fashion industry waste). And though Serre's clothing has a cool factor—she has credentials from Raf Simons' Dior, Matthieu Blazy's Maison Margiela, and Demna Gvasalia's Balenciaga—it's comfortable, streamlined where it needs to be, and free where it should be too.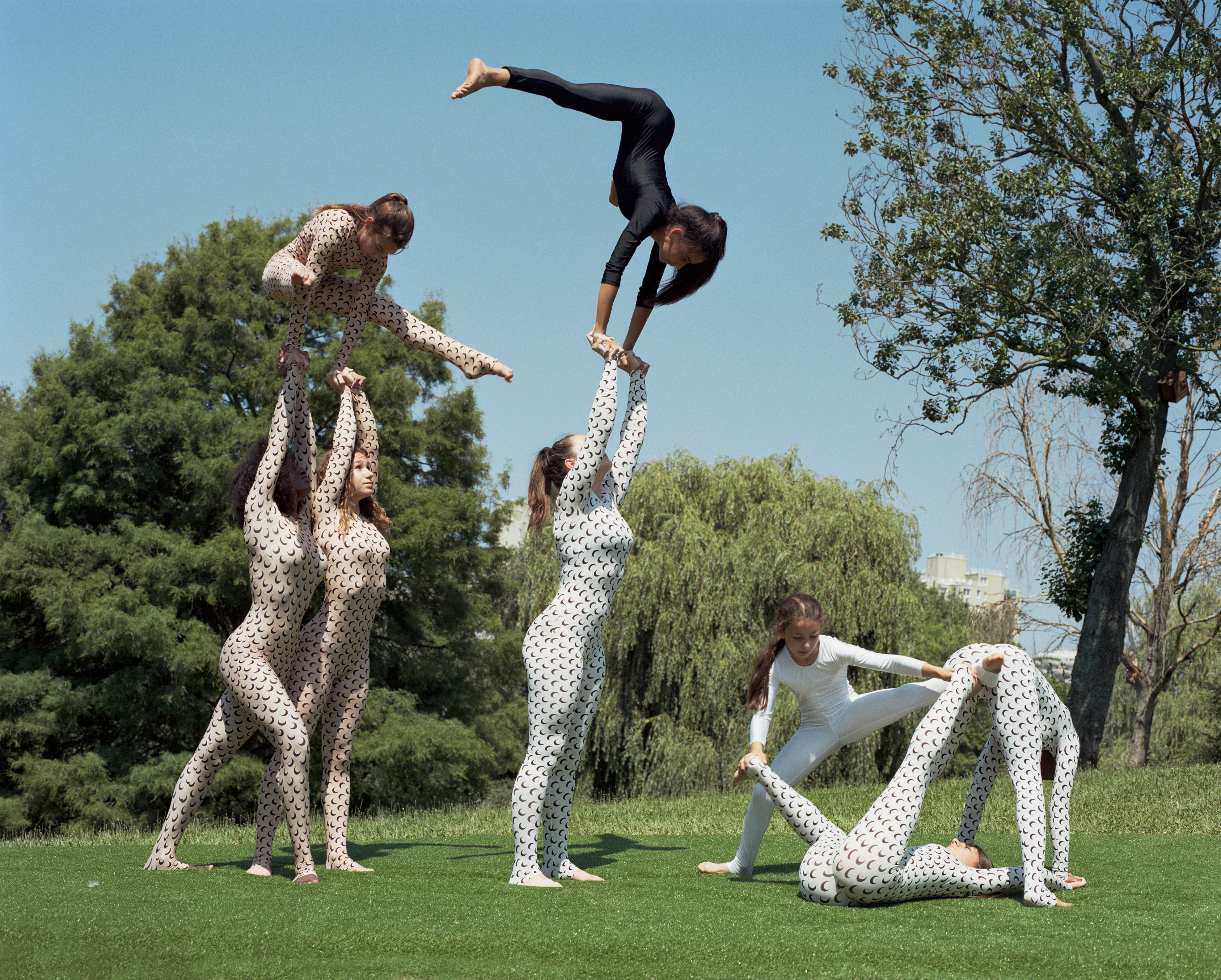 And then there is the crescent moon—though to call it hers or to call it a logo does not quite give proper credit to its meaning. Is it Muslim iconography? An attempt at fashion diplomacy? A nod to our astrological obsessions? The iPhone sleep mode symbol? Fashion has struggled to address the fractured state of the world beyond slogan T-shirts, but Serre reflects the realities of youth in her clothing: To live in a large metropolitan city (or just to be online!) is to see symbols and images enmeshed in a way that previous generations would have never dreamed; to be young is to be engaged in the world and its troubles and obsessions. Not even our clothing can stay silent.
This past July, Serre sat down with GARAGE to discuss her design philosophy, her vision for the future, and what it means to make political fashion.
GARAGE: Do you look at Couture?

SERRE: I don't look at a lot of shows, to be totally honest. I'm not really the type of designer that looks at too much of what others do. But, I mean, sometimes I look at shows like that.
Are most of your friends designers? Or most of them outside of the fashion world?
Outside. In the beginning, I was really embarrassed to tell my friends that I was fashion designer. I was like, "No, I'm not doing fashion—I'm doing design." For them it's like, it's not the best job on earth. But now I can say it. I don't have a choice.
Raf Simons said something similar in an interview with GQ [last winter]—that he felt fashion wasn't a high form of artistic expression and he was embarrassed to do it. But someone finally said to him, you do something very important, and you have to take yourself seriously.
It would be the same for me, like when I was doing [my first collection] Radical Call for Love, I was really doing it out of love. Then at some point, people told me, "Come on. I would like to dress in it. It's great." And then people started to buy it. This was also when I realized like, "Okay. Something is happening if people want to dress in it"—and [when] I'm a totally unknown person.
It was actually when I sold for the first time—the collection [was sold] in the Broken Arm, in Paris. And this was for me a really important moment because I was not thinking that it would be sold out, or you know, [sold next to] Céline or Martin Margiela. So I was really happy, actually, that people that were buying this kind of garment, and also liked the way it was made, the finish, because everything was, I think, coherent for [the customer].
And how did you come out of the gate with such a strong visual identity? I interview a lot of young designers in America and there's often this sense of, We're still trying to figure out our signature silhouette or signature garment, so that when you look at our brand you know what to expect. But from your first collection, that was immediately apparent. And how did you accomplish that?
I think it's actually a long road, because I started fashion actually seven years before I graduated. [As a teenager], I had a lot of friends…that had and went to vintage shops. And lucky me, [friends] were collecting garment for me. Every night after my job, I was going to them and they were keeping some really crazy pieces that no one would buy.
Like what kinds of things?
Everything actually, from scarves to pants, to [things] like some old Gaultier. But sometimes, some really unknown stuff. When it was a bit of crazy dress, and it lacked shape—that was for me. And [by] 16 years old, I had a huge catalog, So it was bit too much, but everything was bought for two Euro. Then actually, I sold all of that to make money to do my masters. I made lot of money actually, in that.
And then I went to La Cambre [in Brussels, an art and design school], and La Cambre is five years. It's quite long. And I knew clearly when I was going in to La Cambre that I want to make all the [vintage] garments that I had bought [as a teenager]. So I was really wanting, also, to learn that technical part.
And for the vision then, as you mentioned in your question: I think it's more like, [I worked] for seven years, actually, on that project [of thinking about clothing and its construction in this way]. It's finding what you're going to do, what is your identity. But I was never thinking, "Oh, what is my identity?" I just do the thing, and then it flows like that.
Of course, the more you make collection, the more you show it to people, the more you dress in it, the more you actually can shop. And I must say, what is important for me is always to have a body who is dressing in it. So when I make fitting, it's never on the mannequin, you know? Or even when I drape, it's on bodies.
I think it's more like people around me, and just life in itself, that makes these garment happen. When you have this confluence of things, it's just about daily life. It's not that complex.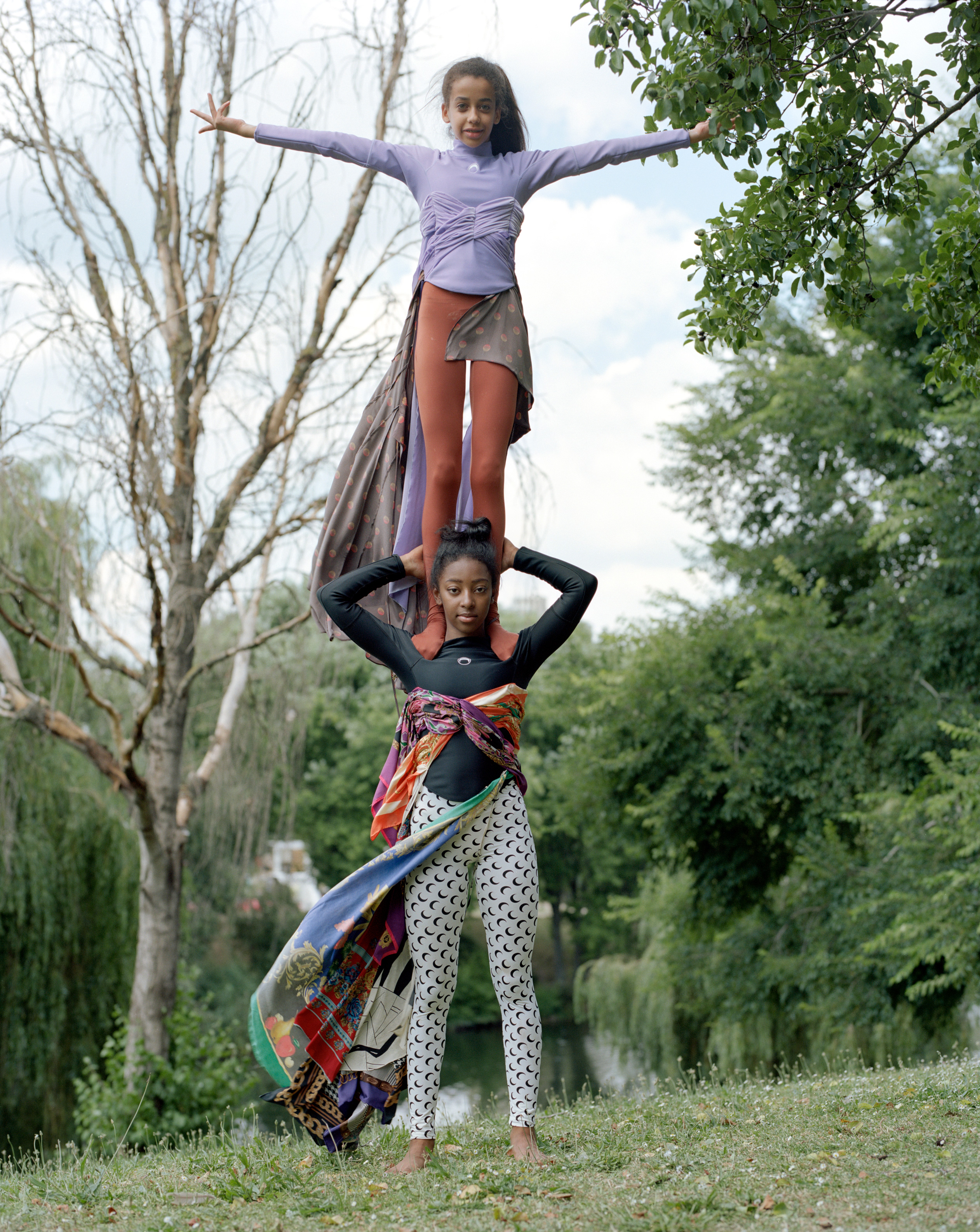 [ She picks up a sketch of a jacket from Fall/Winter 2018, which features multiple pockets to store your keys, phone, and other belognings, in place of a handbag.] When I make this jacket, for example, which has pockets for a water bottle, and lipstick, and stuff, I'm just like, "Okay. I'm a woman. I don't want to go out and take every little bag. I want to have fun. I want to be like a man, but I don't want to look like a bag, you know? I just want it to [have] shape." So that's why this whole idea of jacket came out. It wasn't that difficult in itself. I just thought, "Okay. What do I need? What do we need today?"
A lot of designers, especially this past season, talked about this very clear sense of this "aesthetic of the future." Even the sunglasses that you're wearing, that you showed in the show, are very much Sci-Fi inspired; there are lots of tight-fitting, sportswear-inspired looks in everything from what you're doing to what Stella McCartney is doing, and you even see those tactical vests at Louis Vuitton, and so on. But I get the sense with you, and this is what you're alluding to with that jacket, that you're invested in solving problems. And that is what is pulling your designs forward. Can you talk about the futuristic aesthetic in your work? And this is such a silly question, but what does "moving forward" mean at this point in design?
So actually, in the first part of your question, when you mentioned sportswear—I really don't want and I try to not, as you said, be only considered as that. Because a lot of my work is references to past things. So for me, past and present and future is the same. Like this kind of jacket [with pockets for your belongings], it's super-shaped, like a Dior silhouette.
I think "future" is depending on your perspective, and for me it's not only about using jersey and putting some reflecting taping on a garment, you know? And I think this is maybe what happens a lot today. We have a tendency to basically do sportswear in high fashion. And for me, it's really not like that. I really think about, What do I need today? So then for this reason, what do I need tomorrow?
But for me, the future is also [a question of] how to produce in another way. So the last part of the collection was [made with upcycled] scarves. And for me, this is also the future. So I don't think the only way to talk about future is as an aesthetic…. But I don't think I have one aesthetic, and maybe I try to answer to "what is the future" in a really simple and honest way, just by thinking, What do you need tomorrow, and what is effecting me today in the garment I dress in?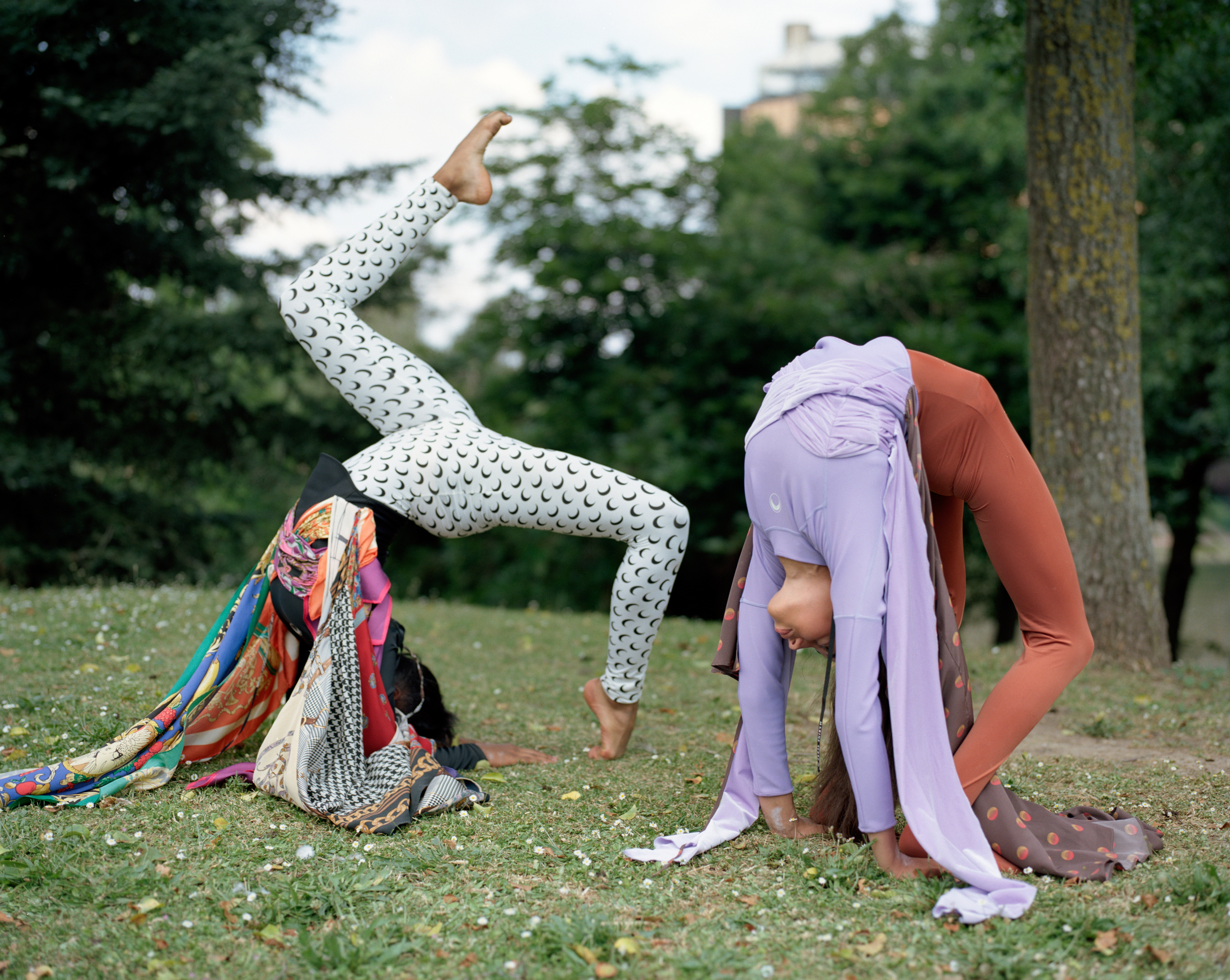 Tell me more about how the upcycled scarves played a part in this collection and are a part of the production model for your brand.
The upcycling part is like 40% of the show. First of all, it has been really successful with retailers. And in the press, of course, it was really good…. And I think the really important thing about this show is that when we made the show, we did not tell people it was upcycling. And people have loved the garments because of the way they fall, because they way move, because of the proportion. And after, it was like, "Yeah, and by the way, this is upcycled; I hope you still like it." I like that, because I think this is exactly what we need: it should be normal for everyone to do that.
What is interesting is to be able to actually produce it and to give it to people. Because if you create it just for the show...it's like making couture, actually. And I like the idea to be able to bring it to the shop and super happy that re-tailors are like...accept and also just like it. These are the most successful pieces of this season, and they are [made from] older stuff, vintage.
And how do you research the past? I mean, the pieces in the Spring 2018 collection that were those layers of ruffles: in a certain way, they look very future but of course, very sort of dense and old—kind of Venetian courtesan style. So if you're thinking about the future in a very practical way, how are you thinking about and researching the past?
I have worked, of course, for Dior, I have worked for Margiela; I worked for Balenciaga. For five years of my life, I worked in these big house where you see these amazing garments constructed, [so] you cannot say that these do not influence you at all. But I think it's really that when you see a really old piece of Cristobal Balenciaga's, I mean, you cannot say that you do not feel anything. It's super futuristic, actually, but it's like made ages ago. When you just look at it, you feel it, you know it's coming from that kind of time. And I like that. I also like that people can feel that by themselves, and not have to read anything about me. They just like the garment as it is.
[Regarding] these shapes...most of the time they are really, in terms of proportion, really sharp. And I think this is maybe what I like in the old: when it's sharp, it's drawing you in a way
[To mix them], it's more like finding equilibrium, and that's most of the part of my job. Some people say that I have weird taste, like, "Oh she's mixing things like [that don't normally] go together." But it's always like that, because growing up in the countryside, I had no education of fashion when I was a child, my parents are not in art. So you make your own kind of weirdness, and after you learn what is the normal way to be, you say, "Okay, maybe I could find the kind of balance."
You talked about learning about shape at Dior. And you mentioned that you learned at Margiela you learned a lot about process. Can you tell me a little bit more about that? And also tell me what you learned from working at Balenciaga?
I [did] a lot internships, so all my summers, I was not taking holidays—I was taking internships.... I worked for Alexander McQueen, and I learned a lot there. And then, to answer your question, I went to Margiela. Margiela was a very important time for me because I was a little bit depressed about fashion, to be honest, I was not sure that this would be for me, because [McQueen had just died], my English was not perfect and the flow of working was just hard.
And then I went to Margiela [in 2012]. And you know the first thing [the team at] Margiela asked me was to restitch something, and I was like, Why the fuck would I have to restitch this? But then I realized it was so nice, because you take the time to look at an old garment—you're cutting it, you reconstruct from the old, you make something new, and then, of course, the atelier people are sharing a lot. So I learned a lot from them, from the button maker and people who drape, and people that worked with Martin before who were so passionate about what they do.
It gave me so much energy. Just the mood and the way they make things was really, really nice…. I also learned that it's fine to ask someone [like a street artist] to make an art work for you and to make it for the show of a couture [brand like] Martin Margiela. You know, all these kind of things seem easy and stupid, but when you are young, it's like: Oh, oh you can do that, actually? You start understanding that the value of the garment will not be only in the expensive fabric—it's also the way you make it.
The cool thing about Balenciaga was that I saw a lot of the archive, because I was a designer there. The Cristobal archive is like, really rich.
I remember when I saw the Balenciaga show at the V&A, I think the year before last the pieces were just..bonkers. They were so weird. I always knew he was very architectural, but the shapes were so strange to me in a way that I hadn't really appreciated before. So I can see how you would have enjoyed being in those archives.
It's not a lot of people that have ever, ever done work like that. Everything is really round, and really dynamic, actually, and really simple. Even when it's all dresses, it's not that complex. It's not Dior.
The last thing I want to talk about is the possibility of fashion responding to, or participating in, politics. I think in the U.S., we often have what seems to be a very superficial understanding of how fashion can participate or respond to politics—you know, it tends to be a t-shirt with a message on it. There sometimes isn't a kind of deeper examination of how clothing can respond to or participate in what's happening in the larger world. But you use the crescent moon, traditionally the symbol of Islam, as a big part of your brand—it's kind of your signature print or logo. And you also use the word "Radical" in your sort of statement of purpose, which is a highly politicized term. I'm interested in what you think it means to create political fashion. And I know you've said before that for some people it's just an interesting crescent print, and for other people it may mean something more. And to you, what does that "something more" mean?
Well first of all, what I've said all the time is that I'm not trying to be political. I'm just trying to be engaged. And I think everyone should be. And as the owner of my own brand now—and I'm not a designer for a big brand—I have the responsibility to all the people who work with me and all the people that will buy it. You have a responsibility as a designer because you give product to people. They are going to dress in it. And also today, the influence of fashion—like just in terms of social media, everyone is looking at fashion. I mean, you've seen it with Vetements, with all kind of other brands, with Gucci—fashion [goes] super viral.
It's crazy because nothing like that happen[ed] ever before and as I said to you, I was not convinced that fashion was for me. Or rather, I was like thinking, Maybe I can never do something really interesting. Then I actually try to stretch for this equilibrium [I mentioned earlier], for me, for my own life, but also for people who were working with me. And I think it's not so much about being political—it's just about being engaged with the world today.
With upcycling, it's the same. I don't want to be a green brand and make commercial promises [based] on that. What I want to show is that, yeah guys, you can do a [new, luxury] garment with old garments. Being a designer is not only being able to make a fabric in China that is cute and beautiful and pink and then you make a nice dress. You can do it another way.
And to give maybe an example about the moon, to show you a bit how I work with this kind of way of engaged designing: I look at people on the streets. My inspiration is [from] where I live or who knows me or [who I know]…. But at the same time, I was settled in Belgium at the time [she launched her brand], and I have a lot of Lebanese and Arab friends, and I was even asking them, "Do you think I can do that? Would it be an offense if I were to put a moon there on the t-shirt there?" And they were like, "No. I think this is fucking great what you do. And no one is going to be afraid of it. I would love to dress in it. I would be proud." And then you bridge this boundary, at the same time, of people being afraid [of something they are unfamiliar with].
But I think it's also important because it's what we need today. I mean for me, I don't want people to think of my name as a French brand. I would like kind of worldwide identity that can be anywhere, and is understood differently everywhere, because that is life.
This interview has been condensed and edited for clarity. A version of this story appeared in Garage No. 15.
Editor's note: an earlier version of this story misstated the designer under which Serre worked at Margiela. She worked under Matthieu Blazy, not John Galliano.