Ezra Miller Was a Camp Icon Long Before He Attended the Met Gala
Lest we forget that he dressed for a Harry Potter premiere as Hedwig the faithful owl!
The Met Gala is tonight (!), and with an event theme like "Camp: Notes on Fashion," you better believe absolutely everyone will be bringing their A-game (with the possible exception of any guests who haven't read their Sontag and show up in full camping gear, necessitating a panicked quick-change in the Met bathroom).
One person who's nearly guaranteed to nail the theme, though, is actor Ezra Miller, who's drawn the fashion world's eye over the past few years for injecting run-of-the-mill film premieres and press events with increasing, sorely needed doses of camp. Below, we're rounded up some Miller red-carpet looks you should absolutely be familiar with before he inevitably steals the show at the Met Gala.
The time he dressed up as a Givenchy-inspired Hedwig (Harry Potter's owl.)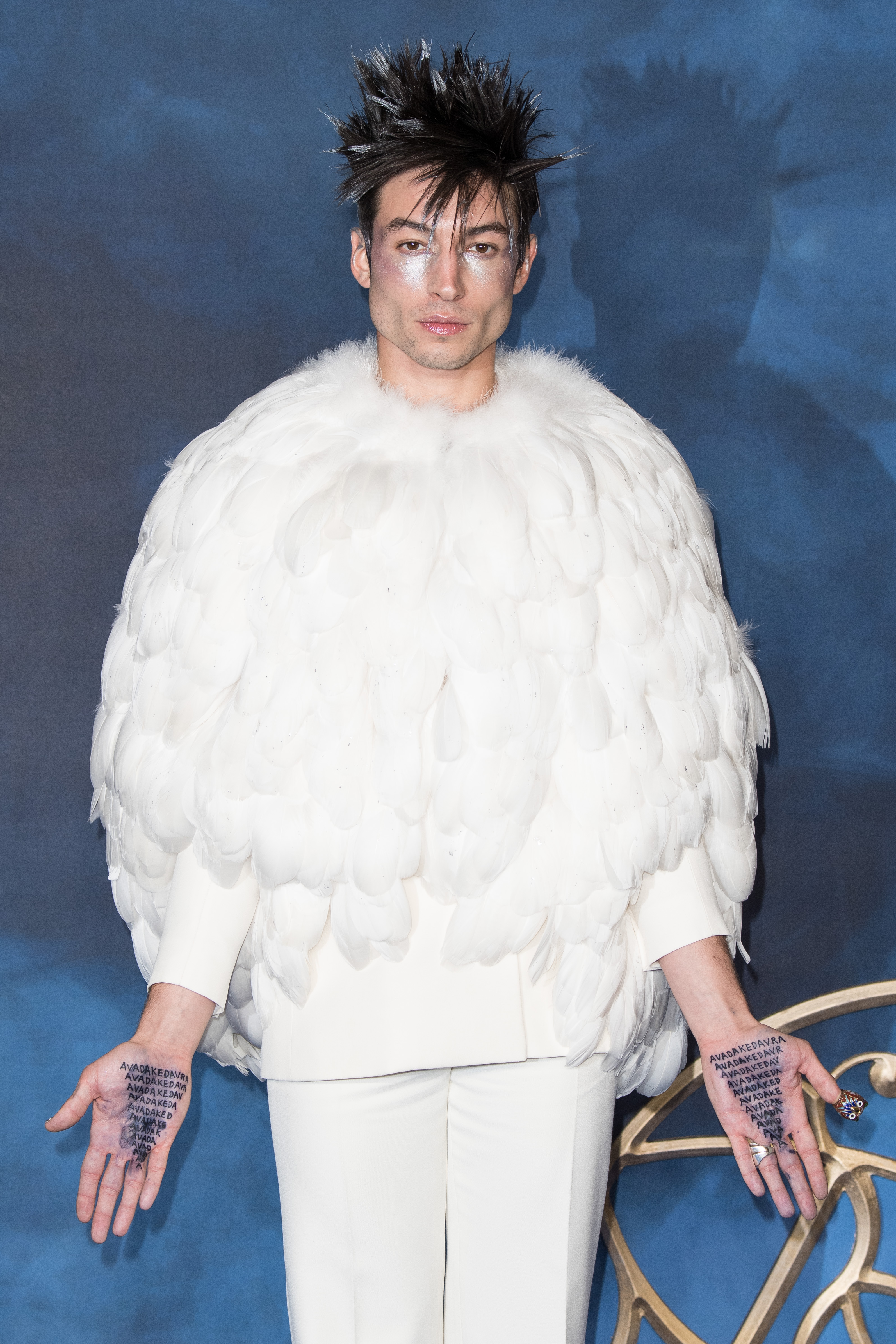 Not many leading men would take their fashion cues from an owl, but that's exactly what Miller did at the UK premiere of Fantastic Beasts: The Crimes of Grindelwald this November. The white feathered Givenchy top and sparkling eye makeup combined to create an effect that was — dare I say? — magical. (If you're squinting to read his palms, they say "Avada Kedavra" over and over in a triangle formation.)
The time he made the Pierpaolo Piccioli x Moncler puffer sell out online.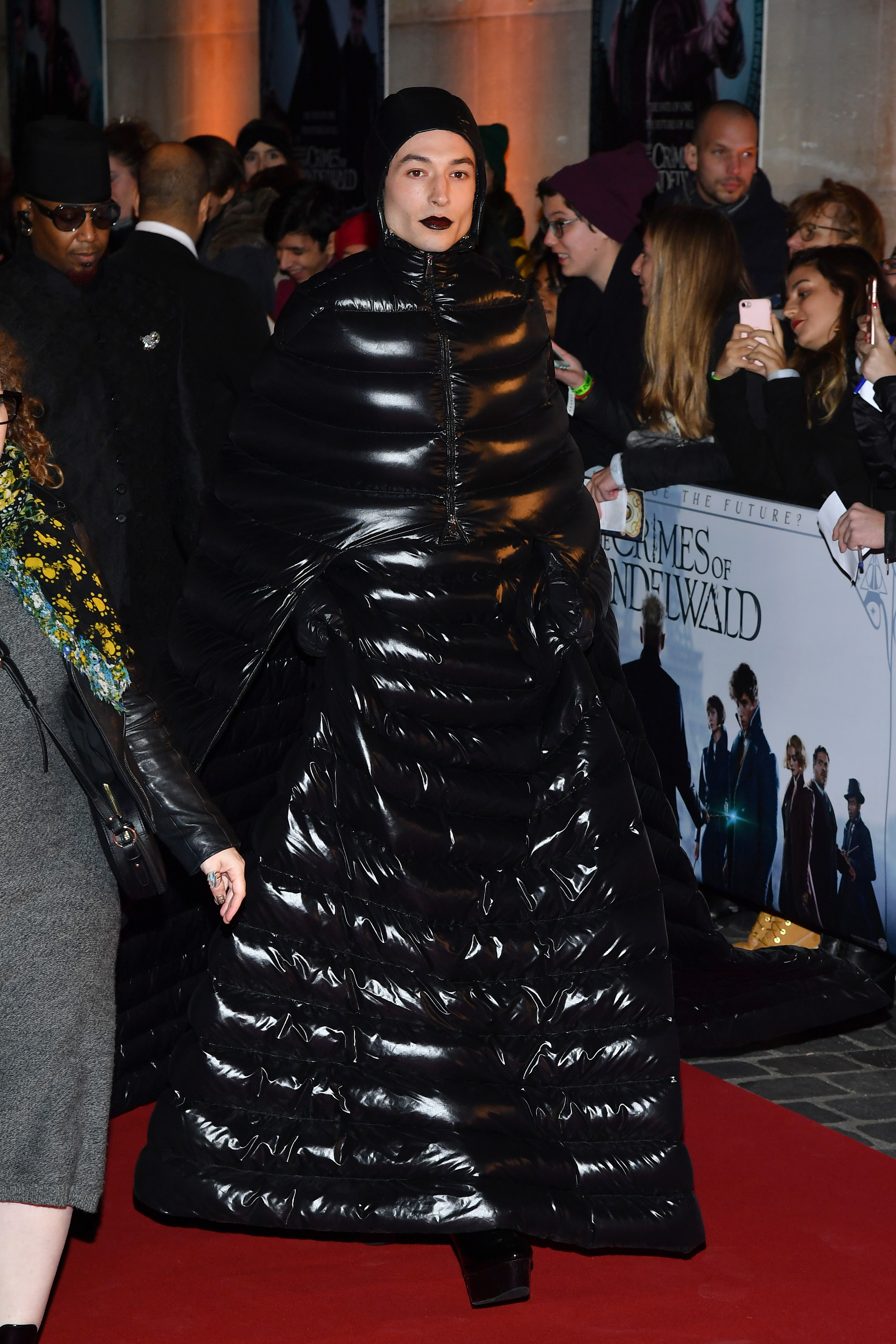 The facts don't lie: soon after Miller paired a dark shade of lipstick with Pierpaolo Piccioli x Moncler's puffy floor-length collab, it promptly sold out online. His range! His influence!

The time he took a cue from Prince in purple fur.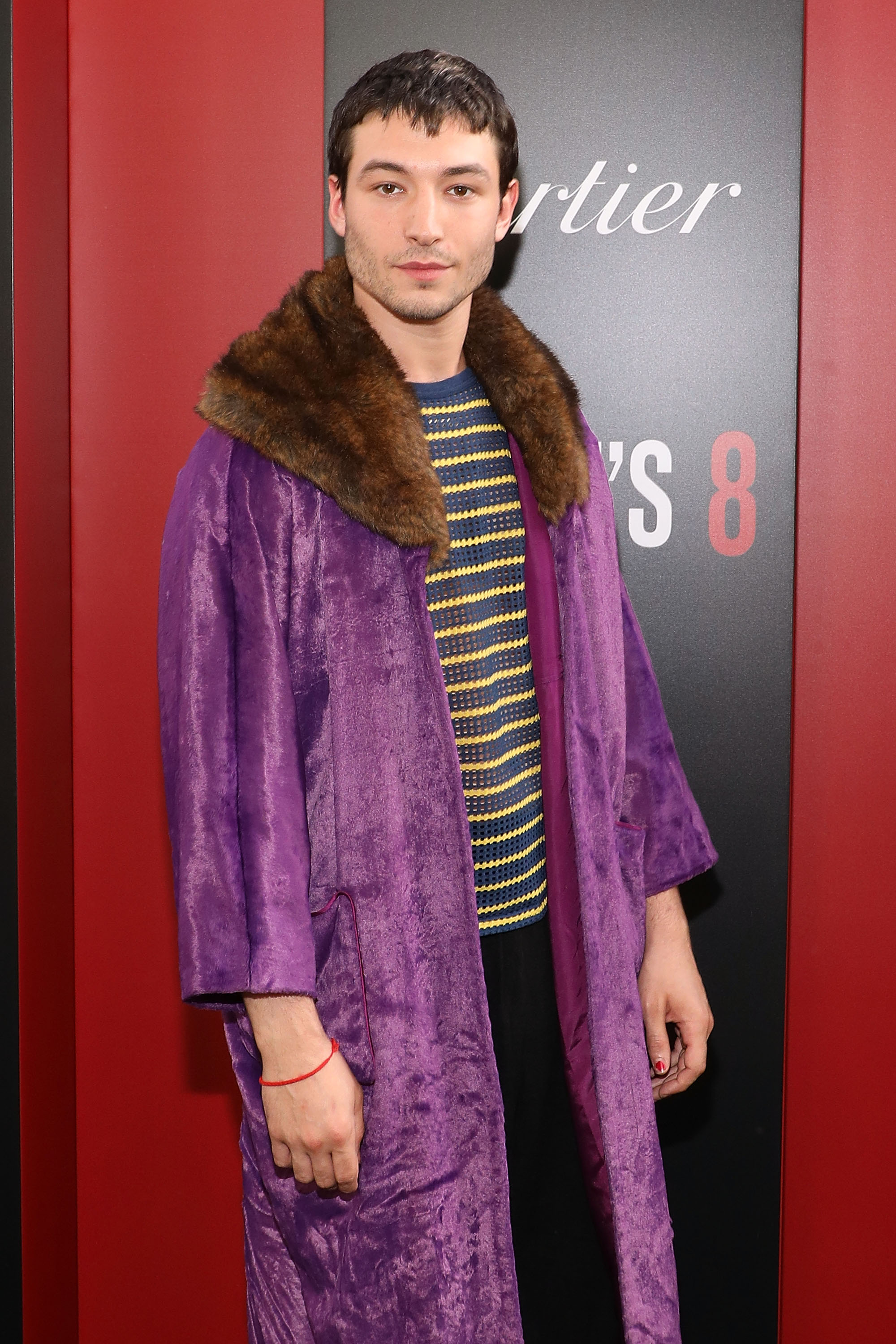 Emulating the dearly departed Prince (RIP) is something most actors don't do enough of, so it was a real delight to see Miller at the Ocean's 8 premiere last summer in full-on purple fur. What's next, a raspberry beret?
The time he was space-age chic in silver.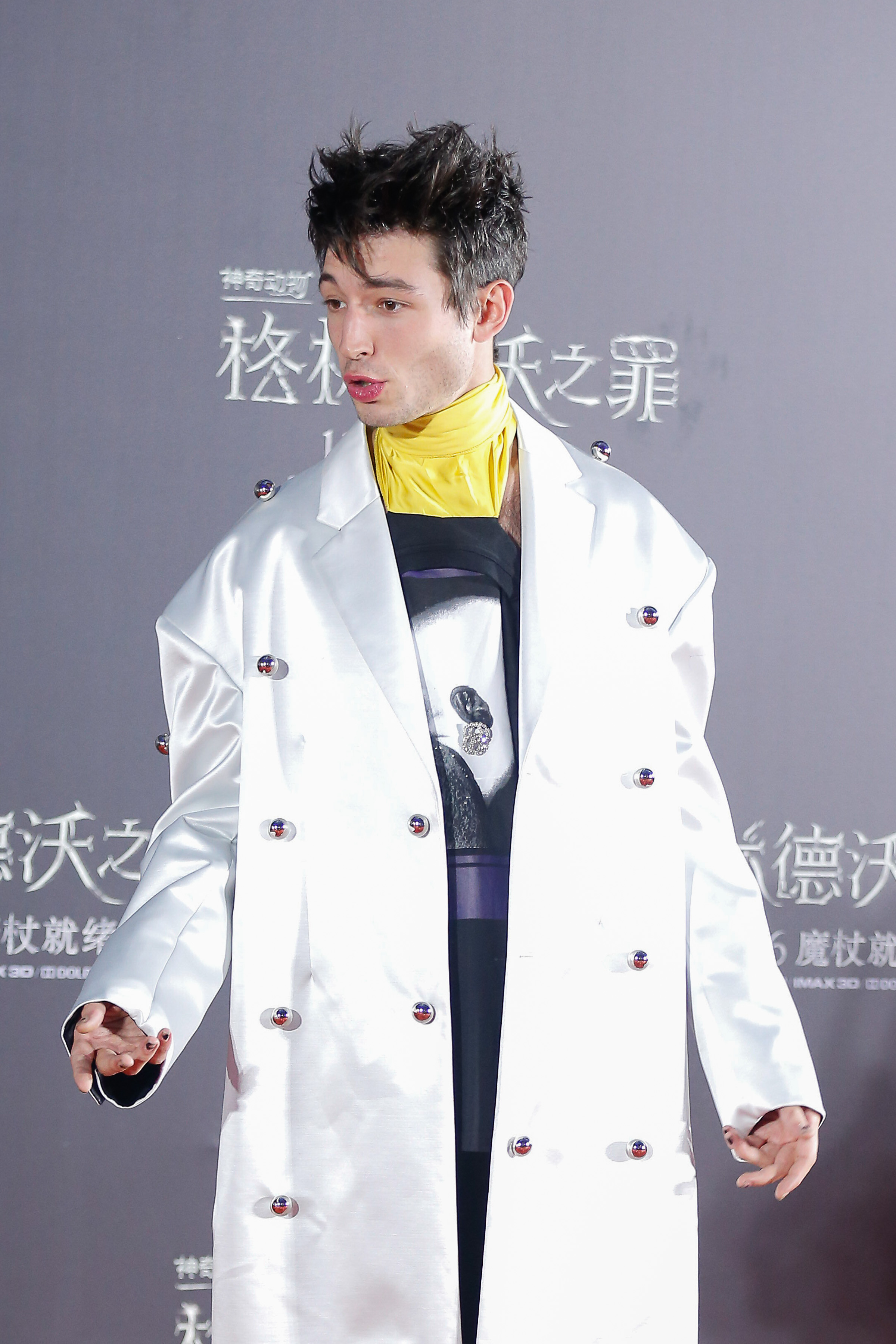 Miller took the Beijing premiere of Fantastic Beasts as an opportunity to experiment with some real Diane-Keaton-goes-to-space vibes, layering a bright yellow turtleneck under a shining silver coat.
The time he went full Comic-Con.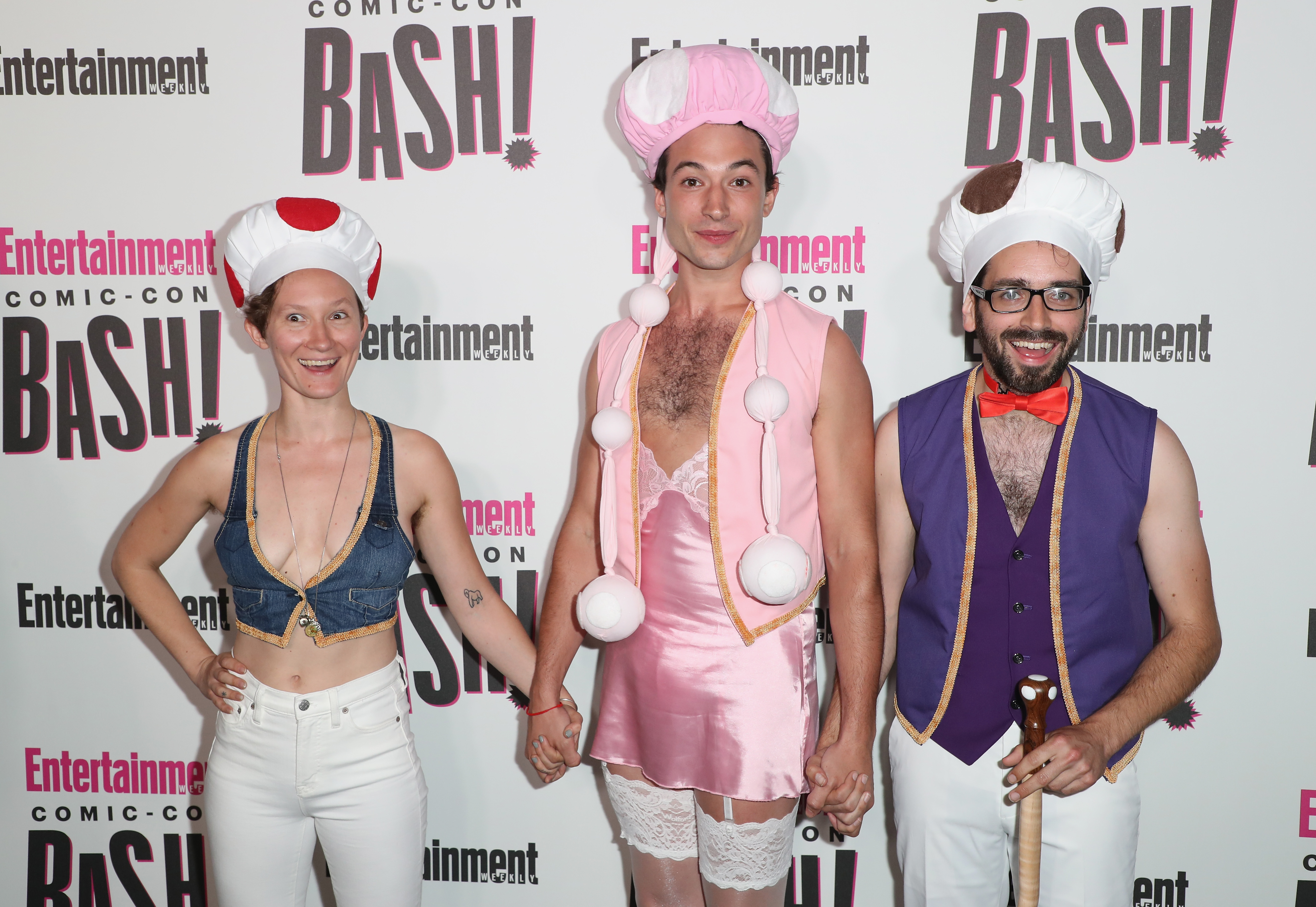 Comic-Con is an obligatory pit stop for many celebrities, but there aren't many who take the opportunity to do a full, good-natured cosplay of Nintendo character Toadette. Go off, good sir!
The time he coordinated his suit with his lip gloss.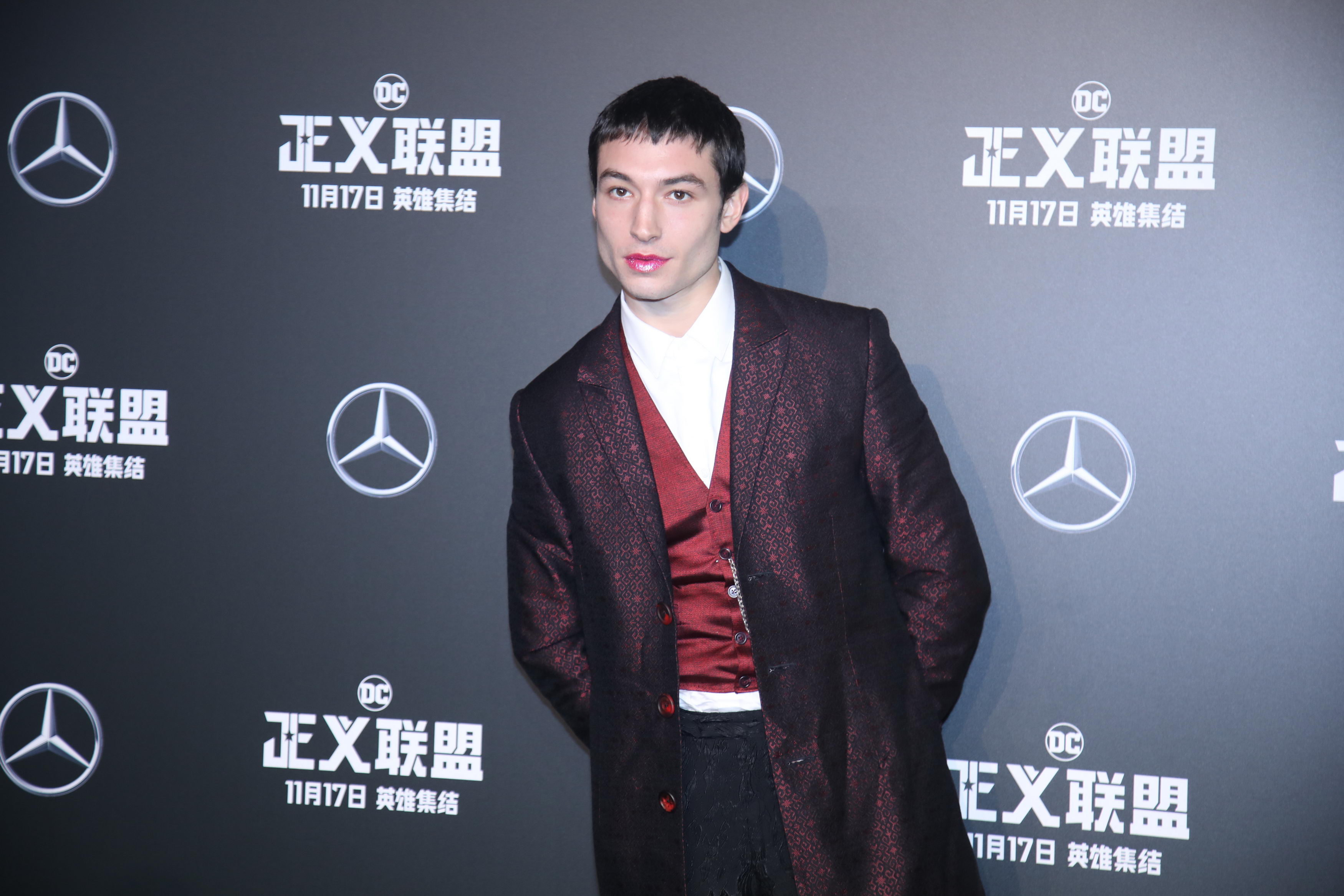 Miller exemplifies fashion's recent shift into an increasingly genderless space, debuting a sparkling shade of Fenty Beauty lip gloss at the Beijing Justice League premiere in 2017. This is what the prophet Lil Mama spoke of.
The time he shouted out Leonard Cohen.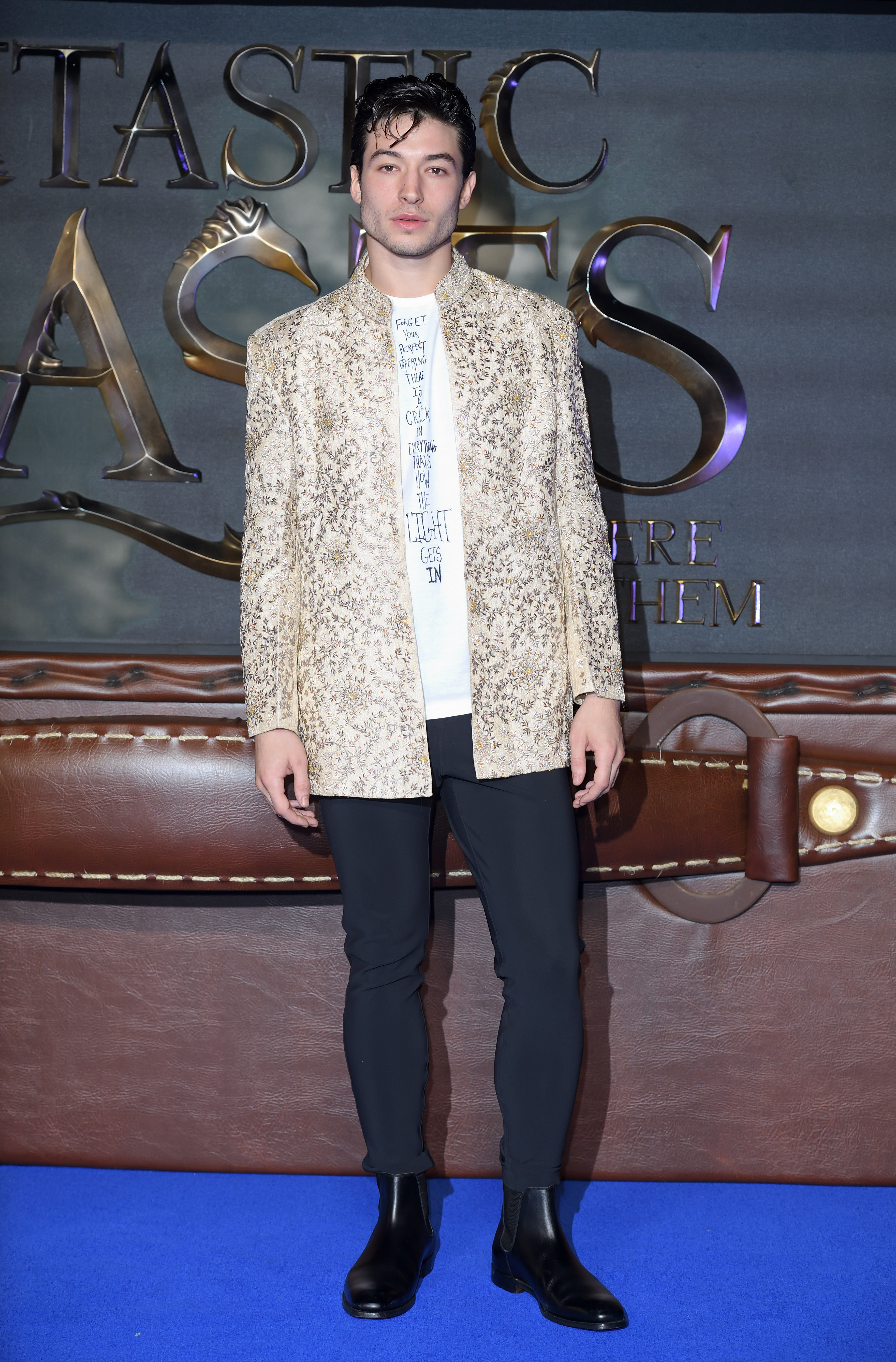 "Forget your perfect offering, there is a crack in everything, that's how the light gets in," crooned Ezra Miller's shirt at the London premiere of Fantastic Beasts and Where To FInd Them. These inspiring words were pulled from the late Leonard Cohen's song "Anthem," and somehow, they seem to find their natural home under a metallic blazer, in a look that prompted Out to crown Miller the best-dressed man of the week. We're GARAGE, and we support this message.
The time he beat Carrie Bradshaw at her own ruffle game
Okay, okay, this isn't technically a red-carpet look, but it's sooo camp that we had to include it anyway. This dress is like the cousin of the one Carrie wore in Paris when the Russian stood her up, except...more, somehow. More drama! More ruffles! More fuss! More, more, more!