How John Currin's Freaky-Ass Paintings Helped Me See Myself
There's a lot of power in unflinching female asymmetry.
When I was a teenage girl, I thought I was supposed to be a work of art.
I came of age in the Lizzie McGuire era, which slowly and inevitably gave way to the Paris Hilton epoch, which melded near-seamlessly into the Taylor Swift eon, and throughout all that time, I knew I wasn't what TV and magazines wanted, so I decided I would be what museums wanted instead.
Instead of seeing myself in the pop culture of my era, I looked backwards to the classical art my class was frog-marched past at the Met, taking note of Rubens figures' round faces and the Vermeer milkmaid's meaty forearms. Here, at last, were women with full figures, but they had the soft, sweet features and long, graceful hairdos to accompany them; I, in possession of a broken nose, thin lips, and heavy-lidded eyes, had none of the above. Maybe a 90-pound Slavic supermodel could have parlayed my facial attributes into a Wilhelmina contract, but I wore size-ten jeans in the eighth grade; thus, I reasoned quietly with a sad kind of logic specific to adolescent girls, the warm cocoon of beauty, of knowing you were wanted, would never envelop me.
I thought about that cocoon, as I nearly always did at that age, on my first trip to L.A.—the world capital of beauty—skipping meals and "subtly" sucking in my cheekbones in every touristy photo my dad took. Toward the end of the trip, we went to MOCA, where I put into practice my timeworn tradition of sulking until we hit the gift shop. There, my attention was instantly drawn to a hot-pink satin-covered book, sandwiched innocently between Hockney biographies.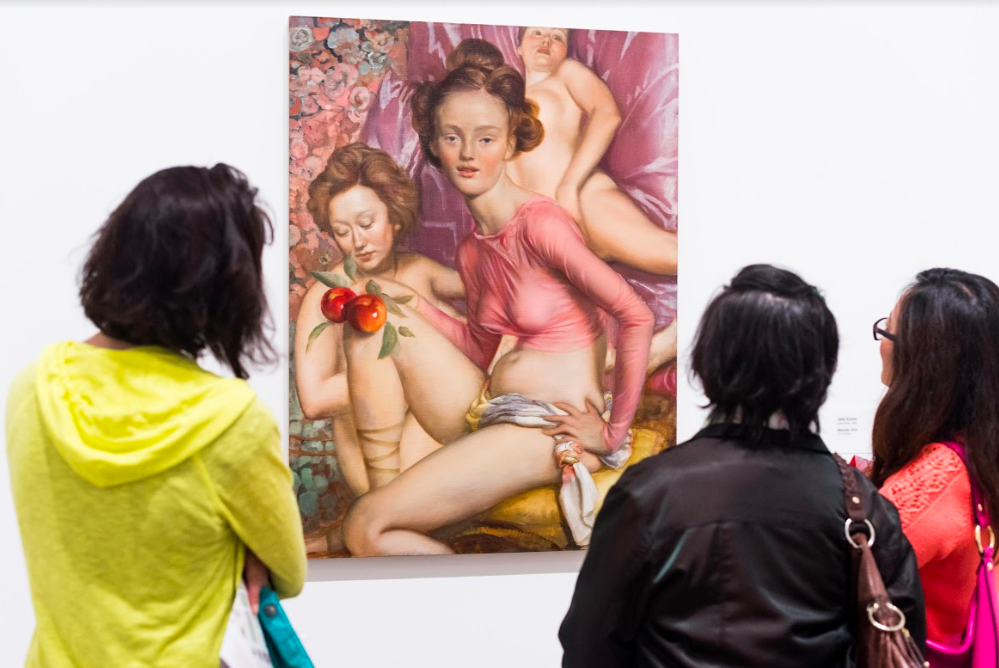 As I flipped through, I saw women who weren't quite like the ones I'd ever seen before. They had classical, generous proportions, but their faces were all varying degrees of off; they looked like demented housewives or half-melted Barbies, their 50s-esque pin curls and silhouettes the only thing anchoring them to any context I understood. They were fleshy, unabashedly so, but they were also arresting in a way that felt familiar to me from my school pictures, my grandmother's wedding photos, the grainy shots I'd seen of distant Russian ancestors. I bought the book; I still have it today.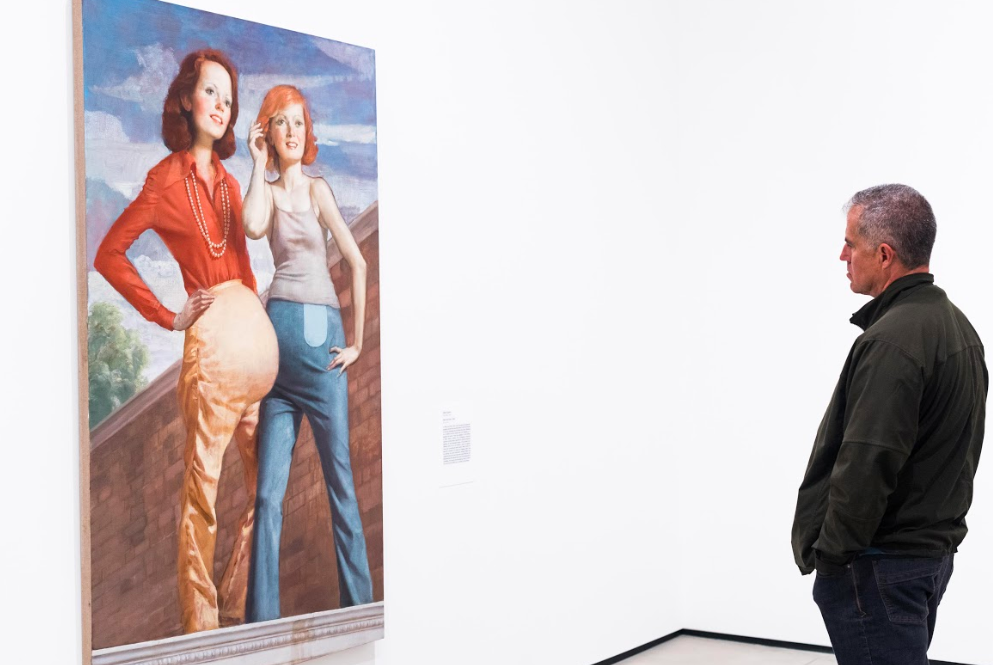 The author of the book was figurative artist John Currin, who has drawn acclaim and scorn in near-equal measure for his provocative, quasi-pornographic nudes. "I remember him telling me he wanted to do something beautiful and ugly in the same painting," Currin's mother told The New Yorker of her son's "de Kooningesque" paintings at Yale, and that fusion of the lovely and the grotesque continues to characterize his work today in shows and retrospectives everywhere from the Tate to the Whitney. His wife Rachel Feinstein is his muse, and appears as a through-the-looking-glass face and body model in many of his works.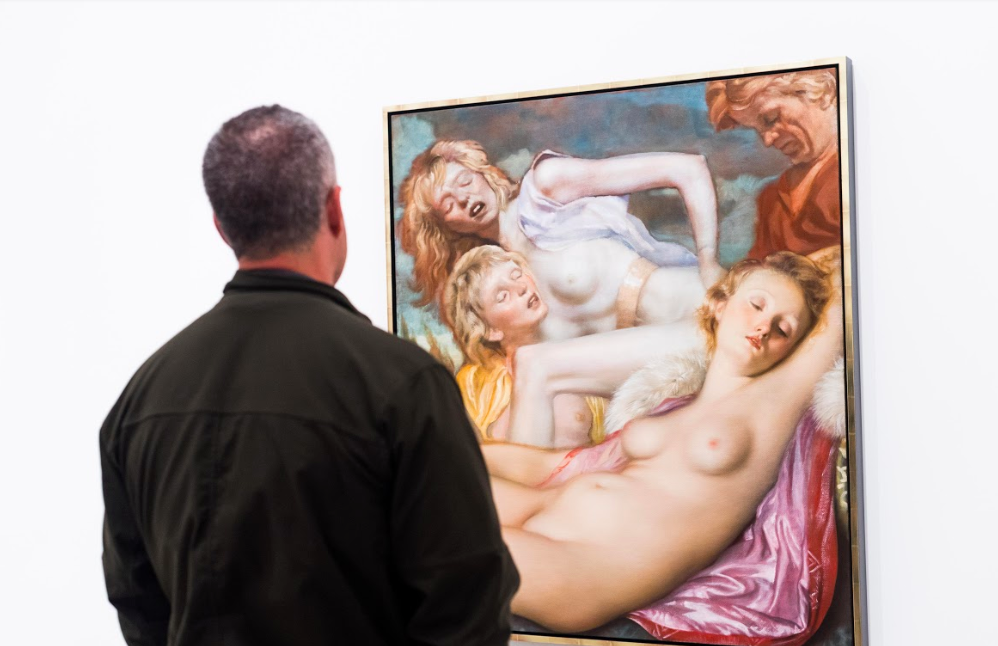 If it were up to me, I wouldn't have picked an allegedly Republican artist like Currin to be the artist of my semi-awakening; I would have gone with someone politically correct like Cindy Sherman or Barbara Kruger, not a man who drew feminist ire from critics like the Village Voice's Kim Levin for working off of old issues of Cosmo and Playboy (and, more recently, Internet porn). Unfortunately, though, we don't get to choose who who makes us feel seen—and, for what it's worth, Levin ended up changing her mind about Currin.
In interviews, Currin often talks in terms of what's funny, and friends and family often attest to his sense of humor. In a strange way, his lighthearted, camp sensibility gave me permission to take my own appearance less seriously; here were women sitting at the razor's edge of ugly, but they smiled nonetheless, gap teeth and all. Sure, some dismissed them as hideous, but just as many found them beautiful; more to the point, though, their perceived beauty—or lack thereof—wasn't the sum total of their worth. The Currin women I saw in that book made beauty into a question with many possible answers, rather than a zero-sum game.
These days, my self-image is a lot less dismal than it was when I was a miserable pre-teen shuffling through an L.A. museum gift shop, the outline of who she should be following behind her like a phantom. I basically like myself, most days. I know more about art than I did in my early teens, and these days I'm inspired by artists like Mónica Hernandez and Tschabalala Self, people who disrupt the status quo simply by creating.
Still, I always feel a little kick of recognition when I look at one of Currin's melted-doll women, their proportions exaggerated, their faces stranger than fiction. If they contain a certain brand of spooky beauty within their lines, then maybe I do, too.