Screenshot courtesy of The Creative Independent.
There's a Library for Digital Mindfulness, So You Actually Never Have to Log Off
In the Library of Practical and Conceptual Resources, a joint project from The Creative Independent and are.na, you'll find essays, directives, and spa snail videos.
Screenshot courtesy of The Creative Independent.
In his 1941 story "The Library of Babel," Jorge Luis Borges describes the psychic desolation of an infinite library, its books comprising every combination of letters possible. He writes, "the first impression was one of extravagant happiness.... As was natural, this inordinate hope was followed by an excessive depression." In the Library of Babel, "for every sensible line of straightforward statement, there are leagues of senseless cacophonies, verbal jumbles and incoherences."

If this sounds like the internet to you—the agony and ecstasy of unending choice, two poles that often find equilibrium in paralyzing boredom—you might try the Library of Practical and Conceptual Resources, a collaborative project of very good website The Creative Independent and are.na, an experimental platform popular with digital artists and designers. The digital athenaeum, hosted on are.na, offers a curated selection of videos, snippets of advice, and essays: per The Creative Independent, the Library provides respite from being "extremely online," and its purpose is "to create space for healthy reflection on our online habits, as well as to spur creative thought and action."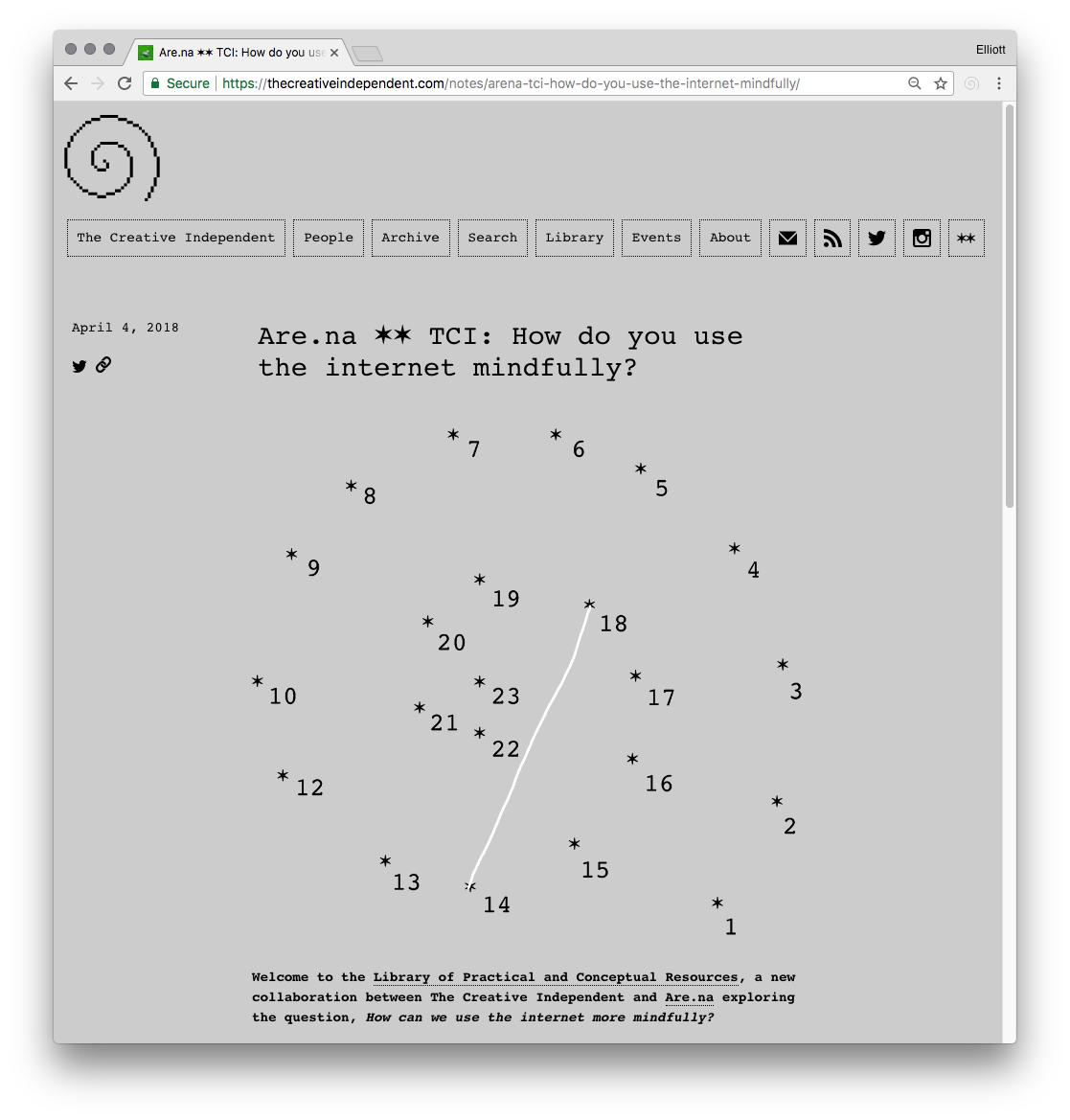 Like all good libraries, this one cheerfully directs you to what you really need, from "a drop of love in the cloud" to "Drawing Instructions." Clicking and scrolling through the cascading posts (true to its techy roots, are.na calls them "blocks"), I found Neil Gaiman advising a graduating class of art students not to professionalize too young; a woman lying sphinxlike and calm as snails are arranged on her face at a spa; a website you need to disconnect from the internet to access; the directive to send memes to my parents, accompanied by Patty Chang's hilariously irreverent In Love; and some helpful feedback, I guess, on why I am not a warm person.
One block contains this quote from Louis Rosetto: "In the age of information overload, THE ULTIMATE LUXURY IS MEANING AND CONTEXT." Explore it yourself here.