Photograph by Larry Busacca for Getty Images.
A History of Festival Style—and How Beyoncé Just Changed It Forever
Festival dressing is about imaging a utopia that never can be. Beyoncé fantasizes about a world to come.
Photograph by Larry Busacca for Getty Images.
What are we dressing for when we get dressed for a music festival? The countless PR blasts touting "festival style" that begin to appear each spring fill our inboxes with images of cut-offs, vaguely bohemian crop tops, and t-shirts for bands that the intended wearers may not even listen to—a strangely codified uniform for an event that, unlike firefighting or rock-climbing or appearing in court, doesn't seem to demand one. So from where did this uniform emerge, and what does it mean?

The pseudo-hippie, loose but groomed festival style canon emerged at the turn of this century, epitomized by willowy "boho" blondes like Kate Moss and Sienna Miller, who tromped around England's famed Glastonbury Festival in mud-spackled Wellies and flimsy sundresses. Miller appeared at 2004's Glasto in what has become a kind of "patient zero" of festival dressing: a flimsy black dress with a huge studded belt slung over it, like a bandolier for a woman whose only ammunition was a pair of big sunglasses to face off too-eager paparazzi. She added Uggs and neon aviators—the kinds of things you'd expect to see on a tired British tourist sweating in line at Disneyland—and made no attempt to cover up her lanyard with necklaces, or layer cooler bracelets over her neon wristband. It was truly, this lack of "styling" suggested, about the music. Miller held a giant Budweiser cup, which had that Olsen-Starbucks effect of dwarfing her, leveraging an uncool brand to make her look somehow…chic. (Indeed, the carelessness of this way of dressing had the benefit of showing off its wearer's best assets: perfect legs, glossy hair, and tiny arms.) It was a combination of sloppy garments and accessories that looked somehow pristinely pulled together—and thus became the ethos of what we consider "festival dressing."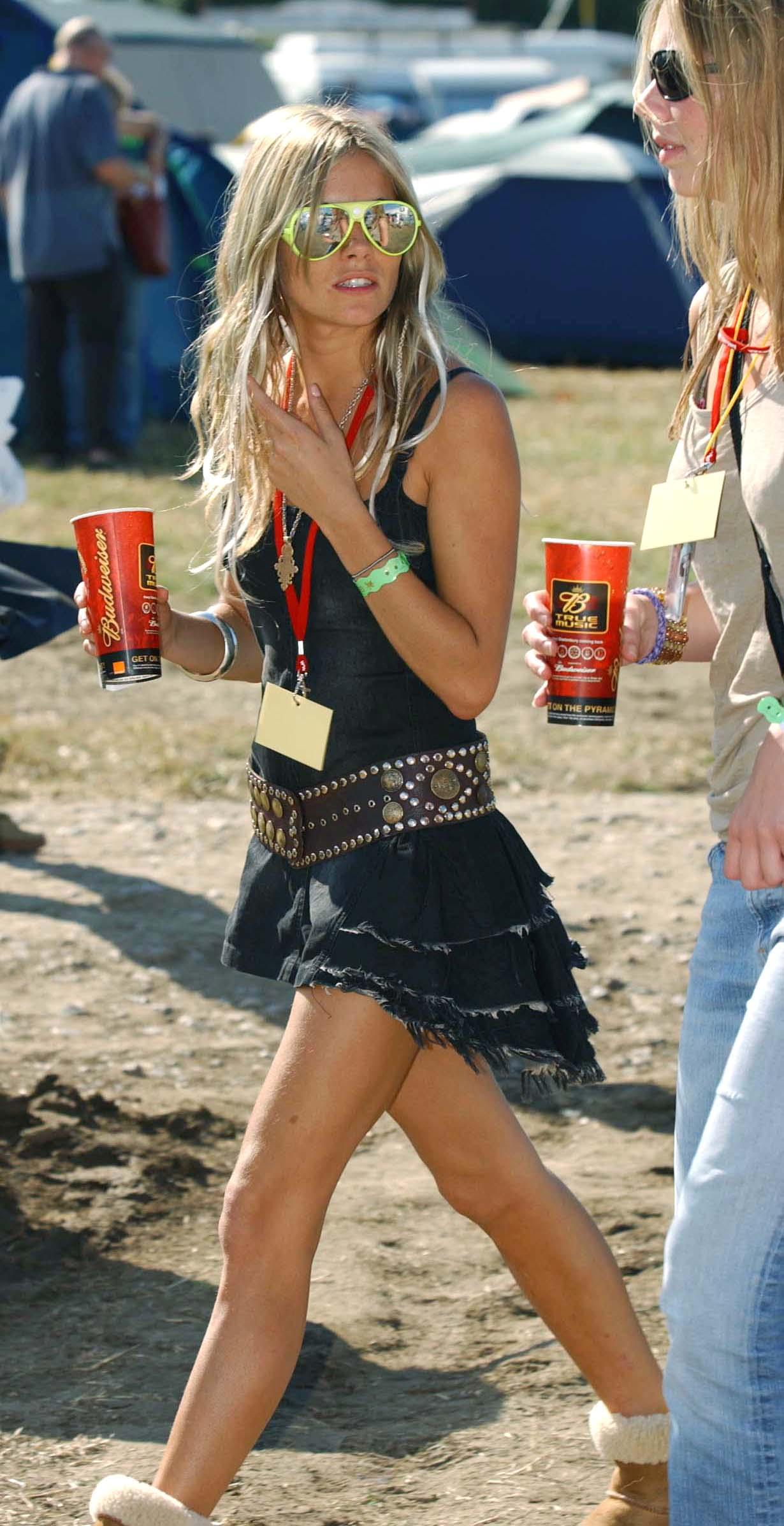 This studied carelessness was itself channeling a distant music history past, in which music was so powerful that it could mount a temporary utopia: the late '60s, '70s, and even early '80s, when Woodstock's legend still seemed replicable (that, after all, was the goal of Altamont), and David Bowie played at dawn (Glasto, 1971), and Elvis Costello played a three-hour set (Glasto, 1984), and you would forgo showering and food and sanitation and the "common decency" of the laws of society outside the parameters of the festival's field just to hear the music. To this day, the "festival style" sections of retailers like H&M and Forever21 are filled with bohemian garments that look pulled from the stage wardrobes of Janis Joplin or Mick Jagger, filtered through Miller and Moss's glossy ideal. Unfortunately, this desire for a society outside of this one also means that many festival attendees have taken this as an opportunity to embody the "exotic other"—it's why the mid-aughts were filled with festival images of women in Native American headdresses. We get dressed to connect to a past that we weren't a part of but want to pretend we were, or to connect to one that never actually existed—most of Glasto's '70s lineups are pretty weak; Altamont was a tragedy; Woodstock was in many ways a historical blip.
This year's Coachella was a study in what we imagine as a music-wrought utopia. Though most festival attendees are now aware enough to know not to wear a headdress, festival fashion is still an opportunity for identity play in its most shallow form. Is Post Malone really "our" Gram Parsons? God, I hope not—though he may be our Elvis. Paris Hilton appeared in Classic Festival Style that almost looked anachronistic: a bohemian dress—embellished, tie-dye, very low-cut—with floral cat-eye glasses and a coordinating floral cat-ear headband. (Better to suggest you are a cat than a person who should wear a feather headdress.) Her dress is by a brand called Shahida Parides, whose website says, "we celebrate women as the modern day fairies." Kylie Jenner, meanwhile, had a different neon hair color everyday. The myth of the festival as a place for fantasy—I am a legendary and troubled musician; I am…a fairy; ice-blue is a color for hair—remained as potent as ever.
In other cases, Coachella showed identity construction at its most florid: Rihanna, who looks like she has a blast getting dressed to get iced coffee, often uses festivals as an opportunity to wear clothing that would be outrageous on a city street, even for her. Earlier this week, for example, she wore a full runway look from Gucci's 2018 collection, which explored how we use clothing to construct and obfuscate double identities: snakeskin trousers and matching boots, an oversized sweatshirt referencing a 60s exploitation film about murderous go-go dancers, and a balaclava. (She did not, unfortunately, carry her own head.)

Over the weekend, she wore a tulle Y/Project look from Spring 2018, with the brand's already-signature oversized stiletto Uggs. "Extra af," she captioned one photo—she knows it's too much, but for the music utopia, that's just right.

Cardi B, who also has terrifically over-the-top streetstyle, also went for "too much is just enough": she wore Versace's Warhol-inspired Marilyn Monroe and James Dean-print suit with matching boots, a Spring 2018 look that is itself a reference to a mid-90s Gianni Versace design (still channeling that utopian past!). The "full suit" look was this year's leading example of the festival dressing apotheosis of effortlessness and excess: Justin Bieber wore a full Hawaiian-print suit by the brand YOU AS. Though he's certainly grown more experimental in his personal style, this was a lot, even for him; it's not exactly the kind of thing he wears to sip communion wine with his hot pastor.
With all that in mind, to look at Beyoncé's costumes for her Saturday night performance is to see a seismic, historic shift in festival style. Working exclusively with Balmain designer Olivier Rousteing, Beyoncé opened the show in a stunning studded and sequined bodysuit, cap crown, and cape embellished with the image of Nefertiti, and reunited Destiny's Child in camo sequins. But her other two costumes are perhaps the most significant, in that they subvert the tropes of festival dressing for a higher purpose: a yellow cropped hoodie, cut-off shorts, and the most incredible hologram fringe boots, and a fishnet dress with a crest. Both of these look like the kind of thing that might appear in a "festival style" guide—and yet the crest and the sweatshirt feature imagery for a historically black college of Beyoncé's invention. As Myles E. Johnson wrote in the New York Times, "Black people are told, when we gain power, and are under the gaze of the public, we must always wear our most formal and elegant attire. Instead, with millions of people watching in the desert and online, Beyoncé reappeared in blue distressed denim shorts and a hoodie advertising a fake historically black college. Success does not need to have a preferred style; a black person does not have to wear a glamorous gown or a tailored suit to captivate the imagination of the public. Beyoncé shows that talent and discipline are enough."
Festival style will always be about fantasy. But as Beyoncé showed this weekend, fantasy doesn't have to be escapism. You don't have to go to a musical festival to imagine something that never existed; you can use it to imagine something that does not exist yet.