The Brooklyn Liberation March on June 14, 2020. Photos by Cole Witter.
The New Collectives
In the past year, the power of mutual aid funds and collective action has lead to the vital organization work needed to keep communities safe.
The Brooklyn Liberation March on June 14, 2020. Photos by Cole Witter.
After the murders of George Floyd and Breonna Taylor at the hands of police, and in the midst of the COVID-19 pandemic, organizers of mutual aid funds, marches, and art collectives have become essential sources of urgency and places of community building. GARAGE speaks to some of the collectives enacting change and supporting our communities, from the organizers of Brooklyn's Black Trans Lives Matter rally, to the couple with a dream for an art school by and for Black people.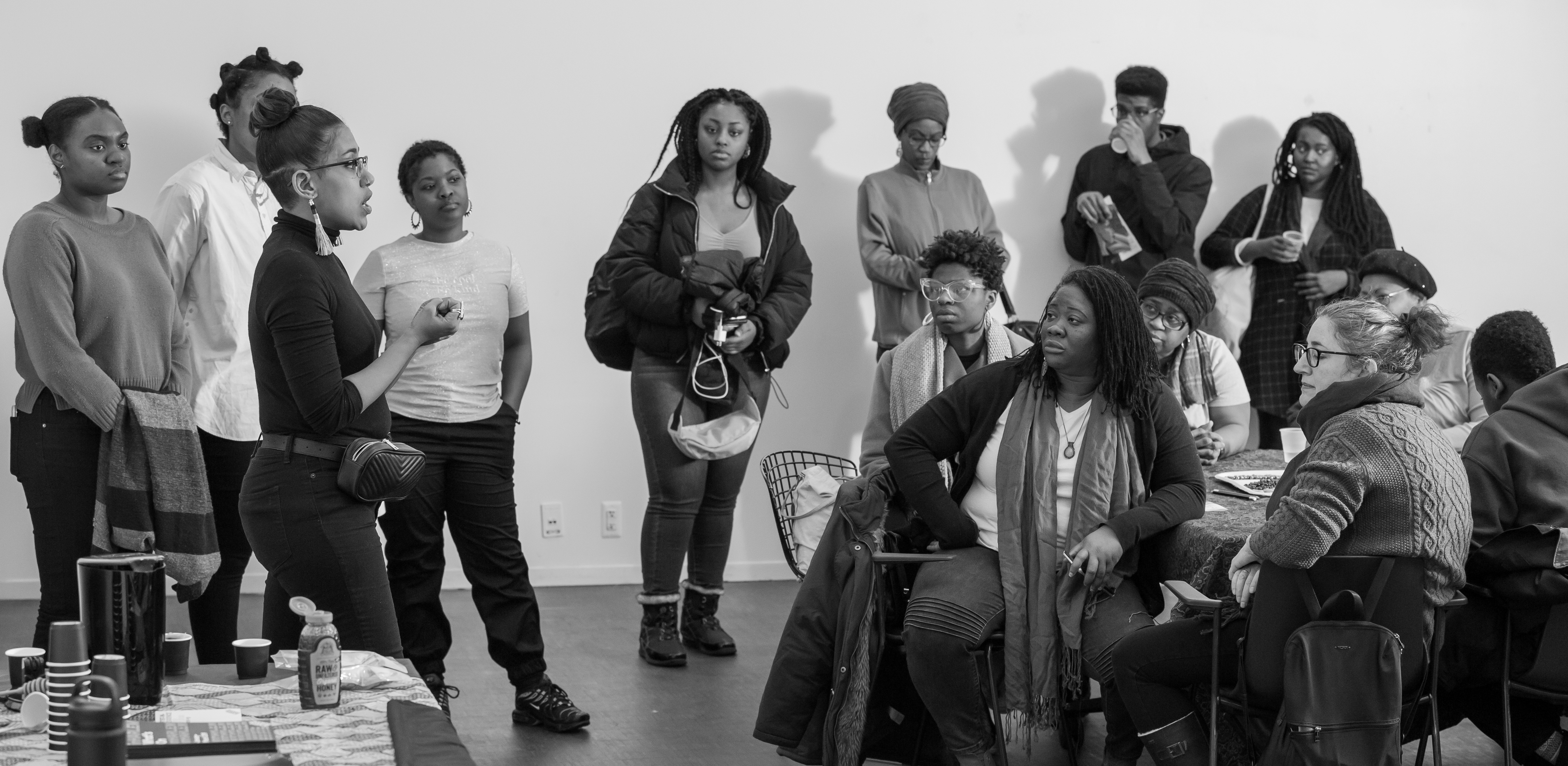 The Black School
Shani Peters and Joseph A. Cuillier III met five years ago at a MoMA PS1 listening party, and they immediately hit it off. Both artists and educators—Peters works primarily in print, collage, video, and installation; Cuillier is a trained graphic designer who also works in poetry, textile art, and architecture—they soon found they had an interest in radical pedagogy.
Cuillier had attended a mostly white design MFA program, an experience that he had found disorienting. "I was expressly trying to chart and understand how not just Black folks, but also other marginalized folks were using design as a tool to fight against oppression. And there were no resources, human or otherwise, that could help me figure out that path for myself," he says. Peters, in her own work, also saw a need for art to reach excluded communities through education. "I always recognized the value of balancing my individual practice with a teaching practice," she explains. "I'm really interested in creating work that accesses people that are not typically thought of as art-going audiences, that figures out how to break outside of museums and galleries."
In 2016, the couple founded the Black School, a roving community center that takes its inspiration from Black Panther Party liberation schools and freedom schools of the civil rights movement, and aims to provide an alternative and radical art education for Black students of all ages. While it has been hosting workshops at various schools and museums mostly across New York City, in the past the Black School has also traveled to cities like Chicago, Houston, and Detroit. Its classes revolve around intentional art-making, within an antiracist, experimental, and experiential curriculum. "We always start with these two questions: 'What do you love about your community?' and 'What do you want to change about your community?'" says Cuillier. These two questions are part of what he and Peters call their Process Deck, a tool they've created to initiate discussion and help students to brainstorm by drawing on their own lives. This principle—learning via one's own experience—is key to the Black School's approach. "We recently did an activity with the [Harlem] Schomburg Center's Teen Curators program in which we asked students to ask elders in their family about a recipe they use for wellness and then hold personal rituals to honor that elder and that tradition," says Peters. "That exercise was created as a response to quarantine and this new health crisis that is exacerbating old social problems."
While the Black School currently has no permanent location, Peters and Cuillier are fundraising for the acquisition and construction of a physical space in the Seventh Ward of New Orleans. "I think one of the greatest organizing principles of the Black School and just of our work in general is self-determination and collective action," says Cuillier. "So building a community through art-making, through art education, is so essential to us as artists of the Black School and in our lives in general."
Black Trans Lives Matter (Brooklyn Liberation March)
The idea for a silent rally and march for Black trans lives started just a few days into the protests for George Floyd and Breonna Taylor in New York City. After learning of silent actions happening around the country, the performer West Dakota and her drag mother, Merrie Cherry, began dreaming up an action that felt safe for everyone to attend in Brooklyn, and within a matter of days, friends and members of the community had flocked together to help make the peaceful action a reality. Fran Tirado, a writer and producer, joined in to help with operations. So did the brilliant activist Raquel Willis, who is also the director of communications for the Ms. Foundation for Women, and Eliel Cruz, the director of communications for the New York City Anti-Violence Project. Peyton Dix, the special projects editor at InStyle, hopped on, rallying support on social media, and Willie Norris, a fashion designer, helped with the physical production of the event. The artist Mohammed Fayaz created posters that soon went viral on social media, depicting a sketch of protesters in white face masks and white shirts with raised fists. The text read, "BROOKLYN LIBERATION: AN ACTION FOR BLACK LIVES." The team quickly blossomed from a few friends to nearly 150 dedicated organizers. Almost everyone who made the action a reality was a queer person of color.
On the morning of June 14, nearly 20,000 people—almost all of them wearing white—gathered at the Brooklyn Museum and listened to speeches from individuals like Melania Brown, the sister of Layleen Polanco, a Black trans woman who died in solitary confinement at Rikers Island, and groups like the Okra Project, G.L.I.T.S., and the Marsha P. Johnson Institute. "Seeing everything come together, seeing all of the bodies that made it possible, seeing all of the networks that emerged to make this moment possible—it was mind-blowing," says Dakota.
The event was so historic not only because of the number of people present, but also because of the diversity of the attendants. "It was an outpouring of support from people who aren't Black and trans, in a way that we haven't ever seen," Willis recalls. "It really was a wake-up for me in terms of understanding the impact that we actually are making, because I think we all kind of felt like we were screaming it to the void." She adds, "And it still feels that way. Don't get me wrong, nothing changed magically overnight."
That may be true, but the effects of that collective gathering on a Sunday in June can still be felt throughout the community. "People are taking this energy that went into protesting, they're taking the skills that they've applied to these protests, and they're taking it back into their own lives and they're applying it to their work [and] to their families," Dakota explains. "It has given people a fire that they didn't have before."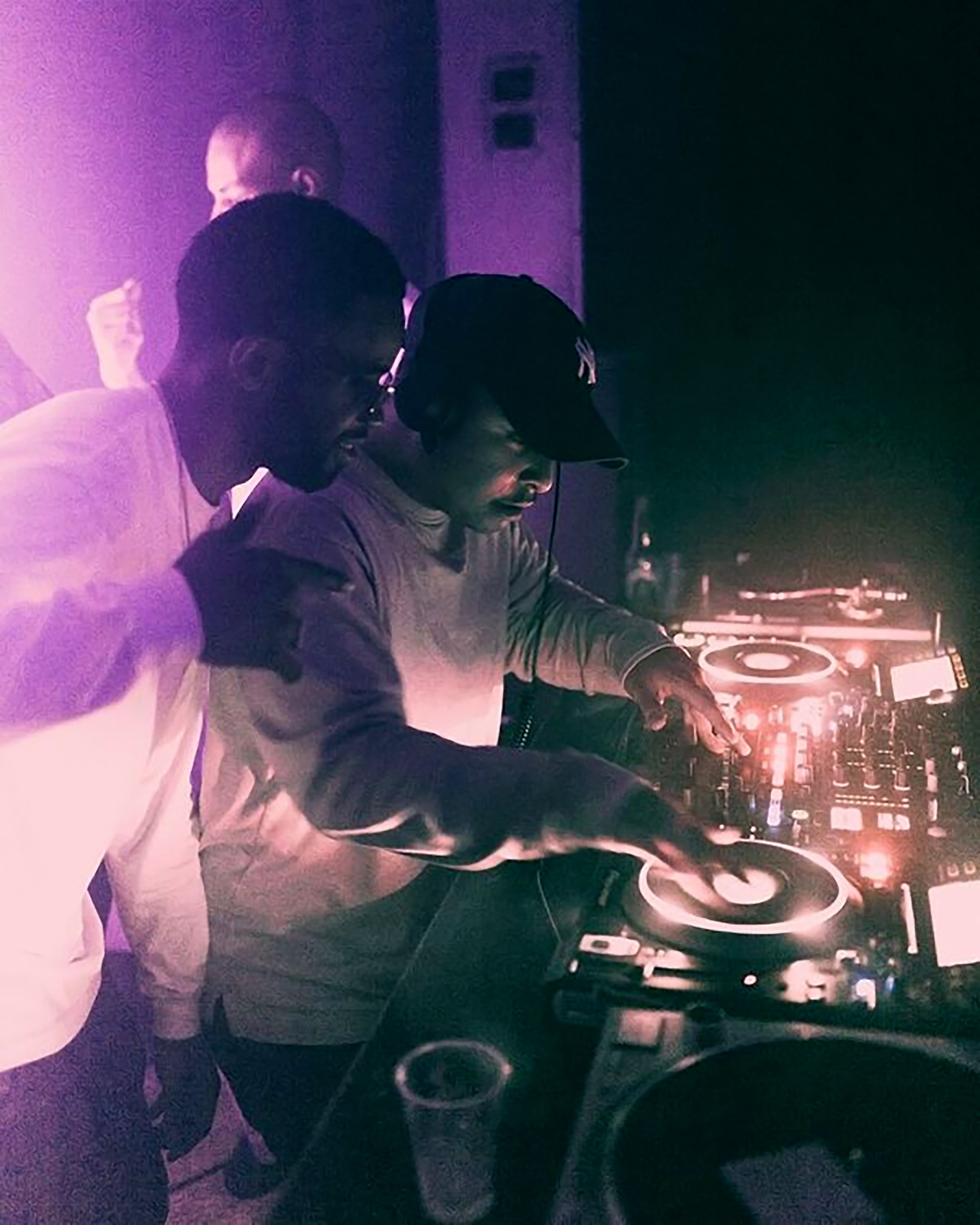 Half Moon Radio
Surf Allah, the founder of the Brooklyn-based Half Moon Radio, grew up in East Flatbush listening to hip-hop and the Caribbean music his Trini parents played around the house. It wasn't until he discovered online radio culture by way of the predominantly London-based Boiler Room and NTS sets that he became hooked on house music. "I was just super into the whole idea of the underground radio streaming to a mass, more international audience," says Allah. "I was just waking up in the morning, turning on my computer, going straight onto the NTS website, and just listening, every day." One day Allah left a comment on an NTS post about how he wanted to create something comparable in New York. The founder of the station, Femi Adeyemi, saw the post, reached out, and became Allah's mentor. Not long after, Allah began to notice that many Black artists were not getting the exposure they deserved in the world of dance music, and thus Half Moon Radio was born.
Taking the form of 24/7 online DJ sets and IRL dance parties, Half Moon Radio is a nexus of creativity, a place for some of the most innovative DJs in the underground to spin records by equally eclectic musicians and producers. Half Moon has championed musicians like Ella Hu$$le, a Brooklyn-based DJ who makes sample-based electronic music that is heavily influenced by chintzy aughts dance music, and Jasper Lotti, a Los Angeles–based producer who makes pop inspired by the classical Indian music she grew up on, but also by Alice Coltrane and gospel. Half Moon Radio also fosters and encourages a new generation by offering DJ and production-training workshops. Now events take place online, creating a community that reminds Allah of his days watching NTS sets in his bedroom when he was younger. "We form these family bonds with people that we come across," Allah says. "This is all super organic. We feel that natural connection with them, and we want to see them grow."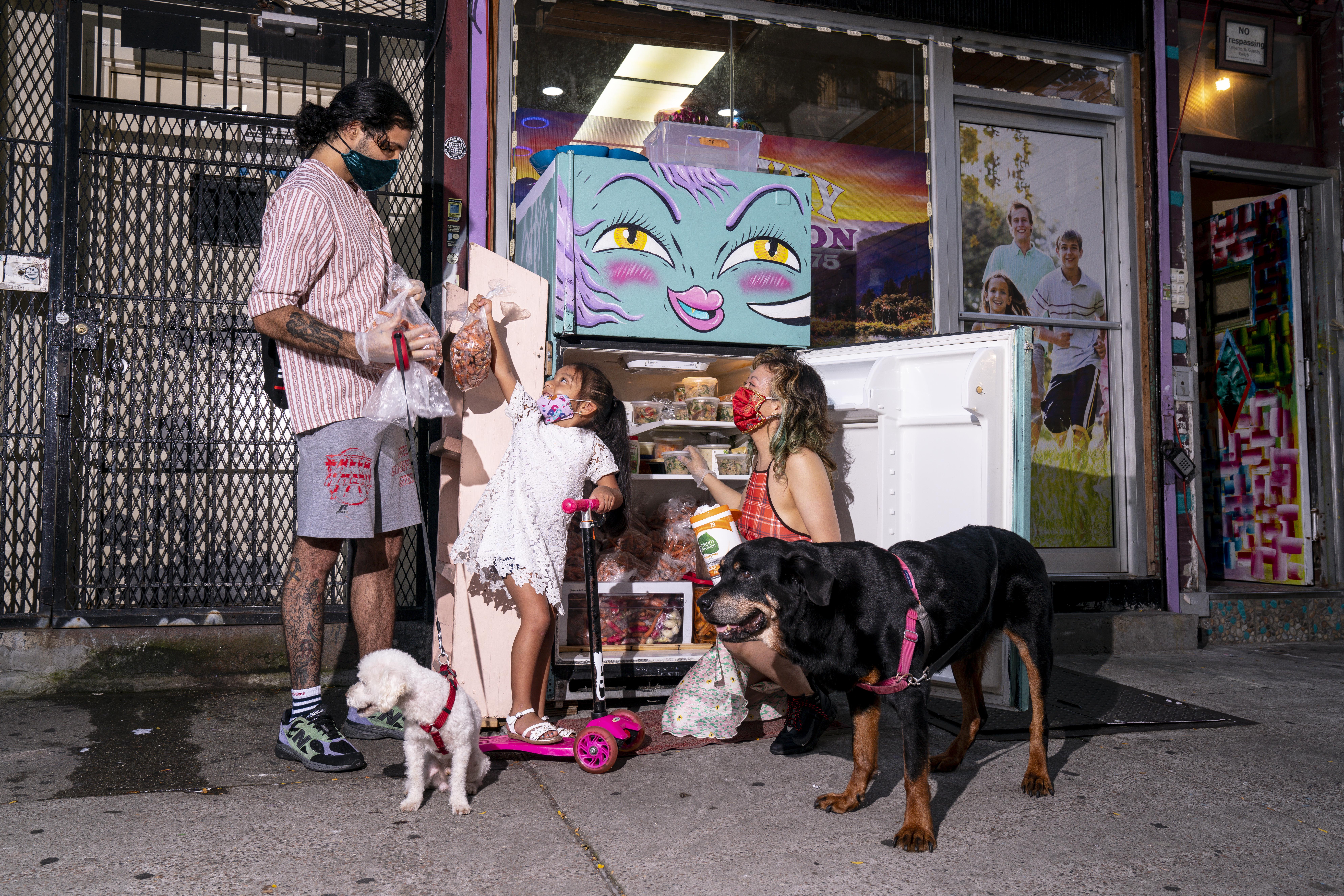 The Friendly Fridge
In March, at the beginning of the Covid-19 pandemic, Pam Tietze started a community fridge in the Bushwick neighborhood of Brooklyn, where she's lived for over a decade, to provide free food for anyone who needs it. When she later started an Instagram account, she dubbed it "the Friendly Fridge," and since then many Friendly Fridges have popped up in other New York City neighborhoods, including Crown Heights, Brownsville, and Harlem.
But Tietze does not manage the Friendly Fridges; rather, her fridge served as a catalyst for others throughout the city to start their own fridges in their own communities. "Honestly, it exploded relatively quickly and with so much beautiful force," says Tietze. "I would be at the fridge to clean it and check up on it, and someone would strike up a conversation with me about it. Then I'd hear from them a week later on Instagram with a fridge they started in their neighborhood."
Aside from helping with the fridge in her own neighborhood, Tietze now helps organize guides for people interested in starting their own. Along with her fellow organizers, Tietze has developed a large-scale food-sharing network that will receive huge quantities of food donated not only by individuals but also by restaurants, to be distributed throughout the city by an equally large volunteer network.
"It's community-owned and community-run," Tietze explains about the inherently decentralized nature of the Friendly Fridge. "It's not anyone's…and this is the beautiful and challenging concept of it. There's people that take food, there's people that bring food, there's people that clean out the fridge, like, completely unsolicited, and there's people that paint it. There's people that put in lights on the fridge; there's people that bring seedlings or homemade toothpaste or cherries from their family's tree. It's kind of hard to tell the story that way, because it's such a web, a woven web of efforts and individuals. I guess that's what a community really is."