A view of the parlor in Louise Bourgeois's home on West 20th Street, New York, 2016.

Photo: Jean-François Jaussaud; © The Easton Foundation / Licensed by VAGA at Artists Rights Society (ARS), New York
Looking at Louise Bourgeois' Apartment and Thinking About Freedom
A new show by the artist opened online at Hauser & Wirth this week.
A view of the parlor in Louise Bourgeois's home on West 20th Street, New York, 2016. Photo: Jean-François Jaussaud; © The Easton Foundation / Licensed by VAGA at Artists Rights Society (ARS), New York
Last week Hauser & Wirth opened an online exhibition of drawings by Louise Bourgeois. (An online exhibition is just a website with photos but it's all we have right now.) The drawings are all from the last fifty or so years of Bourgeois' life, made with ink and with watercolor and with pencil. They are small works on paper but they feel like freedom. There is a trailer video for the exhibition in which the artist declares that the inspiration from her work comes from her childhood; "My childhood has never lost its magic, it has never lost its mystery, it has never lost its drama." My favorite work in the collection depicts a clouds and a pink sky, I think, or maybe it's just my childhood brain as well assigning simple meanings to what can be complicated images.
I haven't been thinking about my childhood a lot these days, but I have been thinking about my college days a lot, which is a different sort of childhood. The main image on the Hauser & Wirth website is a photograph of Bourgeois sitting at her desk inside her apartment on West 20th Street. The wall near her is covered in papers, there are magazine cutouts, what looks to be a diploma or a certificate of some sort, bits and pieces of her paintings. I leave the tab open and keep coming back to the image. This clutter with purpose feels like a sort of visual ASMR.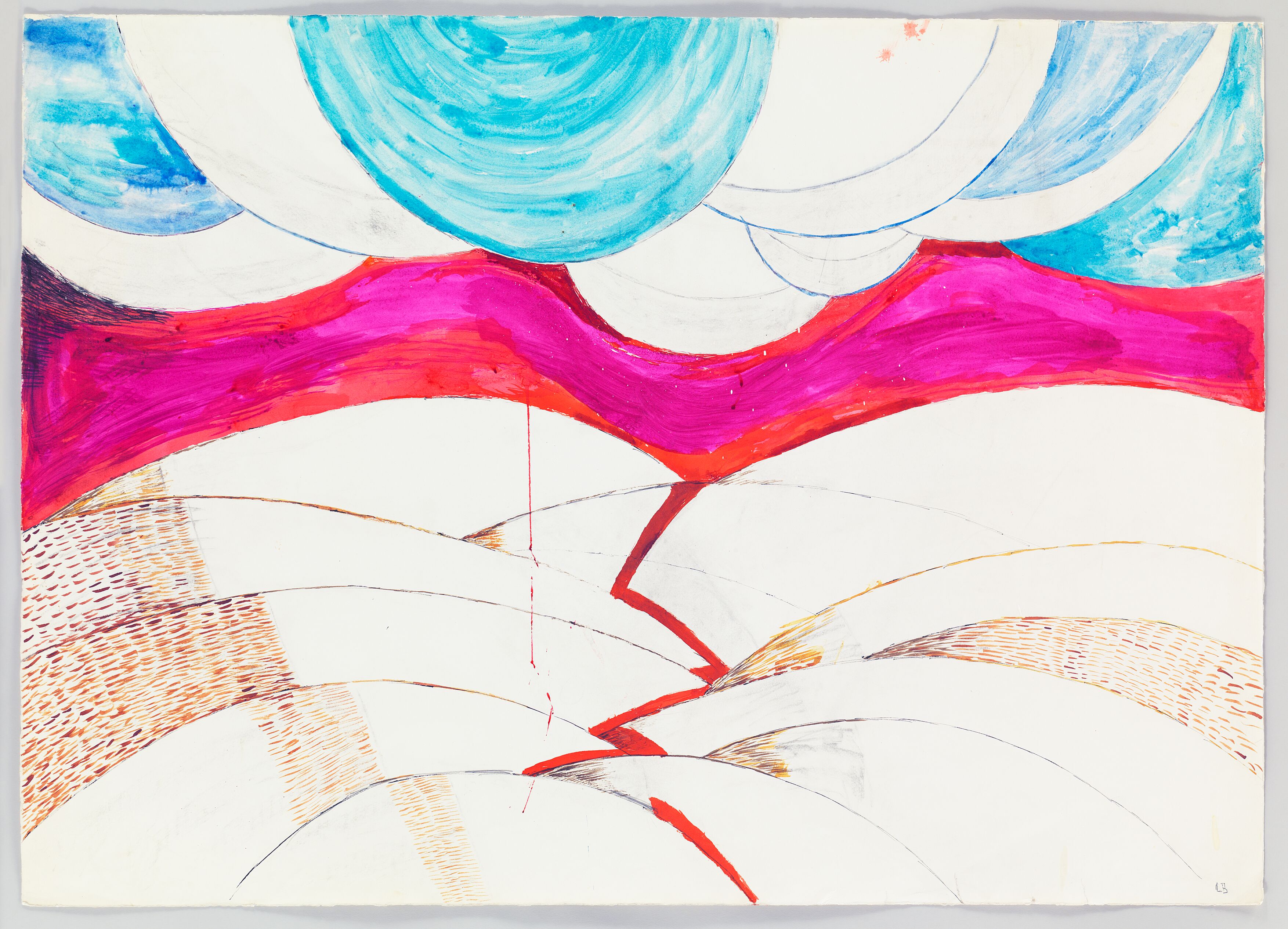 Going back to when I was at least ten years old, the walls of my bedroom where always covered. Posters of pop stars, then-punk rockers (lol), ads pulled from magazines, tear sheets from fashion editorials, postcards I'd received in the mail, posters stolen from clubs, postcards I'd bought at museums featuring my favorite works, polaroids. In elementary school I drew on the walls in chalk, in high school I scrawled lyrics with a sharpie on the back of my bedroom door. A thing on the wall is the first step to make a house a home.
Now, a house is a home is a whole world. I look up more information on Bourgeois' house which is being kept the same as she left it upon her death in 2010. The foundation now in charge of her house once scheduled tours, but they don't anymore, which a moot point now anyway. In another photo I see that she has, on another desk elsewhere in her house, stacked a bunch of those library card drawers. They are metal and grey, I have some on my desk too, purchased on a whim on Etsy to store my art supplies, and they turned out to be perfect. I do not derive any meaning from this coincidence but on some level some coincidences can often be comfortable.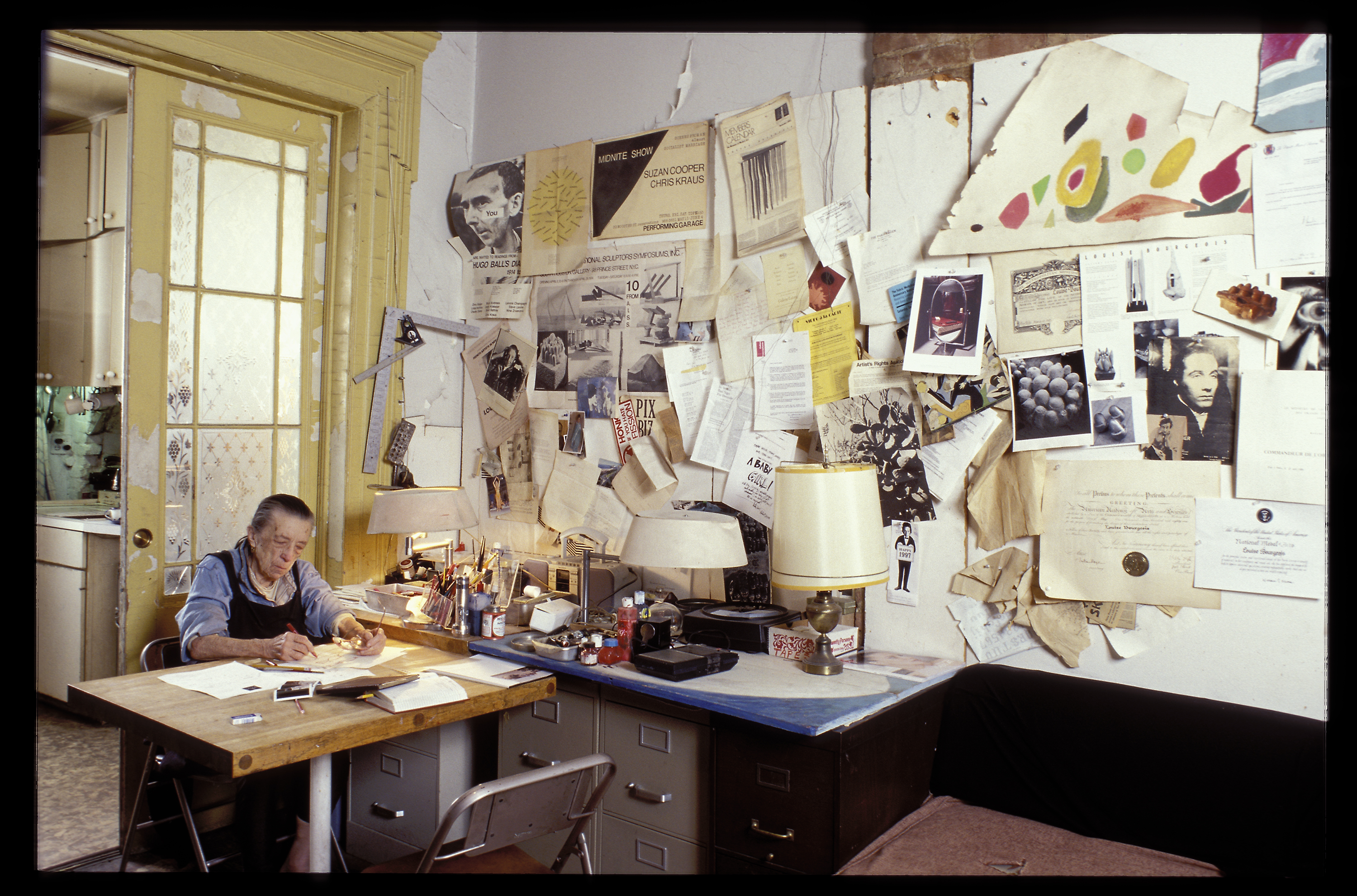 A few weeks ago I cleaned my desk, which was mostly occupied by piles of clothes and unopened mail and a variety of detritus, so that I may actually use it as a desk now that working from home took on a new meaning in which sitting on the couch with my computer on my lap would suffice. Since I moved in with my husband a few years ago—well, he was my boyfriend then—I have not really had things up on the wall, but I have two small cork boards that are a facsimile, a leftover from a previous life. I think I should update the pictures on it, but it feels silly, a childish activity. Being home all the time I think I need to be doing all the things I said I was going to do but never had the time. Of course all those things are things I did all the time when I was a child, when they didn't have an assigned meaning of "being productive" and they were just the things I did to pass the time; Playing the guitar, making collages, writing. I still want to do those things, but the obligation of feeling like I have to do those things has got me playing video games instead—a different childhood endeavor. But my brain keeps wandering back to this image of Bourgeois at her desk with the papers on the wall. Tomorrow, I think I will put something new on the small cork boards, something that new that reflects my reality back to me that inspires to create new ones. It's not silly, it's just a small comfort. Less vision board and more mirror, an indulgence of my teenage self. I know the first thing that will go up, this photo of Louise working at her desk in front of a wall covered in detritus, inside her apartment on West 20th Street in Chelsea. A way to remember a place that is real but not accessible, just like everything else.
Tagged: