A Conversation With the Spirit of James Lee Byars (1932-1997)
It's exactly what the artist—whose works included "The Death of James Lee Byars," and "The Ghost of James Lee Byars"—would've wanted.
The artist James Lee Byars was known as a mystic and a trickster, with a penchant for the contradictory: both spectacular and subtle, both outrageous and understated. In appearance he was elegantly dressed, even flamboyant, yet would notoriously slip away undetected, making sure the significance of his absence was properly marked. His work played with themes of transcendence and the beyond. With titles such as The Death of James Lee Byars or The Ghost of James Lee Byars, it's as if he was continually challenging the permeability of the veil.
It was an early Sunday afternoon when we gathered at The Mortuary, a "space for unclassifiable experiences, unusual collaborations, and underserved voices" on the former site of an actual mortuary in Lincoln Heights, Los Angeles. The loft had a storied past as a studio for artists with mystical inclinations. There could be no location more ideal for what was about to unfold.
I wanted to contact Byars to ask how the meaning of his work had evolved and changed since the act of his passing. I was not the first to ask that question. Thyrza Nichols Goodeve had done it eloquently in 2014, and John Perreault in 2004 reviewing Byars' work at the Whitney. But neither of them had (as far as I know) attempted to ask the artist directly.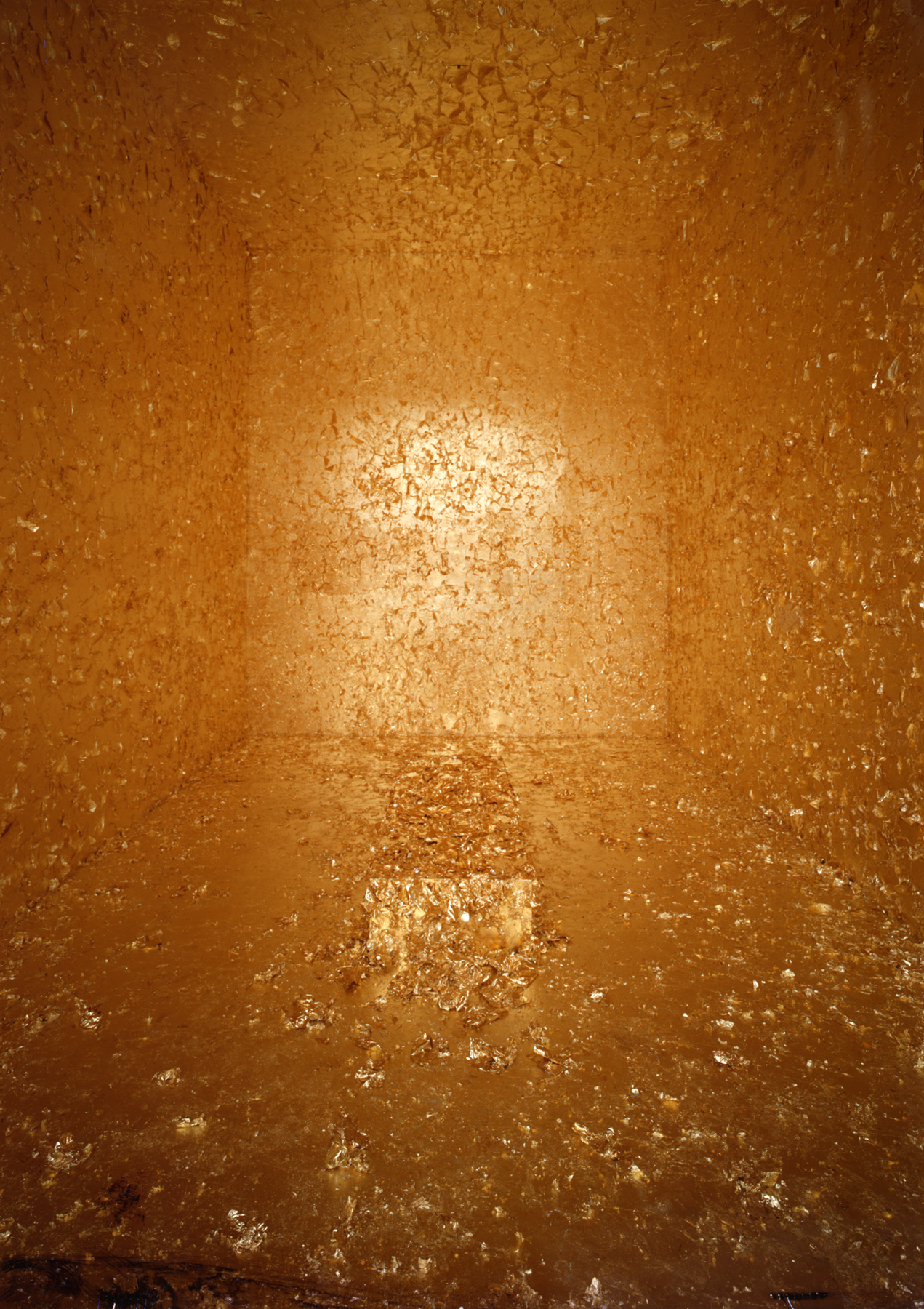 The journey to get in touch with Byars was not direct or free from setbacks. Occult organizations and Korean shamans felt such a practice was outside of their purviews. The ghost of James Lee Byars is a restless one, and made sure to have his presence and input felt through eerie gestures; a fan that seemingly turned on by itself, a name or initials that would manifest on my paintings. I questioned the wisdom of continuing, but I took these haunting contingencies as a sign that he may have something to say.
The medium Hollister Rand, author of the forthcoming Everything You Wanted to Know About the Afterlife But Were Afraid to Ask, has over 35 years of experience channelling spirits, usually helping family members connect with one another. Luckily, she has a soft spot for artists and creative souls who, she says, often have words to say to sensitive individuals that connect with their work. She agreed to come to the Mortuary to help us get in touch with Byars.
We began with some preliminary rituals: the Middle Pillar and the Lesser Banishing Ritual of the Pentagram, led by composer Yuri Gause. These, along with Rand's preparatory prayers and movements, served to set up the space, and banish any negative energies or malicious spirits. As Rand explains it, she tries to tune the energy to a certain frequency bandwidth. "Synchronicity is how I know that there is spirit activity in the room."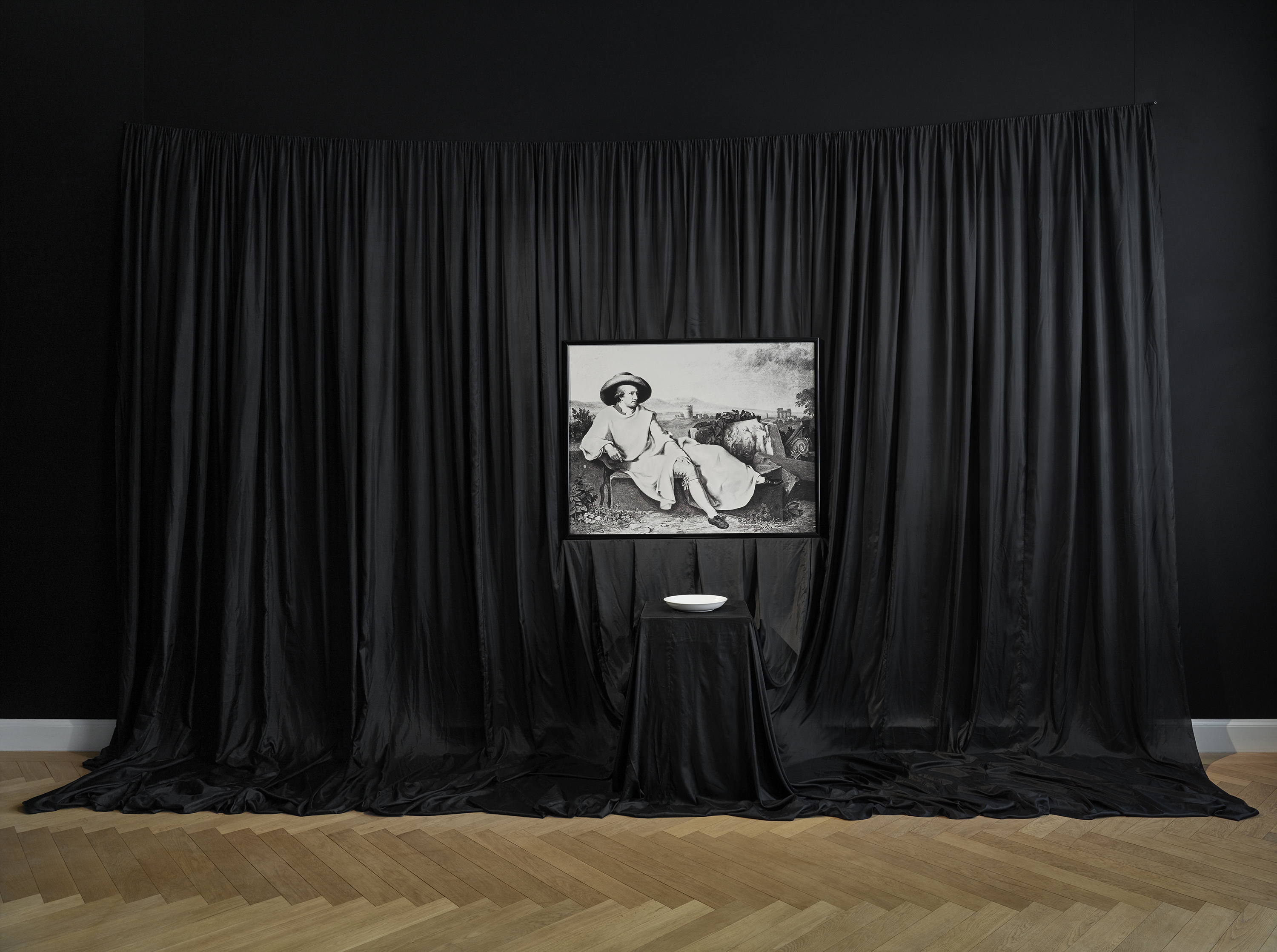 We sat in a circle. In the middle were three crystal pyramids that Rand had brought from her recent trip to Cairo, the place of Byars' passing. She closed her eyes and took a deep breath. We sat for a moment in silent concentration.
"He seems to me to be a person of opposites… without needing to resolve that. I feel as though he's willing to take the risk of presenting two opposite versions of the same thing at the same time, without providing any explanation. He likes the idea of taking an ancient culture and turning it upside down. He thinks museums should be buried. He just said, 'my death was…'" and then the message trailed off.
Rand spoke to each of us in turn, striving to channel Byars' spirit. The themes of Byars' work were present in her reading of our personal characters and intentions. At times it was touching and poignant, at others opaque and inscrutable. The spirit of the prankster was never far away. "He just put red and gold over you," Rand said directly to Scarlett Kim, co-director of The Mortuary. "Your greatest gift is being underestimated," she told her partner Anthony. "Do you feel like you're not from this Earth?" She asked me. "You may find yourself running into entities that have never physically lived on Earth."
"One thing that I find when I'm working with spirit," explained Rand, "is sometimes things are absolutely literal, and other times they're just not. They are metaphor. And I don't know that. Because they don't label it, and the communication is not perfect. Mediums are not 100%." It's worth noting that the ineffability of perfection was another of Byars' signature themes.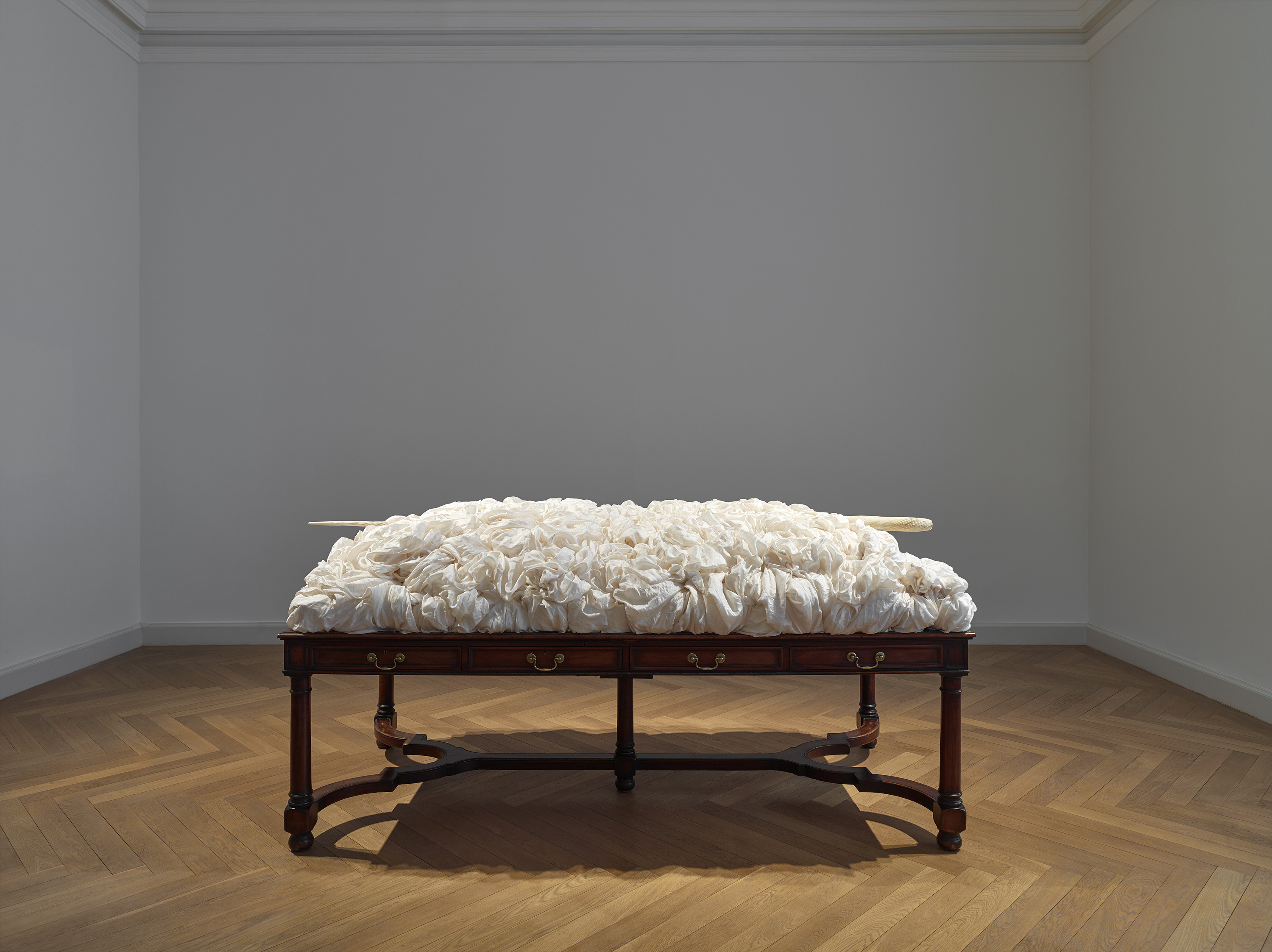 I had asked each of the participants to come up with something they would like to ask the artist. Rand gave us fair warning, "he may not want to give straight answers, but I can try to ask. I feel like this guy is a trickster and a transformer."
What follows is a short conversation with the spirit of James Lee Byars.
What is the meaning of "presence, or absence, according to convenience"?
"The feeling he gives me is that there is no more absence. It's all presence, and there is only presence. It is really simple. There isn't absence, but there is choice. A white wall is never just a white wall. Everything is presence. Nothing is absence."
He was once quoted as saying, "I cancel all my works at death," does this still hold?
"Well, remember when he said that museums are dead. It is not exactly cancelling, but it is dead. It's passed to another plane. Museums hold dead art."
Could you tell us if death and absence in his work are representations, or are real?
"That I don't know," said Rand. "He's trying to show it to me visually, with images of people dancing. But I think with him there is a sense of hiding and revealing, hiding and revealing. Remember the real work remains invisible to all."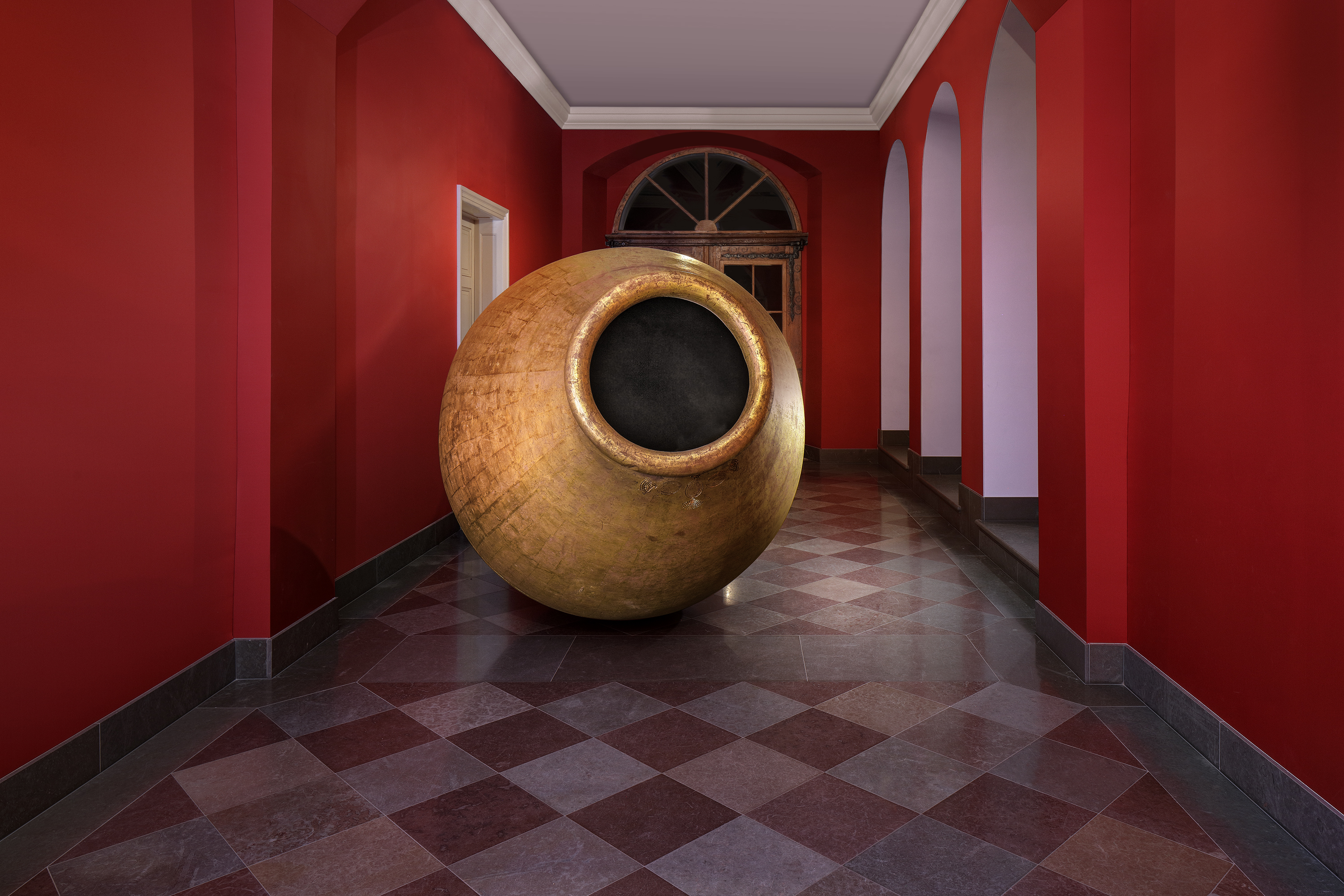 Should we trust in technology?
"He doesn't think anybody should trust technology. He doesn't think anybody should trust anything. It's about intent and consequences."
What function can art serve, and why should we keep making it in the face of death?
"Because there's spirit in it. It takes on a life of its own. It is not utilitarian, but it is nothing short of transformative. Without change, without shifting things become solidified and die. Art asks questions, it does not answer questions."