Stephanie, 2003. Wax, pigment, synthetic hair and metal. Photo by Achim Hatzius. Courtesy of Maurizio Cattelan's Archive.
The Artist Is Blasphemous: A Maurizio Cattelan Primer
Going beyond the viral banana, here's a guide to the art history references in our Issue 18 cover shoot.
Stephanie, 2003. Wax, pigment, synthetic hair and metal. Photo by Achim Hatzius. Courtesy of Maurizio Cattelan's Archive.
Artist Maurizio Cattelan has been razzing the art world since well before the duct-taped banana that upended Art Basel Miami Beach (and the whole internet) last year. From 18-karat-gold toilets to a waxwork of the pope crushed by a meteorite, his works skewer notions of institution, luxury, and sanctity. In these dire times, his buoyancy provides some perspective, and welcome respite. For GARAGE's Issue 18 cover story, we envisioned Kendall Jenner—who is, notably, the most followed model on Instagram—embodying some of Cattelan's most famous works in, of course, the most absurd way possible.
Cattelan, like many artists, engages in the specific yet pointed exercise of satirizing a world while being part of it; through his works, he toes the line between mocking the art world and its upper-echelon inhabitants for their absurdity while also undeniably contributing to, and benefitting from, it all. Cattelan and Jenner, both viral sensations in their own right, make for quite the 21st-century pair.
Consider this an incredibly brief Cattelan primer, through the lens of four of his notable works that inspired our Issue 18 cover, shot by photographer Campbell Addy:
Cattelan's 1993 work Stephanie, seen above, was commissioned by magazine publisher Peter Brant of his then-wife, '90s supermodel Stephanie Seymour. The life-like waxwork, nude from the waist up, mirrors a siren figurehead on a ship's bow that protrudes, centaur-like, from the wall. The piece, a version of which has since been auctioned, garnered the nickname Trophy Wife over the course of Brant and Seymour's subsequent divorce, when the public perceived the object being something of a mock prized taxidermy.

For GARAGE's Issue 18 cover, Jenner embodies Cattelan's sculpture of Seymour, in turn stepping into the (albeit theoretical) skin of her supermodel predecessor and becoming, quite literally, this issue's figurehead.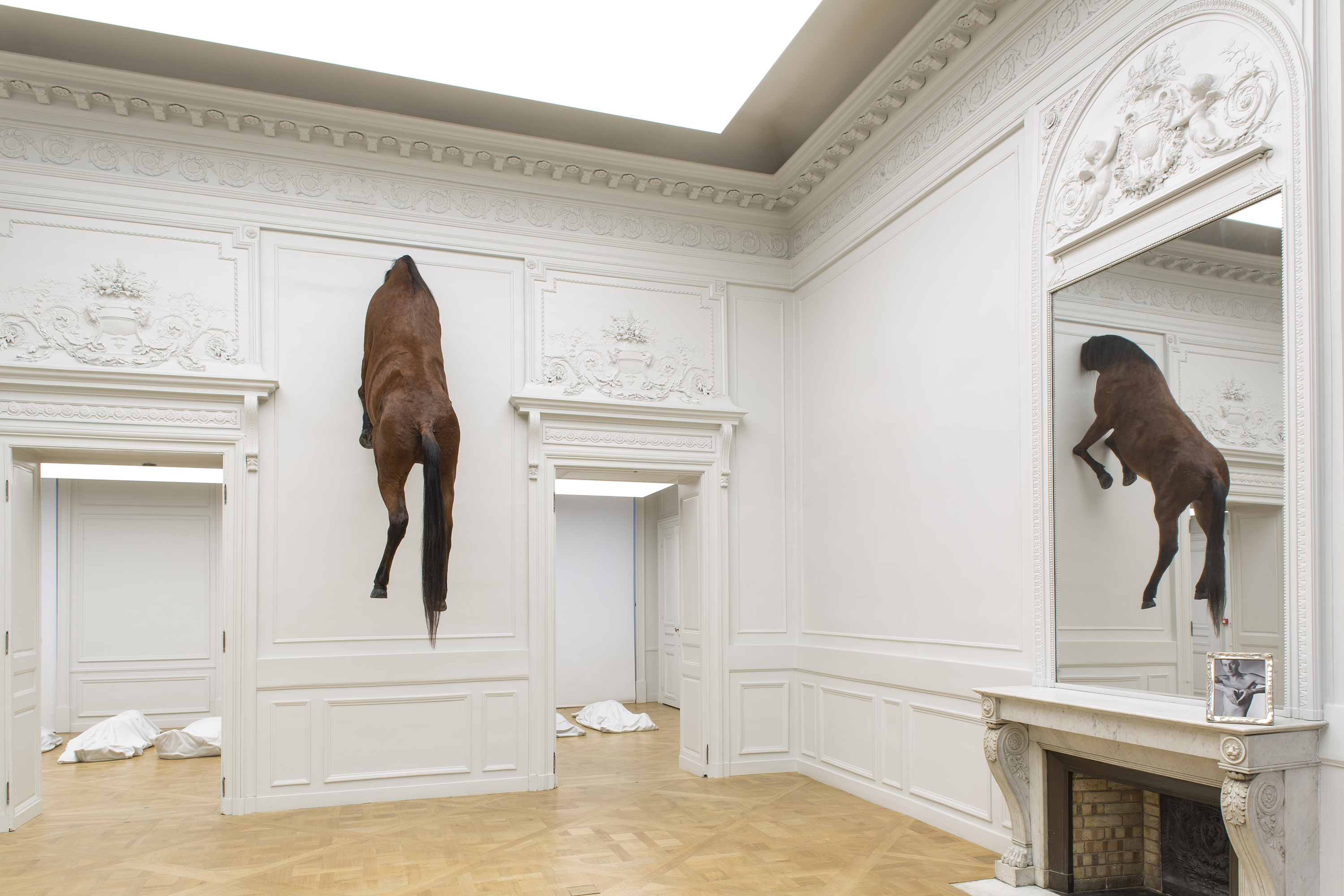 Cattelan has used taxidermied horses, a longstanding symbol of power (as well as a relic of the wealthy), in his works since the mid '90s. The Ballad of Trotsky (1996) and Novecento (1997) both display horses wearing leather harnesses, suspended from the ceiling. Later works including Untitled (2013) flip the taxidermy narrative, featuring horses affixed abdomen-down to the wall—rather than showcasing their typically prized faces—as though they were caught mid-jump into another dimension. (These works also, of course, offer the obvious connotation of a "horse's ass"—big Cattelan hours.)
Our Issue 18 cover shoot offers multiple allusions to Cattelan's horses, from Jenner's long, tail-like extensions via hairstylist Evanie Frausto to shots of the model suspended, Novecento-style, wearing a harness. Addy's shots provide multiple perspectives of the wall taxidermy framework—an extension of the meaning bestowed upon Cattelan's Stephanie—including a shot of Jenner's back, photographed from behind the set's backdrop.
In an untitled 1993 performance piece at Galleria Massimo De Carlo in Milan, Cattelan literally duct-taped the space's namesake gallerist, Massimo De Carlo, to a white wall for the duration of the evening's opening.
The piece was memorialized via photograph and has since garnered the moniker A Perfect Day, suggesting that the artist's dream is to be momentarily freed from his nagging gallerist, who is simultaneously the thorn in his side and the hand that feeds him, so to speak. The gallerist is rendered incapacitated, as Perrotin explains, by "a grotesque but not less striking crucifixion." Cattelan's work is an integral entry in the lineage of artists who make works about their dealers.
During the course of our Issue 18 cover shoot, Addy saw an opportunity to create a pretty stunning self-portrait based on the work, electing that he be duct-taped to the wall while Jenner stood by, dressed in a full Balenciaga look, to press the shutter release.
(Not to disappoint the zoomer contingent in the comments section this past week; Gen Z quickly made a connection to Vine-turned-YouTube prankster David Dobrik, who apparently did a similar duct tape stunt a few years ago… art mirrors life, time is a flat circle, et cetera.)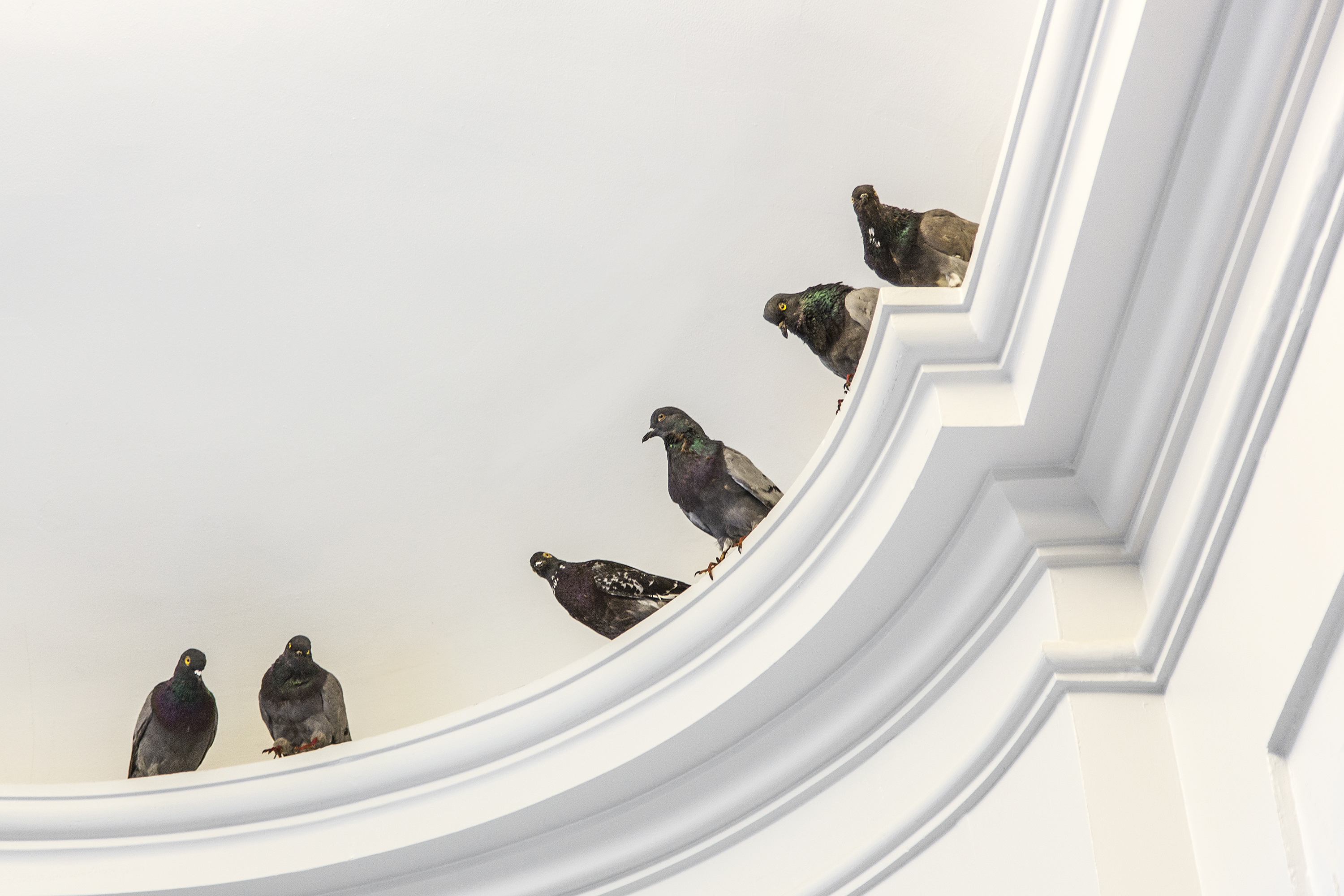 At the Venice Biennale in 1997, Cattelan installed 200 taxidermied pigeons to the pavilion's rafters, emphasizing the birds' artificiality (and thus, you could say, that of the art world) by placing so-called "fictitious excrements" on the floor beneath them. He titled the piece Turisti, which is Italian for "tourists." The birds, like viewers of Biennale's art, are voyeurs. Cattelan purposely recycled the concept—as he once said, "basically all the Biennales look the same"—for another work, Others (2011), in which his pigeons upon high continued to look down on the gawkers below.
For the cover shoot, GARAGE shipped in Cattelan's pigeons from the U.K., which fashion director Gabriella Karefa-Johnson paired with a feathered ball gown from Marc Jacobs's spring 2020 collection. And yes—the "fictitious excrements" made it to the shoot, as well.