Okay Kaya Is the Folk Singer for Our Current Time
Kaya Wilkins bares her vulnerabilities on a new album, so you can show yours too. Or not, you know, whatever.
Photo Nadine Fraczkowski
Kaya Wilkins named her second album after a video featuring polyethylene glycol, a slimy blue substance found in stool softeners. She says she discovered the video, "A Liquid That Pours Itself!, while "hanging out on YouTube," and as the chunky mucus flowed eagerly—almost too eagerly— from a Pyrex measuring cup, she felt a pang of recognition: Oh, that's my feelings.
"Sometimes objects can speak to me," says Wilkins, who performs as Okay Kaya, sitting outside a cafe a few blocks from her apartment in Greenpoint, Brooklyn. It's a rainy, overcast morning in November, the kind of perfect backdrop for Watch This Liquid Pour Itself, a collection of 15 tracks that flirt seductively with existential dread. "Like if something is really like"—she trails off, holding up a teaspoon as an example, as if to admire its reflective properties. "It's very internet I guess."
Like that video "a lot of the album is about purging something," she says, "and then shaping it afterward." Wilkins was inspired by the concept of bile, particularly in relation to historical figures like Hippocrates, the "father of medicine," who claimed that an excess of black bile in the body correlates to feelings of melancholy. Like ancient Greek poets, she wanted to pay homage to that bile, with the intended purpose of releasing it from her system.
"I saw a picture of myself purging and I started working out of that imagery," says Wilkins, who describes her process as "compulsive." "Every time I write a song it feels like I threw up."
At her core, with her acoustic guitar and smoky contralto, Wilkins makes confessional folk music, though her productions bear the experimental stylings of bedroom pop, punk, and R&B. Her press release describes her as "Sade for nihilists," and there are echoes of the Nigerian singer's husky timbre, as if Wilkins voice were emerging from a foggy clearing, wrapped in gauze. She often writes songs about things you didn't know could be songs, like discussing Brita filters at the dog park, as she does on "Guttural Sound" ("I desperately want to be thirty something / on my way to the nearest AA meeting"), or asking a partner to accompany her to Planned Parenthood—but sexy. She did the latter on "IUD," from her 2018 debut LP Both, singing, "Maybe if you come with me I will let you come in me / Cause, baby, you're so baby, but I don't want your baby."

Her lyrics are largely autobiographical. On Watch This Liquid Pour Itself, Wilkins writes about being hospitalized for eight days in 2018 after spiraling into a depressive episode, an experience she shared on Instagram (caption: "Is this a balenciaga ad or am i just wearing scrubs?"). She contemplated keeping her diagnosis private, but on one of her last days at Bellevue's psychiatric ward a hospital nurse snuck her a recreational guitar outside of art therapy class and urged her to unleash her shame. She wrote "Psych Ward," a straight-forward ditty Wilkins modeled after a Ramones song: "You can peel an orange however you please / in the psych ward." "The nurse told me, 'If you can talk about it and you have some sort of platform, just normalize it,'" she recalls. "Because it's kind of not that big of a deal. Once I opened up about it everyone was like Oh yeah, same."

Like spoonfuls of sugar, humor shapes her diaristic musings on crumbling relationships and "feeling like a total useless emotional garbage baby" into digestible nuggets. What makes her laugh? "Really, really terrible things," she says, then tells me a joke as an example.
"What is brown and sticky?"

I shrug.

"A stick."

Her face cracks into laughter. "I like literal jokes," she says.

Her humor is also tinged with an unflinching self-awareness. "Sex with me is mediocre," she cooes on "Asexual Wellbeing," the album's upbeat detour into disco. She wrote the song after attempting Marvin Gaye's "Sexual Healing" at Frank's cocktail lounge, in Brooklyn, "a place where real belters gather and just blow you away," she says. She bombed. After getting home that night, she imagined what her own version of that song would look like, what she offers sexually: "Probably not sexual healing. I'm not that good in bed," she concluded.

I ask her how she knows that, if a partner has ever offered this information.

"I mean, I have sex with myself all the time," Wilkins says. "It's actually not bad."
She chose the name Okay Kaya because, well, she doesn't really have a reason. "I wasn't like, 'Should I call my band Radiohead?'" she says, with a smirk. After high school, Wilkins moved to New York from Nesoddtangen, the tiny suburb on a Norwegian peninsula where she grew up. She describes her home as "wonderful, but also psychotically homogenous," particularly for people of color (Wilkins' father is black). In New York, when she wasn't "hanging out in Washington Square Park for nine hours smoking cigarettes," Wilkins pursued modeling; she started hearing "Okay, Kaya" a lot on fashion shoots, meaning we're ready for you now. She has since walked for the likes of Ann Demeulemeester, Off-White, and Balenciaga.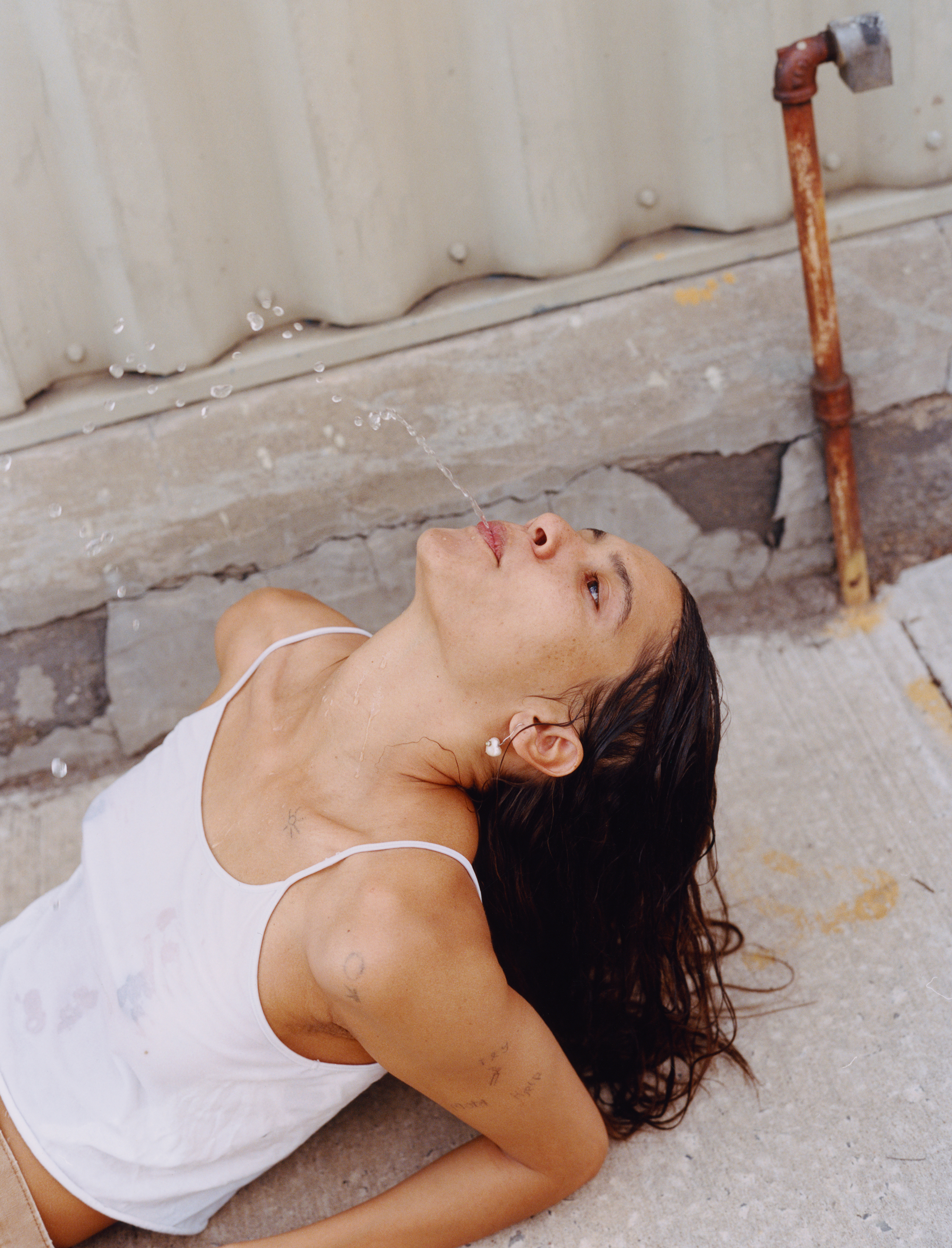 But "Okay Kaya" is mostly a source of comfort, a reminder, despite everything. The first thing you see when you go to her website is the phrase "I'M OKAY, YOU'RE OKAY," white text against a black backdrop, flashing like a heartbeat. She tells me it's a reference to a self-help book that was big in the sixties. She's never never read it, but she liked the cover's font and the title's sentiment. "It's about seeing other people and trying to be fine together. I feel like that's all you really can do," she says. "Sometimes I try to just embrace that I'm probably going to be alright."