Photo courtesy of Smallhold
Why Not Grow Mushrooms During the Apocalypse?
Let Smallhold, an organic culinary mushroom farm in Brooklyn, help you.
Photo courtesy of Smallhold
Somewhere among the four main food groups of the pandemic—sourdough, banana bread, scallions regrown on windowsills, and the TikTok coffee—a newcomer is finding its place, rising (nay, thriving) from the detritus.
Mushrooms. Mushrooms you can grow in your apartment.
At Smallhold, a Brooklyn-based farm that specializes in growing and distributing exotic culinary fungi, lifeforms are adapting. Like so many small businesses right now—particularly ones connected to the food world—they're evolving amidst the crisis. "[We're] growing mushrooms during a pandemic," the company's founders, Andrew Carter and Adam DeMartino, told me over the phone last week.
The duo founded Smallhold a few years ago, starting out in a converted shipping container at North Brooklyn Farms on the Williamsburg waterfront. They began growing everything from pink oysters to lion's manes in substrate made of recycled waste from the timber, agricultural, and restaurant industries—think coffee grounds and sawdust—inside futuristic growing pods of their own design, becoming the first and only certified organic farm in New York City. Mushrooms, as an environmentally friendly option for eaters looking to cut down on their meat consumption, are already a food of the future, particularly a future that's being shaped by a changing climate.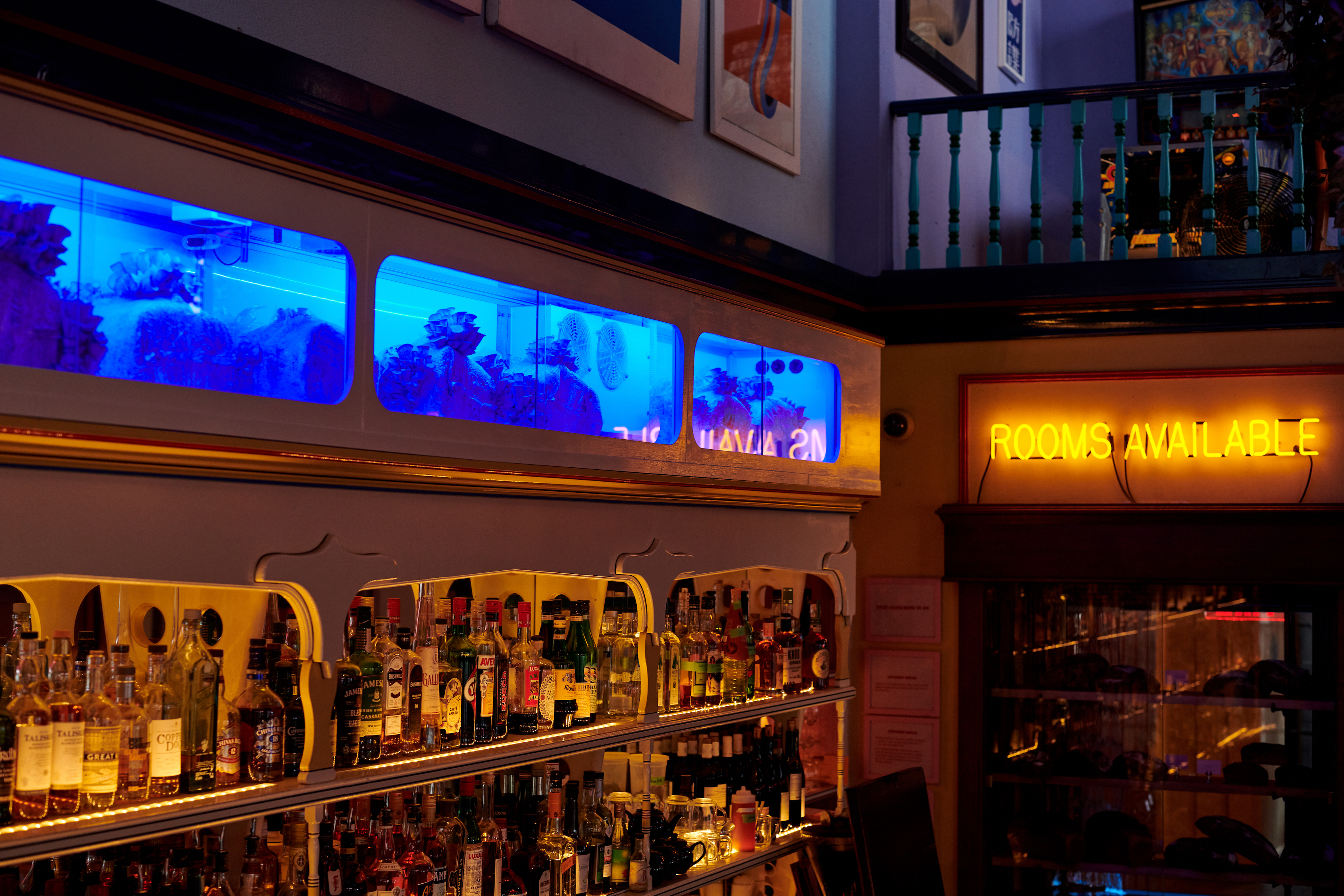 Soon after, they expanded their model by bringing their product and technology inside local businesses including several of the city's coolest eating establishments, where they installed front-of-house "mini-farms" where restaurants could grow their own cookable fungi. In turn, Smallhold's mushrooms served as the base for dishes like the mushroom bánh mì from Bushwick's Vietnamese spot Bunker and mushroom jerky fried rice at Manhattan's Mission Chinese Food, while also providing atmospheric spectacles through which diners could literally watch their food grow. Lit from within with neon-blue grow lights, they look like psychedelic terrariums.
It's a new sort of farm-to-table model, which they hope to eventually grow beyond mushrooms (their technology, they say, is "meant to serve as a platform to service the entire produce aisle"), that comprises their own sustainable 'shroom circular economy.
But, like any economy in the last two months, that infrastructure has, well, mushroomed. "Because, you know, there's a pandemic, we lost all of our restaurant accounts," DeMartino said, and in order to cope, "things are getting wacky." Donning masks and sometimes hazmat suits, they've begun delivering their mushrooms and DIY mushroom growing kits to New Yorkers' doors.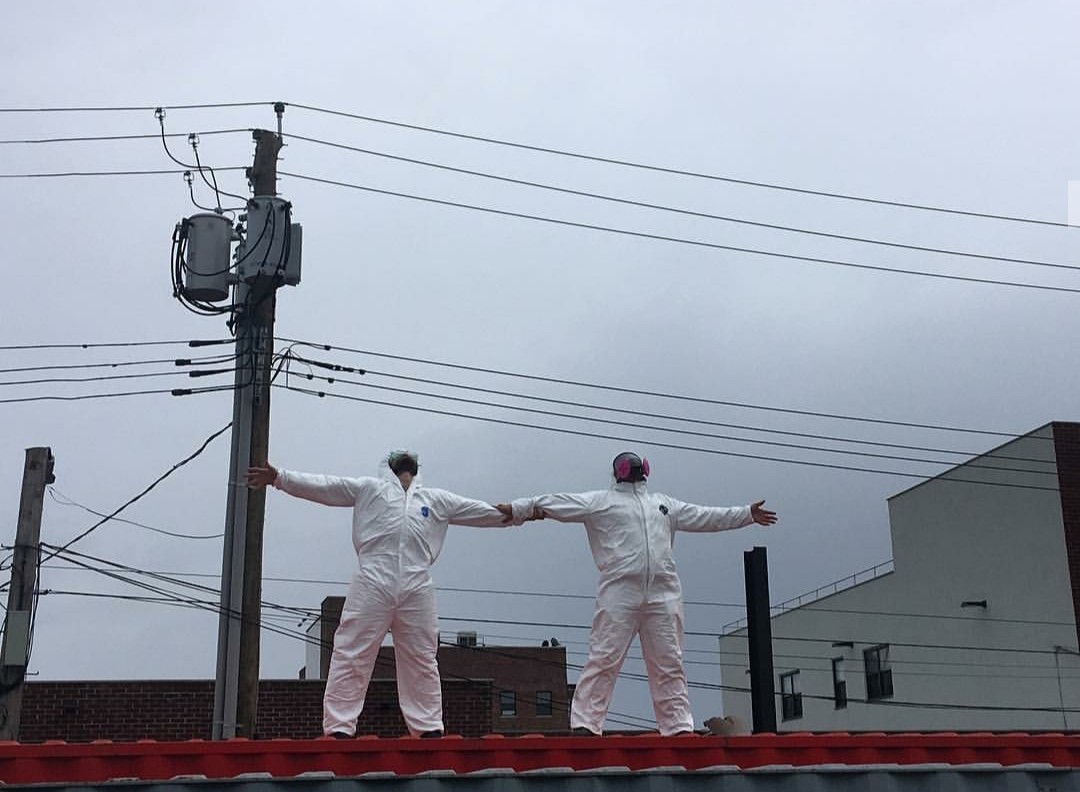 "The restaurant customers completely fell off and then we were like, 'Well, what do we do?'" Carter said. "Not only do we need to figure out Smallhold but then also all of our friends are really struggling, both financially and emotionally." Because they can't currently grow mushrooms for restaurants, "we started growing them in peoples' apartments."
In Smallhold's tagged photos on Instagram, quarantine dwellers are sharing their mushroom progress, from growth to plate. "People are naming them, and befriending them, and then eating them," DeMartino said.
Last week, I ordered a Smallhold blue oyster mushroom fruiting block of my own. The mycelium fruiting blocks arrived in a plastic bag, affixed with a "Hello my name is" sticker. Spritz them with water a few times a day, I'm told, and the protuberant fungi will begin to grow, ready to be harvested and sautéed in butter in a matter of weeks.
"At its base level, people are growing food [so] there's a food security aspect of it," Carter said, "but then it's also just kind of fun and it's something to do. I get these texts late at night from people who are just staring at their mushrooms grow. It's artistic, but it's also helping people be happy."
Indeed, this moment of crisis highlights the playfulness that Smallhold has interwoven into their business all along. Somehow both alien and primordial, mushrooms are funny; when grown inside sleek pods, they're straight out of science fiction. Exotic varieties in particular are colorful and textural, running the gamut from bulbous to tubular, fuzzy like chenille or ridged like Pleats Please, in hues like Cheeto orange and baby pink. Their product—inherently tongue-in-cheek and a little freaky-deaky, at least from an aesthetic perspective—suits artists such as photographer Phyllis Ma, a frequent Smallhold collaborator whose work DeMartino describes as "strikingly mushroom-y," and cool restaurants and customers alike.
"We have faith that the restaurant world will turn back on," Carter said, though in the meantime, they consider themselves lucky. "Mushrooms are really hot right now, and they stay hot—it's just how we get those to the customers is the big question."
I'd be remiss, in this moment, to not point out the poetic reality that out in nature, fungus literally grows out of waste—a factor that Smallhold, by growing their product using sustainable waste streams sourced from industrial runoff, has based their business around. Mushrooms literally feed on breakdown. They are a culinary phoenix, falling somewhere on the symbolism scale between a victory garden and the "The Earth is starting to heal. We are the virus." meme. They are able to rise while we try to figure out what to do with the rest of the pandemic's ashes.
And until then?
Alexa, play "Let Go" by Frou Frou while I go tend to my new spores.
GARAGE is committed to ongoing coverage of the global climate crisis. Read all of our Anger Management zine here, and more of Vice's Earth Day coverage here.