The Life, Death, and Cashmere Rebirth of Instagram's Favorite Nude Man
Meet Horace. Dance with Horace. Be Free with Horace.
Who is Horace? He is a dancing humanoid with comical body proportions. His eyes are spaced too far apart and his neck is arm-thick. He was nude, but now wears cashmere pajamas. Horace is adorable, and terrifying, and has been described as "a twisted version of the '90s dancing baby." Horace is an interactive art piece created by 21-year-old animator Jackson Quinn Gray, who reached viral sensation soon after he was unleashed into the world, was purged from Instagram, and rose again three days later in a new, improved form—kinda like Jesus.
Horace is not the first old man the animator created, but he is the most famous. Gray's home in Troy, New York is strewn with the remains of his previous old man creations: there are bronze castings, 3-D prints, and one particular specimen is jarred not unlike a Benjamin Button fetus. Horace—Gray knew the name even before he started creating it—was born late last year, after Gray taught himself an animation program called Blender in three days. As soon as Gray applied a dancing animation to Horace, the creature suddenly became unshackled. "Something felt unlocked in his spirit: pure joy," Gray says. "He still has a helplessness and fragility, but he's not as pathetic anymore…there's a lighthearted confidence in him and a love for life that I didn't know existed." Horace was ready to groove as an augmented reality filter on Instagram, with a fun, boogie-style dance. Anyone using the filter could place him on objects around them (tables, balconies, or even other people's tongues) or enlarge Horace to the size of a human and dance alongside him: Horace would boogie no matter what. He now has five dance options users can tap through, from salsa and samba, to confident slides across the room.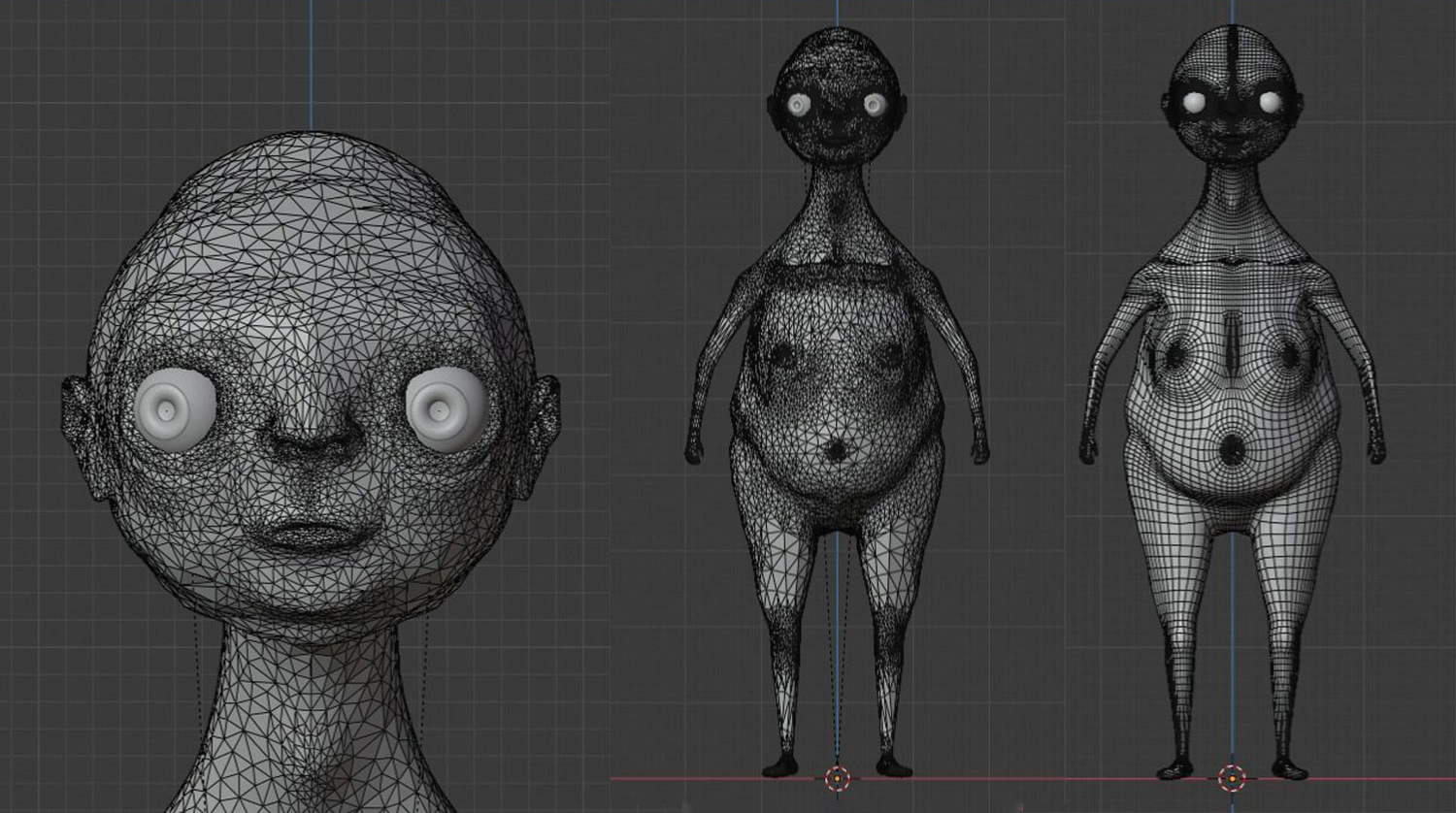 Gray saw Instagram filters as a form of collaborative art installation between Horace, Instagram users, and himself. "Every time somebody makes a post` with Horace, they're doing their own sort of creative process," he tells GARAGE. "They're finding the right song for him, and they're making determinations about how big he's going to be or how he's going to relate to things in the scene." Soon after uploading him on Instagram on April 26, Horace started popping up in other people's stories. First locally, dancing in the living rooms of many upstate New Yorkers who were already familiar with Horace. (Gray is fond of giving 3-D printed versions of Horace as gifts or also as a trade in exchange for a haircut.) But just as quickly the old man's popularity took off, and he was soon appearing in the Instagram Stories of Colombian YouTuber Sebastián Villalobos, Vine star Nick Colletti, and actor Asia Kate Dillon.
"The rush at first was unbelievable, watching the number multiply almost exponentially. Now the numbers have gotten so big that I don't even know what a million is," Gray says.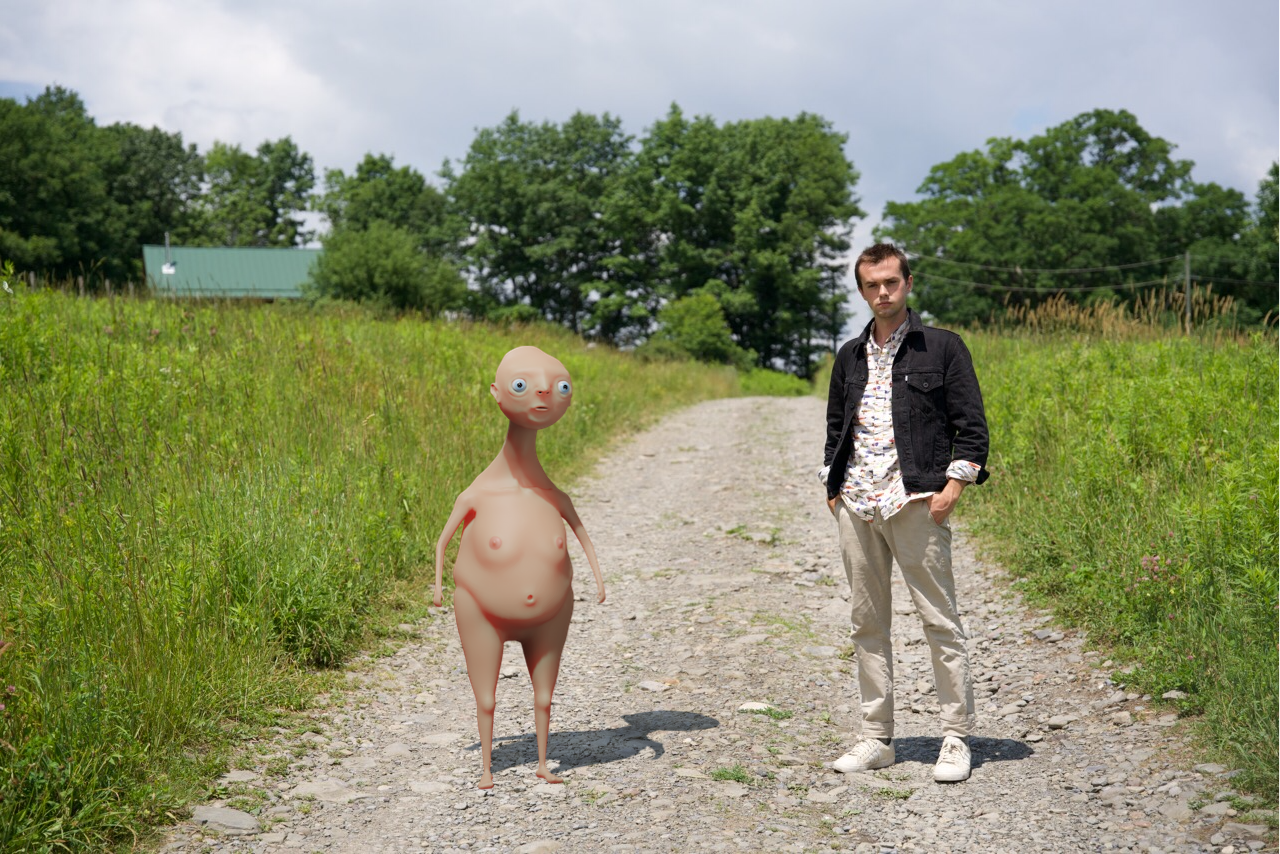 Horace rose, and rose, and rose, and then suddenly, a week after posting, Gray woke up to messages from Horace supporters—he was gone!
Overnight, Horace had been taken down. An official communiqué from Instagram claimed it contained "content of an adult or sexual nature." Gray responded by writing a personal letter to the social media company that he later shared with GARAGE, where he explained what was obvious to everyone else. "This character is not a human character—he is unmistakably a cartoon, specifically a cartoon alien, with tiny arms and an oversized head. He does not have genitalia, and he does not have buttocks that can be seen in close-up detail." Gray was provided no system to appeal the "adult or sexual nature" ban. "I was crushed by that," he says. "Facebook is really good at doing that, really good at shutting down artist's pages or blocking things while letting a lot of actual hateful, damaging content run free. And [Horace] was the opposite. He was free and having fun."
For the next three days, Gray went through all the stages of grief, but eventually he got back to work. At first, he was afraid that by clothing Horace he would be restricting his spirit, his vibe, and his popularity, but he was confident Horace deserved to return and ride the wave of support.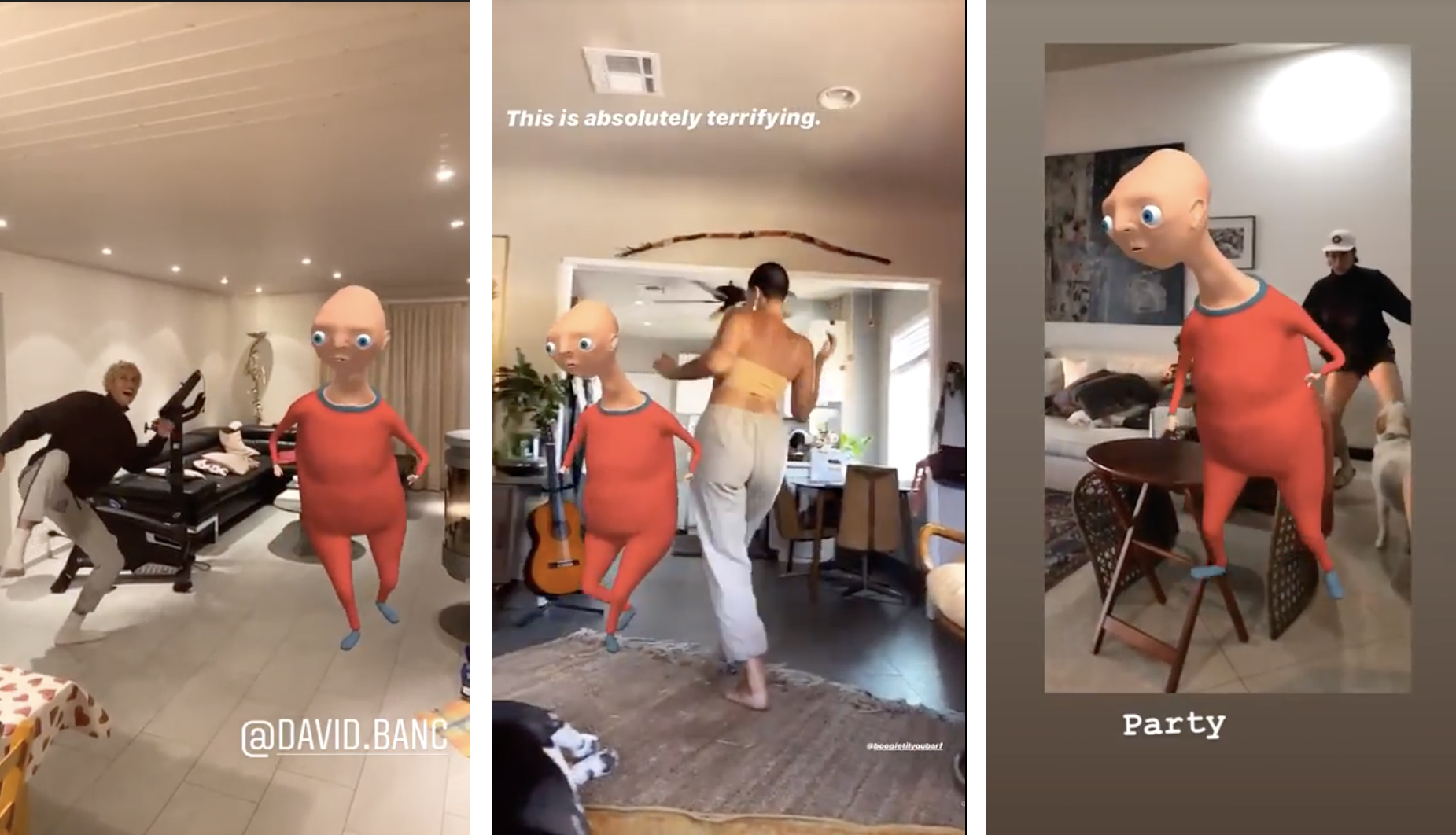 Today, Horace, clad in cashmere footie pajamas, is back on the app, and at the time of writing this article, he had over two million views. Many recent Stories show Horace as the life of the party, inspiring impromptu dances, but also teaching humans how to dance Horace's way. Gray wakes up every day to mentions of Horace drifting degrees and degrees further away from him: Horace has outgrown New York and now seems to be big in Colombia (likely a result of Villalobos sharing the filter). Gray likes to say that he is a talent manager for Horace, and that now Horace has disappeared for parts unknown, dancing and having fun far in the distance. "He's out there and I don't know in what form," Gray muses. Right now, someone out in the world is probably dancing with a footie-PJed Horace, unaware of his death by censorship, and his cashmere-tinged rebirth.