Lee Mingwei, Sonic Blossom 2013/2020, Chair, music stand, costume, spontaneous song, Collection of Museum of Fine Arts, Boston. Installation view Lee Mingwei: 禮 Li, Gifts and Rituals, Gropius Bau, Berlin, 2020 Photo: Laura Fiorio
The Instant Intimacy of Lee Mingwei's "Sonic Blossom"
On Lee Mingwei's performance and the shifting relationship between art and spectator as museums re-open amid Covid-19.
Lee Mingwei, Sonic Blossom 2013/2020, Chair, music stand, costume, spontaneous song, Collection of Museum of Fine Arts, Boston. Installation view Lee Mingwei: 禮 Li, Gifts and Rituals, Gropius Bau, Berlin, 2020 Photo: Laura Fiorio
After months of subconsciously developing an aversion to strangers, I was surprised by how thirstily I said "Yes" to the man who had just offered me the gift of song. It was a Wednesday afternoon in late May, two weeks after Berlin's Gropius Bau had reopened with strict hygiene measures in place. Moments earlier, I was reading a wall of exhibition text. The man, who was in formal attire and whose name I later learned is Kyoungloul Kim, motioned for me to follow. Without realizing it, I had become part of the performance installation Sonic Blossom (2013/2020) conceived by Taiwanese-born artist Lee Mingwei, who has his first major survey in Europe 禮 Li, Gifts and Rituals at the exhibition venue, running until July 12.
I dawdled behind Kim from a distance through several rooms before he seated me in a simple wooden chair. Slowly, he walked to a delicate stand behind the plexiglass contraption separating us and switched on the musical accompaniment. As we locked eyes, he began to sing directly to me for what felt like several minutes. A couple of other exhibition-goers stood around looking intently in our direction. Normally, feeling other eyes on me would evoke a feeling of dread but, for a moment, everything around me, including my anxious thoughts, faded away. I gazed at Kim's expressive face through the plexiglass while his powerful voice pulsed through my body. His eyes were animated, his skin luminous. The space between us felt electric. Since I was wearing a mask, lingering blinks and misty eyes felt like the only ways I could communicate to him how moved I was by his performance.
In the past three decades, Lee's performative and participatory practice has provided a public space for personal exchanges between strangers to arise, from mending one's clothes to sharing a meal. Seemingly quotidian activities become ripe for the unfolding of intimate connections. In the light of Covid-19, however, some of his pieces for the exhibition had to be reconceptualized when Gropius Bau was forced to close for a period of time, or adapted to accommodate our new social distancing rules (in the case of Sonic Blossom), or put on pause all together.
Activated by opera singers who approach visitors on a whim, Sonic Blossom stems from Lee's own experience of hearing Franz Schubert's Lieder (or songs) with his mother as a child and, later on, feeling the songs's soothing effect while taking care of her after surgery. In normal circumstances, the participatory piece is performed without the plexiglass barrier and the social climate is more conducive to interactions between the gift-giver and receiver.
Removed from the chaos of the outside world and still steeped in sentimentality after receiving the gift of song, I briefly forgot that we were living through a global pandemic. And, in an attempt to show gratitude and get Kim's name, I stepped into his 1.5-meter radius of personal space and shoved my not-yet-disinfected pen and notebook into his direction. He recoiled with a polite nervousness while briskly walking towards the wall text where his name was spelled out in full. I was embarrassed that I violated a stranger's personal boundaries but also elated by the profound tenderness of our exchange.
Sonic Blossom got me thinking about how the coronavirus has shifted—and continues to shift—the ways in which we interact with strangers. In mid-March when we, in Germany, were explicitly told to reduce face-to-face contact with others as much as possible, the mere exchange of glances with people on the sidewalk felt like a threat. Every person could be a carrier of the virus, I could be a carrier of the virus. Four weeks into social distancing when seeing a friend's face on Zoom still gave me an adrenaline rush, making sustained eye contact with someone at the supermarket took on a new significance: it was a refreshing deviation from my daily routine.
It seems to me that my interaction with Kim was made more intimate as a result of the preceding two months of limited social contact. Even in a context conceived by Lee to foster benign encounters, tensions emerged: How does one politely show/receive affection and appreciation without overstepping personal boundaries and offending others? Where is the line between showing vulnerability and self-preservation? As social restrictions begin to lift in different places, navigating ever-evolving rules of acceptable behaviors will increasingly become a challenge. Particularly, in scenarios where little is known about the other person except for what you can read from partially hidden facial expressions, body language, and muffled speech.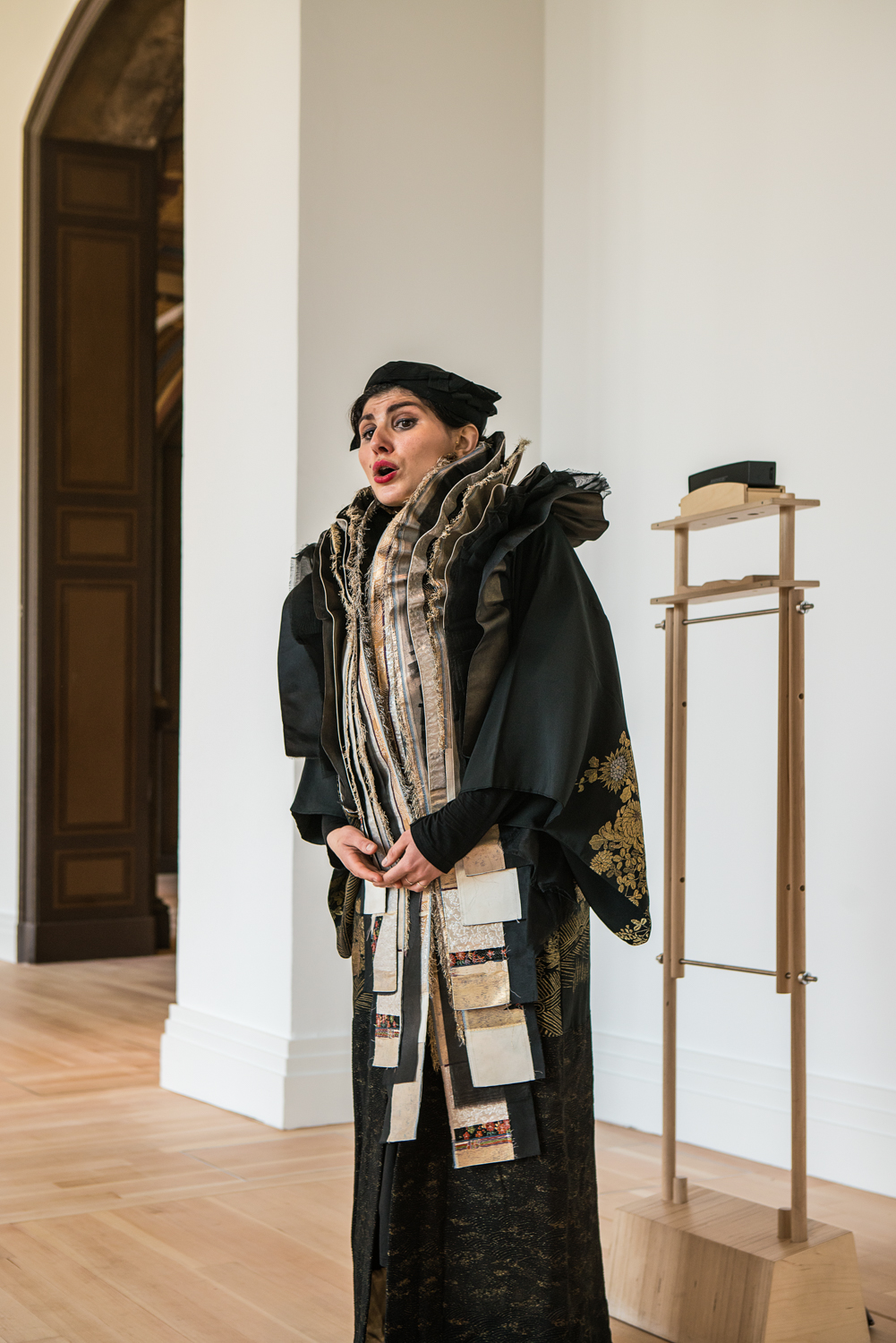 For the past couple of years, I've been jotting down barely intelligible fragments in a Notes folder titled "Awkward moments." About half of the entries center in on encounters with strangers, like "Accidentally laying my hand over someone else's hand when trying to touch the traffic light button" and "At sauna with Mischa, trying to smell the coconut exfoliator but it falls on my face while I catch a guy's eye". Although my memories of these experiences are tinged by feelings of self-consciousness, they also evoke a feeling of warmth. Like sharing experiences with family, friends, partners or lovers, fortuitous instances of intimacy with strangers can, too, leave an imprint on the texture of our existence.
In our changed reality, interactions with strangers are imbued with a new kind of mutual vulnerability. For health reasons, they seem to involve more risk and may happen less often. For social reasons, they seem more appealing after periods of routined isolation and may happen less often due to altered societal norms. Sonic Blossom helped me see how I frequently took these unpredictable passing moments of closeness with other humans for granted and how I'll probably need to hone in on my non-verbal communication skills moving forward. It also reminded me of how situations that breed uncertainty can be suffused with beauty and reconfigure the way we see the world.