At Louis Vuitton, Nicolas Ghesquiere is Still the King of (Our) Hearts
The designer's Resort 2021 collection was down-to-earth, but no less magical.
Nicolas Ghesquiere has always been a designer working with a futuristic (optimistic?) view of the present. At Louis Vuitton, his penchant for juxtaposing materials and textures with exaggerated silhouettes—short skirts, oversized shoulders and sleeves—have always made the women on his runways seem like they are maybe from a more advanced civilization. Perhaps that's why his shows are always such a thrill—where will he take us next?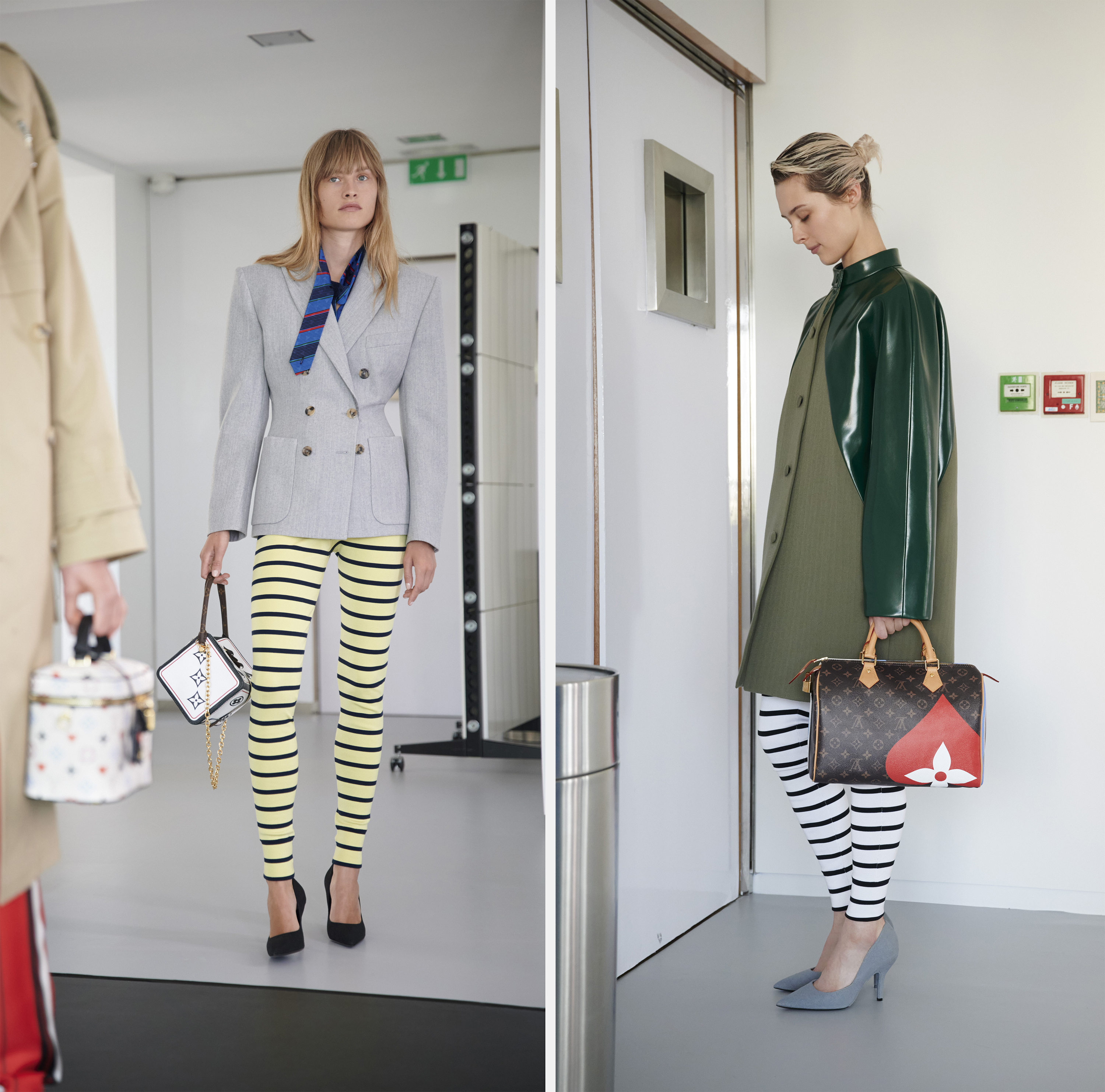 We especially wondered where he would take us with his newest Resort collection—this being the season where usually designers whisk editors to exotic locations—and in that sense he didn't disappoint. Today, there is perhaps no place more evocative of a time long gone, of a different kind of life, than the office.
The lookbook, photographed by the photographer Nicolas Krief at Ghesquiere's studio in Paris, is full of the mundane office objets, a photocopier, shiny industrial trashcans, exit signs. The clothes soul and silhouette of the clothes has not changed, but the styling has. These clothes are styles less for the runway and more real life. Looks 4 and 5, which combined striped leggings with a short blazer or a long A-line coat in two tones of green is a perfect example of the mullet dressing we've adopted in the past months (business in the top party at the bottom). But even taking whatever videoconferencing out of the equation there is a sense of comfort and ease that permeated the collection. Life is too stressful, Ghesquiere seems to say, why not just throw on a pair of leggings and a voluminous top and get through your day as best you can? You deserve it.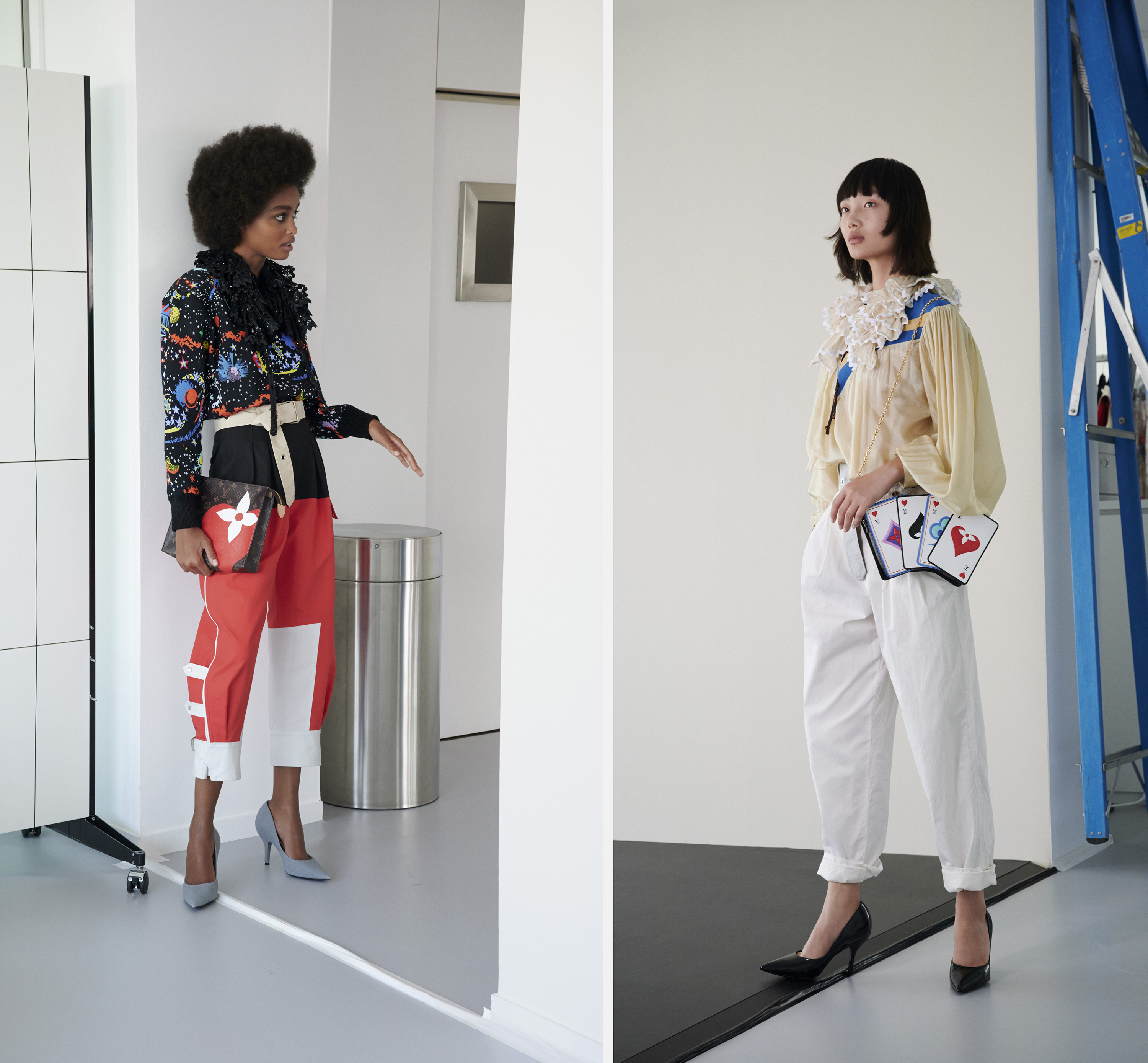 While the Zooms and Facetimes dictates that the top half of the body is where the action happens, (and yes these blouses are truly heavenly), the pants have still got IT. The only trouser that matters is now high waist, pleated, and with the cuffs folded just so to show off the ankle (and a classic pair of pumps). I know these trousers are hard to pull off but if there's anything we've learned in the past few months is to say "fuck it," and do what we want and wear what we want, and so let's welcome these absolute '80s trousers with open arms into our secluded lives.
Ghesquiere also expressed to be inspired by playing cards, which resulted in some of the most fun iterations of LV monogrammed bags we've seen in a while. I've been thinking about how for people who are quarantining, a bag is about the least useful purchase you can make at this time—you're not going anywhere that you need to bring stuff with! But a bag shaped like playing cards, or with a blown-up ace or heart is different because it calls to the teeny tiny part of your brain that knows, deep-down, that one day, maybe not this year or the next, but one day, you're going to go out again and maybe on a warm summer day you will look down and see your little bag and think to yourself, Wow, I'm so glad past me bought this present for future me.
"I looked somewhere that has been calling out to me for a long time, somewhere I hadn't taken the time to go back to," Ghesquiere is quoted as saying in the press release. Which in a sense is what we've all been doing, exploring the things that called to us and we didn't have time to engage in, taking stock of the way we are living as individuals and as part of different communities. These clothes are not saving the world, but there is still time for joy when all roads seem to lead to ultimate despair. There is joy in beauty, in a pair of butter yellow boots, in a tiny monogrammed handbag shaped like a heart. As I am writing this, I come across a Frank O'Hara quote someone has shared on their Instagram. "In times of crisis, we must all decide again and again whom we love." And as for me, I'll always love Nicolas.