Beatriz Cortez, NO CAGES NO JAULAS, Los Angeles, Immigration Court, Olive Street. Photo: Dustin Downing
Looking to the Skies to Abolish ICE
With "In Plain Sight," public art and political protest look to the sky.
Beatriz Cortez, NO CAGES NO JAULAS, Los Angeles, Immigration Court, Olive Street. Photo: Dustin Downing
No matter what, this Fourth of July was going to be different. There's not only a sentiment of nationwide defiance for the America we all currently live in, but a large chunk of the population is now realizing that our history is not one to be celebrated. This year, on the day we most associate with nationalistic pride, Americans instead disparaged patriotism and atoned for the fact that the racism within the country's history is ongoing. This mass reckoning added a new level of tension to our Independence Day. It was in the air—literally. Last weekend, about 80 different artists teamed up for the collaborative project "In Plain Sight" to address racial injustices through skywriting written over jails and detention centers across the US.

Select phrases challenged issues ranging from our healthcare system, ICE detention camps along the U.S./Mexico border, mass incarceration, and the wealth gap. States that saw the text works branched far and wide: New York, California, Arizona, Georgia, Texas, Alabama, Louisiana, and New Mexico all saw works in their sky. Reading somewhat like Jenny Holzer "Truisms," the phrases that were scrawled in the clouds included "CARE NOT CAGES," "NOSOTRAS TE VEMOS (We SEE YOU)," and "HEALTH IS WEALTH."
Contributing artists included Raquel Gutiérrez, Dread Scott, Guadelupe Rosales, Tayhana, Carlos Motta, Emory Douglas, rafa esparza, and Titus Kaphar. Dread Scott's message read "Carlos Ernesto Escobar Mejia," which is the name of the first immigrant to die in detention from Covid-19.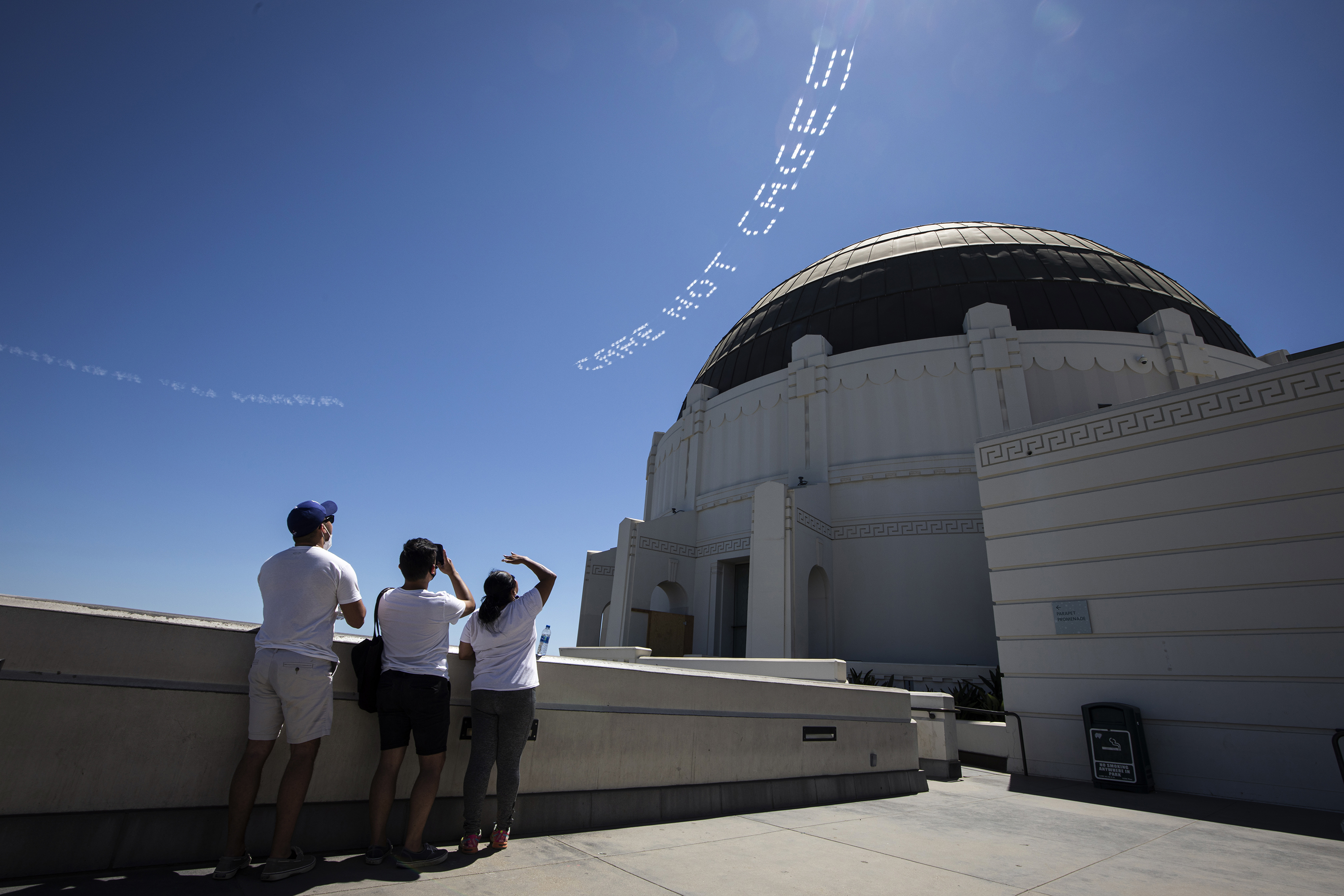 Gutiérrez, who is an academic on the militant politics of Bolivia and indigenous rights, served a prison term in the 1990s before becoming a professor of sociology. Her piece, which read NOS VEMOS LIBRES, was written over the Phoenix Field Office—an ICE office. The text translated to English reads, "WE SEE OURSELVES FREE."
"As artists, we're in unique positions to challenge structural oppression and to help imagine solutions for social problems," Gutiérrez told GARAGE. "They're messages that remind us of our humanity. They will also remind people of the failure of humanity—how could we let this (the proliferation of for-profit detention centers) happen?"
She added, "It's a moral imperative to help people who are being disappeared by my government."
These skywritings come at a time where information and educational writing has been dominating social media feeds, blogs, and other online platforms. Tayhana, who is an Argentina-based visual artist as well as a DJ and producer, was attracted to this project because it brought some of those sentiments away from screens and into the real world. In Spanish, she told GARAGE, "Today everything is controlled, the censorship system is increasingly strict and even more so on the Internet." She continued, "I feel that in some way the air writing is a mockery of all that control that oppresses and threatens us for thinking differently and making realities known as they are."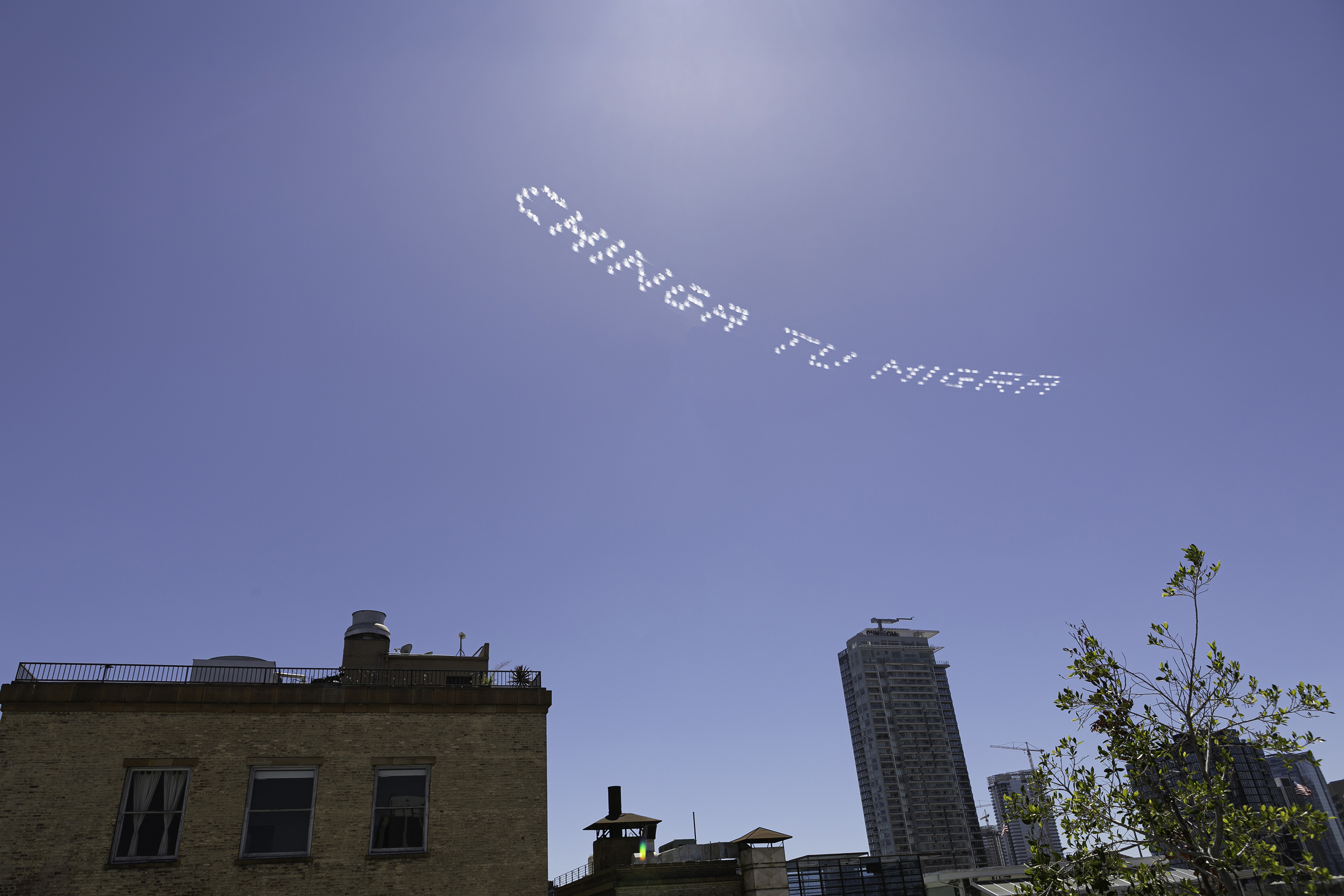 Tayhana's piece read "DEJAME MIGRAR N PAZ," which translates to "LET ME MIGRATE N PEACE," was written over the U.S. Customs and Border Protection at the Rio Grande Port of Entry. "Think it is the most direct tool that could be used considering also the place that was chosen to do it," she said of the work. "Now that everyone is trying to make messages go viral through the internet, to get out of that 'social media' game and go back to the streets or the skies so that we can look at reality again."

Public art activations such as "In Plain Sight" harken to a long history of collaborative, large-scale public artworks that cry for direct change in political systems. Cassils told the New York Times that this work was inspired by the AIDS Memorial Quilt, a piece that was conceived in 1985 and became the largest piece of community folk art in the world. Contributing artist Hank Willis Thomas is no stranger to these types of large scale pieces, as his work "For Freedoms" in collaboration with Eric Gottesman became the largest creative collaboration in history, with over 150 artists creating work on billboards sprinkled across all 50 states. For this project, however, Thomas was invited in by artists Cassils and rafa esparza to be one of those contributing.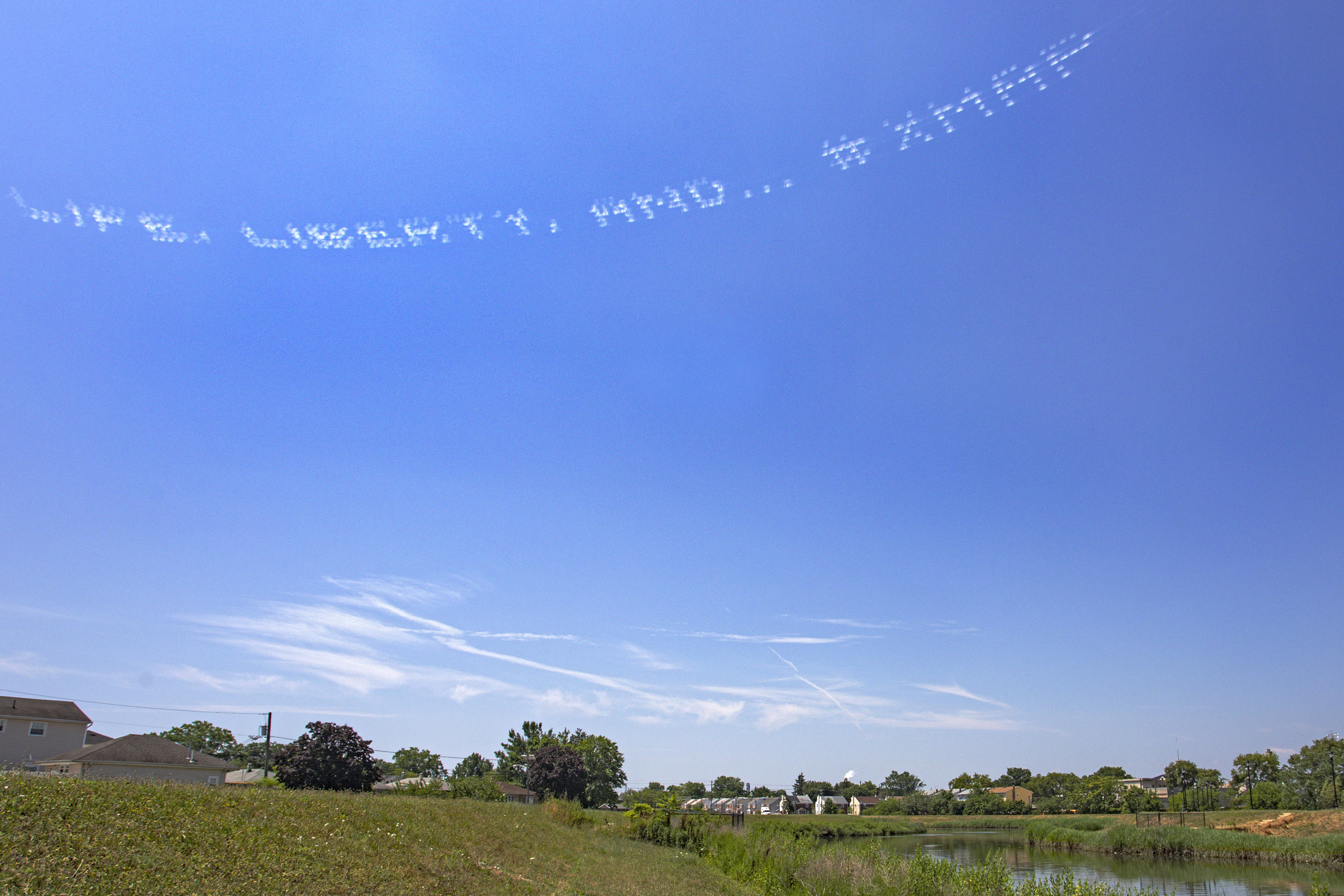 "Is there a larger canvas than the sky? Is there anything more borderless and infinite?" Willis Thomas told GARAGE. His piece read "LIFE LIBERTY AND," and was cast over the Hudson County Correctional Facility in New Jersey.
"We are all citizens of the same planet and sometimes need to be reminded of this. We are one nation under the sun, one people, one hope," he added. "[These works] are reminding how small we think and how big [and] expansive our minds are."