Photograph by Mark Blower courtesy of the Design Museum London.
The Azzedine Alaïa Show in London is the Sexiest Museum Exhibition Ever
The mannequins at the new Alaïa exhibition are basically ground zero for agalomatophilia, the fetish for inanimate human-shaped objects.
Photograph by Mark Blower courtesy of the Design Museum London.
It turns out Azzedine Alaïa could make even an exhibition sexy. Planned and put together with the designer himself before his death in November of last year, Azzedine Alaïa: The Couturier, at the Design Museum in London is truly exhibition as couture.
There are looks on view dating back to the beginning of the designer's career in the early 1980s. Among them: clingy cowled robes, that rippled menacing, muscular, allure on Grace Jones in 1985's A View To A Kill; and scorching laced leather minis worn by Christy Turlington and Linda Evangelista when they danced at the Zinc Bar in Paris for Ellen von Unwerth's camera.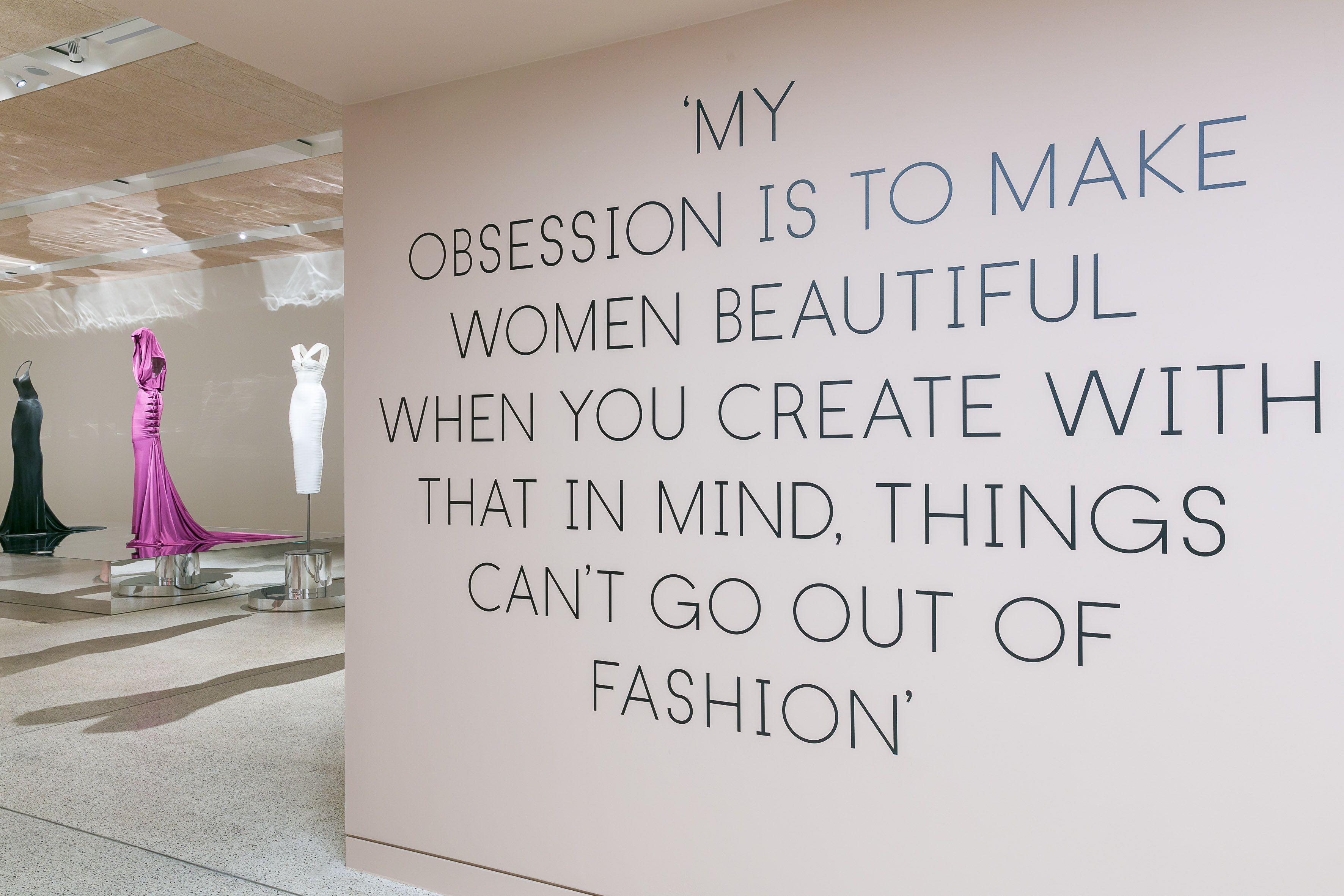 But this is no mere archive show.The clothing on display was custom-made, tailored to custom mannequins, each so perfectly adapted to match the Alaia silhouette they bore that the garments appear to float. Which means the clothes do what Alaïa clothes are meant to do: they lick every curve, caress every contour. Beneath sheaths of fine mesh chainmail, cascades of butter-soft, caramel leather, and fine-knit silk jersey, breasts and buttocks proudly assert themselves. The garments float on invisible—impossibly perfect—bodies as if draped on a squad of foxy phantoms.
It turns out there's a term for the fetish for inanimate human-shaped objects—so please excuse my agalmatophilia, but in this context, I think the peccadillo is excusable. The exhibition mannequins are based on the heavenly body of Alaïa's muse and close friend Naomi Campbell, elongated to dramatic height and raised on plinths, like so many classical deities. Unlike the usual stiff and static exhibition dummies, they looked like they're about to stride off somewhere, posed with jutted knee in supermodel contraposto.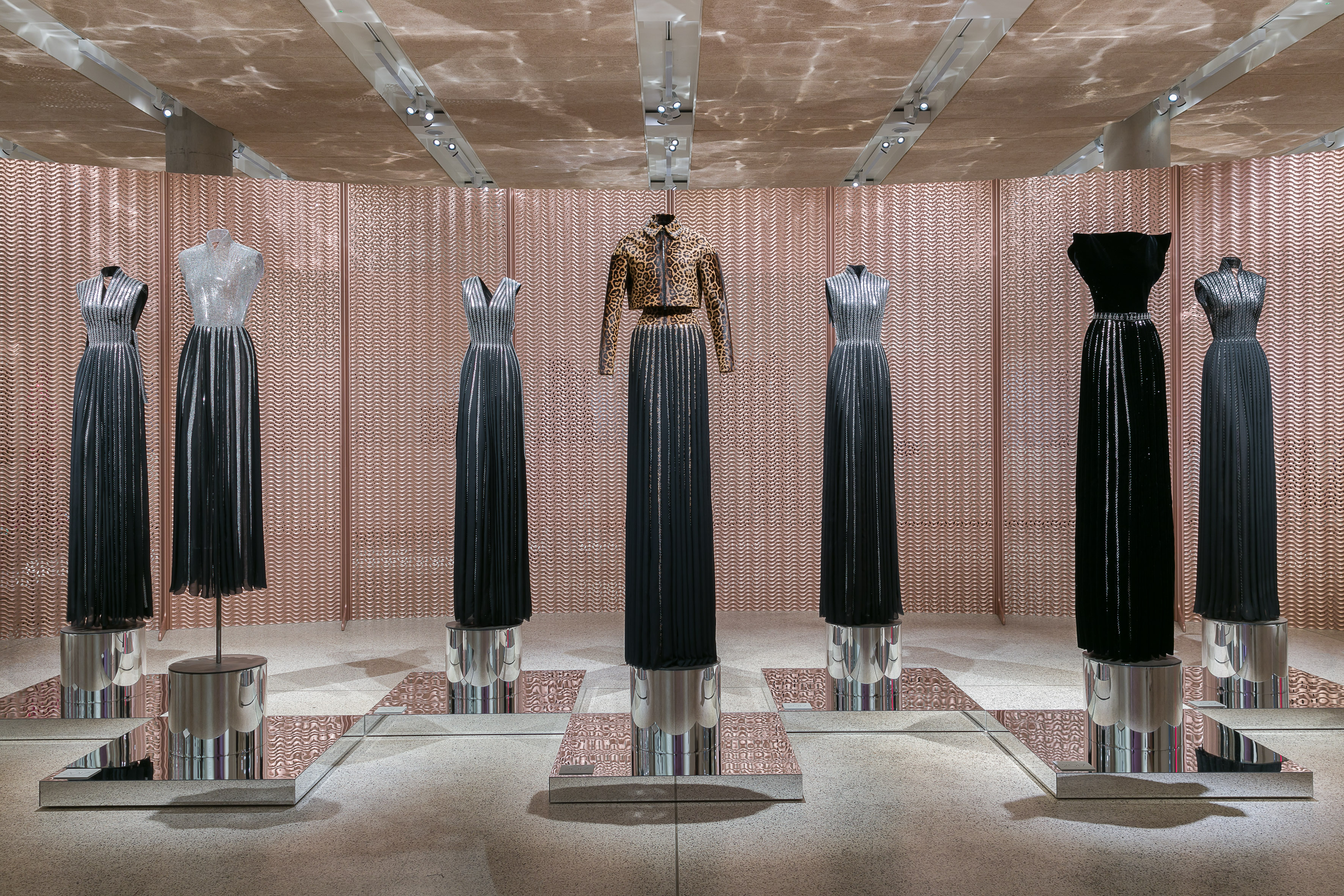 Dressed in white Alaïa, Campbell was the guest of honor on Wednesday, the exhibition's opening night. (After she made her runway debut with the house in 1986, she went on to live at Alaïa's apartment above the store in Paris. The supermodel still calls him Papa.) Among the other grand dames dressed in Alaïa that night was model-turned-documentary-director Farida Khelfa another great 80s-era It girl, in a black evening gown with a leather bodice. "I prefer people to notice the woman and not her clothes," the designer once said of his yen for dark garb. "I like black, because, for me, it's a very happy color."
The show wasn't all goth-toned stretch jersey and leather. One display was a bank of ruffled flamenco-style frocks in emerald, ruby, and sapphire, each coruscating with teeny-tiny sequins. Under the heading "Other Places, Other Cultures" were outfits recalling Alaïa's exploration of exotic materials (originating, perhaps, in his affection for the National Geographic channel): a gladiator babe mini and bustier pieced together from shagreen with a real scallop shell trim; a baby doll dress formed from long fronds of horsehair; and a tunic woven from raffia, dangling with white tusk shells.
The designer's Tunisian heritage is often cited as inspiration for his love of perforations. Lace, metal eyelets, broderie anglaise, laser-cut leather, slashes, peep-holes and more echo the decorative, fretted screens that filter sunlight and breeze in North African architecture. Here the link to the built environment is made explicit and modern. Alaïa invited artists and designers he admired—among them Marc Newson, Konstantin Grcic, the Bouroullec brothers, and the designer's partner Christoph von Weyhe—to create textured, patterned screens for his show.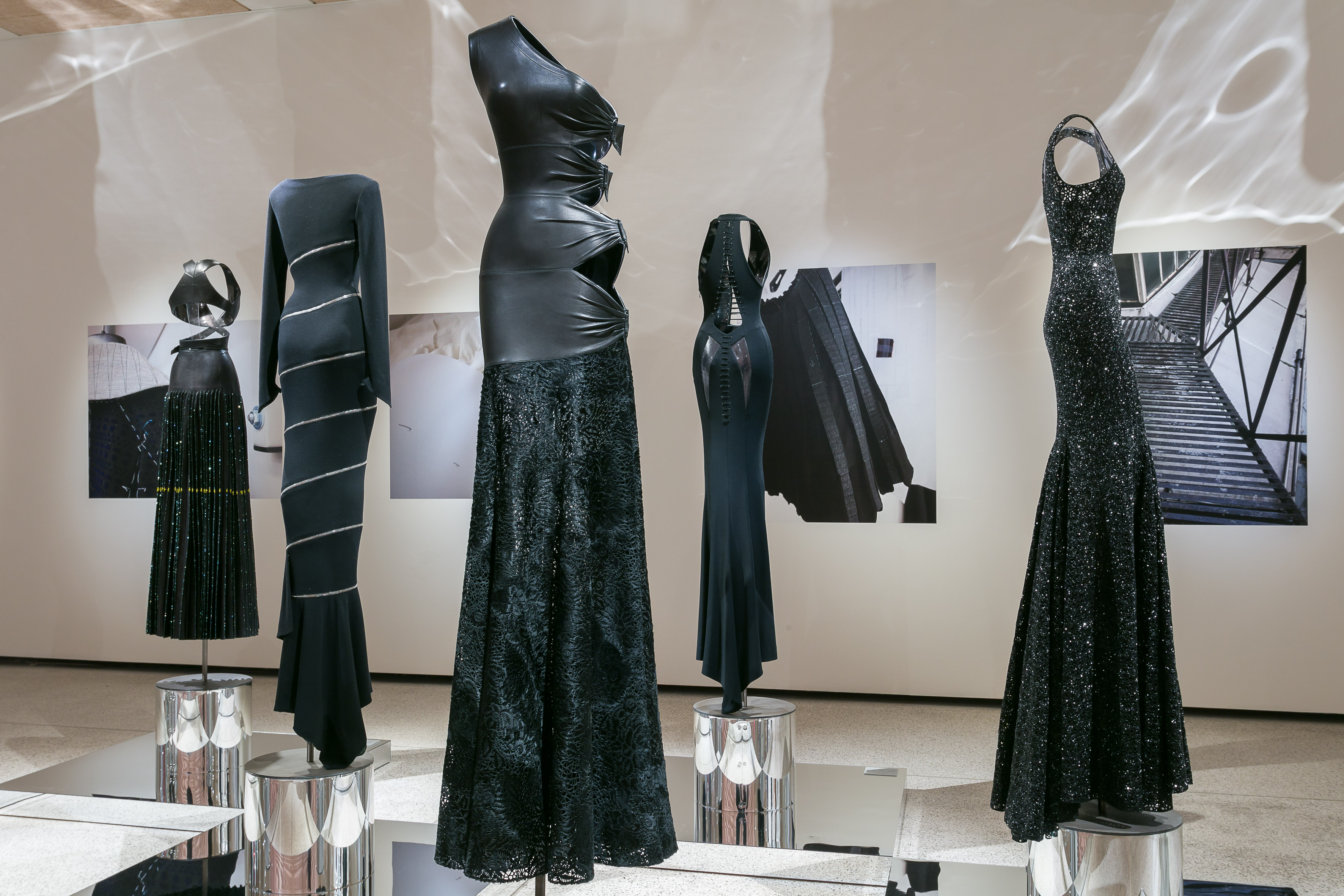 Evoking buckles, lace, tulle, and foam, the metal screens couple with the mirror-polished plinths to bounce dappled light around the exhibition space like a sunlit swimming pool. Be gone, angsty darkness! Farewell sterility, reverence, stuffy academicism! From Ellen von Unwerth's footage of the Supers prepping backstage for the 1990 runway show, to the naughty exuberance of the transparent goddess dresses, this show exudes joy, sex, and mischief. It would wink if it could. The embrace of minx power does not diminish the reading of Alaïa's creative talent one jot: each of these dresses still looks like a miracle. Note to all: serious doesn't have to equal heavy.
A timeline along the wall picks out highlights in an extraordinary life: his early studies in sculpture; a brief stint working with Yves Saint Laurent at Christian Dior; his first collection in 1981; his decision to show "off calendar" in 1988; his various designs for ballet; exhibitions of his work; and his final collection, Summer 2017, shown in November. Alaïa died while the plans for this exhibition were still in progress. Nevertheless, the result is a celebration.
Azzedine Alaïa: The Couturier is at the Design Museum, London, through October 7, 2018.