Chromeo Has a New Album, But They'd Also Love to Talk About Rare Mid-Century Sofas
The Canadian electro-pop duo behind "Fancy Footwork" and "Jealous" are huge design nerds!
After a three-year hiatus, Chromeo is back. The Canadian duo of P-Thugg (Patrick Gemayel) and Dave 1 (David Macklovitch) is releasing their fifth album, Head Over Heels, in June. Their funk-infused electro-pop has become unmistakable, with synth-heavy discotheque bangers like "Fancy Footwork" and the rhythmic groove confessional "Mamma's Boy."
In a recent conversation at the Marlton Hotel in New York City, the pair told GARAGE they made unexpected use of their sabbatical: in addition to refining their sound, they've devoted a lot of their energy to becoming hardcore design connoisseurs. According to Macklovitch, they've developed a taste for the design of the "late '70s, early '80s, basically anything that is coming out of the Space Age and coming into the '80s—but not quite Memphis crazy yet. That's our sweet spot." Gemayel adds that he likes "early '80s Italian and French stuff, black-lacquered, glass accents, Asian touches," and "the textbook definition of industrial designers, but without the austerity of Dieter Rams."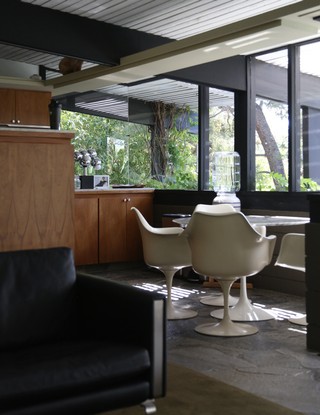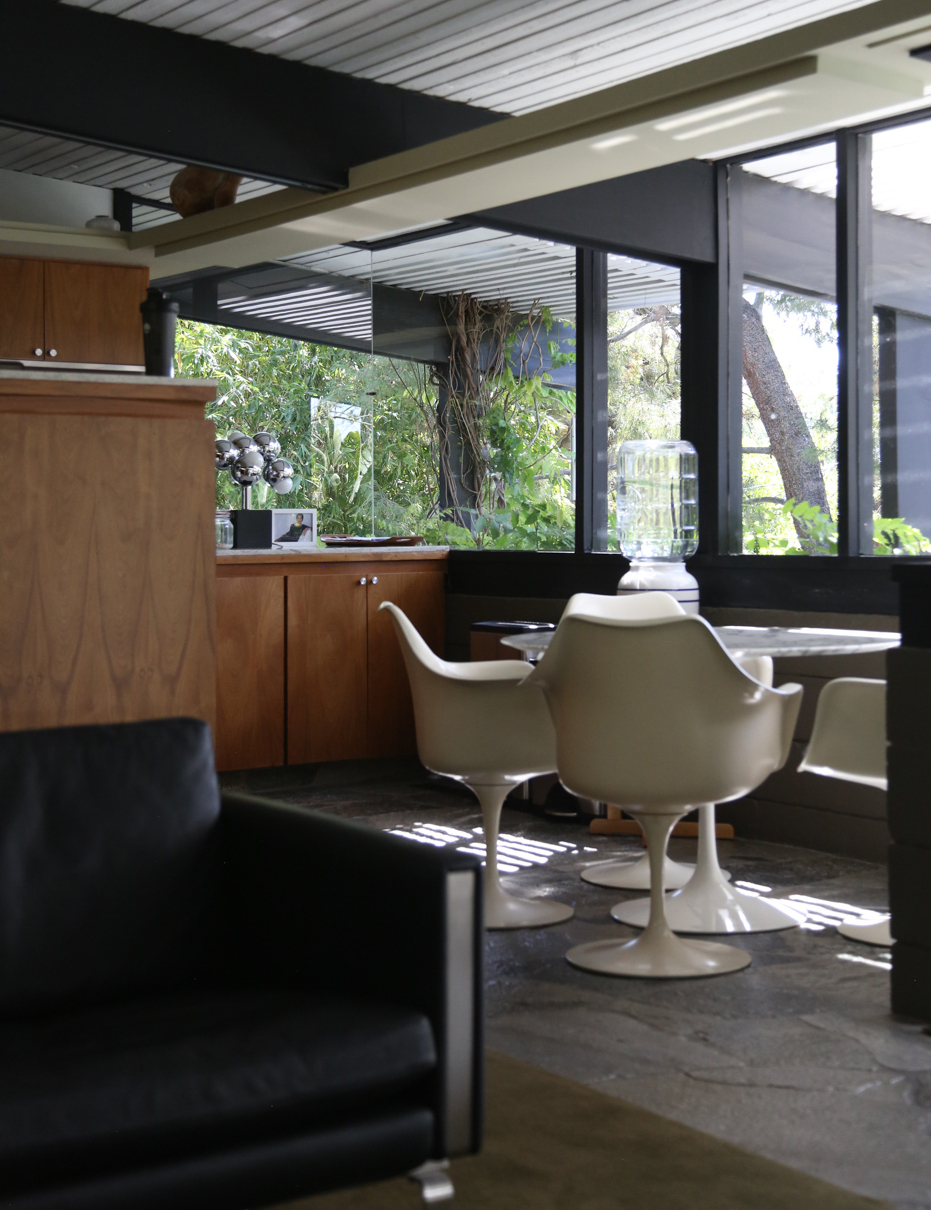 They remix disparate design moments, from the gridded curves of a Harry Bertoia chair to the reflective faces of a sculpture by minimalist John McCracken. "It's syncretic," Macklovitch says. "Because if we were fully in the '80s world, then there wouldn't be any kind of rub. It wouldn't be modern. We weren't even really there in the '80s—[Patrick] was in Lebanon, and I grew up with French parents…The '80s that we're referencing in our music is a fantasy world."
"When you're working on music and you're sitting on the George Nelson chair, you think, 'Would he have accepted this little mistake that I just made?' No. This couch is perfect, this [music] has to be perfect."
Gemayel and Macklovitch met in high school in Montreal, and their appreciation for design began with the city's subway system, which Macklovitch describes as a "trove of Brutalist architecture." Gemayel's recent move to Los Angeles gave the pair an opportunity to expand their collection. "We decorated and arranged [the LA studio] so that we could use it as an immersive experience for people to come and listen, and they're in an environment that complements our music," says Macklovitch.
The first piece of furniture they acquired for the studio was a tubular leather-and-chrome George Nelson sling sofa, first produced in 1964, referencing industrial production and traditional craftsmanship. It's also very uncomfortable, but Macklovitch says that it creates "an idea of rigor when we feel inspired by everything around us, and forces us to have that same perfectionism with the music we make." Gemayel chimes in: "When you're working on music and you're sitting on the George Nelson chair, you think, 'Would he have accepted this little mistake that I just made?' No. This couch is perfect, this [music] has to be perfect."
Macklovitch, a lover of the Bauhaus, occasionally finds its modernist offshoots humorless: "That's why I like the Brazilian interpretation of Bauhaus, because it's more fluid, and sexier," he says, listing Jorge Zalszupin and Oscar Neimeyer as favorites.
"Brazil is filled with Germans and Eastern-Europeans," he continues. "You have these guys that studied at the Bauhaus, fled the war, came to Brazil, and became architects…. there was no furniture to match their houses, so they had to start making the furniture, and that's how they went into furniture design. Post-colonial modernism is dope."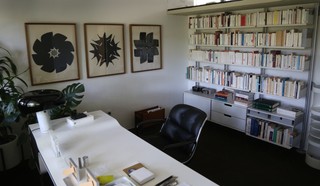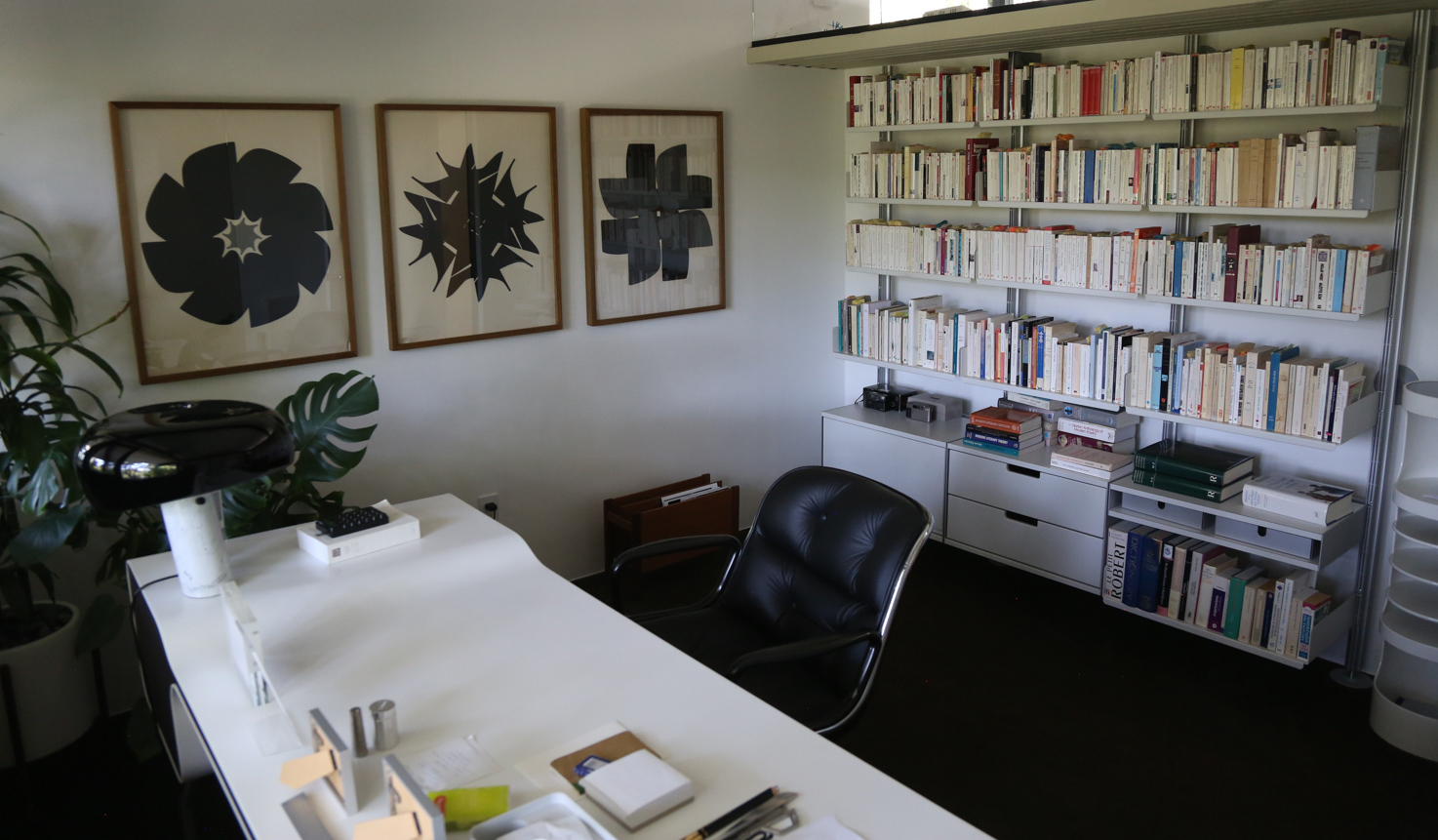 The pair has made collecting into a shared passion. For Macklovitch's birthday, Gemayel gifted him Boris Tabacoff chairs, and when Gemayel collects a new vintage car (his favorite: DeLorean designer Giorgetto Giugiaro), Macklovitch finds a way to incorporate it into a shoot or a music video. Gemayel has also developed an obsession with '70s brass plant lamps from Maison Jansen, and seeks them out in Parisian flea markets near Sacre Couer, dressed in his everyday uniform of a sock-hat and sweats.
What's next for the duo—will design remain a hobby, or should we look forward to a Chromeo furniture collection? Macklovitch says: "There's a mentorship and a collaborative aspect to our music that makes us excited. P's taking his time and doing a studio visit [with artist Corey Wash] after a full day of press. I'm trolling people [like Kristin Lee Moolman and Oroma Elewa] on DM to meet up with them and see how we can possibly work on stuff."
"For a lot of people who are in their late twenties and whose interests go beyond simply, 'Let's party, let's rage,' I think we can make them interested in our music with other angles," he continues. "Learning is the most important thing…. Eventually, Chromeo will morph into a creative agency, in a way, where we can apply everything we've done."