Deep Into the Chanel Forest (Plus Hear Michel Gaubert's Soundtrack)
At Chanel's Fall 2018 show, Karl Lagerfeld created an entire forest, and suggested we stop worrying about the future and think about preserving what we have now.
Getty Images.
Over the past few months, Chanel designer Karl Lagerfeld has been growing a paternal, full white beard. For a figure who's had a consistent look for several decades, it's been a jarring mystery. Is he a sage? Is it a retirement beard, or a good-luck charm?
At this morning's wood-themed Chanel Fall show, Lagerfeld filled with Grand Palais with trees and carpeted the ground with moss and leaves in all those fiery oranges and reds, and the reason for his beard became clear: he is the modern-day John Muir.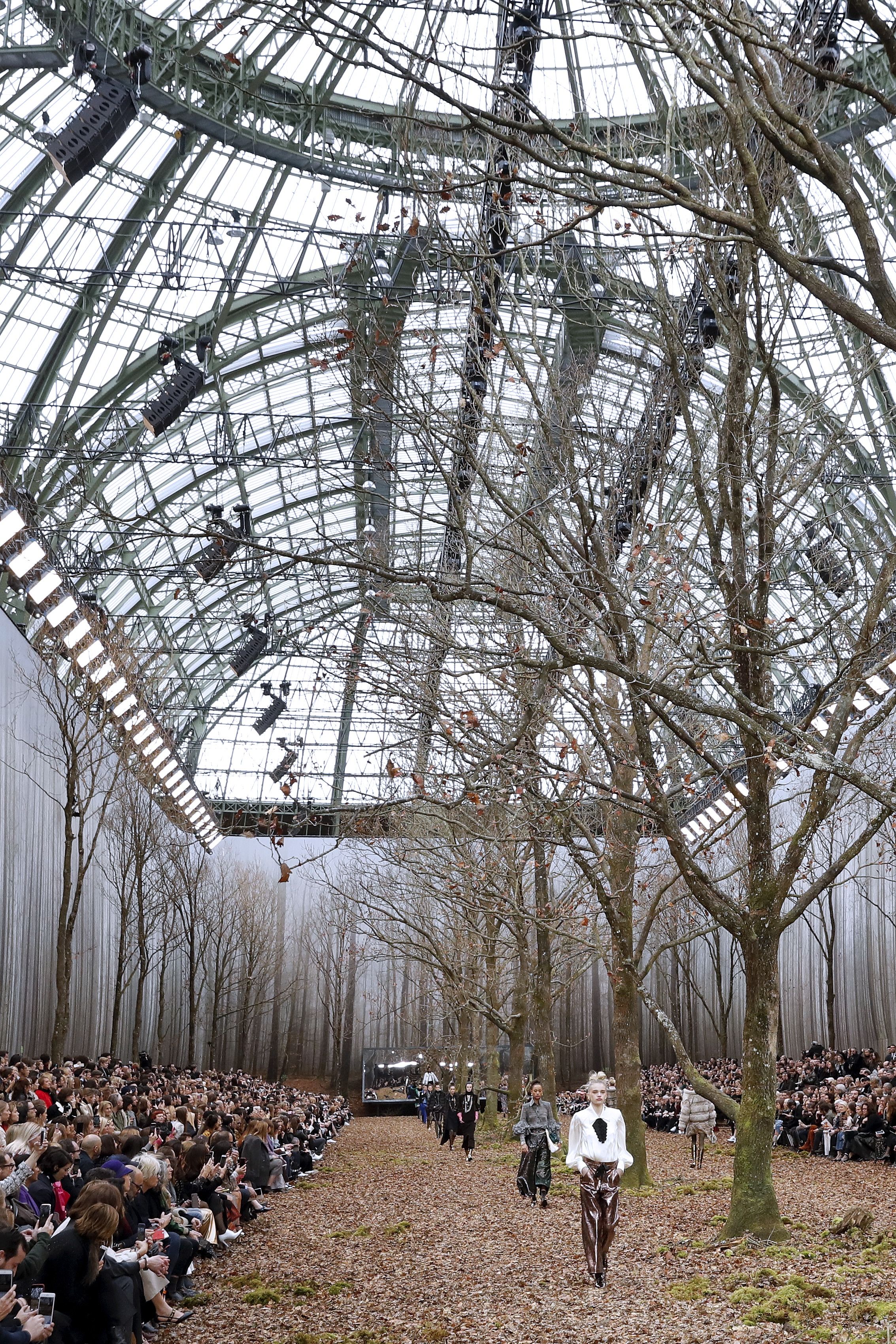 I'm joking, but only a little. The (real!) trees that dotted the set of today's show were brought from Normandy, where they had already fallen, and will return there to be composted. Chanel will plant 100 new trees in their place.
Chanel, which has a hold over the fashion consciousness in the way that ESPN grips the American male brain, is a complete universe. (It's what those of us who minored in Art History would call a gesamtkunstwerk.) Every Chanel show is its own resplendent world; there is a Chanel way to arrange a garden, a Chanel way to put your hands in your pockets, a Chanel way to go home (those bags, shown in Lagerfeld's hometown, are little shipping containers; such trips involve a lot of baggage), a Chanel kind of waterfall, a Chanel way to rain, and even a Chanel vision of Paris (Lagerfeld always insists on his status as an adoring outsider, in love with the Parisian fairytale).
At today's show, it was almost as if the blossoms of his Spring Couture show had died and fall had emerged fully in its stead. The transition felt as natural as, well, nature itself. Lagerfeld takes everyday experiences, from pedestrian, bourgeois activities like shopping for groceries or looking at art, to the very change of the seasons, and uses the codes he's developed at the house to show what nuances of that moment, thing, or phenomenon are shifting the culture. This is expressed at a variety of scales—everything from the set to its novelty bags, which are some of fashion's best works of pop art; here, there was a log-shaped minaudiere.
And while the creation of this sort of bubble might seem to separate Chanel—which is the ultimate luxury brand, after all—from reality, Chanel remains a cultural soothsayer. Designers this season have been obsessed with the future—what will it look like? What will we look like? How will technology effect how we produce clothing, and our personal identity? But Lagerfeld showed models as robots back in Spring 2017, then showed a rocket ship for Fall 2017, plunking fashion in conversation with Elon Musk and the private space race in a way that not even the most savvy brand collaboration could.
Lagerfeld has already done technology, and now he's back to earth. There is a certain cynicism about autumn in America, where it exists more as a commercial enterprise than a part of nature, due to the rise of the Pumpkin Spice Latte and the disappearance of the actual season as a result of global warming. We forget it's also about death, and the end of a cycle. Rather than obsessing over the future, which, as I realized at Marine Serre's terrific show earlier this week, is a form of escapism, Lagerfeld is betting that our next diversion will be investing in preserving what's here now. And if a tree falls in the Chanel forest, Lagerfeld knows everyone will be there to hear it.
Speaking of what we're hearing: fashion obsessives know the industry's go-to DJ is Michel Gaubert, the trusted ears behind the soundtrack at every Chanel show. (He also has the best Instagram account in the game.) Gaubert shared his soundtrack for Chanel's Fall-themed Fall 2018 show with us; take a listen at the link below and get into the autumn spirit:
Track Listing:

1/ The Limiñanas - Dimanche (feat. Bertrand Belin)
2/ Patrick Coutin - J'aime Regarder Les Filles
3/ The Limiñanas - Ouverture.
4/ A.R. Kane - A Love from Outer Space (Original Mix)
5/ Erol Alkan / Saint Etienne - A Hold On Love / Only Love Can Break Your Heart

CHANEL FINALE
1/ The Limiñanas - Ouverture.
2/ The Limiñanas - Dimanche (feat. Betrand Belin)