Inside Artist Elizabeth Hayt's Upper East Side 'Gilded Asylum'
Writer's block turned a former New York Post sex columnist into a veteran crafter.
Photo by Adam Robb.
"I can only guess what the FBI thinks," says Elizabeth Hayt, a 57-year old former New York Post sex columnist turned decorative artist, as she kneels on the dining room floor of her Upper East Side duplex, dressed in custom Lou Dallas jeans and kitten heels, paging through a rare braille printing of Mein Kampf she won at a private auction in Bavaria. It's the centerpiece of "Blind Obedience" a gilded funeral cortege for German fascism. "I am on some pretty scary mailing lists," she says, frustrated by the scarceness of authentic Nazi memorabilia to utilize for her art since President Trump has taken office, but she found the 1933 printing a steal, selling for a fraction of Rommel's swords.
Hayt finds beautiful the abstraction of the white-on-white dots, but as a lifelong art historian who wrestles with prioritizing provocation over preservation, she found no catharsis putting scalpel to page, cutting two perfect Schutzstaffel bolts for the lining of a rococo decoupaged coffin filled with the kind of decorative flowers she hopes will soon retail in the homewares department of Bergdorf Goodman.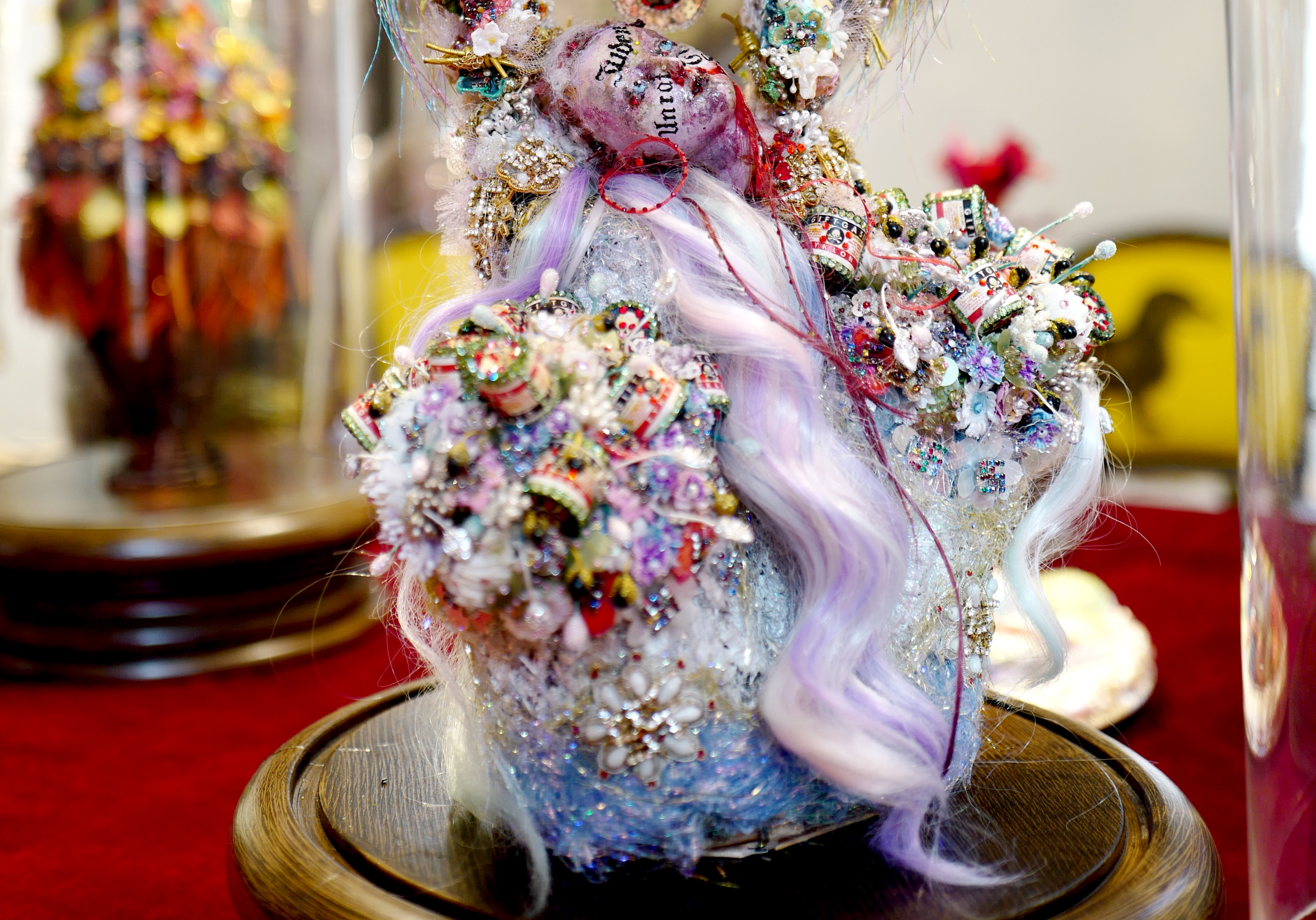 Hayt's artwork is unsettling camp, so unwittingly ambiguous the viewer can't be sure what political party she's in. It's also her first attempt to establish a dialogue with the art world she once covered for ARTNews, the New York Times and Vogue, since suffering an intractable strain of writer's block seven years ago–hopelessly stuck on the same sentence while writing beauty coverage for Elle. And if her projects don't currently rise to the level of rattling cages, they make water coolers of china cabinets–not unlike the artist edition china plates she obsessively collects. "With nothing else to do but decorate the space I made art," she says of her Swarovski menagerie. That's a good reason why her first show, now open to the public by appointment, is titled "Gilded Asylum."
In the living room sits "Revolution Is A Dinner Party," a cabinet-sized music box blaring The March of the Volunteers, in which all of Mao Tse-tung's personal vices are made aesthetically pleasing. "Mao is wearing sneakers, that's because Mao would only wear sneakers, but these are really high end designer sneakers," Hayt points out, sure he would fume at the roasting. The work took its inspiration from a molding sack of white rice Hayt rediscovered in her studio after finding a mouse crawling through it. The rice and sack now serve as its base.
If these portrayals seem not to damn the cruelty of the men behind such violent movements, it's because Hayt–a late convert to feminism–is still working through her feelings about male archetypes, a subject she first addressed in her first works, a series of toy stags from 2014.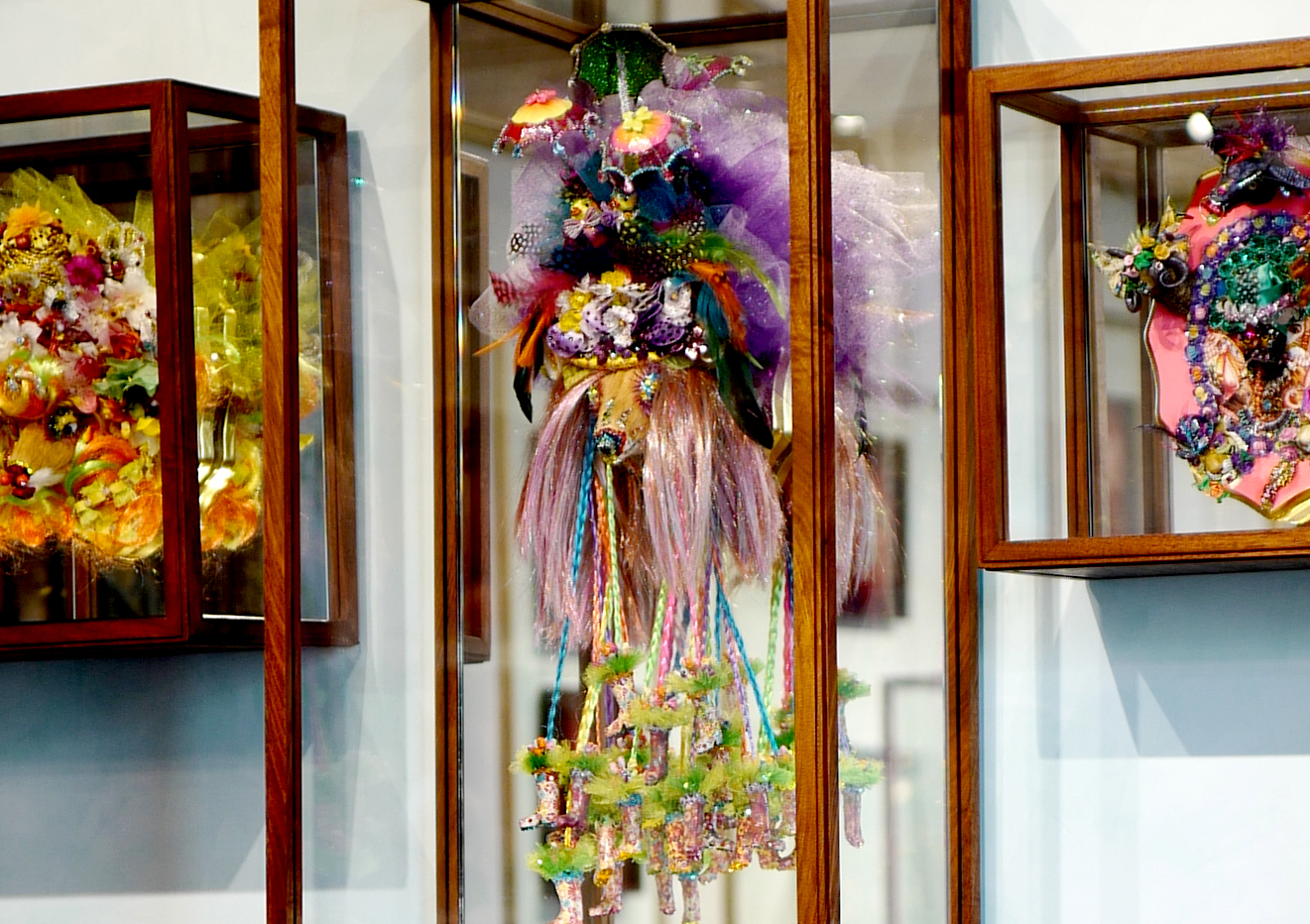 Hayt processes her issues with a subject while creating, rather than putting her confrontation on display in the finished product, and letting the audience be the judge. The result is often complimentary and more palatable than her commentary. The deers' antlers, cocooned in bouffants of silk and velvet florals, feathers, and rhinestones look empowered not degraded, even though they're intended to be stand-ins for what Hayt calls "archly feminine gay life." She adds, "they make me wince, but it's not so obvious here, but that's what was happening in my head."
Hayt graduated Barnard with a degree in art history, then earned a masters degree in the subject from NYU in 1988, but she says NYU failed to offer her an education in feminist art theory. As she transitioned into a career as an art historian and critic in the 1990s, she was ill equipped to chronicle the rise of a new generation of female artists better informed. Hayt's later stories were written in her penthouse office, now a trippy kitsch art studio wallpapered in Damien Hirst's photomontage of cigarette stubbed flowers, "Beautiful Inside My Head Forever," where she listens to three different channels of bird songs played in symphony. (Her home was decorated by Jackie Greenberg, sister of Salon 94 owner Jeanne Greenberg.)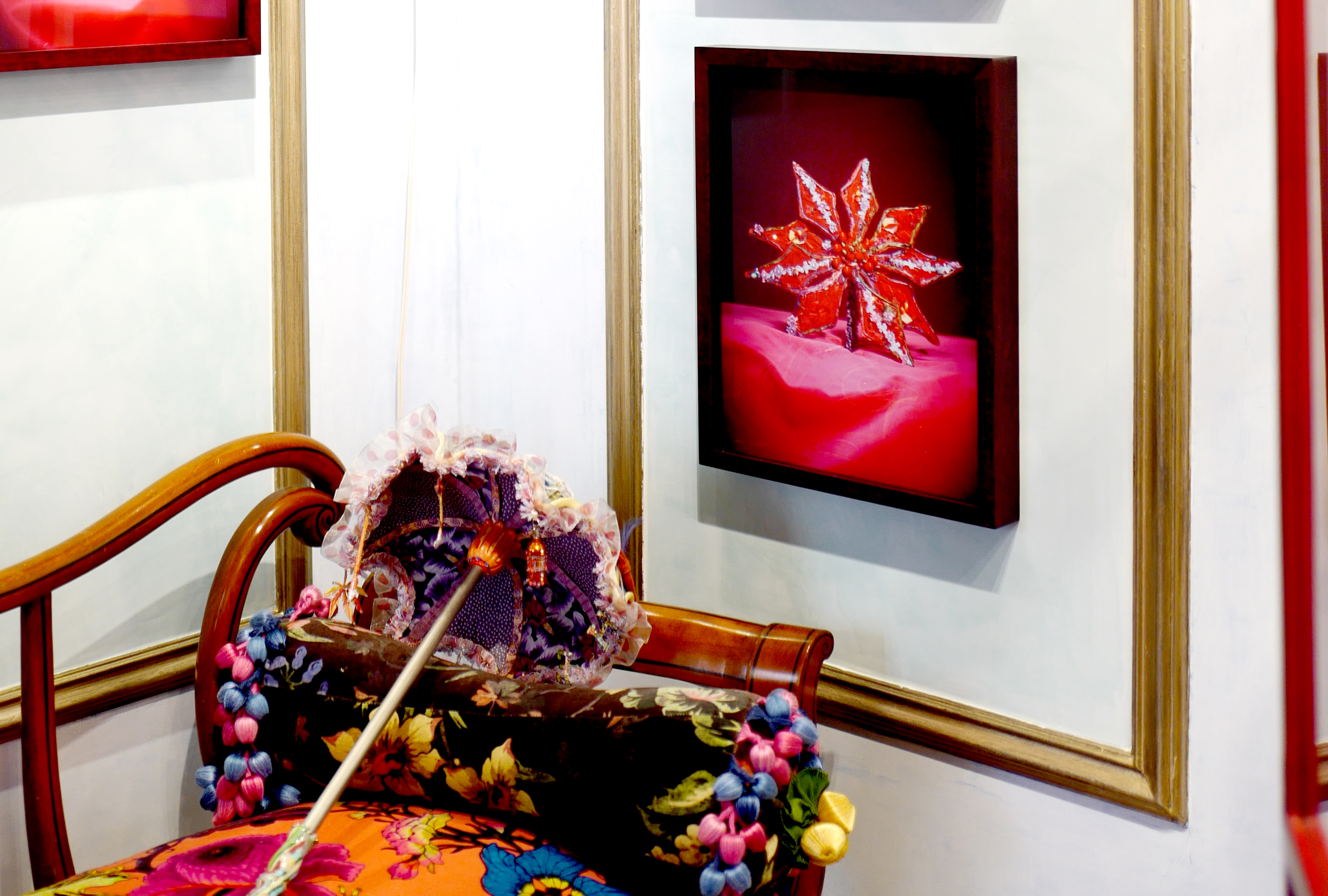 It's here in this office where Hayt now conceives of new projects, like "Poppy Overdose," a 2018 Jackson Hallberg portrait of the artist dead asleep in the same oversaturated poppy field now in fashion thanks to Virgil Abloh's The Wizard Of Oz-inspired Louis Vuitton collection. "Poppy" references the trauma of a recent visit to McLean psychiatric hospital, near Boston, to treat chronic insomnia for which Hayt's long been heavily medicated. "The image was always going to have me in dead in a field of poppies, but when I got back I wanted to do pills," she remembers. But the work isn't only a self-portrait of the artist having overdosed, it also serves as a catalyst for her debut furnishings collection–all her props repurposed as embellishments for $500 throw pillows and freestanding objets d'art.
"These flowers, once we made them, turned out to be so nice instead of being throwaways," Hayt says, she gave them her assistants to bedazzle with Swarovski crystals. After years of producing works which burdened Hayt with the weight of politics, religion, even just awakened realizations about her parents, she could finally make something beautiful for its own sake. "After the flowers, I said to Zoe, 'Let's make pillows'," she says.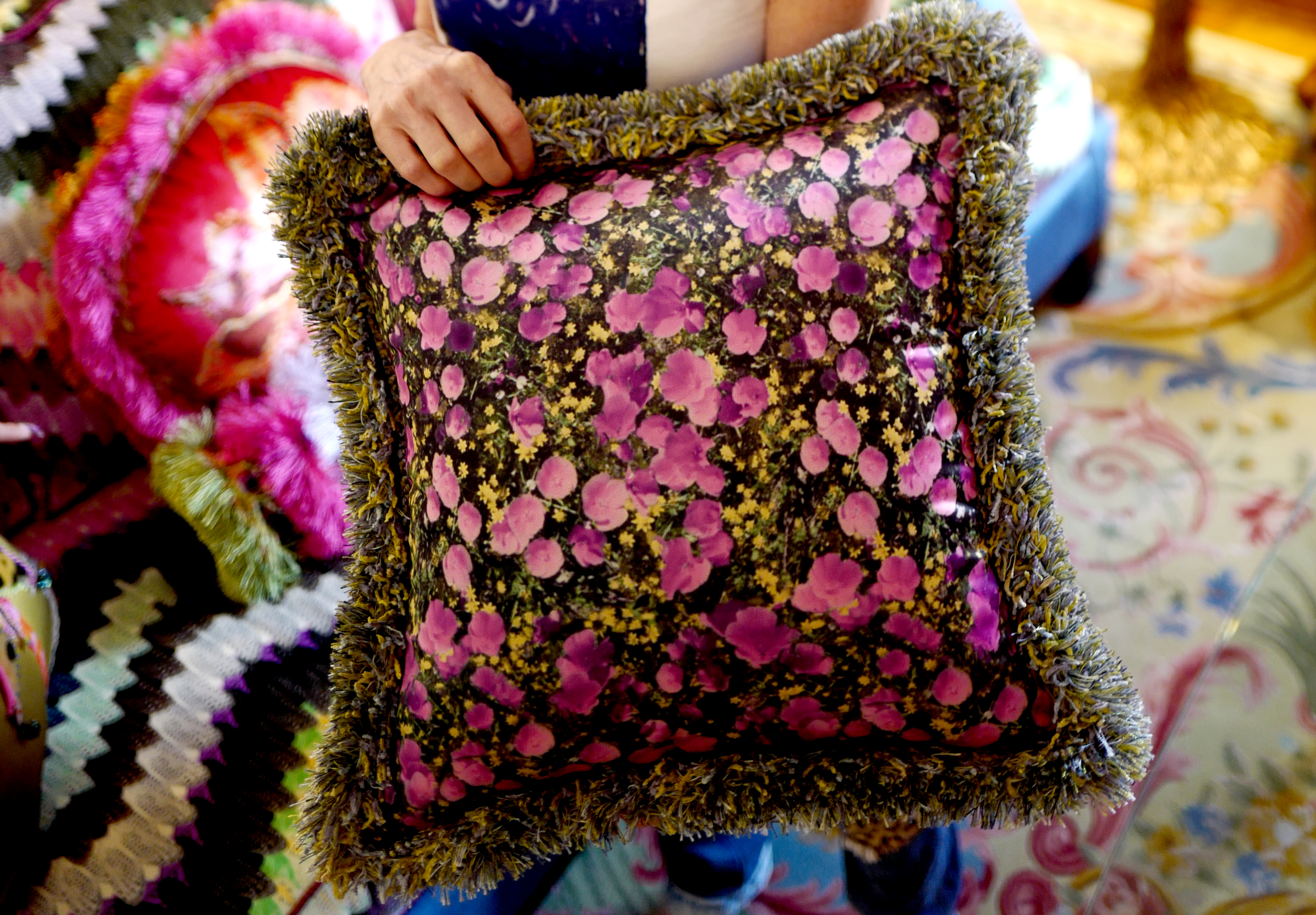 "Gilded Asylum" debuted last month before a crowd of downtown fixtures including Richie Shazam and (Madonna's daughter) Lourdes Leon, who are more familiar with the arts and crafts clique who spent long days before the show laboring upstairs, in a second penthouse office Hayt recently acquired. These young women toil under a high ceiling from which fragile vintage umbrella canopies and harsh florescent lighting hang, and serve to answer the question, "What would a Richardson model look like if she worked at Michael's?"
After Hayt converted the dog sitter at her Southampton home, a recent RISD graduate, into her first art assistant, she's been blessed with a parade of talented RISD alumni turned creatives including Lou Dallas designer Rafaella Hanley, Lollygag Projects' Victoria Haynes, Fern Mallis' niece Alexandra Metcalf, and Hayt's latest hire, Zoe Kestan, jewelry designer Anna Pierce, the Instagram model @weed_slut_420. As Hayt's work has grown more labor-intensive, her assistants' deft handiwork in close quarters has proven invaluable.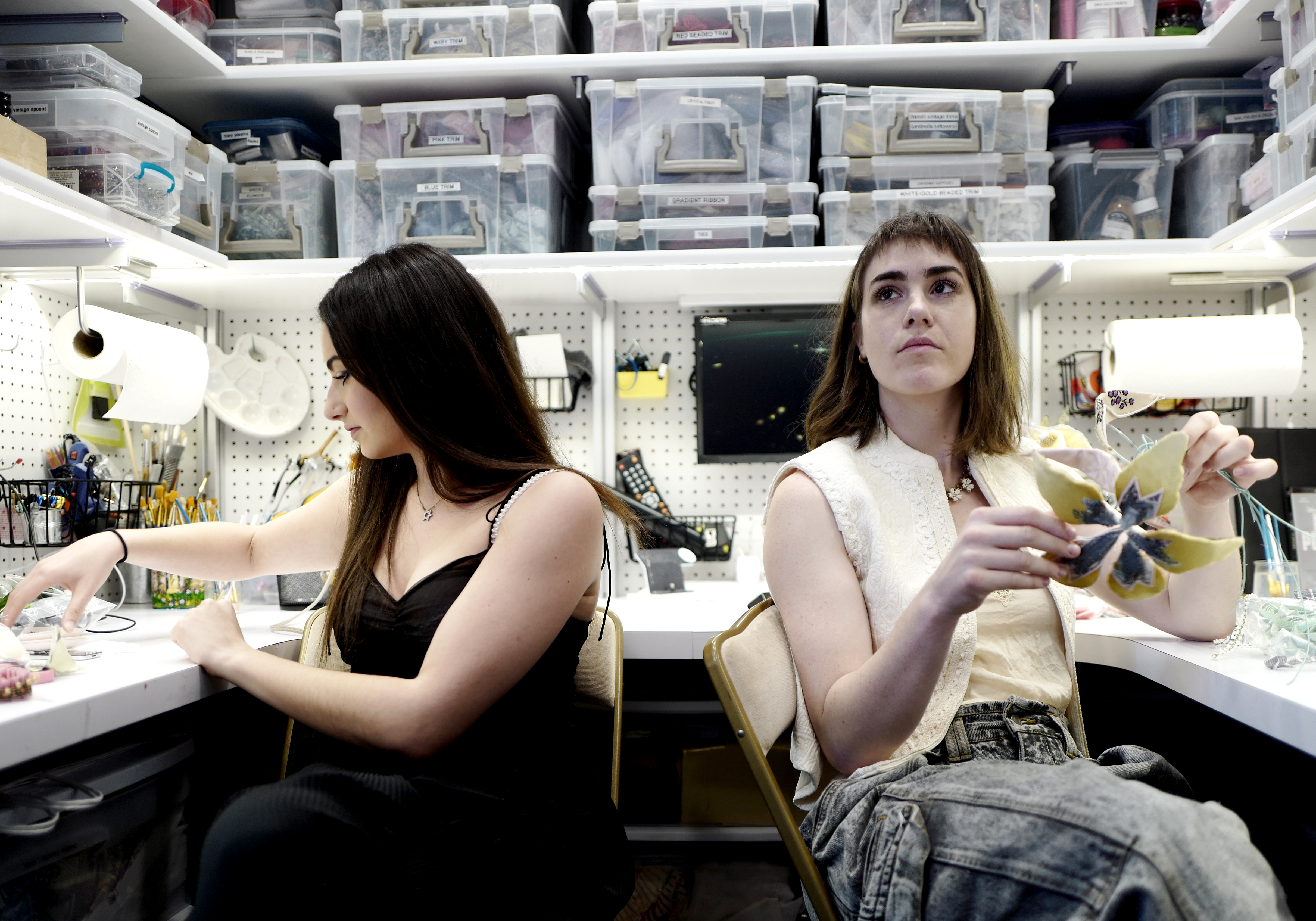 Upstairs, Hayt wields a beer stein, a memento from her childhood growing up on a US army base in Germany during the 1960s, where her father, who she calls an "an insanely knowledgeable man about the Third Reich," long ago requested to be stationed. Hayt wonders out loud, and in her art, if there wasn't something strange about her parents' love of beer hall songs and holiday visits to Dachau, as she pulls out a bouquet of flowers the girls just crafted, weeding stems made with cheaper materials from those with more refined fabrics. She demands the best. "Right now we're trying to build up a stockpile some really gorgeous flowers so we can say this is what we can really do here–couture flowers," she says.
As the volume and detail of her work intensifies, Hayt's embracing that natural progression of the artist as manager, while her assistants put in as much as 20 hours a week. "I can't do it," Hayt says. "I think of myself as Jeff Koons; I weigh in at the end."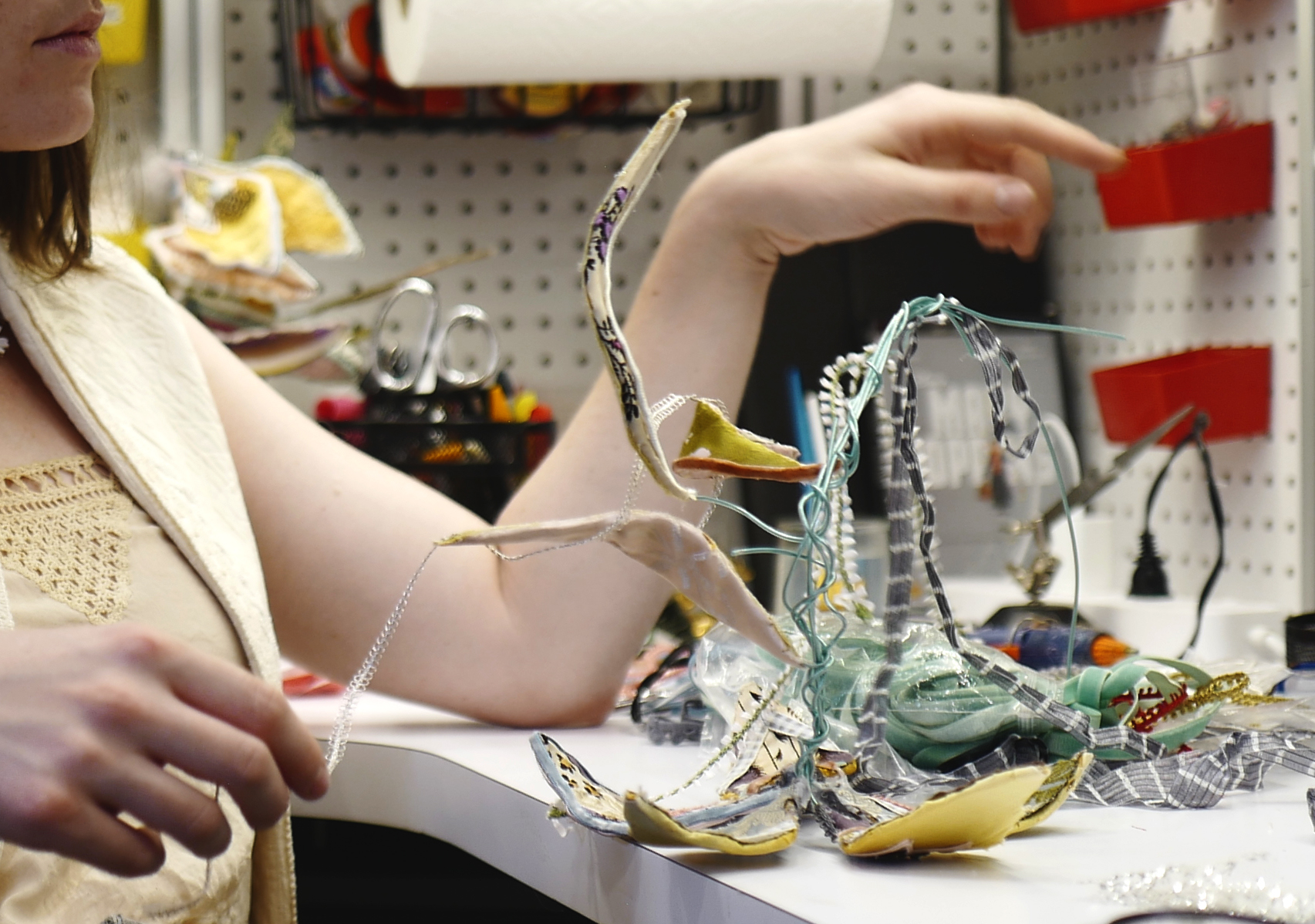 Back downstairs, Hayt shows off a completed umbrella for her next project. She turns it upside-down to reveal a handle made from vintage lamp parts, a canopy of steel mesh and Victorian trim, miniature coke spoons and pill casings dangling along the perimeter. Her assistants will produce forty umbrellas for sale after they appear in a forthcoming photo series, "Medicine Mary," in which the artist portrays a Poppins who nannies parents, providing chemical relief to "parents who can't shake loose the stress of their kids."
In the 1990s, Hayt covered for the New York Times a new generation of female artists like Rachel Feinstein, Katy Grannan, and Cecily Brown, but, if her shift into portraits aren't obvious proof, her biggest influence predates them.
"Do you know Cindy Sherman's Madame de Pompadour tureen?" she asks. "I want to print these [umbrellas] on porcelain. That's my dream."