The Worst Shirt A Man Can Wear Is A Henley
Fight me.
Post-breakup Bradley Cooper is on a baller-older-woman tour of New York lately, spotted first by Laura Dern's side and then caught off-guard with Anna Wintour on an Upper East Side street.
Obviously, Twitter is melting down over this hang, but the real story here is Cooper's attire. For his sojourn out into the night with the most legendary fashion editor of all time, the actor chose to wear a henley. Let me just repeat that one time, slowly and carefully; a henley. A layered henley, no less!
The really remarkable thing about Cooper's henley is that it's not new; he's been wearing henleys since at least 2012, if not earlier. The henley's heyday was arguably a few years years ago, with GQ noting Bachelorette winner Shawn Booth's predilection for them and the Cut opining in 2017 that you're not a male celebrity if you don't own one, but Bradley's doubling down proves a true commitment to the look.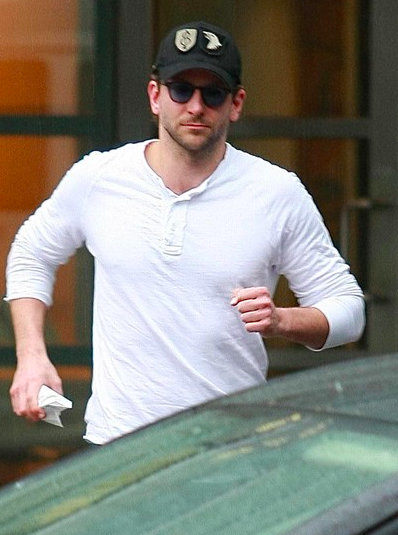 Merriam-Webster's dictionary defines a henley as "a casual top with a scoop neck and a short row of buttons in the center of the neckline," making it the fucked-up fraternal twin of the scoop-neck T-shirt that writer Kelly Conaboy called the scariest part of Midsommar.
The regular scoop-neck is certainly horrible, but in a very real way, the henley is worse. While a scoop-neck-wearing guy is proudly announcing his douchiness, proudly peacocking his vanity and dated-trend adherence, the henley-wearer sartorially purports to be a Nice Guy™. He's the guy who sat up all night with you in the dorm common room, lazily strumming a guitar and really listening to you for hours before sending you a long, weird Facebook message about how he can't deny his feelings for you anymore.
The henley is straight white male mediocrity in pseudo-button-up form; it's as lazy as a T-shirt, but it's swapped the relatable layer of sleaze that guys like Shia LaBoeuf and Pete Davidson emit for a thin patina of respectability that just rings false. Living at an unsettling halfway point between the casual cotton tee and the actual button-up, the henley is the Trojan horse of the fashion world, sneaking in bro attributes under the cover of gentlemanliness. It's what your shitty boyfriend wears to meet your parents, because hey, it's not technically a T-shirt, so you can't get mad. It has big "guy who bought a $2000 surfboard on Abbot Kinney but doesn't actually surf" energy. Simply put, it sucks, and Bradley needs to do better for his next platonic Wintour date.