Sarah Coleman's chairs. Photographer Richie Talboy; directed by Eric Wink.
How Sarah Coleman Took A Love of Louis Vuitton and Turned It Into Art
Make no mistake: this isn't LV furniture, it's custom art you just so happen to be able to sit upon.
Sarah Coleman's chairs. Photographer Richie Talboy; directed by Eric Wink.
It all started outside of a massage parlor in downtown Manhattan. "One of the guys outside was sitting on this tiny folding chair smoking a cigarette. I could tell the chair was made really well and of very high quality materials—it looked sturdy even at 20". I asked them if I could take a picture of the chair and without saying a word they pointed at the owner of the massage parlor standing in the doorway. I then entered the shop and saw at least 12 of the chairs lined up in front of large massage chairs with people sitting on them giving foot massages. I asked him if I could buy some and he told me to call him in a few days. He gave me his number, I called three days later and I went back to the shop where he had a new one for me."
From there, she got to work, reupholstering it with a deconstructed vintage Louis Vuitton suitcase. And that's how Coleman began her reputation as the Louis Vuitton chair-maker, something a quick scroll through her Instagram will indicate she's become quite good at.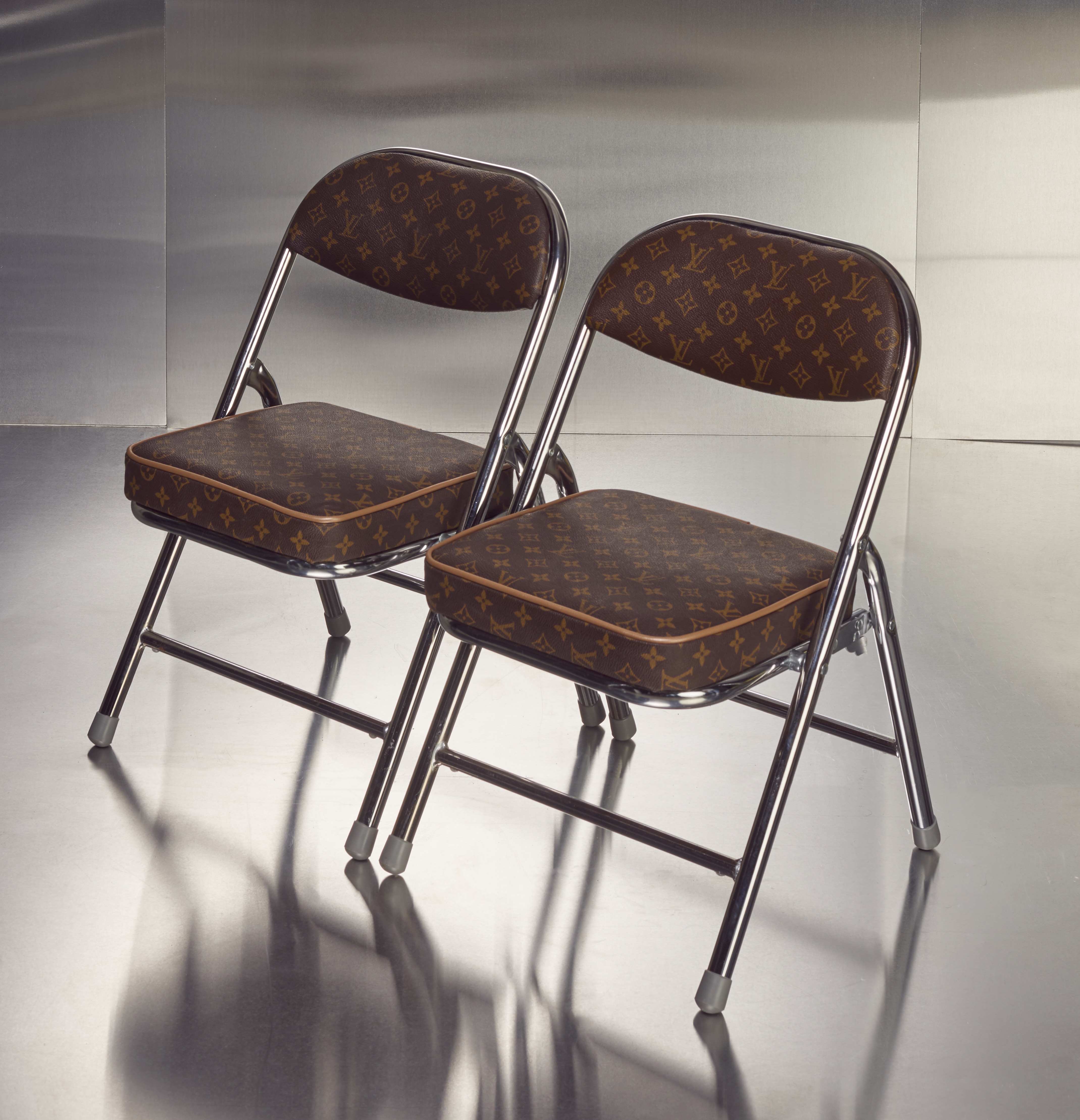 From a young age, the Manhattan-born and raised Coleman was always drawing or cutting things, like taking her dad's shirts and fashioning them into dresses or sewing with her babysitter. It was her babysitter, Chanelle, that taught Coleman how to sew and brought her down to Chinatown for the very first time. "Growing up, I was a little rebellious," Coleman tells GARAGE. "It was a period of time where I was very lost and trying to find my place. I never really had one group of people that I fit in with which made it hard to find my place. I had great friends, but I didn't have a sense of myself, so I was always doubting myself."
It was at her third high school, an all girls boarding school in Maryland, where she found her true passion. It was an art class where she was tasked to make a dress out of tin foil that her interest in design became a passion. Finally back in the city after attending college in Vermont at Saint Michaels College majoring in English, Coleman decided to pursue her passion as a career.
Her first job out of college was with architect Peter Marino, assisting with several of the design teams as well as in the fabric department. "It just so happened that right when I went there, Chanel was crazy, opening so many stores. And so," as she brazenly describes it, "I somehow got put on the Chanel team to be designing stores." She credits Marino with teaching her everything she knows, equating her experience with him to going to another country to learn another language. "Your so thrown into it, that you have no choice but to learn it."
Emboldened by her newfound knowledge, at 25 years old she left Marino to start a hand-painted clothing company called Unni by Sarah. It didn't last long. "I thought I was more ready than I was to go out on my own," she says, describing the period immediately after as a time that she was creatively lost. She spent the next few years painting and doing small interior design projects before joining the Mercer Hotel as an art director. She left there in the beginning of 2019 to focus on her own projects, immediately beginning work on designing a three bedroom apartment at the new Herzog de Meuron building located at 160 Leroy Street.
And that's when she started making the chairs. "I had the idea that I would start taking objects that are very basic—cleaning bottles, for instance—and covering the label. I had seen people doing lighters and one day I thought a folding chair would be cute." Some positive feedback from strangers on Instagram led her to create more. Before long, custom orders were coming in. Why LV? "I just love their stuff," she puts it plainly. "I think the material is really, really amazing quality and the quality of the fabrication of the chair as a result is that level; it's Louis Vuitton-quality, the sewing, the craftsmanship, the details."She takes apart one piece of luggage for every chair and uses the scraps other things. "Whatever I have left over I cover household items like plungers, toilet seats. matches, fantastic bottles and outlet plates," she says. "So I guess you could say I collect vintage luggage, I take it apart, use the majority of the material for the chair and get creative with the scraps." As for where she's sourcing the luggage: vintage stores, authenticated online resellers or directly from people she's met in the luxury resale market who call her when they find something they know she'll find useful.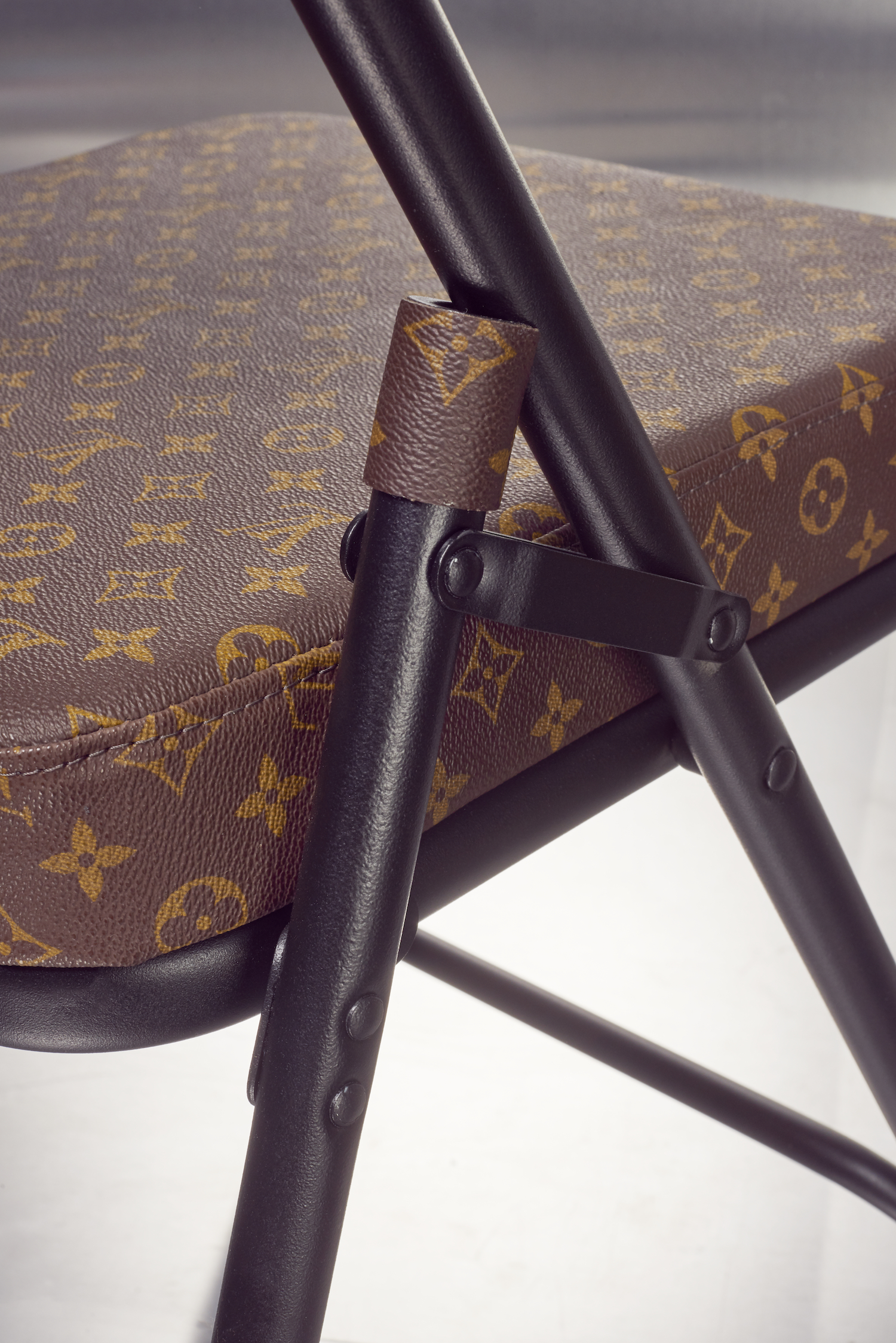 One recent client was Larry Gagosian, who ordered six folding chairs for his pizza room. "I was at the Marc Newson opening of his chairs at Gagosian. I went to the after-party and I went up to my mom while she was talking to him. I think it was Melissa [Lazarov] from Gagosian was like 'Larry, you have to see these chairs that Sarah's making.' And I showed him a picture and he was like 'I want six,' and then he walked away." And so it was done.
Coleman says she has not heard from anyone at Louis Vuitton about her work, saying that "they're each different; they're signed, they have their own number, they're art pieces. I'm selling them as art pieces and not trying to mass produce the same chair." It's not about the materials being used, Coleman stresses. "It's not because of the label. It's fun taking something that I can find, something used, and taking it apart, and creating something beautiful from it. I like looking at beautiful things."