These 'Carabiner' Tevas Platforms Are Every Futch's Dream
Futch, adj.: a combination of "femme" and "butch."
Photo via Tevas
Any queer worth their salt knows the specific, sweaty pain of tracking down a summer shoe that fits your look without giving you a) shin splints or b) a complex. After all, spring isn't Docs or Danskos season, so what's a futch to do?
Luckily, salvation has been delivered unto us by — who else? — Tevas, a stalwart friend of sensible footwear enjoyers since 1984. Tevas, which was founded when "a river guide rigged two Velcro watchbands to an old pair of flip flops and created a shoe that wouldn't float away" (lesbian creation myth!!!), just came out with the Indio Carabiner Slide Rope Sandal.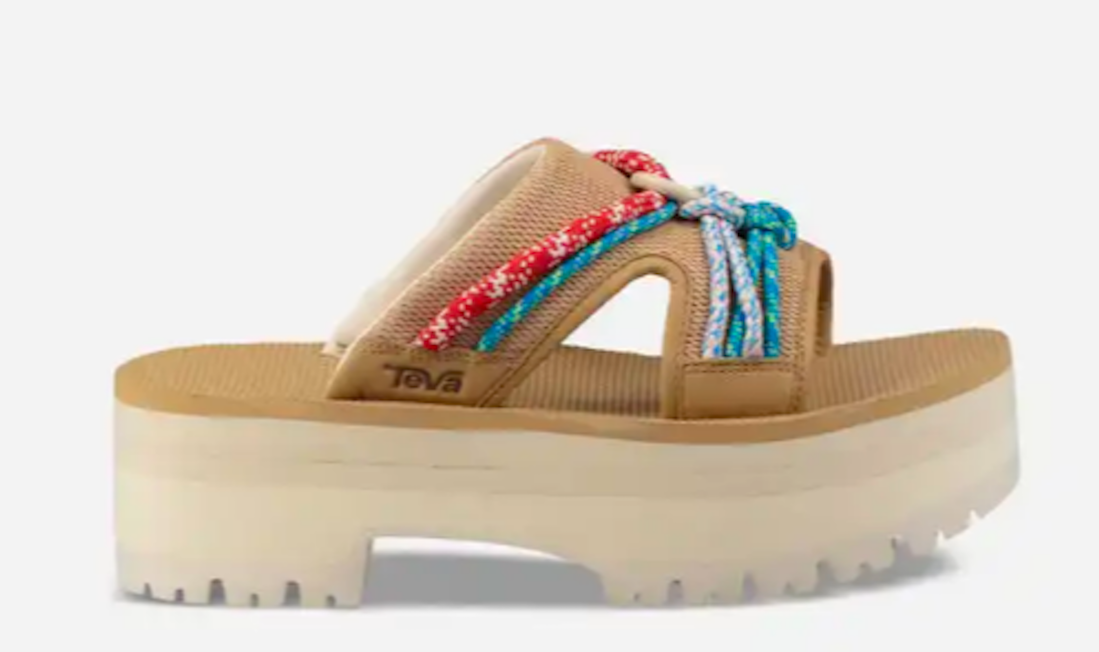 Tevas is having a bit of a moment lately, partnering with Anna Sui on a surprisingly cool collection, but going so far as to actually strap on (sorry, sorry, I'm trying to remove it) climbing rope to a pair of platforms feels like a unique and singular moment in queer footwear history.
For the uninitiated, there's a long history of love between lesbians and camping gear/carabiners/key rings (I dare you to watch this and not cry gay, gay tears!) Putting a climbing rope on a pair of high-heeled platforms, though, lives in a magical halfway world between butch and femme, the same world that nonbinary musician Sir Babygirl sings about. (They do have a whole song called "Heels", after all.)
Sure, a shoe is just a shoe, but in a world where the femme/butch dividing line can still feel oppressive to those who fall somewhere in the middle, it's exciting to see stereotypical traits of both archetypes wedded in one clunky, strapped-up behemoth of a summer sandal. Let's go camping in platforms this summer, queerz!
Note: This is not a sponsored post for Tevas, but if Tevas would like to sponsor me, I am very open to negotiations.