Bárbara Wagner and Benjamin de Burca, Swinguerra still.
Queer Art Gets Its Due At This Year's Venice Biennale
It's about time.
Bárbara Wagner and Benjamin de Burca, Swinguerra still.
This week, a group of Taiwanese men danced around in pink kilts in an ancient jail in Venice. This isn't the typical scene when one thinks of art at the Venice Biennale, but this year's edition is so very 2019.
Never in the biennale's 124-year history has there been so much queer art. From the Switzerland to Brazil and Chile pavilions, and in curator Ralph Rugoff's exhibition "May You Live in Interesting Times," too, nonbinary performance art, portraiture and trans rights fit squarely in the spotlight.
The men in kilts is part of a video by Taiwanese internet artist Shu Lea Cheang, who wanted to draw a parallel between queer and transgender activism with hacktivism to comment on surveillance.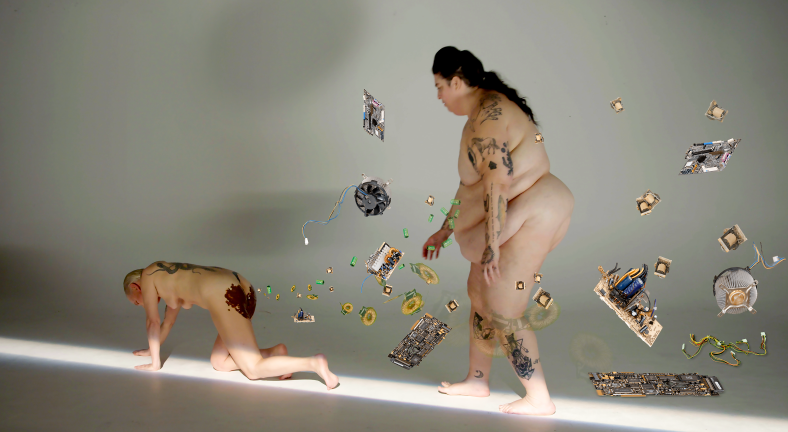 "It explores strategies for resistance against highly controlled societies," said Cheang. "It's the self-affirming dignity against repression."
The artist taps into how big data and facial recognition are controlling society, which is why Cheang named the exhibition "3x3x6," after the size of prison cells. There are 10 videos that detail cases where people suffered for crimes around self-expression and sexuality—there's also an app that stands in solidarity with Maedeh Hojabri, an Iranian teenager jailed for posting a dance video on Instagram (viewers are invited to upload their own dance videos, which are then screened in the gallery).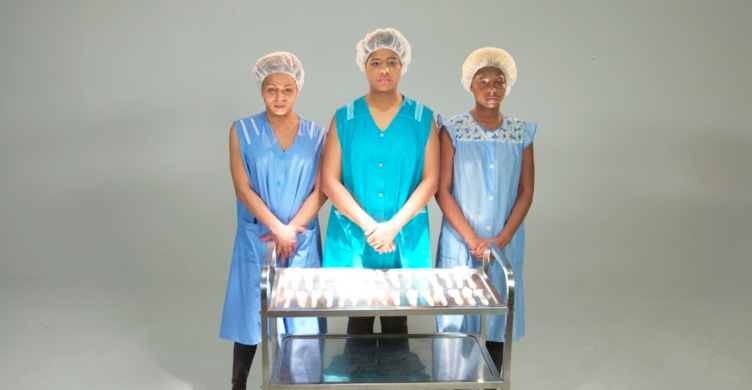 At the Chilean pavilion, artist Voluspa Jarpa is featuring a video starring Oscar award-winning Chilean trans actress Daniela Vega. "The Emancipating Opera" is a short film where the singer meanders into a library, finds a copy of a book about white supremacy written in 1853, "The Inequality of Human Races" by Arthur de Gobineau, rips out the pages and eats them.
"For me the question regarding the video-opera of the Chilean pavilion, is that the rights of the trans collective in Chile, and in many of the countries of Latin America, are not taken into account," said the curator Agustín Pérez Rubio. "Trans people don't have a law that protects them and makes them feel identified with what they put in their passport, which until now is not what happens."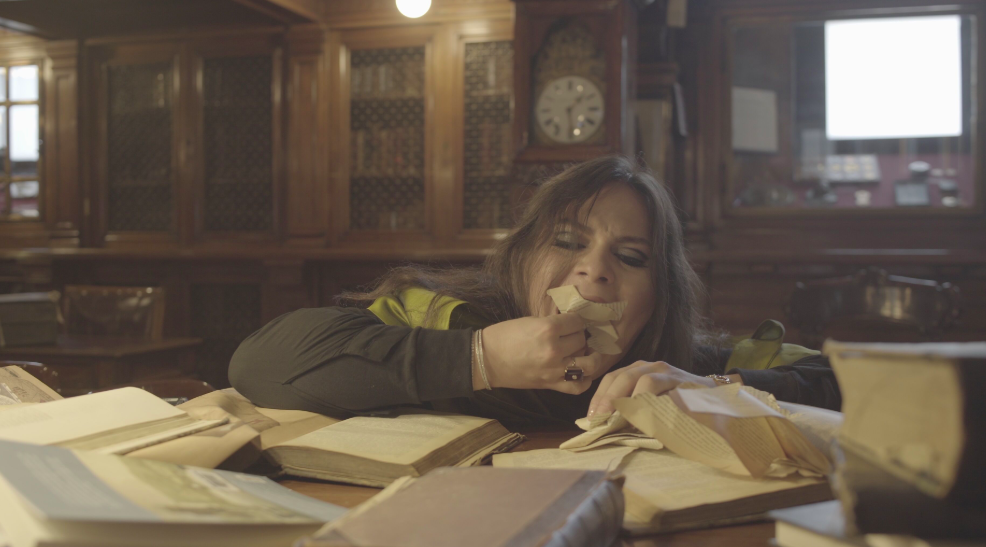 "In this sense, showing a work of art that reflects the reality of the LGTBIQ+ community is a way of feeling that there are still many ways to go," said Rubio. "I see it as something positive and I think that we should not take it as a fad, or something sensationalist but should be part of our way of broadening knowledge and politics about our bodies in art."
Over at the Brazil pavilion, there's a whole swing-meets-urban dance movement with youth culture in Brazil, which is queer friendly and a lot of the footage comes off like an extended, experimental Beyonce music video.
"Swinguerra," as they call it, is a two-channel video piece by Bárbara Wagner and Benjamin de Burca, which is named after swingueira, a dance movement burgeoning in the northeast area of Recife in Brazil, which welcomes nonbinary dancers, nontraditional dance movements and unconventional costume.
Part-dance, part-sport, teams of up to 50 dancers compete in annual competitions and the artists call this a "musical documentary" which follows three dance troupes who practice in basketball courts in the city's outskirts.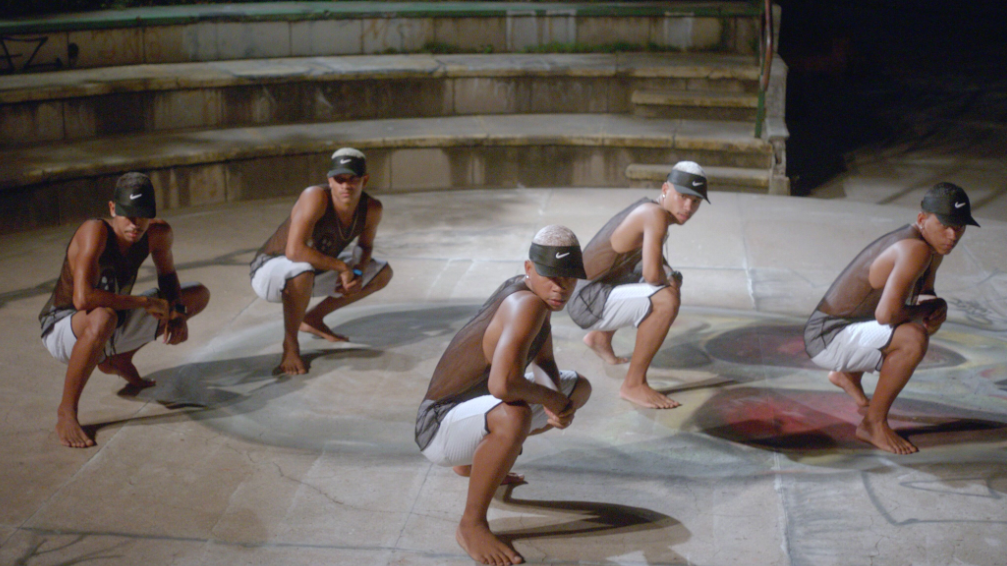 "At a moment of significant political and social tension in Brazil," says the curator Gabriel Pérez-Barreiro, "the predominantly black bodies on the screen, many of them of nonbinary, are in many ways at the center of contemporary disputes on visibility, legal rights and self-representation."

The dance continues, at least backwards, at the Swiss pavilion, where a group of nonbinary performers dance in reverse for Moving Backwards. It's what the artists Pauline Boudry and Renate Lorenz call a reflection on current politics, which are "characterized by its regressive and reactionary forces."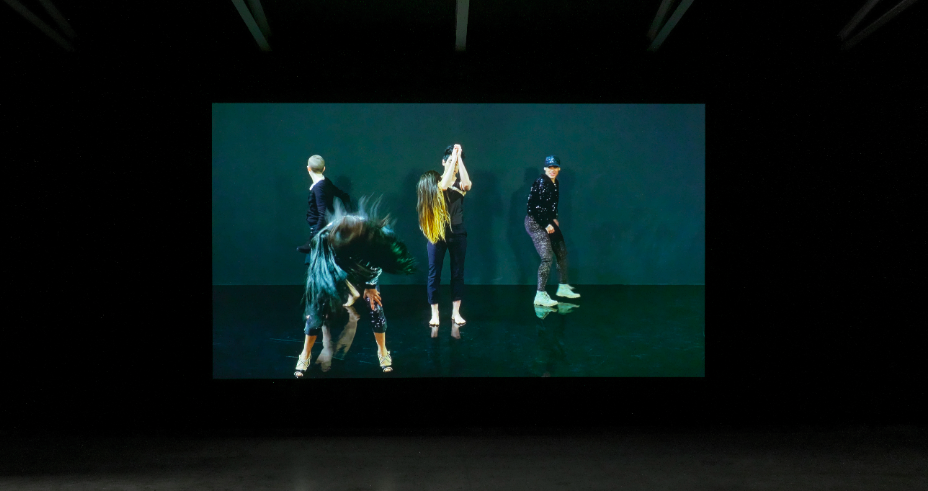 The dancers - decked out in beanies, sparkly pants and double-toed shoes, move as fast as molasses, and in the process, invent a few rarely-seen-before dance moves by performers like Marbles Jumbo Radio, who expresses the queer body through dance, and performance artist Latifa Laâbissi, who caused an uproar at MoMA PS1 last year for wearing a Native American headdress. The curator Charlotte Laubard said the work "introduces gestures, images and objects that refer to current political and social issues."
Not-to-miss are the series of high-fashion self-portraits by trans Latina artist Martine Gutierrez, who poses alongside plastic mannequins. These photos are an exploration of her Indigenous roots, but also pokes fun at digital perfection, as Gutierrez wears a pair of melons in her bikini.
Lastly, performance artist Boychild performed during the opening weekend of the biennale (and will return again for its closing weekend in November). The artist performs "Hand dances, 1,000 caresses," which ties into a series of drawings shown last year in London, which is both poetry and politics.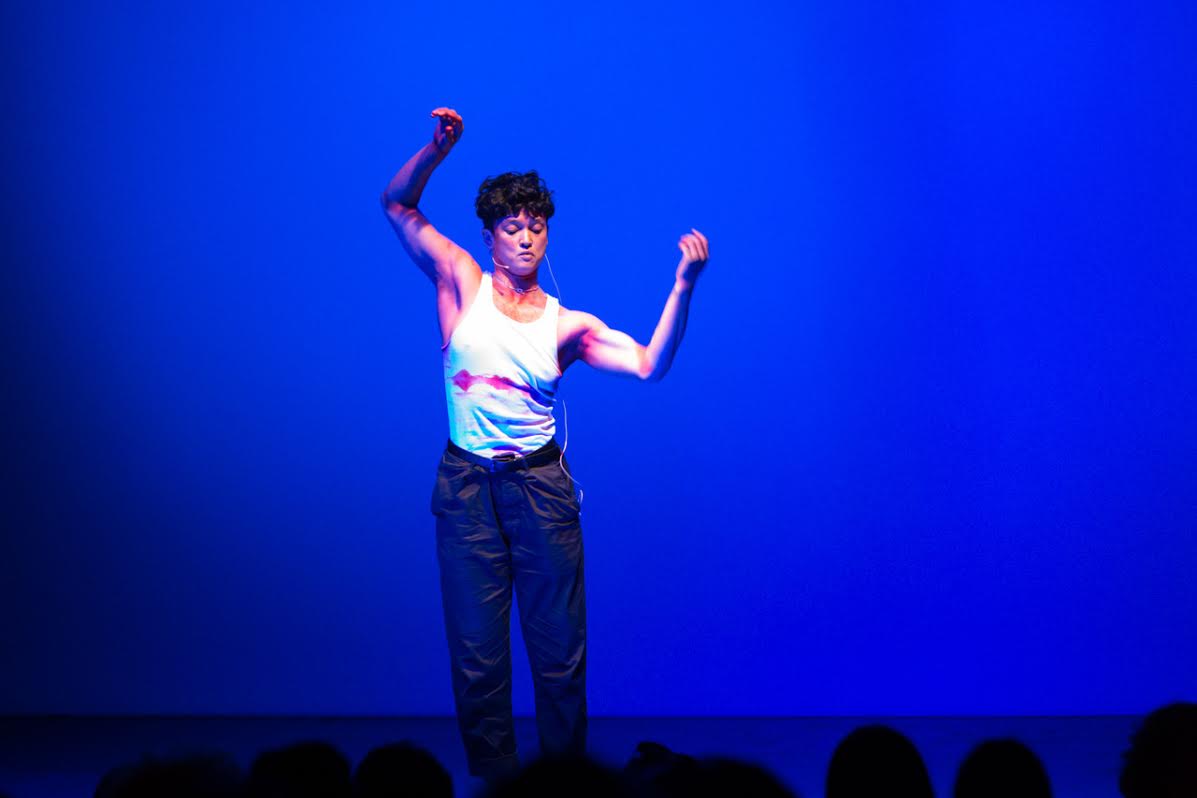 "Movement is a way for me to think about the social implications embedded in the choreographies of space," writes the artist. "When and how and where people are allowed to move. In what ways one can move. Improvisation holds space for movement in constraint. For some of us, more than others, enclosure is a familiar condition."