Search results via Google
A Not-Quite Ode to the Quentin Tarantino Crop Top
What does it mean to, quite literally, wear your love for the controversial director on your back?
Search results via Google
Last week, the first full-length trailer for Quentin Tarantino's newest movie, Once Upon a Time…in Hollywood dropped right before its premiere at the Cannes Film Festival. Mostly taking place in 1969 — the year when the Manson Family murder of Sharon Tate extinguished any remaining flames of Hollywood's golden age, among other things — the film will be Tarantino's first after an especially weighty four years. Cinematic interiors queen Nancy Meyers is excited!
While there is and isn't lots to say about Tarantino and what his forthcoming film means for Hollywood or his place therein, there's really only one thing this new trailer brought to mind: those freakin' "Written and Directed by Quentin Tarantino" crop tops that are omnipresent on Instagram.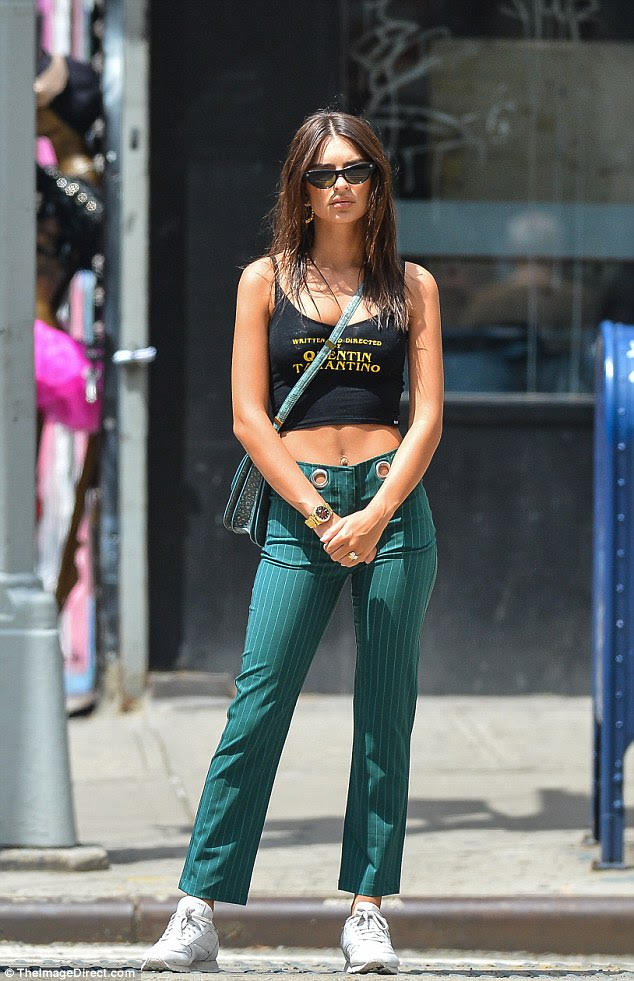 The shirts—which come in several variations of black and Kill Bill-yellow and in a multitude of styles including, but certainly not limited to, thong bodysuits, "boob tubes," cropped turtlenecks, and "G-string pants" (!)—feature an embroidered version of Tarantino's title card from the end credits of, duh, his 1994 film Pulp Fiction. They can be seen adorning many a Instagram model-influencer, annihilating the algorithm and flooding the tiles of Instagram's Explore feed.
Today, if you Google the phrase "quentin tarantino crop top," you'll get a bazillion copycats via "online marketplace" retail sites that, in typical print-on-demand fashion, offer the design in ever-more styles but with the same slew of marketing photographs (or, likelier, Instagram screenshots). The original version appears to hail from O-Mighty, an online shop specializing in clothing that can only be described as both post-Tumblr and post-Hot Topic, which began selling them around the fall of 2017.
The design, listed on O-Mighty's site as simply "A Film By Quentin," has become so ubiquitous that the retailer started referring to their design as the OG, warning in Instagram captions that if it's from "[a]nywhere else, issa bootleg issa counterfeit🔪."
The Tarantino tees are a statement piece for the big pants, little shirt girls. The SugarBearHair hotties. The ambassadors of the not-improbable intersection of Reformation Street and Fashion Nova Boulevard. They even reached an apex last summer when one appeared on the tawny torso of none other than @emrata herself, model and actress Emily Ratajkowski.
And I gotta say, these shirts gives me gender trouble.
What does it mean to be a girl in a Tarantino tee in 2019? He's a figurehead of film bro culture at best, questionable person at least. Definitely someone who has a weird relationship with women, who writes female characters as doomed pin-up girl caricatures, (importantly) sexy in a way that appeals to dudes who like movies like Tarantino himself. They usually speak little, their bodies glorified until they meet a gruesome end. Just last week, during a post-screening panel for Once Upon a Time… at Cannes, Tarantino rebuffed reporter Farah Nayeri's inquiry into why actress Margot Robbie, who portrays Tate in the film, received relatively few speaking lines. Tarantino snapped at the question, saying only, "Well, I just reject your hypotheses."
Now, our modern day pin-ups—the perfect girls of Instagram—have made the Tarantino tee into a something of a cultural artifact, lionizing the director as a symbol of edgy, hot-girl-approved coolness. Tarantino is the rare director who combines '90s street cred with modern relevance, and, of course, he's boy-approved. Of course, the shirts inevitably recall the concept of the "Cool Girl" from Gillian Flynn's novel Gone Girl, especially so when seen on Ratajkowski, who not only epitomizes the Cool Girl in real life (she writhes around in bucatini! She loves Bernie!) but also literally played the Cool Girl in David Fincher's 2014 Gone Girl adaptation.
The trouble lies not in whether or not the women wearing these shirts are true Tarantino fans (jfc who cares), or even the noxious pressure to perform femininity based on shit guys think is cool. After all, some of Tarantino's movies and female characters still feel empowering as hell. Maybe the shirts' wearers aren't thinking about Tarantino the person at all—the ways in which a subculture develops are often separate from its nucleus—but if only in the relatively passive manner of donning his name on a babydoll tee, the Cool Girls of Instagram are giving him a pass, if not an outright endorsement.
Now, about that Wes Anderson version…