Mundo Meza, Merman with Mandolin (1984). Acrylic on canvas, 72 x 111". Collection of Jef Huereque. Photo by Fredrik Nilsen.
Dipping Into the Sonic and Visual Pleasures of Queer Chicanx Art in LA
An exhibition at the Hunter College Art Galleries surveys an overlooked era of creativity by queer Chicanx artists in LA circa the 1970s-1980s.
Mundo Meza, Merman with Mandolin (1984). Acrylic on canvas, 72 x 111". Collection of Jef Huereque. Photo by Fredrik Nilsen.
The first thing you see when you walk into the exhibition Axis Mundo: Queer Networks in Chicano L.A. is a huge painting by an artist you've likely never heard of before, but who you should know: Mundo Meza. This show, installed at the Hunter College Art Galleries through August 19, has an impressive agenda—rediscovering and contextualizing the queer Chicanx art scene of LA in the 1970s and '80s—but equally noteworthy are the nonstop visual pleasures and aesthetic challenges it delivers. How could anyone have forgotten Meza, whose canvases are stylish and weird, sexy and mysterious? Some of his paintings even served as backdrops for window displays by Simon Doonan, who before his days at Barneys did décor for West Hollywood boutiques like Maxfield, collab-ing with Meza to produce surreal tableaux. One memorable scene the artist helmed for the luxury boutique was based on a news story about a woman whose baby had been abducted by a coyote.
There are sonic pleasures at work here too. Composer Pauline Oliveros' slowed-down, trippy accordion music is the perfect accompaniment to the group of extraordinary photos by Tosh Carrillo, who acted in both Jack Smith's and Andy Warhol's movies. His work is being shown for, absurdly enough, the first time ever here, and it reveals a talent on par with that of the Flaming Creatures auteur. The men in Carrillo's photos—some friends, some cute hustlers—are moody, flamboyant, their theatrics tinged by the poignancy of the artist's too early death and fall into obscurity—a fate Axis Mundo has hopefully averted.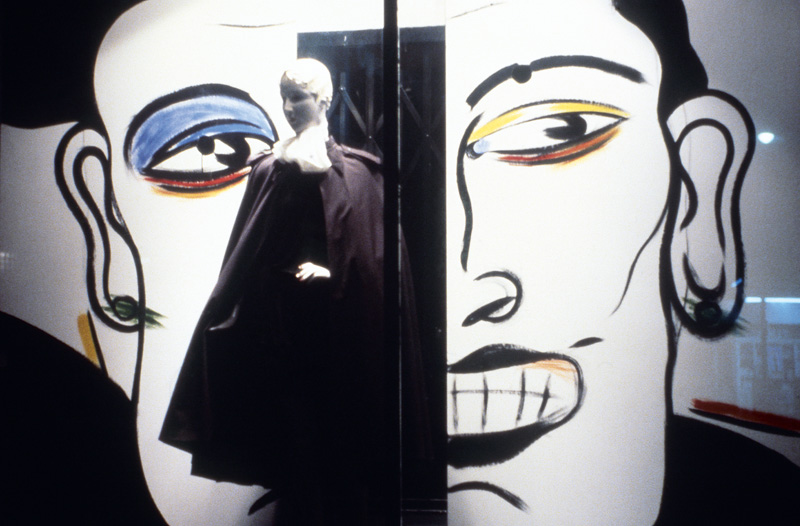 Blink and you'll miss any one of the other small treasures on display, like the performance artist Vaginal Davis's zine featuring lyrics from songs she wrote with punk legend Alice Bag in their band called Cholita!. Though the zine is displayed at the Hunter galleries' uptown location, Bag is the subject of a memorable wall of portraits installed at the downtown space. The pictures, all taken by different photographers, each capture a distinct facet of the musician and author.
AIDS put a damper on the scene Axis Mundo documents, but the showcasing of work by activists makes an impression. Watching Ray Navarro in costume as Jesus, protesting the Catholic archdiocese's policies on sex education and abortion at ACT UP's notorious "Stop the Church" action in New York in 1989, reminds a viewer of the energy that theatricality can generate in moments of crisis. And Judy Miranda's Mother (1983)—a crucifix-like arrangement of small, close-up photographs of erogenous zones, a piece that was commissioned by a man after his AIDS diagnosis so his lover could remember his body at its peak—is unbearably moving.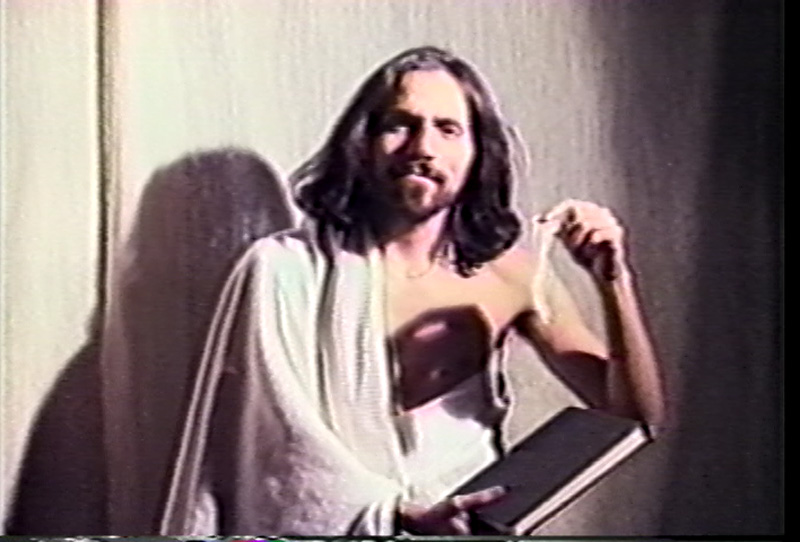 Axis Mundo: Queer Networks in Chicano L.A. is a traveling exhibition organized by Independent Curators International and is currently on view at the Hunter College Art Galleries through August 19, 2018
Tagged: