Photo courtesy of Steve Madden.
The Story Behind Those Steve Madden Big-Head Ads
Steve Madden discusses the instantly recognizable ads that helped define early-2000s fashion.
Photo courtesy of Steve Madden.
"We're dealing with girls who have sophisticated tastes and incredible senses of style," Steve Madden told the New York Times in September 1999. At the very least, Steve Madden knew how his customers—"the girls we're dealing with"—wanted to see themselves. The Times was including his shoes in a roundup of back-to-school styles, in which a model in a bucket hat, vest, and baggy, cuffed carpenter pants sported a pair of Steve Madden platform sneakers. You could find this look on the pages of Cosmo Girl, Seventeen, and Teen People, where, that fall, the first in a fateful series of ads would run—images that would inspire a mix of befuddlement, consumer lust and, eventually, a lawsuit.
These were the "big head" ads that helped define early-2000s fashion.
In the first image, shot by photographer Butch Belair, two models with blown-out proportions—giant heads, tiny waists, long legs, big feet—vamp on a cobblestone street, shot with a fisheye lens to create the vertiginous sense of falling into the scene. One model is a devil, with pointed ears, horns, tail, a technically perfect smoky eye, wearing a shiny leather jacket and chunky black Steve Madden platform boots. The second model is an angel in white platform sandals, low-rise jeans, and white cropped tank. She is biting her Lip-Smackers-glossy lip and arching her pencil-thin brows, indecisive, maybe considering switching to the devil's side. The image is so warped with digital manipulation that it's almost too bizarre to be sexy. And yet—and this is the ad's triumph—it is still sexy.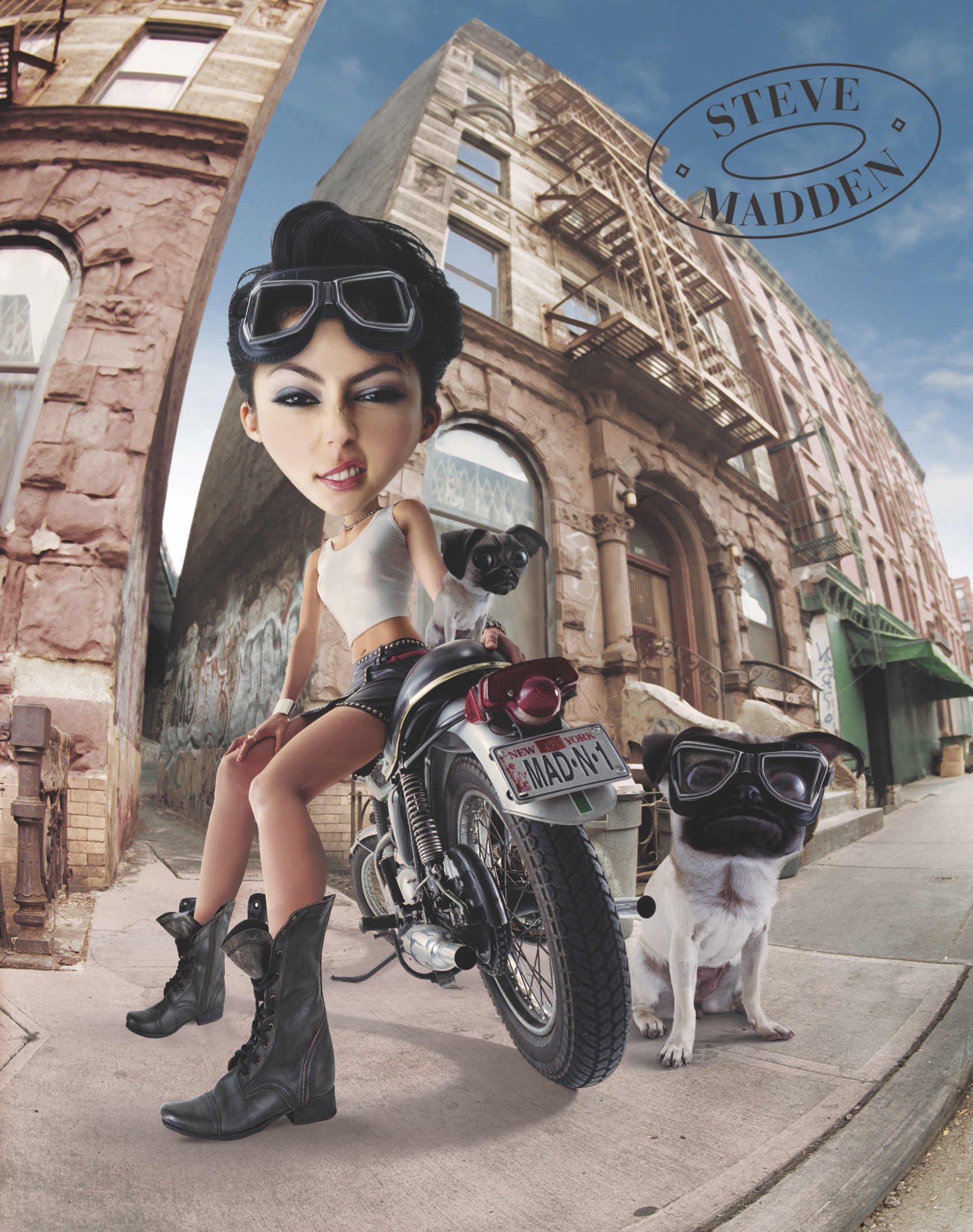 The ads were a hit. They were replicated for every aughts subculture—a California princess in front of her mansion, her two leashed handbag dogs wearing tiaras; a biker babe with silver hoop earrings on a motorcycle; a preppy blonde with a pompadour and a straw handbag strutting through the park. Madden told GARAGE via email that his favorite is an image of a redhead in a suede tank top and sandals washing a car in front of a small house with aluminum siding and a postage-stamp yard. The models often have a pet, and they almost always have a healthy swath of midriff showing. In a TV ad, two big-headed girls, both wearing Steve Madden, meet on a New York street and offer each other a sneer of mutual admiration. Seeing massive shoes on a miniature body felt like a satirical take on the serious, art-adjacent fashion advertising of the time (known for featuring models whose proportions were almost as jarringly doll-like as those of Madden's imagined girls — think Gemma Ward and Lily Cole.)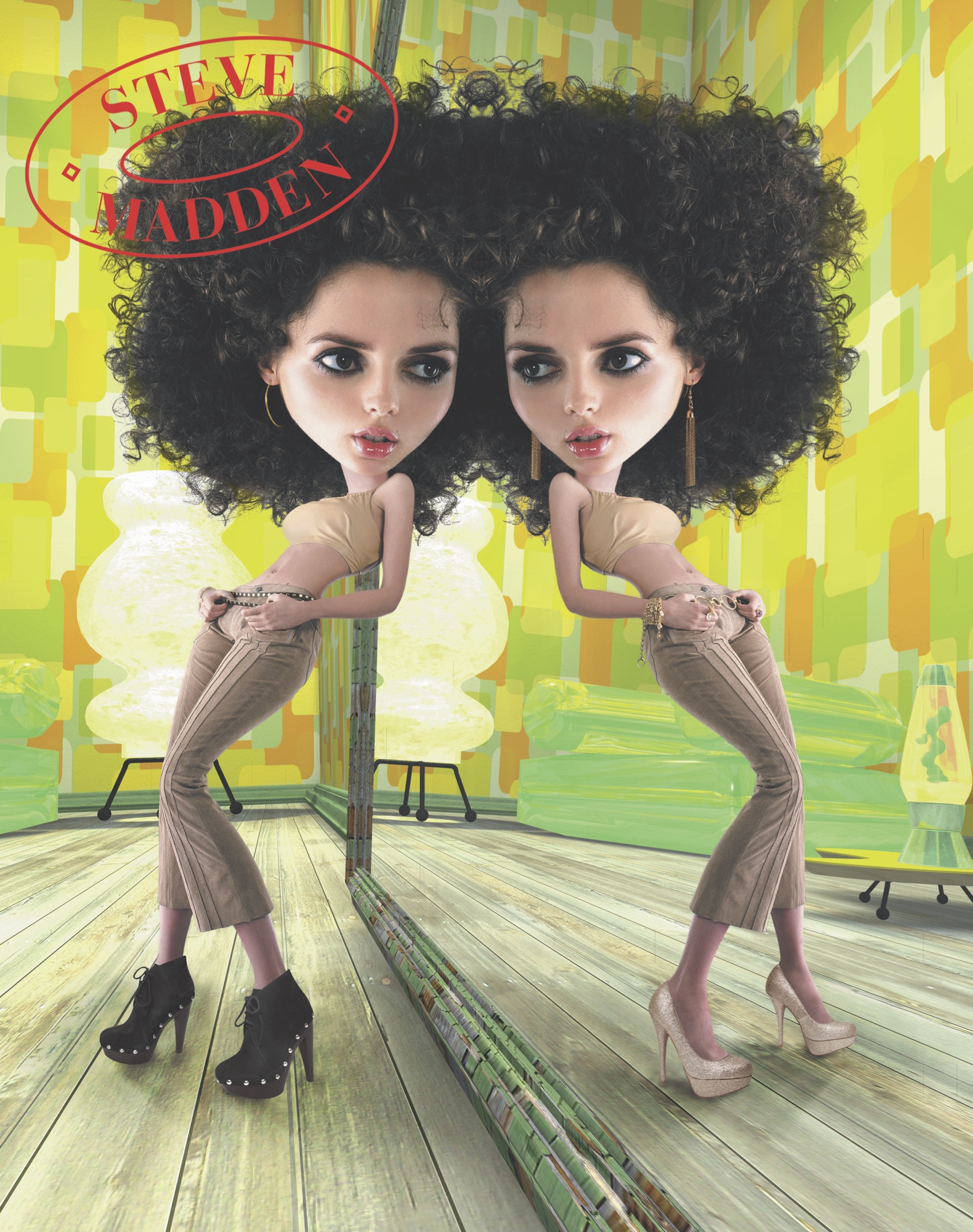 Thanks to the ads, the brand's cultural footprint expanded. They notably influenced Bratz dolls creator Carter Bryant, who testified in 2008 that his initial sketches for the bobble-headed, leggy dolls were influenced by Steve Madden ads he saw in Seventeen. (In 2009, campaign photographer Butch Belair sued for Bratz doll profits, but Madden chose not to get involved. "We actually thought they were ours, and felt that we were copied, but I wasn't very litigious and we didn't sue anyone," Madden said. The brand's sales grew: in 2003, Madden expanded his market of chunky clogs and beaded sandals to Europe.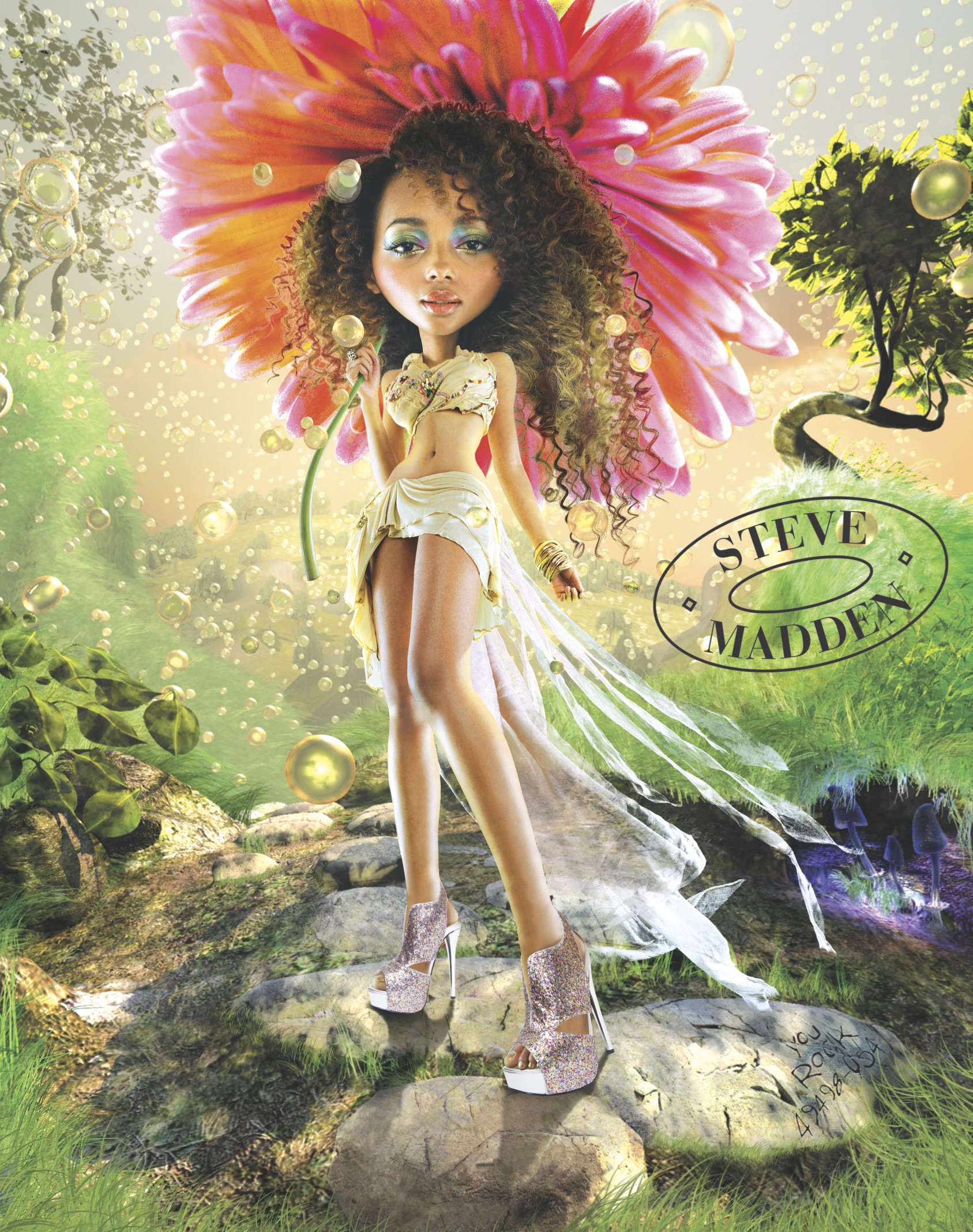 This excitement was dampened somewhat by the conviction of Steve Madden himself for stock fraud, an IPO-manipulation scheme immortalized in The Wolf of Wall Street . (Steve Madden, Ltd. had gone public in 1993, just seven months after its first store opened; its extremely fake-sounding ticker symbol is SHOO.) Madden stepped down as CEO and spent 31 months in prison, and when he returned in 2005 to a position as design chief, the brand ran a series of tongue-in-cheek ads referencing his incarceration—in one ad, the doll-headed figure wears an ankle monitor just north of her black platform slide.
It's important to understand the moment in which Steve Madden became shorthand for teen culture. In the post-NAFTA renaissance of cheap, novelty materials—densely beaded denim, neon faux fur, rhinestones on everything—the brand's ability to replicate the intricate, labor-intensive styles shown at Prada or Jil Sander and sell them affordably was a revelation, an entrée into a guarded kingdom of European runways for the suburban teens crowded at its gates. We now recognize this as fast fashion, but Steve Madden did it first (at least in footwear), with the most panache; his enthusiasm for the wild new universe of Y2K fashion was palpable. Having a shoe for every outfit—for every subculture, from Valley Girl to punk—was now possible, and Steve Madden was here to provide them.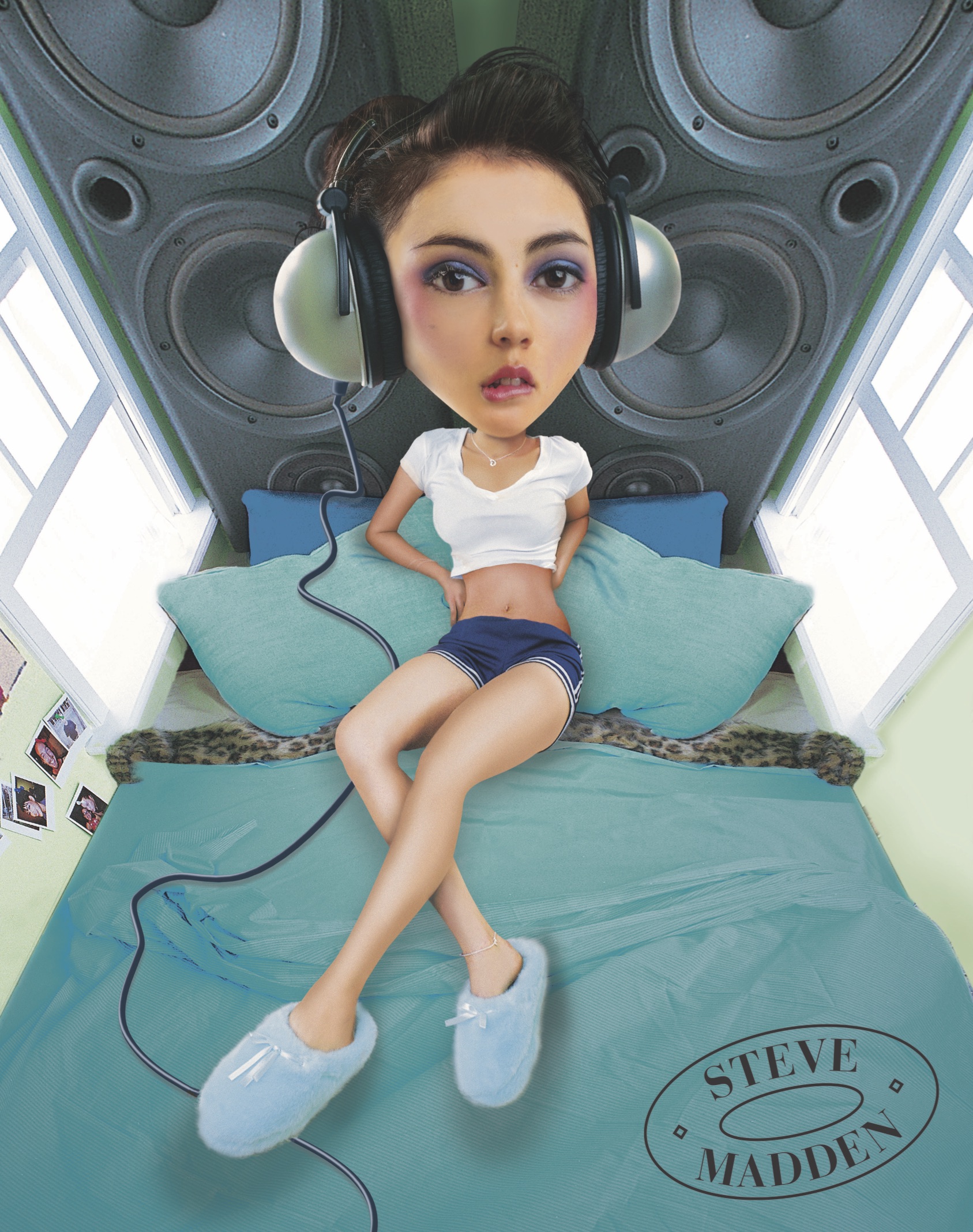 This ability to sell the Steve Madden customer as a person of limitless, innovative style fostered an intensely loyal fanbase of people eager to establish buying shoes as the cornerstone of their personality. In 2005, a commenter named Shawna raved on the Steve Madden blog: "I JUST GOT A PAIR OF BROWN WEDGES FOR CRHISTMAS [sic] AND I LOVE THEM ALMOST AS MUCH AS I LOVE MY HUSBAND." A few weeks earlier, a fan named Alexandria wrote: "Oh my gosh I love Steve Madden shoes!!!! My friends and I always have contests to see who has the most pairs! Shallow I know but we really love them, especially all the strappy stilettos. I love ankle straps!!! Anyway Steve I think you're a great designer and I'm glad you're out of prison! Keep on designing! My feet look HOT in your shoes!!!!!"
But all things, like a winding river or the ribbon ties on a strappy stiletto, must come to an end. In 2005, the company announced the big head ads had finished their run, an attempt to "alert Madden fans the brand is evolving from a shoe company targeting teens to a broader company with clothes and accessories targeted at an older demographic," according to then-brand director Rob Schmertz. The gloss had worn off embroidered cowboy boots, sky-high slides, and posthuman digital manipulation. It was time to grow up.
Thirteen years later, with severed heads on the runway and shapeshifting Balenciaga models, perhaps some of that bizarre ebullience has returned. When asked if the big head ads would ever come back, Steve Madden replied: "Never say never."