Photograph courtesy of the author.
The Savile Row Tailor Making Menswear Art
Carlo Brandelli is making art inspired by the clothes he makes for some of the world's most powerful men.
Photograph courtesy of the author.
At the Art Brussels fair in mid-April, I came across an unassuming series of paper works, with bits of cutout canvas pinned to the pages. At first glance, the grouping appeared rather plain: miniature white and grey suit jacket patterns deconstructed with a few scribbles here, a pressed flower there. Closer inspection revealed ghostly figures behind the segmented jackets: the pages had been lightly burned, staining them an inky brown. One especially incinerated piece was called Burning My Career.
Carlo Brandelli, the artist behind these works, has his roots in menswear, though he always regarded design as a form of sculpture. He started his own label, Squire, in the early '90s, attracting the likes of Alexander McQueen (who wore Squire designs to his interview at Givenchy), art director Peter Saville, and photographer Nick Knight, fusing pop art and fashion in a prototype for the modern concept store. His magnum opus was the Unstructured Suit, a lightweight, slimming design which stood in stark contrast to the thickly-lined, baggy tailoring that dominated the market. It piqued the interest of storied Savile Row brand Kilgour, who then asked Brandelli to serve as creative director.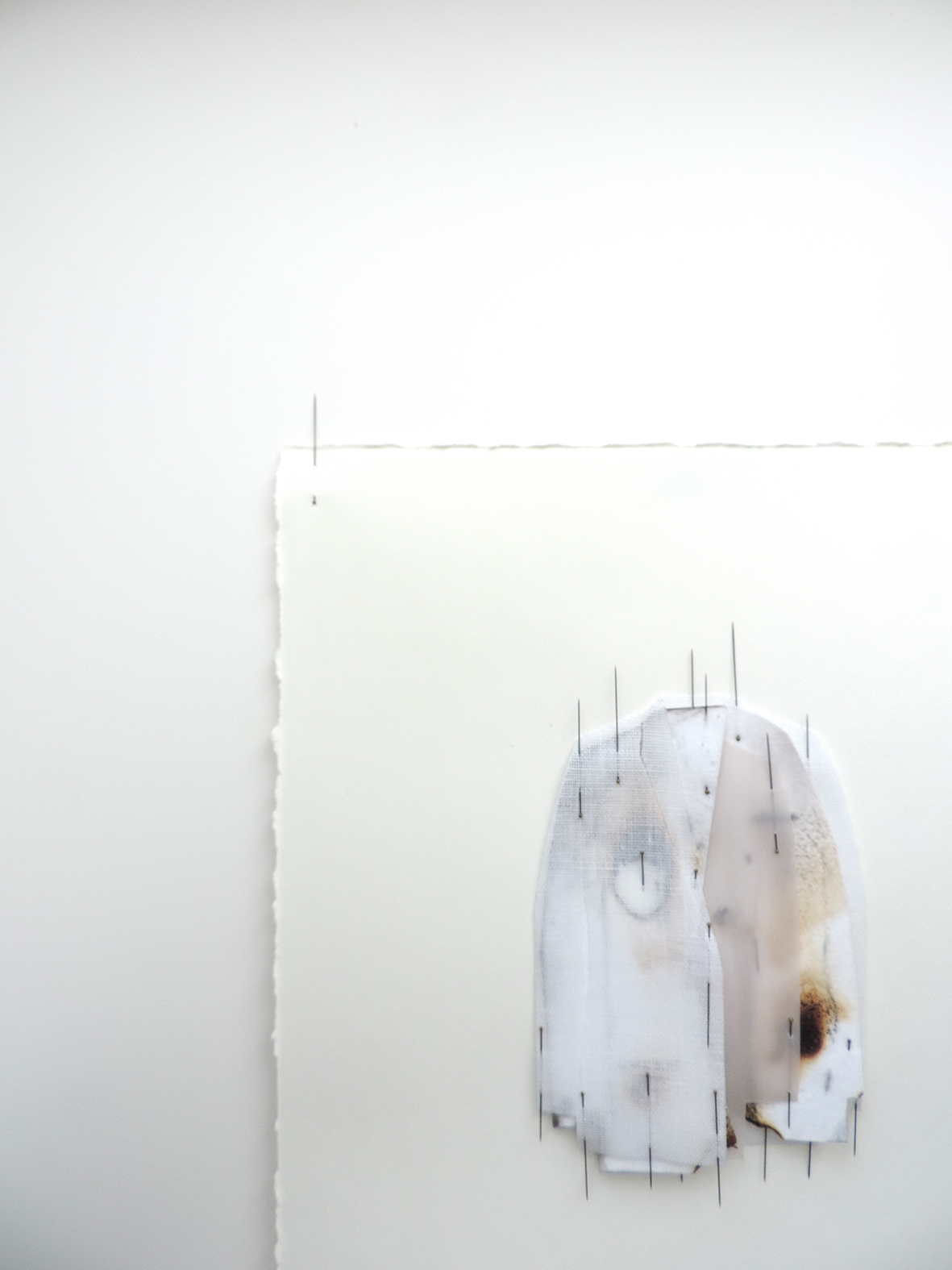 Two decades later, fashion has still not left Brandelli's orbit. Having left Kilgour last year to dedicate himself to his fine art practice, Brandelli now splits his time between London and Milan. These Unstructured Gestures, as he calls them, are his latest artistic offering, a series of disembodied suit jackets and patterns chopped up and pinned to paper. The wispiness of the pieces is juxtaposed with the harsh metallic pins slicing through. Burn marks cover the papers, but some corners are gilded: the brutal mixed with the exquisite. It has an element of wabi-sabi, the Japanese aesthetic in which imperfections are celebrated rather than masked and beauty is recognized as flawed, often showcased in chipped porcelain bowls with lines of gold filling in the cracks. (Brandelli lived in Japan for much of his youth.)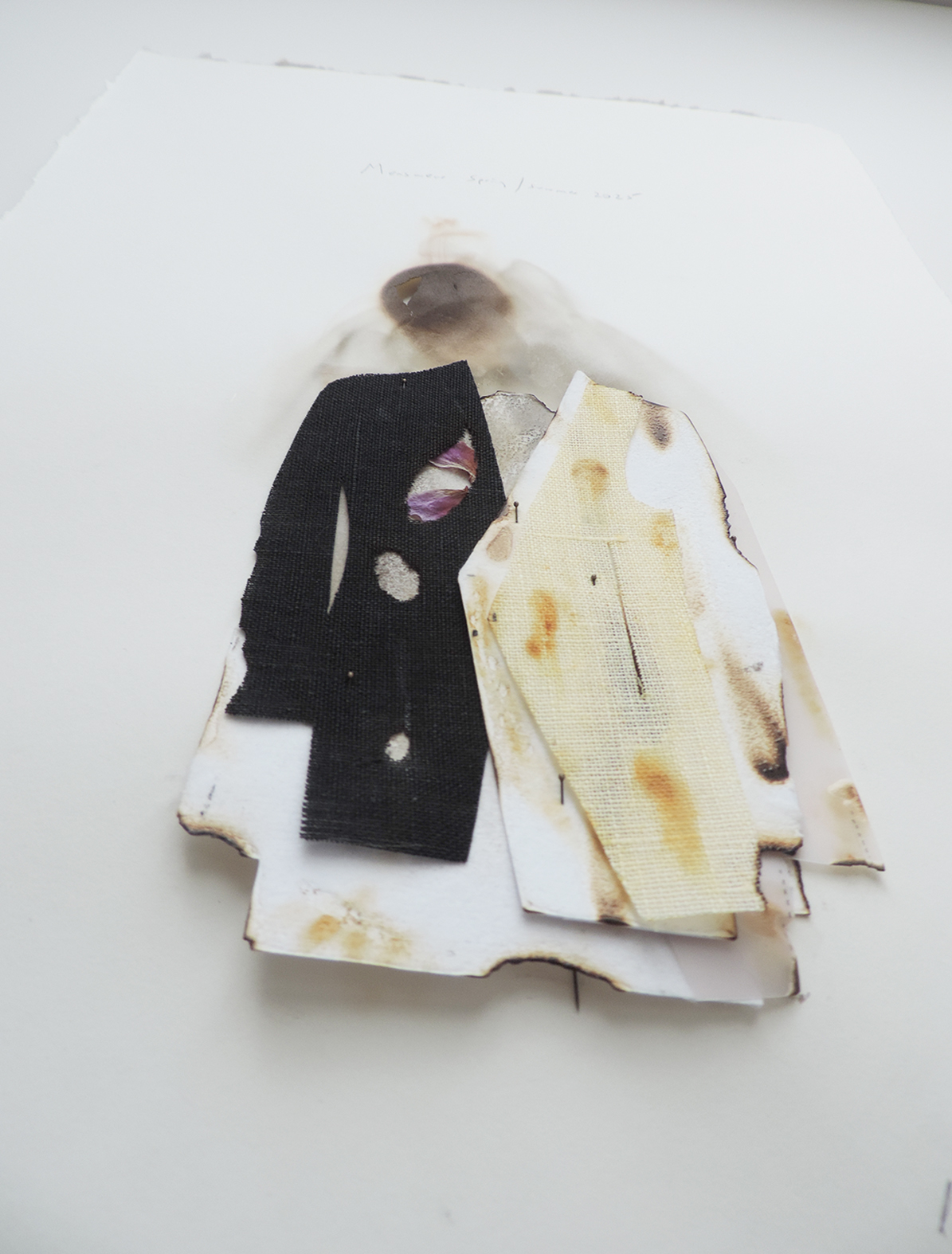 But there's a deeper psychological element at play under this philosophizing of beauty. Brandelli describes a love-hate relationship with fashion, exorcising his anger by "painting" with flame, or piercing these tenderly assembled maquettes with pins. The pins piercing through the suits are an homage to his years at Kilgour, where Brandelli describes drawing blood from each man he dressed when he pinned together the suits on their bodies. "I started to think about what the process meant emotionally to the person that was being fitted and the person that was doing the fitting; the overriding emotion is always tense," he said. "There's always lots of people there. It's like performance. When I pin them, I would usually draw blood. I would draw blood from everybody. And sometimes," he added, with a Cheshire grin, "I would draw more blood from the ones I wanted to."
The pins on these works are a road-map to Brandelli's history: "Where I position the pins in the work are places where I would draw blood from those people—very vulnerable parts of the body, like the neck, or the wrist, or even more sensitive areas," he said. "So I was always doing it subconsciously. It's the dichotomy of understanding what I was doing and the process, and what they were going through."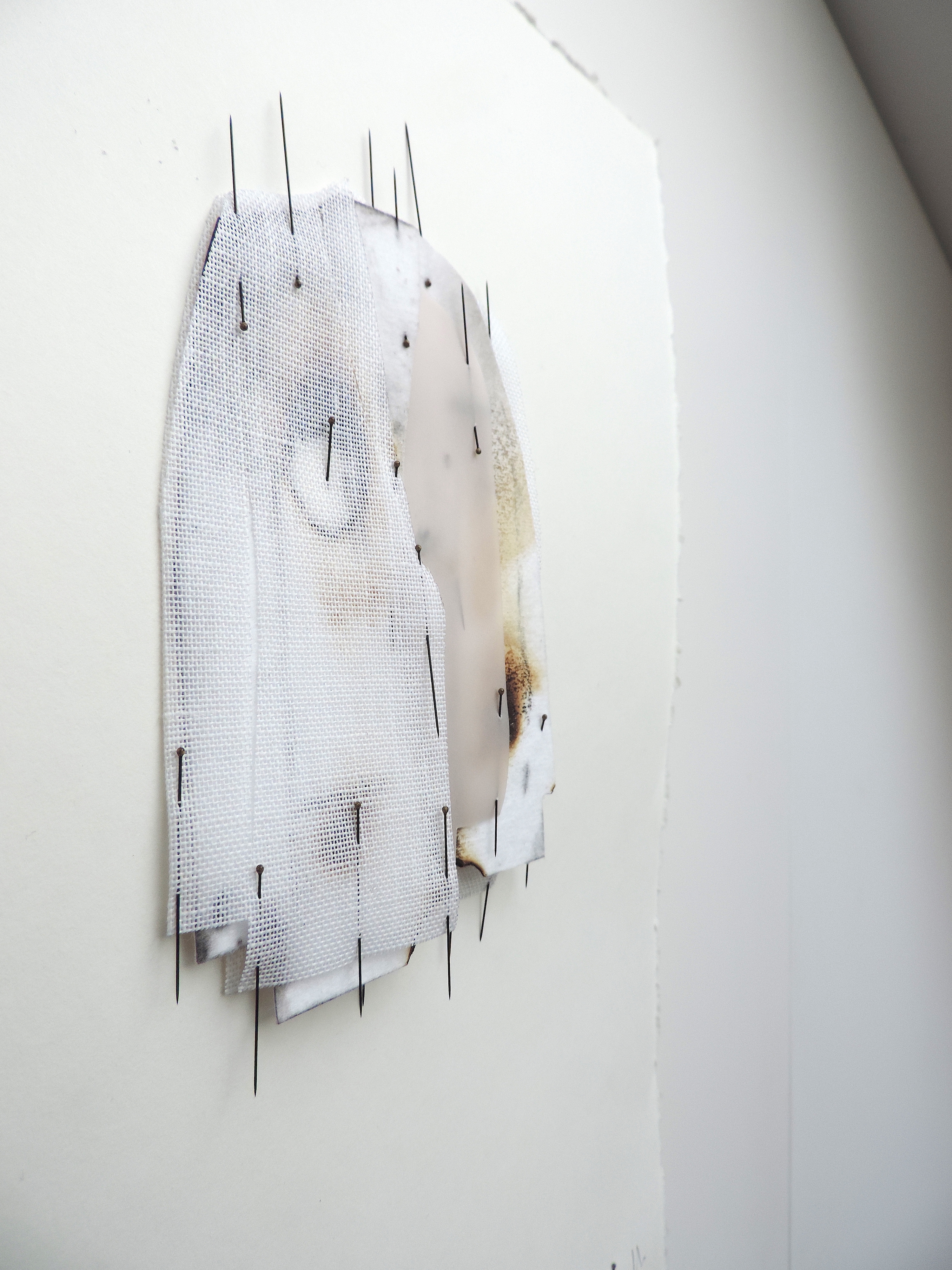 Pricking his clients wasn't about torturing them (though he has a devilish air when describing the process). It was a nod to the intimacy of the situation, a kind of blood pact. After all, he said, "When people have your clothes [made] bespoke, they're attached to you forever. It's not just that fitting, because you've made a secondary skin for them."
Skin is paramount to the series. Brandelli, who has dressed some of Europe's most powerful men, would see them stripped bare. "When someone's naked in that way, people just put on these other metaphysical clothes before you put the fitting on," he said. "So even though they're standing there with not much on, their ego becomes so much bigger, so you have to start again and put my things on, then my clothes start to go on their metaphysical clothes. It's so complicated," he sighed, head in hands. "And then you have to begin to put them at ease with what you're doing. It's just a really strange, intimate process."
These maquettes are a version of a larger body of work he hopes to present later this year; he shared a snapshot of a work in progress, a metallic suit pattern atop vellum. Suits of armor, he'll call them. "It's just about the relationship between a man's skin and what skin means in general," he said. "Animal skin is something we've lived with all our lives. Man wore animal skins to keep warm—and we still do, it's just called fashion now."
With Unstructured Gestures, Brandelli may embark on a career more firmly rooted in art. Yet it seems his future bodies of work will always be linked with his sartorial sensibilities; to Brandelli, creating bespoke garments was always artistic expression, which he reminded his clients with pricks and jabs of a needle. "If I suffer for beauty," he said, "they will too."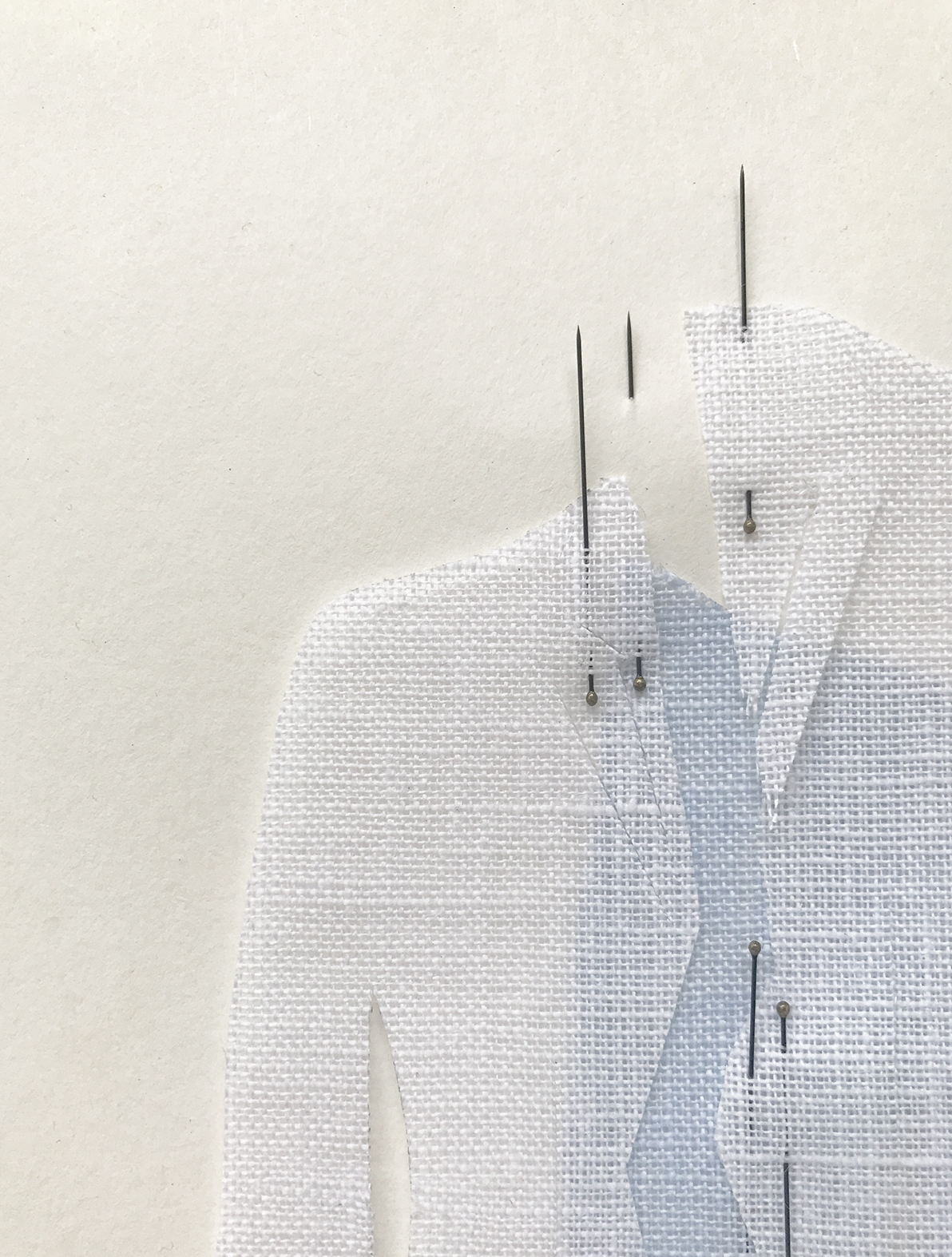 Tagged: