Photo illustration by me, if you can believe it.
We Can Basically Confirm that Dolce & Gabbana x Supreme Is Probably Happening, Almost Officially
We read it on Stefano Gabbana's Instagram account, which is the greatest fashion documentary of all time.
Photo illustration by me, if you can believe it.
Last night, Twitter was….atwitter with the news that Dolce & Gabbana may have just inked a deal to collaborate with streetwear megabrand Supreme. The news first appeared on @supreme_leaks_news, an Instagram account that has no official affiliation with Supreme but provides news, rumors, photos, and memes related to the skateboarding brand. Stefano Gabbana regrammed that post, and then regrammed two more from the Italian streetwear news site Oupump and another Supreme fan account, boxlogosupreme.

This means we can probably, basically, but not technically confirm that Dolce & Gabbana x Supreme is happening. And it doesn't seem that outrageous: Dolce & Gabbana has made a science out of using influencers and rappers who are the Supreme clientele—which is, I'm sorry to tell you, not a Ghostface Killah reference—as models in their shows. And Dolce, perhaps more than any other luxury fashion line, has made an art out of extending their brand into the kinds of lifestyle products that helped make Supreme such a strange branding powerhouse: there is a Dolce & Gabbana refrigerator, a Dolce & Gabbana pasta, and Dolce & Gabbana earphones. In addition to a skate deck with an elaborate gold and red rococo scroll, could we also expect a Dolce & Gabbana x Supreme crown, the world's first skate clogs, or even a Dolce & Gabbana x Supreme marinara sauce? Perhaps Dolce can also carry over the affection for motherhood they've explored in their past few collections: there's nothing skateboarders love more than their moms. Except drones—which Dolce & Gabbana infamously featured at their most recent show!
One thing we can officially say for sure is that Stefano Gabbana's Instagram is the greatest fashion documentary of all time. Over the past decade, the fashion documentary has become a key part of the reputation-burnishing process of fashion branding, asserting the erudite, artistic, and intellectually meaty sides of fashion in films like The September Issue, Dior & I, and Bill Cunningham New York. Gabbana's Instagram is here to shake up the format: he breaks news, or at least teases rumors, as we've just seen; he posts Instagram stories of himself working out in tank tops and Speedos to amazing house music; he shows his bizarre and silly side by yelling in Italian as he chows down on pasta.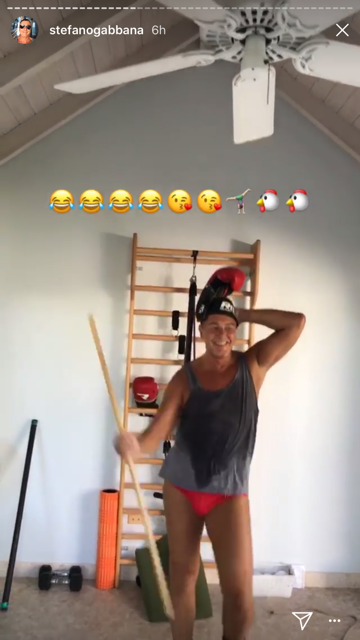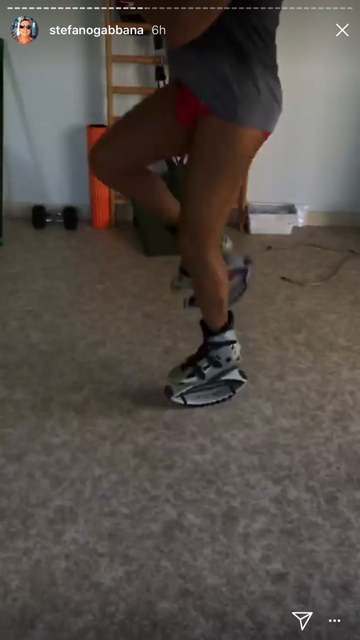 In the past 24 hours on Instagram stories, for example, he's posted videos of him driving through New York as he plays Liza Minelli's "New York, New York" and Sting's "I'm an Englishman in New York"; photos of the exterior of the brand's new Soho store; a New York sunrise and sunset; more Supreme rumor posts; a woman wearing a Dolce dress to her birthday; and press on the brand's perfume. There is little discipline or discretion: countless photographs of midtown buildings and screenshots of a Facebook post from a British beauty blogger's perfume giveaway are the kind of thing you tap to skip over. But in the overly manicured world of Instagram stories (particularly when it comes to fashion), this is exactly the kind of candor we need.
He even gets into fights with haters, such as Instagram fashion critics Diet Prada. In early January, he posted several screenshots of the account @dietignorant, which both trolls and parodies the Diet Prada format, encouraging his followers to follow. (At the time, the account had barely a hundred followers, and given its tone and repeated use of the crying-laughing emoji—a Gabbana favorite—I speculated that the designer may have started the account himself.)
Gabbana should honestly have his own television show—House of Style meets The Wendy Williams Show, or something—but that seems less likely than a Dolce & Gabbana x Supreme gondola. (If anyone important is reading this, please make a Dolce & Gabbana x Supreme gondola.) We'll have to wait until the Dolce & Gabbana menswear show in June to know whether or not this collab is definitely happening (that's how the much-rumored LV x Supreme collab was unveiled and confirmed, although it also first leaked on Instagram). But keep your eyes glued to Gabbana's account. Even if he doesn't give us a sneak peek, you'll at least get some amazing trampoline fitspo.