Let's Get Young Thug In This Beautiful Calico Dress!
Batsheva Hay makes princess dresses that look like unfussy vintage, and wearing one will be the most fun you've ever had in clothes.
When I look at photos of myself as a young girl, it is unclear whether my mother intended to dress me or upholster me. I always looked like a fussy window treatment, or an accent pillow for our sofa: chintz, yards of fabric, Queen Anne's lace, and giant bows with valance-like draping. It seemed there wasn't a pie-crust collar my head wasn't squeezed through, a lace bib I didn't spill jam on, or a ribbon that didn't come undone while I ran around with my mouth stained pink from Hi-C. Most of these dresses were by the British designer Laura Ashley; my mother once told me, with ominous serenity, that Ashley died after she fell down the stairs, and I remember reenacting this tragedy with my Barbies on our wide oak staircase. I looked fussy, and princessy, and spoiled, and nuts—and that embedded an extra layer of absurdity in my playtime fantasies. I don't think I ever felt such unadulterated and absolute joy simply from wearing clothes.

While it has been trendy, in the past decade, to revitalize heritage clothing brands and yank them into the pantheon of fashion, Laura Ashley remains outside of the loop. (Purchased by the Malaysian holding company MUI Group in 1998, Laura Ashley products are available primarily through licensing agreements, and its clothing and home goods look indistinguishable from the average preppy mall brand.) Its dresses hum quietly on the vintage market, but today, customer appetites skew sexy or designer—shoppers are more interested in a Galliano grail like the one Carrie stashed her spare cigs in than the official wardrobe of a nightmare childhood spent at too many country club brunches. So I was surprised, about a year ago, to come across an Instagram account called Batsheva Dress, the brainchild of designer Batsheva Hay, which featured dresses that appeared to be cool updates of Laura Ashley frocks. There were dense floral patterns in those moody, plucked-from-nature-just-after-a-spring-rain tones—the deep green of wet grass, the slate blue of a barn door—and William Morris wallpaper-esque prints, and ruffled high-necks, and little ruffled cuffs. But while Laura Ashley was decidedly prim—as sexless as a BBC Radio anchor's voice—these dresses looked zany, appealing (and are about $400, which isn't bad for New York-made designer clothes). They looked just right with sneakers. They looked cool with baseball caps. They looked sexy and smart, like those librarians people are always fantasizing about. At first this seemed like the kind of wonderfully niche thing that fashion needs more of—like bands that max out at just a handful of ravenous fans—but then Hailey Benton Gates wore one to the premiere of The Beguiled, and then I saw one on Chloë Sevigny, and then I saw one on Vogue editor Sally Singer at Paris Fashion Week, and then I saw one on Leelee Kimmel (who turns out to be Hay's sister-in-law, and the wife of Adam Kimmel, who designed a menswear brand with a devoted cult following). Natalia Vodianova wore a squash-yellow one in April. And then I started to see them everywhere, like ladybugs in the summer.
I recently met Hay in her studio—which is really two racks in the bedroom of her Upper West Side apartment. Hay has two children, and is married to fashion photographer Alexei Hay, and is also a full-time lawyer, which is so cool. Even her chaos looks cinematically charming: there were dresses flung over a red floral-print sofa, left there by a friend who'd come over the night before for a dress for an event; and half-finished bowls of Cheerios on the dining room table. Bunches of dresses were shoved into closets in the halls and bedrooms, which gave everything a kind of warm and madcap air.
But Hay's dresses don't channel the buttoned-up Wasp upbringing conjured by vintage Laura Ashley. "That wasn't my childhood," said Hay. She grew up in Queens, where "my parents had Laura Ashley bedding, but that was mixed with all this other art, and these other influences," including her Orthodox Jewish grandmother's wardrobe.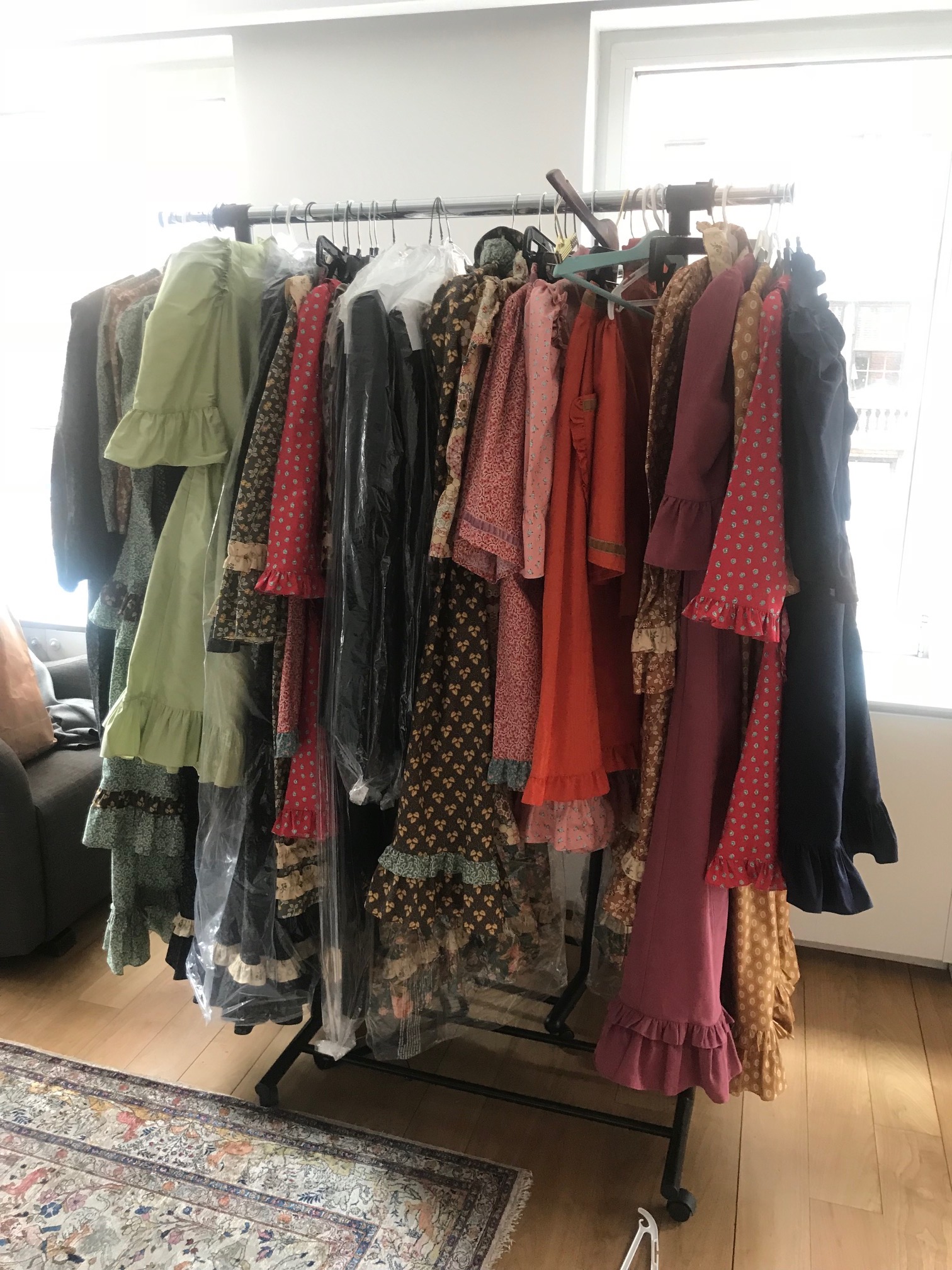 Hay didn't set out to start a fashion line (she is a lawyer, after all). "It started because I needed to get a vintage dress fix that was beyond repair," she said: a brown tea-length dress with little leaf prints, which needed so much work, she realized, that she could rework it entirely—modernize it, sort of. She added a contrasting, coral-print blue ruffle to the hem and collar, and nipped the waist, and what had looked daffy and grannyish now looked bizarre and chic. It became the Batsheva Dress template, and now she makes that dress and a handful of other silhouettes and sells them on her site, and at Opening Ceremony and the Nolita shop Oroboro. "A lot of the fabrics are actually upholstery fabrics," she explained, meaning that they aren't necessarily the softest, or the comfiest. We felt a pink ruffled dress printed with little blue rosettes: it was starchy and stiff, but that also gave the shape a kind of charisma—a little elegance for those mutton sleeves. "I embrace the shoulders!" she said.
MatchesFashion.com will also soon carry Hay's dresses, and she plans to present a Resort collection soon, meaning things are getting more hashtag-fashion establishment. But key to Hay's vision, it seems, is that a lot of people seem to find out about her through Instagram (it's fitting that Vodianova was wearing her dress at Instagram's headquarters). There's an intimacy to this digital word of mouth; Hay even showed me a few vintage dresses that people sent her, simply because they seemed like her thing. It's sort of a lot of look, but the communal aspect makes it more accessible. "People say, 'What is this weird thing?'" But then they warm up to it, she says, and they're all in. Once you are onboard with the project, you are literally following it; her feed is as much a mood board of the universe—Amish teens in calico, Laura Ashley ads, and Hay and friends in her designs—as a tool to promote her work. Clothing that finds an audience through Instagram often feels algorithmic: mimetic variations on tiny sunglasses, say, or cute-but-naughty dresses. (God, remember last summer when everyone was Instagramming themselves in that blue off-the-shoulder dress?) Batsheva Dress feels less like influencer-driven marketing and more like a community. While I was at Hay's apartment, I posted an Instagram story of her dress-strewn sofa, and countless people direct messaged me: "What is this??" "Where are you??" "This is exactly what I want to wear!!" Some were already members of the cult: "Batsheva dress???" Personal style can be a real competition, but Batsheva Dress is like that childhood fantasy: to put it on is to play.
Still, there is a refreshing sense that Hay is sort of making it up as she goes along. She is part of this new mode of making clothing, that doesn't respond to a perceived inexhaustible hunger for novelty, but rather focuses on one immaculate product, one refined idea, and builds a small cult around it. It's such a joy to imagine who would look cool in a Batsheva dress, who would be great in this posse: Beyoncé, duh, but also Nicole Kidman, or Tracee Ellis Ross, or Lana Del Rey, in a moire dress Hay just finished with black beads dangling at the waist. Or Young Thug! Get Young Thug in this calico dress! If anyone knows Young Thug, let him know that 20% of the proceeds from this red chintz dress go to Planned Parenthood. For a good time, call Batsheva Dress!