Chloe Wise on Painting Her Friends and the Faces She Sees In Cantaloupe
GARAGE visited the painter's studio on a snowy March day to talk about her practice.
Im
GARAGE: Snowy today. It's a good painting day. What is your process in painting a portrait?
Chloe Wise: I begin by taking a photo of somebody. I don't work from life because I feel like the light is constantly changing. I typically cover the model in coconut oil, or some sort of reflective albeit organic material that would invite the light to bounce around in a painterly way. I used to take photos where I would schedule an entire day to have a photographer friend properly light and take photos that were a little more professional. Now I take pictures on my Google phone.
When I sat for you, you composed the image quickly with your phone.
The iPhone is quite an amazing tool when you think about the built-in compositional opportunities. [On our phones], we're constantly reframing, straightening, cropping, and changing compositions.
I also think there's something to be said for a "bad" composition. I'm looking at a painting I did right now of my friend, Richie, and his fingertips and the tips of his feet literally touch the sides of the canvas, which is such a bad compositional strategy. You're supposed to have things in that triangle form or in the Golden Ratio where everything comfortably fits within the canvas. But I'm really drawn to paintings that have a sense of humor.
You like tension.
Yes, tension. The painting I did of you, for example. I like my subjects to be as big as they possibly can be in the canvas before they're not on the canvas anymore. Your fingertip is basically a millimeter away from the edge and I put you as big as possible so I have more material to paint.
How did you select melons for our portrait?
My beautiful sitter's last name was Mellin.
You use melon often in your works, right?
In particular, I think cantaloupe is such a beautiful color. There's something almost morbid when you cut open the cantaloupe, there's so many different shapes that happen within the seedy goop that there can be these almost skull-like "memento mori" moments. I've painted cantaloupe many times, and every time there's almost a face in the pit. It's such a beautiful mess in there.
What brand of paints do you use?
I use Old Holland and Winsor & Newton. I just got Sennelier for the first time recently, and I really like their blues.
They have great blues. Do you use any painting medium?
I use Gamblin's Neo Megilp. That's really nice for glazing. I also use Winsor & Newton Artists' Painting Medium.
Do you use disposable palettes?
I love disposable palettes.
Do you use watercolor, acrylic, or oil brushes?
I use synthetic shitty brushes. I don't like animal hair brushes.
You use synthetics?
Yeah, they're inexpensive.
Are you good at cleaning them? Do they sit in turpentine a lot?
I am horrific at cleaning them. They sit in solvent right after I'm done working and I do give them a little jangle in there to clean them a bit. I'm really bad at remembering to clean them. Generally, I paint until five minutes before I have to be somewhere…which seems like it must be some sort of tactic of mine. I'm constantly buying ones. I'd rather have nice paint and shit brushes and constantly get new brushes than slave over maintaining them.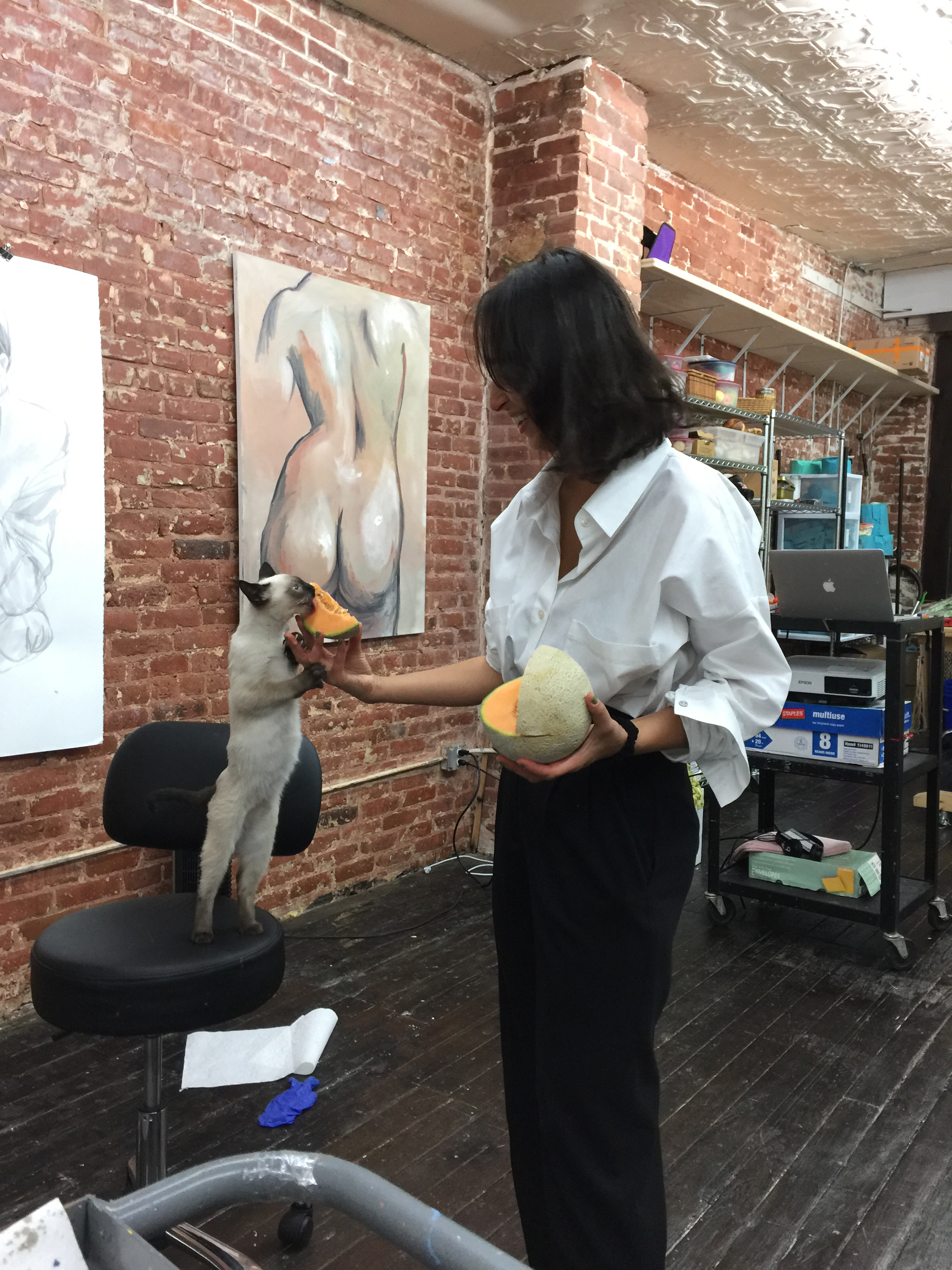 When I posed for a portrait with you, I got the sense that you really connect to the individual you're painting.
My portraits are always of friends and people that mean something to me. It is personal, in a lot of ways.
You have a source photograph and you have a final painting. What changes in the process of painting?
The most notable change is that I'll add a fictional background. In my recent show at Almine Rech Gallery in Paris, I would add an almost pastoral, Italian-looking background, like a fictional and obviously Photoshopped background. I like that I can take a photo of someone and then place them somewhere else. That's one of the things I love about painting.
James Lord says that Giacometti worked to capture a lonely figure on the street—you know when it's rainy or foggy at night and you see a silhouette in the distance? He was trying to get to that essential figure. Why do you paint figures?
Ever since I was younger, I've always been so drawn by the face. More so than the figure, it's the face for me.
Why do you paint the face?
As humans, it's the first thing that we decode. We have to be able to understand such a vast array of facial nuances and expressions in order to decode everyday life without getting preyed on or getting left behind by our group. Body language comes into play, but there's a little more in the face. It carries so much information, and it's vital.
This interview has been edited and condensed for clarity.
Tagged: