Courtesy of Klaus Biesenbach
Klaus Biesenbach and Hans Ulrich Obrist Are Hosting a Free Breakfast at Frieze
The "brutally early" artist's breakfast is being held at the Geffen Contemporary at MOCA.
Courtesy of Klaus Biesenbach
Sometimes, an early morning conversation provides good food for thought. This Saturday on February 16th at 7 am, Hans Ulrich Obrist, artistic director of the Serpentine galleries, London and Klaus Biesenbach, director of the Museum of Contemporary Art, Los Angeles, are continuing their tradition for a brutally early artists' breakfast to round up Frieze week at the Geffen Contemporary at MOCA as part of the Warehouse programs.
Based on tradition, Brutally Early involves inviting a group of artists to share a book that they have recently found important, a photograph or video footage that they consider formative, and to discuss what they are working on. Confirmed artists involved in this iteration are, among others, Aria Dean, Rebecca Allen, Ragen Moss, Refik Anadol and Jon Gray.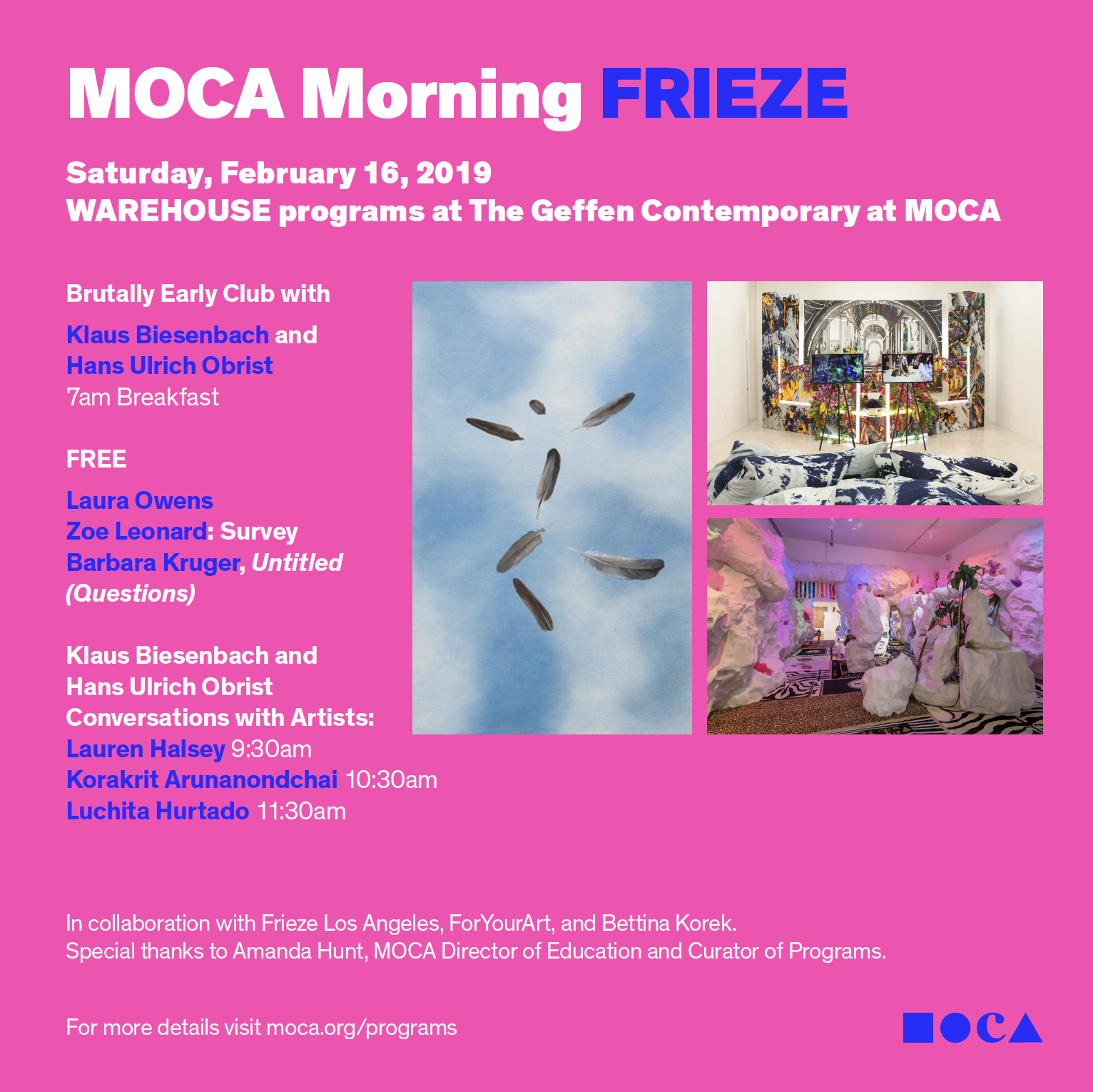 This weekend's iteration is created in a very loose format, with the invited artists to share, and guests to listen and watch for free. It is billed that coffee, donuts, and possibly ice cream will be served. "Brutally Early" was started by Hans Ulrich Obrist, Koo Jeong-a, and Klaus Biesenbach in 1994 during Obrist's "Crampton Street residency" in London while he prepared for the Serpentine Gallery exhibition "Take Me (I'm Yours)." Biesenbach described what to expect in more detail, "Brutally Early means reflecting in the very early morning hours on what we have read, what we have watched recently, and what we are working on in the near future."
Time and Location: Geffen Contemporary at the Museum of Contemporary Art, Saturday, February 16th, 7am, followed by artist conversations with Lauren Halsey, Korakrit Arunanondcahi, and Luchita Hurtad starting at 9:30 am. Free.