At Chanel Couture, Technical Innovation (and Rumors, Technically)
All the big sequin gowns of couture can blend together, but at Chanel, you can see the technique.
Photograph via Getty.
A Chanel fashion show is Christmas that comes six times a year. I would wait all year for it—but I don't have to, because between the ready-to-wear, couture, Metiers d'Art, and the cruise collections, this miraculous gift continues to give. God bless us, everyone!
By everyone, I mean the few hundred people who can fit into the house's stage-cum-runway at the Grand Palais. Robin Givhan wrote a few years ago that Chanel fans "are like the Grateful Dead fans of fashion," which seems ever more prescient given the ascension over the past two years of the Grateful Dead as the unofficial band of fashion (or at least menswear). Nearly everyone at the Chanel show—not just the celebrity guests or the handful of devoted fans—is dressed in head-to-toe Chanel, often in garments or accessories that even the keenest followers of fashion wouldn't be aware are available. One young guy had men's boots, a white tweed boater, fur ear muffs, and fingerless gloves—all by Chanel. One woman was wearing a tweed Chanel hoodie and tweed shorts (it was about 20 degrees outside and snowing heavily).
The people-watching alone is breathtaking, but then there are the sets, or, shall I say, universes. Like the Spring/Summer 2018 collection, when Karl put the classic tweed and leather Chanel bags in transparent PVC Chanel bags to protect them from the Chanel waterfall. And that was just ready-to-wear!
For Tuesday's Spring/Summer 2019 couture show, Lagerfeld conjured Villa Chanel, with real grass and real trees and a real swimming pool. The villa itself was painted on a backdrop, though it was based on a real structure. It was not one from Coco's past—the designer built La Pausa, on the southeastern coast of France, in the '30s, and modeled it after the convent where she was raised, which might have inspired an altogether different and far less buoyant show—but a Monte Carlo villa called La Vigie, where Lagerfeld used to vacation in the '80s.
It is hard to imagine Lagerfeld taking a vacation; as he said in the recent Netflix documentary 7 Days Out, "I am working class. I work—with class!" And the clothing here was not particularly vacation-oriented, with lots of suits and dresses, and gowns far too exquisite to show off merely to your houseguests.
Chanel can sometimes look like the chicest grandmother's ideal youth—sophisticated but conservative—but this collection had a freshness in silhouettes and colors that photographs don't do justice. And furthermore, it was a triumph of technique.
That may not sound terribly triumphant, but think of it this way: We talk a lot about simplicity in fashion (say, Phoebe Philo's Céline), and presume its diametric to be maximalism (say, Alessandro Michele's Gucci). But there's a realm totally different from these two worlds: technical achievement—everything that happens between the sketch and the dress we see on Kaia Gerber. This is what couture is really about, and is indeed the driving force of its innovation. The designer draws, or dreams, of something, and it's practically a dare to his or her team to make it an actual garment.
Yesterday, a woman seated next to me at one show whispered in disgust that, earlier that day, she'd seen at a show (that shall remain nameless) snaps as fasteners on a dress, which is, of course, a violation of the rules of couture, which emphasize the handmade. (These aren't merely rules; following the mandates of the Chambre Syndicale de la Haute Couture is requisite for maintaining one's membership.) After we finished gossiping, the show we watched was practically ruined by poorly made shoes in which the models tripped and even tumbled; one model, near tears, held up the finale walk to stop and remove the shoes. It ruined the whole effect (and it certainly wasn't her fault).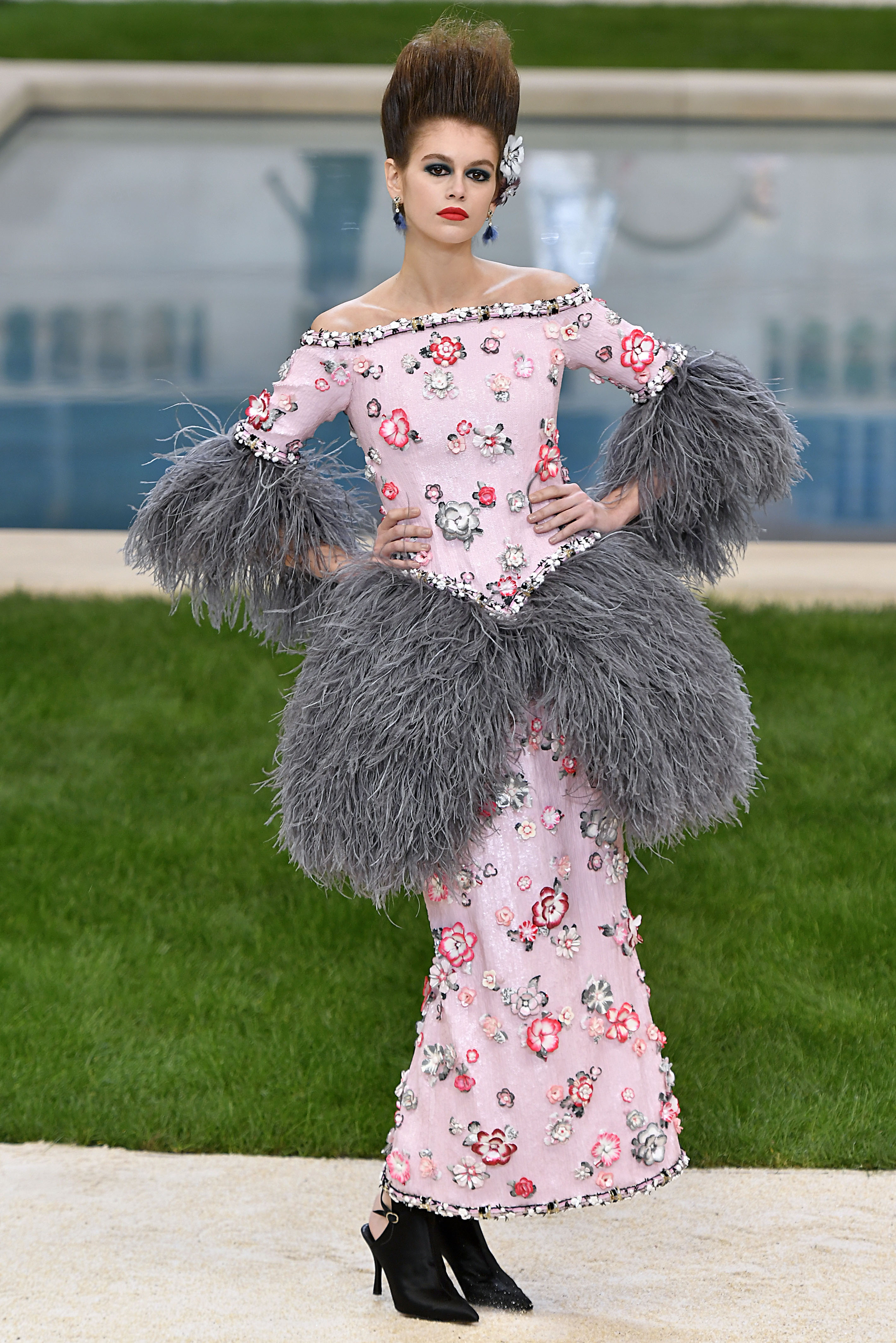 A runway show packed three rows back sometimes doesn't favor this kind of design, and all those big sequin gowns can begin to blend together, but at Chanel, you could see the technique. Collars on dresses were so exaggerated that they folded over to create bolero jackets, like layered petals, which is the kind of ingenious technical triumph that causes you to look at the strange, alien form of a flower and wonder how nature did it. There was a powder-pink, camellia-encrusted dress, with a peplum and trumpet sleeves made of dove-gray ostrich feathers. There was a suit whose neon and pastel tweed was modeled after windowpane plaid—but the windowpanes were panels of mesh lace. In person, those neon and pastel contrasts worked to highlight the density of the handwork; on one dress, real flowers were suspended in resin, so they, like nothing else, will last forever. The kinds of things you usually need to examine up close were visible from several feet away. Even the traditional tulip skirts were there to show off, with layers of dense beading revealed under turned-up expanses of duchesse satin.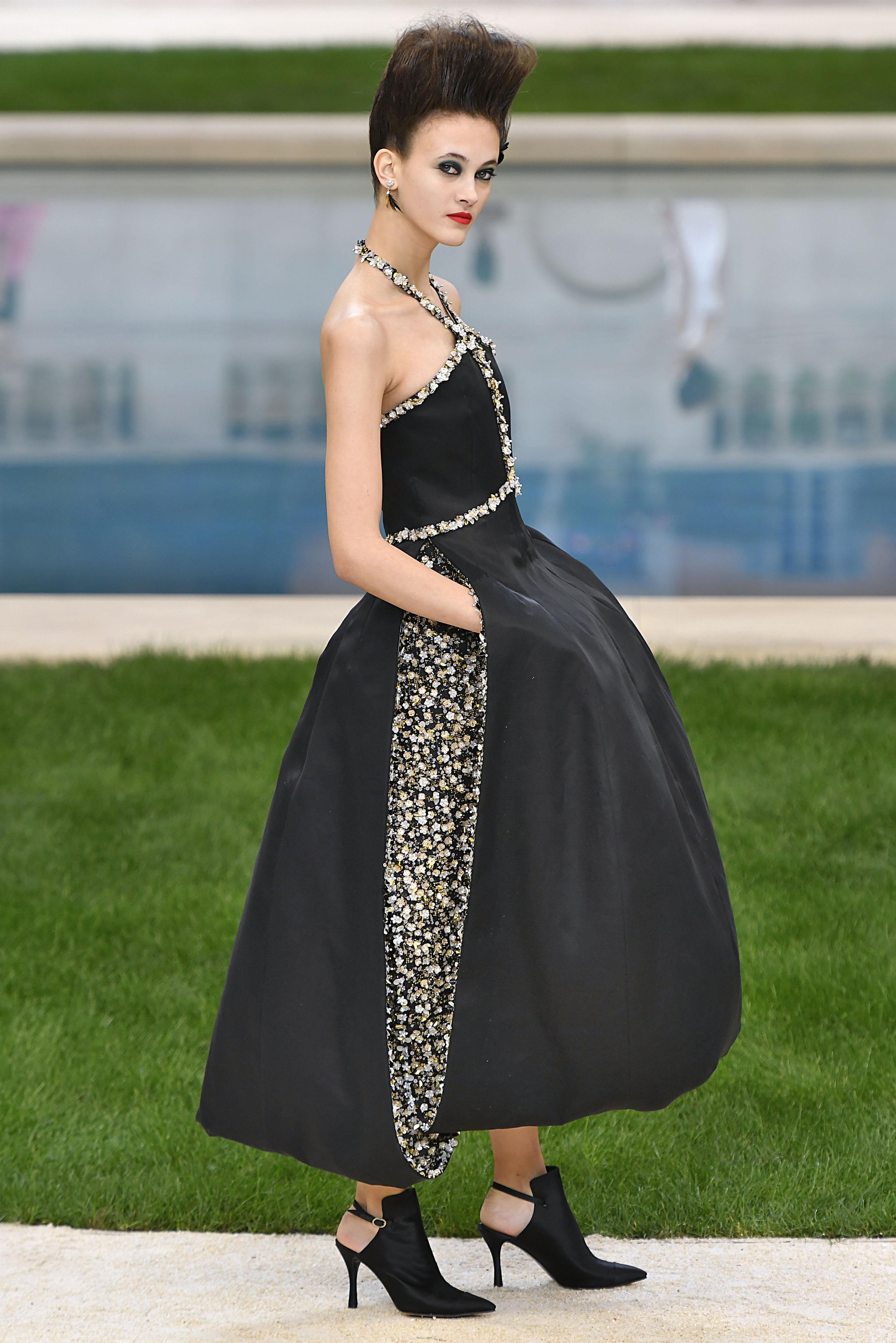 At the moment, everyone in Paris is talking about Lagerfeld, who was too tired to appear at the show, per an announcement made after the finale. Studio head Virginie Viand took a bow instead. Could change be coming to Chanel? The runway suggested as much: last year's final bride wore pants that were also a skirt, which seemed revolutionary only relatively—a bride in pants? Whatever. A Chanel couture bride in pants? Whoa!—but this year's crystal-embellished cut-out swimsuit, with a swim cap veil, felt almost kooky in its daring.