A natural extension of the Wine Mom, the Weed Mom parents—and accessorizes—with the help of THC.
Meme via WeedMama.ca
The Wine Mom lives, laughs, and loves boldly in the face of a society that would punish her for wanting to unwind from the stresses of parenthood with a nice glass of Riesling. She exists because for too long we expected moms to be not just perfect, but completely unfazed by their roles. The aesthetic is not without its controversies, but it shows no sign of slowing down. And now, there's another movement rising to join it. The slow cultural shift toward cannabis acceptance and legalization is manifesting in new ways every day. Enter the Weed Mom.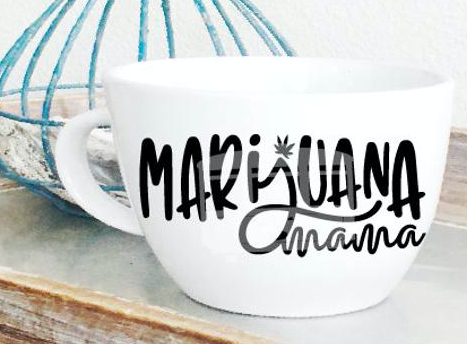 The phrase "Weed Mom" might conjure visions of suburban, iced latte-sipping Nancy Botwin from Weeds, but this current trend is far less dark and overtly criminal. Instead of becoming drug kingpins, these moms just want everyone to feel good. "Weed Mom" culture and aesthetics borrow a lot from the Wine Mom, including the sort of imagery found on Pinterest and mommy blogs—you know, "cute" art that hangs well in a suburban kitchen. Where the Wine Mom might don a "Hakuna Moscato" T-shirt, Weed Mom will declare herself a "Marijuana Mama" or say "Mama Needs a Blunt." Wine Moms bring out stemware reading "mommy's juice," while a Weed Mom adorns her kitchen with cute jars of bud that read "mom's medicine." And the "But First, Wine" poster seen in so many kitchens can be replaced with "But First, Mary Jane." These pieces started popping up in the last few years, as cannabis has become legalized and more accepted across North America.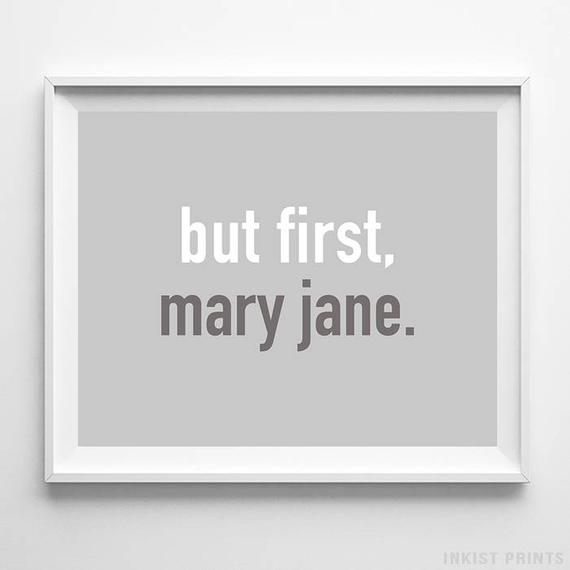 While the Wine Mom exists in part to normalize casual drinking among parents, the Weed Mom tackles both the idea of moms using cannabis and mainstream acceptance of cannabis in general. "There's a BuzzFeed segment where a mom sits down at the end of the day with a glass of wine and declares 'Wine makes me a better mom,'" says Shannon Chiarenza, a 45-year-old mom based in Vancouver, Canada, and the creator of Weed Mama. She says she wanted to be able to say the same for weed.
Unlike Wine Moms, Weed Moms are trying to cultivate an aura of wellness, not just fun. On her site, Chiarenza posts Instagram-ready weed memes, product reviews, and articles about how responsible ingestion can improve everything from your anxiety to your chronic pain to your sex life. "There's no lack of wine memes, but it's rare to find the equivalent with weed," she says. "I created them so they can be shared by people who use cannabis to feel comfortable being open about it and for society to get used to seeing it regularly in their social media feeds, as we've seen with the abundance of wine memes for so long."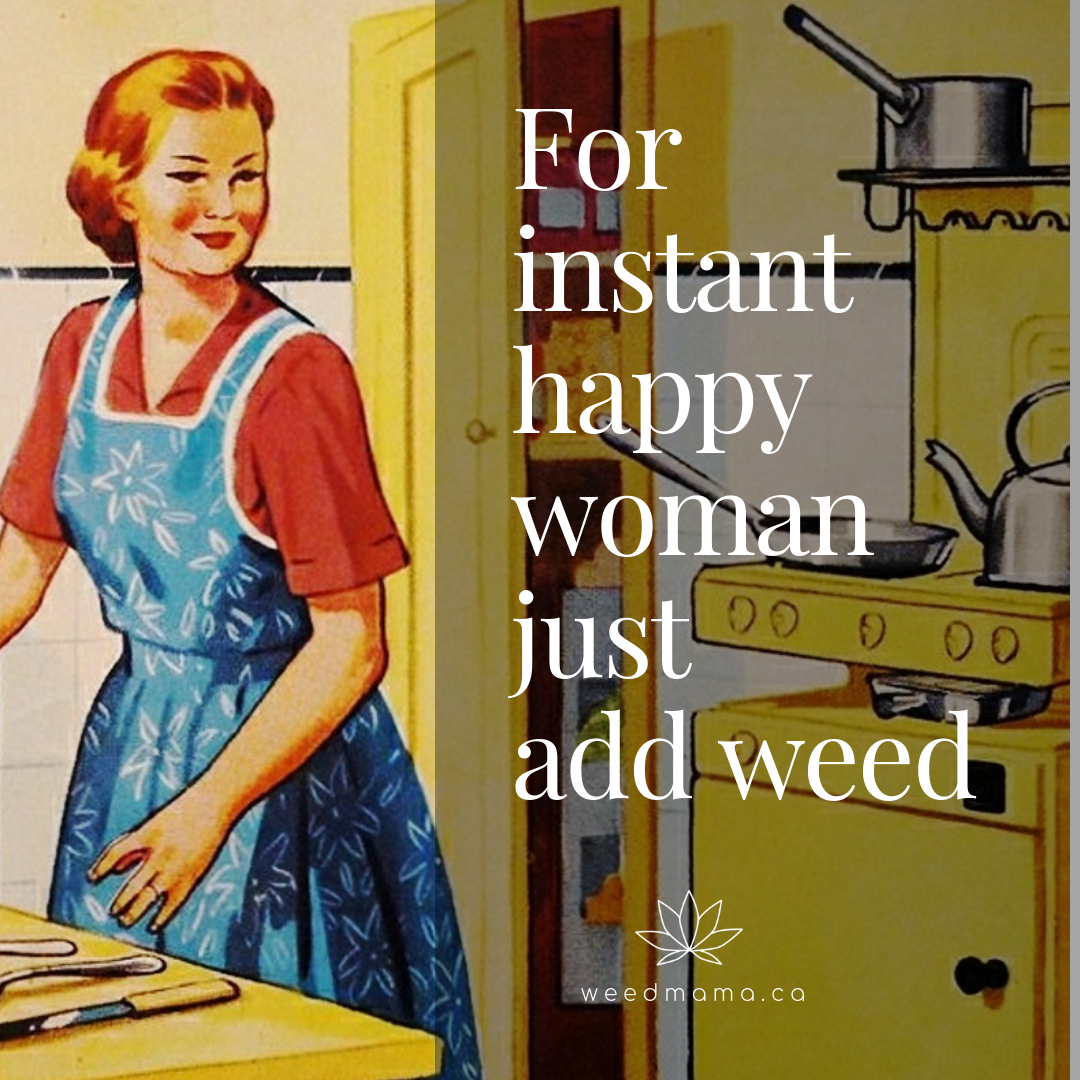 The Pinterest-friendly look of the Weed Mom is very much by design. "I try to model the feel of my website after traditional or high-end publications like the New York Times or Vogue, as well as popular fashion blogs," says Kathryn, a.k.a. The Stoner Mom, a 36-year-old based in Colorado (who asked to be identified by her first name only). "You'll find lots of images of clean bongs and fresh flowers, because those are things that I always have in my home." In her bio photo, Kathryn is wearing knee-high socks and a gray sweater that falls off her shoulder. She's suburban but cute, maybe a little sexy, and that image helps her get her message across. "I think my general presence as a friendly and safe mom figure helps to break the stigma of what 'stoners' look like," she says. "I'm just a boring, nonjudgemental mom that wants to help everyone feel better."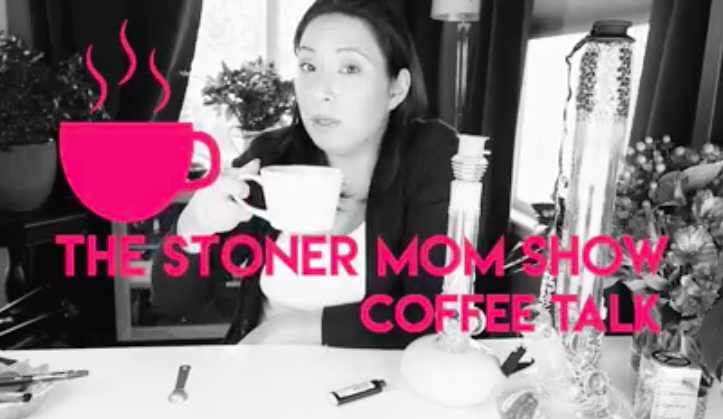 While the burnout stoner stereotype is very real, cannabis is easier than liquor to paint as a wellness product. (It's hard to imagine a world in which "Because Your Mama Loves Whiskey" is a children's book.) That's partially because, though legal, alcohol is firmly in the "recreational vice" category of substances. Yes, red wine may or may not lower your chances of heart disease, but vodka doesn't help with PTSD or chemo side effects. The perception of legal cannabis can still be shaped, and there are a lot of people out there pushing for it to be seen as a harmless, even helpful, herbal supplement, rather than an intoxicating one.
The thing is, it's both. Wine Mom culture has come under fire recently for how easily it can promote alcohol abuse. At a recent trip to Disney World, I saw a mom in a shirt reading "Hocus Pocus, I need wine to focus," which sounds less like a call to ease up on moms for enjoying a drink now and then, and more like a cry for help. The Weed Moms acknowledge that the same could happen (and is already happening with "luxury" cannabis), and that the stakes are higher—they'll be labeled unfit parents and hurt the larger legalization movement. "I do worry about people abusing THC as that will give fuel to the reefer madness propaganda that won't seem to die," says Chiarenza, though she notes that CBD is generally less intoxicating, and that THC-heavy products can be used responsibly. Kathryn, whose tagline is "Responsible Cannabis Use," agrees that it's important to make sure moms don't use the drug as a coping mechanism. "I sometimes worry about parents glamorizing cannabis use to deal with the pressures of parenthood, but there's not much I can do about that other than be the best role model for parental cannabis use that I can be."
For many, the main strategy behind normalizing cannabis use is to make it look cute, whether that's through artisan crafted pipes and bongs, shareable memes, or video blogs that, at first glance, are glossy enough to be mistaken for YouTube makeup tutorials. But there's the matter of who gets to be the cute stoner mom. Chiarenza and Kathryn are both white-presenting (Kathryn is half-Filipino), and because of their class and their race, they are more often taken seriously when they say their children are their priority, that they're not too intoxicated, and that they're just here for peace, wellness, and maybe a small buzz. They could probably wear a "Marijuana Mama" T-shirt to Whole Foods in a state where it's legal and not get too much side eye.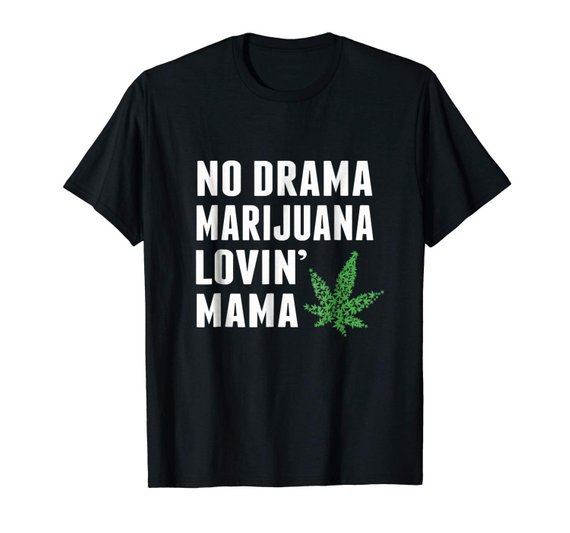 "Blogging about ganja consumption is riskier business for black and brown parents," says Cannama, a Bay Area-based mom whose blog, also named Cannama, is focused on de-stigmatizing cannabis use for parents of color. As a black woman, Cannama understands both the pressure moms feel to be perfect and the cultural stigmas applied to black and brown people regarding drug use. "In America, the racial dynamic was not designed to favor us...It's no surprise that a sizable portion of the black community still takes a pretty conservative stance regarding marijuana usage." Even in the Bay Area, Cannama feels she can't be as outspoken as she would like to be. "I've learned to tread lightly since as a black mom. I'm already on thin ice, so to speak."
That's is why it's important, she says, to accept cannabis primarily for its healing and wellness properties, rather than for recreational use. And for that, aesthetics can only go so far. Cannama acknowledges that, while inspiring, "there's a cultural disconnect, plain and simple" with the imagery white Weed Moms use. Posting memes about smoking once your kids are off to school only works if you're given the benefit of the doubt as a responsible parent. Children of color are more likely to be taken away from their parents by Child Protective Services than white children, even for the same infractions. As Emma S. Ketteringham wrote for The New York Times, "A parent in Park Slope can smoke marijuana or lose her temper and still be considered a good parent. A parent in the South Bronx would lose her kids for months, if not years, and have to go to drug-treatment and parenting classes to get custody back."
Ultimately, Weed Moms are fighting in a way Wine Moms don't have to. Alcohol is legal, moms can drink, and Wine Moms are at best reclaiming their right to have a little fun, and at worst excusing serious addiction. Weed Moms exist to fundamentally realign mainstream ideas about cannabis, to say it's safe enough to legalize, has untapped medical benefits, and that it's no big deal if you see a mom enjoying it. But by modeling themselves after the Wine Mom aesthetic, Weed Moms may be hurting their cause. Yes, cannabis should be available as a wellness product and a recreational one, but it's dizzying to see a meme professing that Mom uses weed to "make it through" the holidays and the messaging that cannabis is a miracle drug that can treat your migraines. And given that its recreational use is more inaccessible for parents of color, they often focus on the wellness message—the fun, bubbly Weed Mom memes don't apply.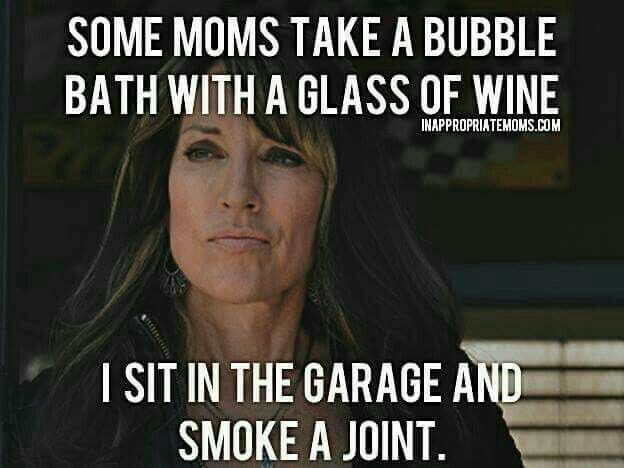 In fact, this disconnect why Chairenza has recently removed memes from her site (though she's keeping them up on Pinterest). "My site focuses on teaching proper cannabis use to newcomers, so I felt it didn't quite fit," she says. Though she says there's nothing wrong with some friends getting together to have fun, and that she wants her site to be a place where people can learn about all aspects of weed use, "Cannabis is used medicinally and therapeutically for many people, so it should be respected as such."
Weed Moms are—imperfectly and selectively—normalizing cannabis use. Let's face it: a decade ago, the idea of Kathryn's weed/parenting podcast would have sounded absurd. The fact that these memes, blogs, and shirts can even exist is a sign of growing acceptance, and a harbinger of decriminalization and legalization. So don't be surprised if you spot some more corny weed slogans while on a Target run. They're a sign of the future.