3 Shops with Everything a Wannabe Eccentric Millionaire Cat Lady Needs
A hole-in-the-wall with thousands of Mexican imports, an Indian fabric store to upholster your life in, and John Derian, because of course John Derian.
Image by Ben Park.
Sometimes in life, you've got a wallet full of cash. The paper kind. Maybe it was an ATM accident. Either way, you've got to furnish your high concept "well-traveled-hoarder"-themed studio apartment with French porcelain rib-eye steaks, Indian block print bed coverings, and hand-painted Mexican nichos. Maybe you're an aspiring eccentric widow (I said aspiring!) who needs to enhance her personal brand by three thousand followers before midnight, or you might turn into a pumpkin spice latte. Perhaps you're a wannabe world traveler and cat lady who isn't allowed to leave the country after the "incident." Or maybe you just know that the road to a more aspirational lifestyle isn't paved with pastel ceramics!
Would you believe me if I told you all of these can be found in three short blocks of the East Village? Yes: literally everything you've ever needed in life is off 2nd Avenue, between 2nd and 5th Street.
Your first stop is the knickknack factory—decoupaged time machine? Garden of weird delights?—that is John Derian and its sibling shops all in a row on 2nd Street and Bowery. Never before had you considered putting plates on walls, but step inside and soon you'll realize eating off them is so limiting (starting at $100 per plate). For a moment, you'll ponder a new, sideways life! There are stacks upon stacks of coasters and trays made from vintage psychic ads, botanical prints, postcards, and long lost love letters, each one different than the one on top of it ($48 and up). You need them all—just get them all!
While you move slowly through the store, like a bullshit artist in a China factory, make a mental wedding registry for those Astier de Villatte prop steaks and the plates with eyeballs on them (steak: $248). One day you'll find love, but it won't be nearly as cool as these plates. (In the meantime, there is a row of restaurant supply stores on the Bowery around the corner with incredibly affordable sheet pans and Jell-O molds for the budget dinner party tsarina in you.) Now float into the John Derian Dry Goods store, unfold all of the Les Indiennes pillow cases, and picture them on your couch (about $85 each). I bought a set years ago and they're dainty creatures—hand wash, but not too long, because they'll still fade in the sun—but I love them more now that they've got the signs of a house well lived in: coffee stains, cat hair). Now there's a look that transcends Pinterest!
If you're not a millionaire with a spare house to frost with Transylvanian linen and dot with Moroccan poufs, there are cheaper treasures in John Derian—like the quirky postcards and phrenology wrapping paper (back corner; $15 for 10 postcards, but $10 for the wrapping paper—a bargain!). Frame those and no one will know you told the cashier you were actually going to wrap something in that paper.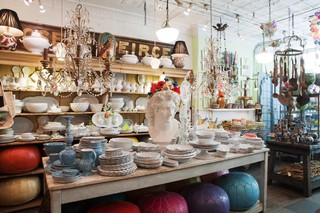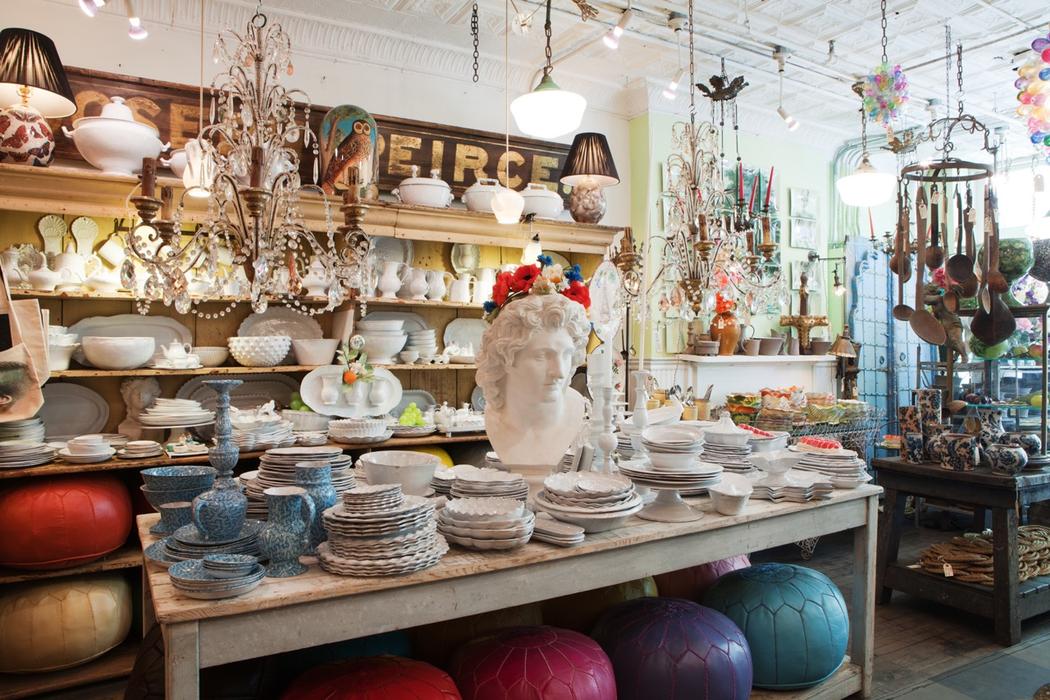 Whether or not you committed to your new plate wall lifestyle, it's time to move on. Continue walking east on 2nd and take a few steps down to Bonnie Slotnick Cookbooks. Scope out the vintage cookbooks (if she has The Joy of Cooking edition with the squirrel skinning recipe in it, you're golden) and consider a half-skirt apron. You're a person who cooks now? Accept it: buy the apron, and drink the Kool-Aid—you can make it at home! Then make your way to 2nd Avenue and appreciate the symmetry of the moment: you're at 2nd and 2nd—and you're number one! (Or call a friend in a panic.)
Swim against traffic on 2nd Ave—no need to cross the street—and take a left on 3rd. There's a little cubby hole—you'll almost pass it—on the north side of the street, with the mermaid sign: La Sirena, not to be confused with the Batali place on the west side, and hey, they were here first! Inside, the walls are covered with Mexican folk art, and nichos of varying sizes, from one-inch tin windows perfect for the bobble head turtle you spot on the shelf over there, to lovingly hand-painted frames with portraits of Our Lady of Guadalupe behind the hinged window. As a Yelper writes, things are "priced to move!", but I've been known to negotiate a sneeze of a discount when buying a handful of them, but good luck.
You can only take approximately seven steps inside La Sirena, but it would take all day to see all the treasures. Colorful picado banners drape overhead—those will look good in your entryway, next to the Victorian cat portrait collection. Sort through the stacks of Mexican blankets and dresses until you find something in a color that complements your Josef Frank-upholstered chaise. Consider a sombrero. Something in this shop is waiting for you to find it. In the holiday season, my Aunt Inez picked up a hairy-legged man angel to top my Christmas tree. It's one of my most prized possessions, and I swore off God years ago!
When you leave carrying Frida tote bags filled with cheerful Dia de los Muertos skeletons to decorate your mantel, make your way back up 2nd Avenue until you see Dress Shoppe II between 4th and 5th Streets. Good thing you didn't buy those $500 bedsheets you saw at Derian made by a certain dude designer who gets "inspiration" from Indian textiles—because here's the real stuff, baby.
Like the previous two stops in your tour, shoppers who dive into stacks of fabrics head first will thrive; those who stand idle, nervous about disrupting the tidy folds, are missing out on a life of impulsive pleasure. If you're in the market for Sari silks, look all around you ($75 and up). Bedspreads, sheets, tablecloths, scarves, and miscellaneous fabrics in beautiful block prints are on the left wall (from $35 for a scarf to $80 for bedspreads). Dusty Indian antiques fill every empty table space, and baskets of bangles catch your eye, but your mission here is textile accumulation.
In the back right are my second favorites—the striped towels (made of a super delicate cotton, not rough terrycloth—and $10!). I fold them twice over to be hand towels, but I've also wrapped my wet hair in them, and taken them to the gym, where they're the envy of the sweaty spin class. Some are still all attached on a roll, so if you want the purple ones (you do), ask nicely and Mr. Goyal, a sweetheart, will cut them for you—or you can take them home and cut yourself. When you check out, he'll pack everything (and maybe a few sticks of sandalwood) neatly into a black tote adorned with the image of Ganesh. He'll ask you to please not put dirty laundry, gym shoes, or groceries in it when you reuse the bag later. And you'll listen.
Stores Visited:
John Derian
6, 8, and 10 East 2nd Street
New York, NY 10003
http://bonnieslotnickcookbooks...
Bonnie Slotnick Cookbooks
28 East 2nd Street
New York, NY 10003
http://bonnieslotnickcookbooks...
La Sirena
27 East 3rd Street
New York, NY 10003
http://www.lasirenanyc.com/
Dress Shoppe II
82 2nd Avenue
New York, NY 10003
No website