Fashion Is Going to Stop Being So Ugly Now
And the other Couture Week trends that will permeate the rest of the fashion world.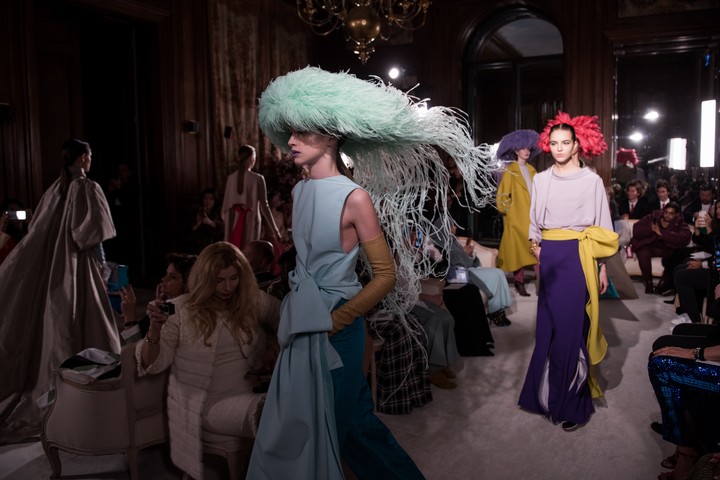 Photograph by Francois G. Durand for Getty Images.
Explain to your average second date what Couture Week is—a highly exclusive, weeklong parade of nearly priceless, made-to-order clothing for invitation-only customers of the one-percent, staged in Paris's most luxurious rooms—and they will probably tell you that nothing seems further removed from reality. Indeed, Couture Week is, to paraphrase one of the best placards at the Metropolitan Museum of Art, "ensconced in its own realm of opulence."

But the things that happen over these six mythic days in France don't happen in a vacuum. They reverberate and ricochet and make their way through the rest of culture—or at least, they'll show up on a few runways over the next few seasons. Here are the trends that will do just that.
1. Fashion Will Stop Being Ugly
At the end of last year, Lou Stoppard posed a terrific question in the Financial Times: "Why is fashion so ugly?" Between the clumpy funk of Loewe and Simone Rocha, the pedestrian frump of Demna Gvasalia's work at Balenciaga and Vetements, and the "ugly sneakers" that nearly every fashion house is putting out, "heinous is so hot right now," Stoppard wrote. But this churn of nerdy, clunky, eccentric, misshapen, difficult clothing has been dominating the runways for a few seasons now, and many of us have been wondering: when will clothing be beautiful again?
Valentino's Pierpaolo Piccioli answered with a resounding now. So beautiful was the Valentino Spring 2018 Couture collection that Piccioli received a standing ovation—a Paris rarity. Donatella Versace, who was seated on a pristine white sofa between Valentino Garavani and his business partner, Giancarlo Giammetti, smiled (!) and embraced Piccioli ecstatically.
The expanses of fabric were sumptuous; the combinations of colors—ocher and powder blue, lavender and mint green, Nancy Reagan red and lollipop pink—felt rich and fresh. And, unlike Giambattista Valli or Chanel, which were also emphatically lovely, Valentino was weird. Hats have only been relevant in recent fashion memory when a logo is plunked on the front of a baseball cap, but here, enormous plateaus of feathers floated like deranged and gorgeous jellyfish. It wasn't a pure or perfect beauty, but a personal one. (Fittingly, each of the dresses was named after the woman who produced it.)
After her menswear show in mid-January, Miuccia Prada (another priestess of ugly-but-not clothes) had something to say about our desire for beauty. "So many people say that beauty will save the world, but I don't believe so," she told Vogue. "The world will be saved by intelligence and humanity and generosity—and possibly love. But of course the aesthetic world helps, a little." Maybe I'm overreaching, but I saw each of those things at Valentino, and the outpouring of enthusiasm for the show suggests this kind of beauty is something that's only just beginning.
2. Fashion may have finally figured out technology
After years of fiddling over technology—there's nothing dumber than smart fabrics—designers are figuring out how to design couture into the future. Iris Van Herpen—a genius, and only 33—has been pushing the boundaries of the couture system through innovative the fabrics and production processes for years now, and her blossoms and tornados of fabric proved she is an essential voice on questions about the impact of technology and the environment on the luxury industry. At Margiela, John Galliano created perhaps the world's first phone-first fabrics, which is to say fabrics that appeared otherwise neutral but refracted and electrified under a phone's flash. In both cases, the technological innovation didn't hamper the clothing, nor was it "hidden" (vegan leather this is not)—the innovation drove the beauty.
3. Developing Personal Style is Now a Leisure Activity
I saw those hats at Valentino, a dragonfly-esque gown at Iris Van Herpen, and custom Air Force 1 slipcover at Yuima Nakazato—but these makeshift clogs at Acne blew my mind.
Yes, there was a note of that frumpiness Stoppard was talking about, but these shoes reflected how people are taking clothing and not merely styling it, but manipulating it to make it their own. Smash down the backs of your shoes and make clogs; undo your shoes and tie the laces around your ankles like they're strappy sandals. As Louis Vuitton designer Nicolas Ghesquière told Document in October, following his thrilling Spring 2018 show that mixed frock coats and sneakers, "The most defining feature of the female silhouette in the 21st century so far has been in the way a woman wears sports clothes and mixes them with much more elaborate designer pieces." Personal style is ascending into a leisure activity; Acne's footwear seems like a little nod to this new kind of pursuit.