The Final Act of a Fairy Tale
A look inside the livestream, short film, and lookbook that made up Gucci's Resort 2021 collection, "Epilogue."
It started with the letter. "I would like to leave behind the paraphernalia of leitmotifs that colonized our prior world: cruise, pre-fall, spring-summer, fall winter," Gucci's Alessandro Michele wrote in his personal Instagram account, "I think these are stale and underfed words, labels of an impersonal discourse that lost its meaning." Posted in the beginning of May, the letter seemed to indicate that change was (once again) afoot at Gucci. Throughout his tenure, Michele has brought in a level of anarchy to fashion by way of truisms and expansive runway shows. This letter threatened something more concrete. "We will meet just twice a year, to share chapters of a new story," said Michele in the same note. So what happens next?
This past Friday, we got our answer. Gucci's Resort 2021 presentation for a collection that was in a way, an epilogue: the final collection made within the confines of the traditional commercial fashion cycle. Staged in Rome at the Palazzo Sacchetti, and modeled by members of Gucci's creative teams, it was presented simultaneously as a short film, a traditional lookbook, as well as a 12 hour livestream which acted as a behind the scenes look for the creation of the former. In the livestream, we saw the designers-cum-models micro-adjust while surrounded by people wearing face shields and N95 masks as natural light filtered in the windows and birds chirped outside. In the film, we watched those micro-adjustments happen against a white backdrop as audio of babbling synthesizers looped in the background while Michele counted off the look numbers and occasionally spoke about the brand's ethos. The traditional lookbook images were presented instead in the way one may come across them while backstage at a fashion shoot—each had a Post-it detailing the model's name, their occupation at Gucci, as well the pertinent styling notes. It was a very involved attempt at creating a lo-fi, intimate atmosphere. While individually, these elements were not necessarily breaking new ground, together, Michele's hypothetical "final resort collection" played like a new kind of fashion film, one that is multidimensional, simply just about process and clothes. The film cuts through the noise and addresses Michele's letter entirely through visual signifiers with plenty of space to free-associate about philosophical matters.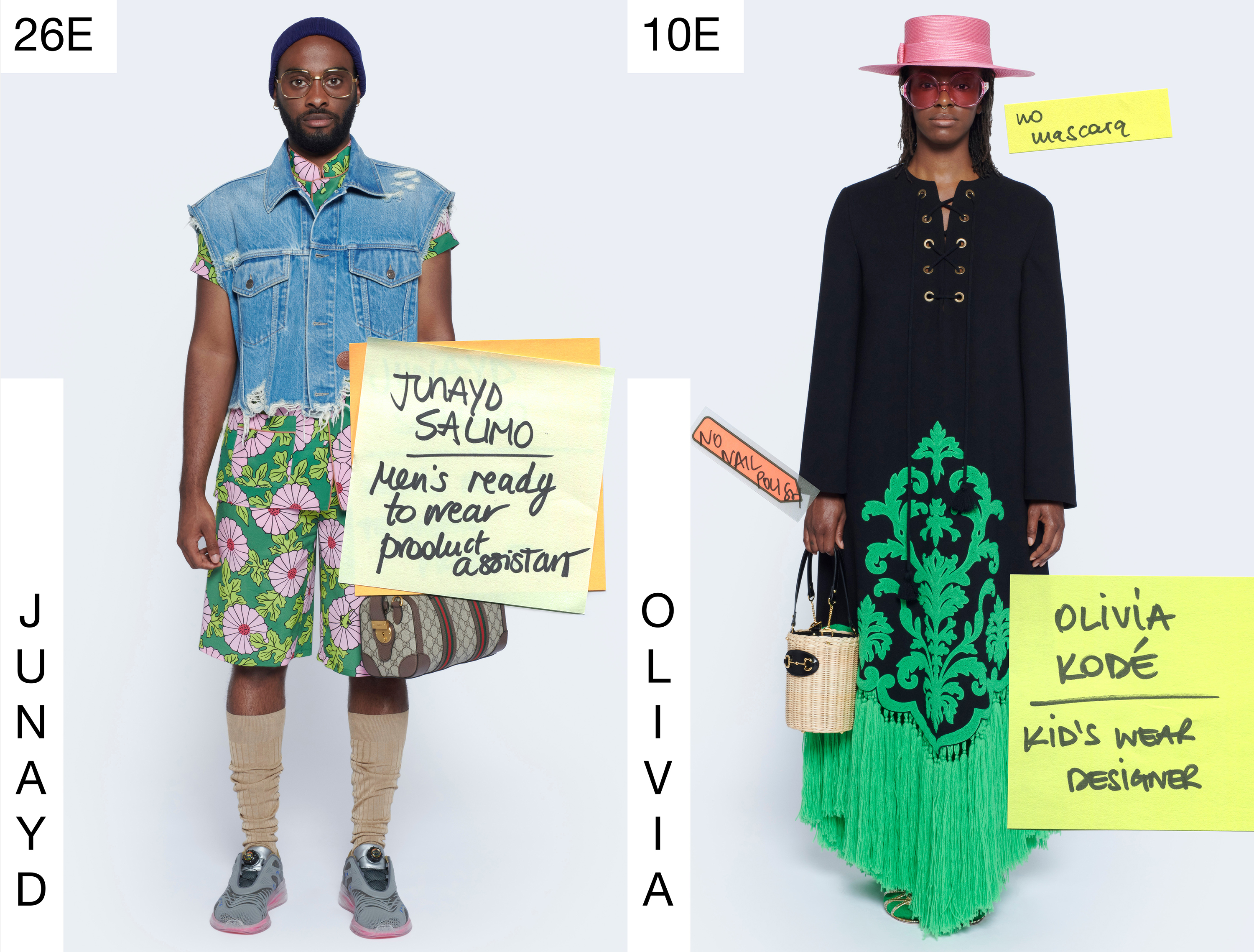 Even in this new format, the collection retained all of Michele's aesthetic touchstones: bright prints, pattern clashing, big hats, and even bigger sunglasses. In short, fantasy clothes where the best parts of the '70s intersect with whatever you think would look cool from the backseat of a motorcycle jetting off into the Italian sunset. Looking through these looks feels like watching Michele working in real time against the so-called "impersonal discourse." this idea of "containers that progressively detached themselves from the life that generated them, losing touch with reality," that he mentioned in his letter. This is a collection modeled by "Real People," but not just any real people, these are all people employed at Gucci, kidswear designers, fabric researchers, "soft accessories designers," and personal touches from each feature throughout. They often wear their own jewelry, and one particularly excellent men's look involves a model sporting red nail polish on just a few of his fingers.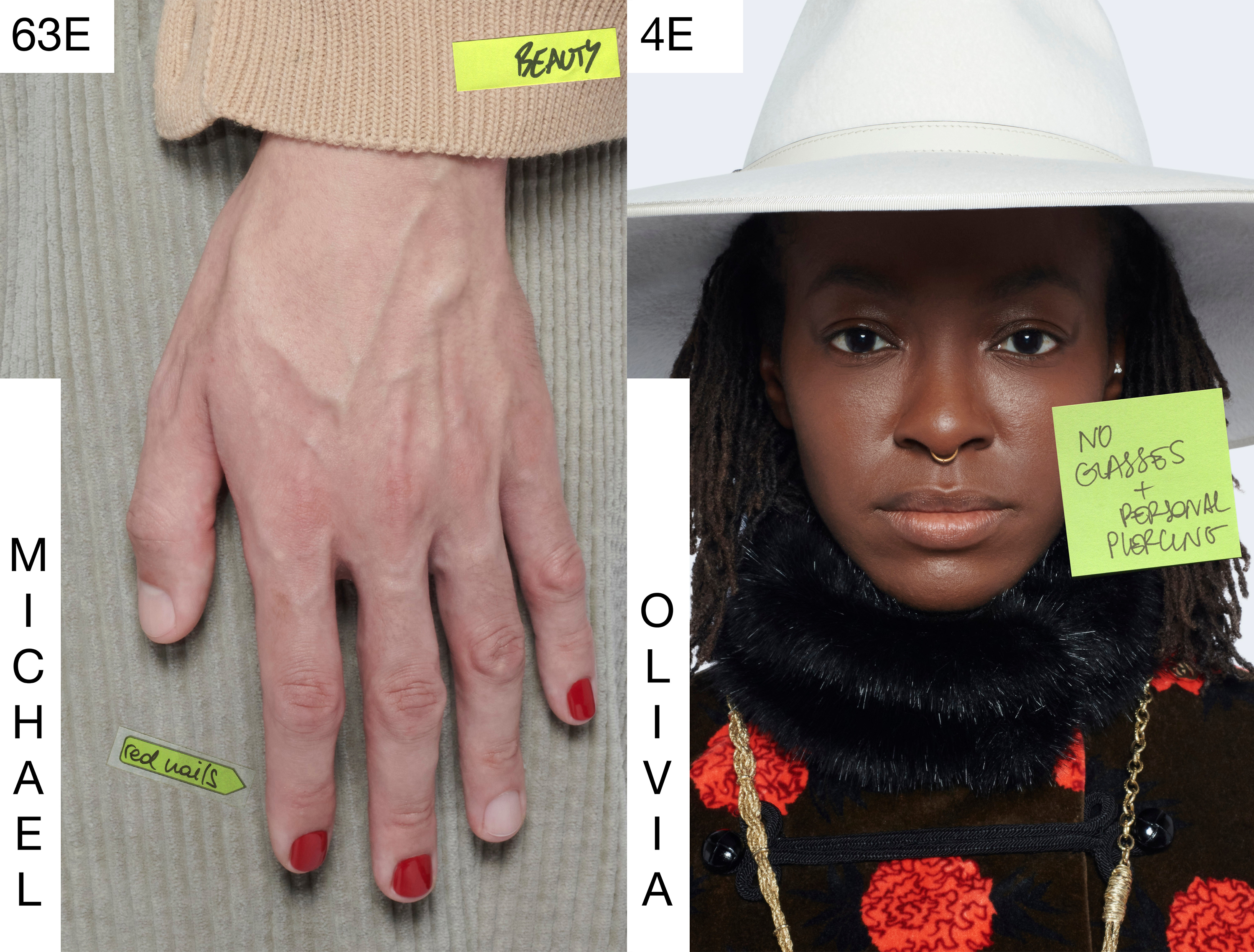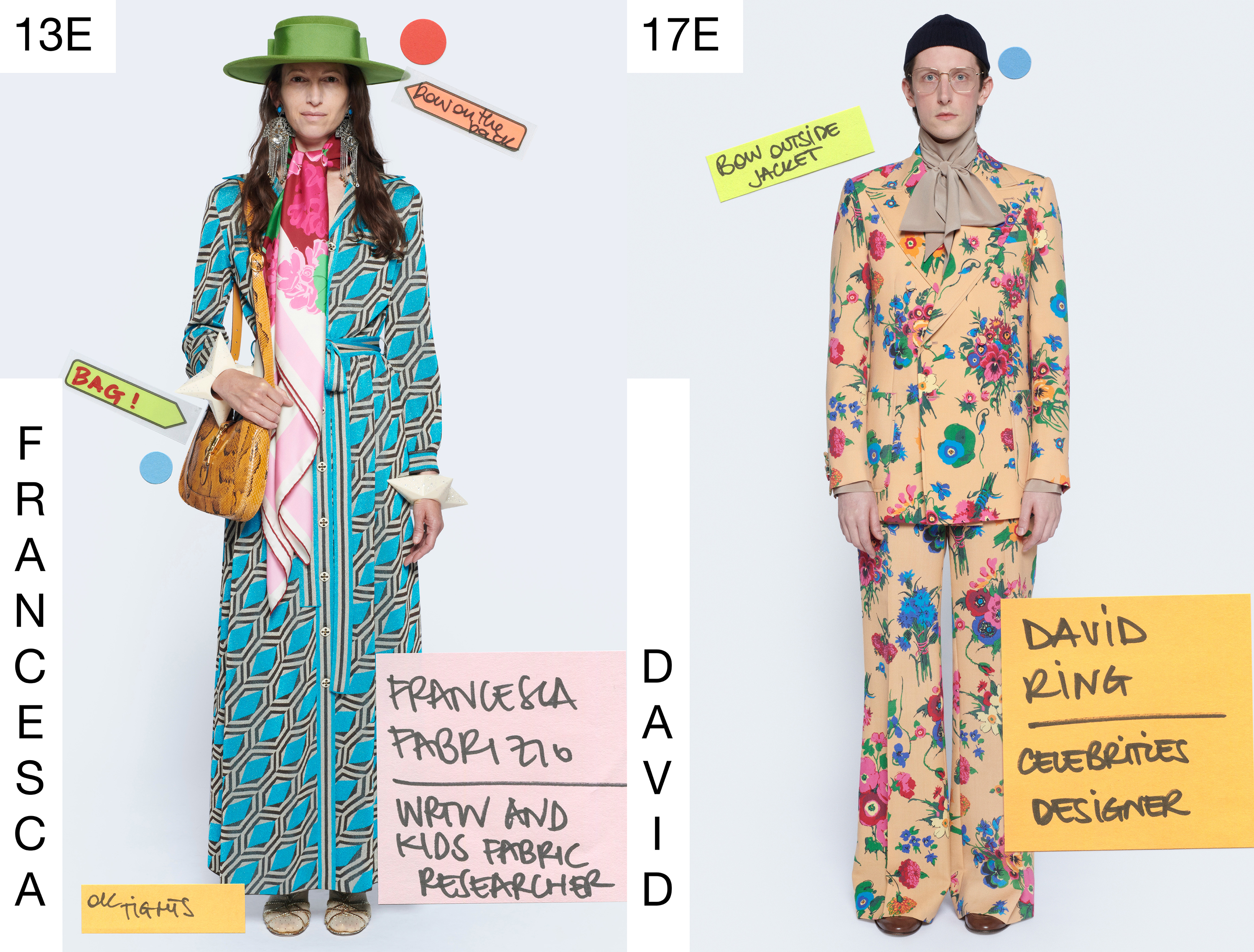 The collection is a neverending push and pull between high and low, where clothing from dreams coexist with whatever the kids are wearing these days, which is nothing new at Gucci. In an early look in the collection, Francesca Fabrizio, a kid's fabric researcher and women's ready to wear designer, wears a floor-length button-up dress in a bright blue fabric, styled with a mossy green hat, enormous chandelier earrings and a floral-printed silk scarf. In a perfect universe you would wear this sitting ocean-side while drinking something strong. There's plenty of excellent suiting, too. David Ring, with the excellent job title of "celebrities designer," wears an oversized suit in a sherbet color with a gaudy floral pattern. He also wears a little scarf tied in a bow, and one of those small beanies that don't quite cover the ears that you see if you walk around Bushwick in February. There's also the cut-off shorts. Matteo Domenichetti, a soft accessories designer, wears a pair of teeny tiny denim cutoffs styled with a pair of taupe, calf-length socks, sneakers that looks like little yellow submarines, a black leather purse and a brown and orange windbreaker, once again also with one of those little hats. Elsewhere, a huge sheepskin jacket worn by Morwenna Darwel, one of the women's ready to wear designers, has the vibe of a deliciously washed-up rock star going to buy milk at the deli in full hair and makeup. The look feels incredibly peacockish—is it the baby pink hat or the ankle-length floral dress worn underneath?—as do all of the best Gucci moments.
There is a little dissonance in the actual clothes in this collection and how it was presented. Michele is constantly trying to break the wheel, and he often does so successfully. Gucci's final resort collection might not be revolutionary in terms of the clothes but it is revolutionary in how it makes us think about how clothes can be presented. A great Gucci collection makes you think about a runway show as something that isn't static. Indeed, this final resort collection is anything but stuck in time. This is the stuff of brilliant trickery.