Matty Bovan's Celestial Tensions
As he prepares to debut his Fall 2021 collection, the British designer chats with GARAGE about the conceptual underpinnings in his work.
All is quiet in York. It is winter in the small English city, and without the usual onslaught of tourists, the atmosphere is calm, perhaps a little bit creepy. I'm not there, of course; I'm sitting in my bedroom, looking outside my window at a sleepy row of brownstones and gray skies as Matty Bovan sets the scene of his hometown for me over the phone. The fashion designer grew up here, and after spending years living in London, is back until further notice. He doesn't live with his parents, but they do live nearby. It's a nice situation, especially during the pandemic, when it is so hard to see anyone or even really do anything outside of the confines of your immediate vicinity.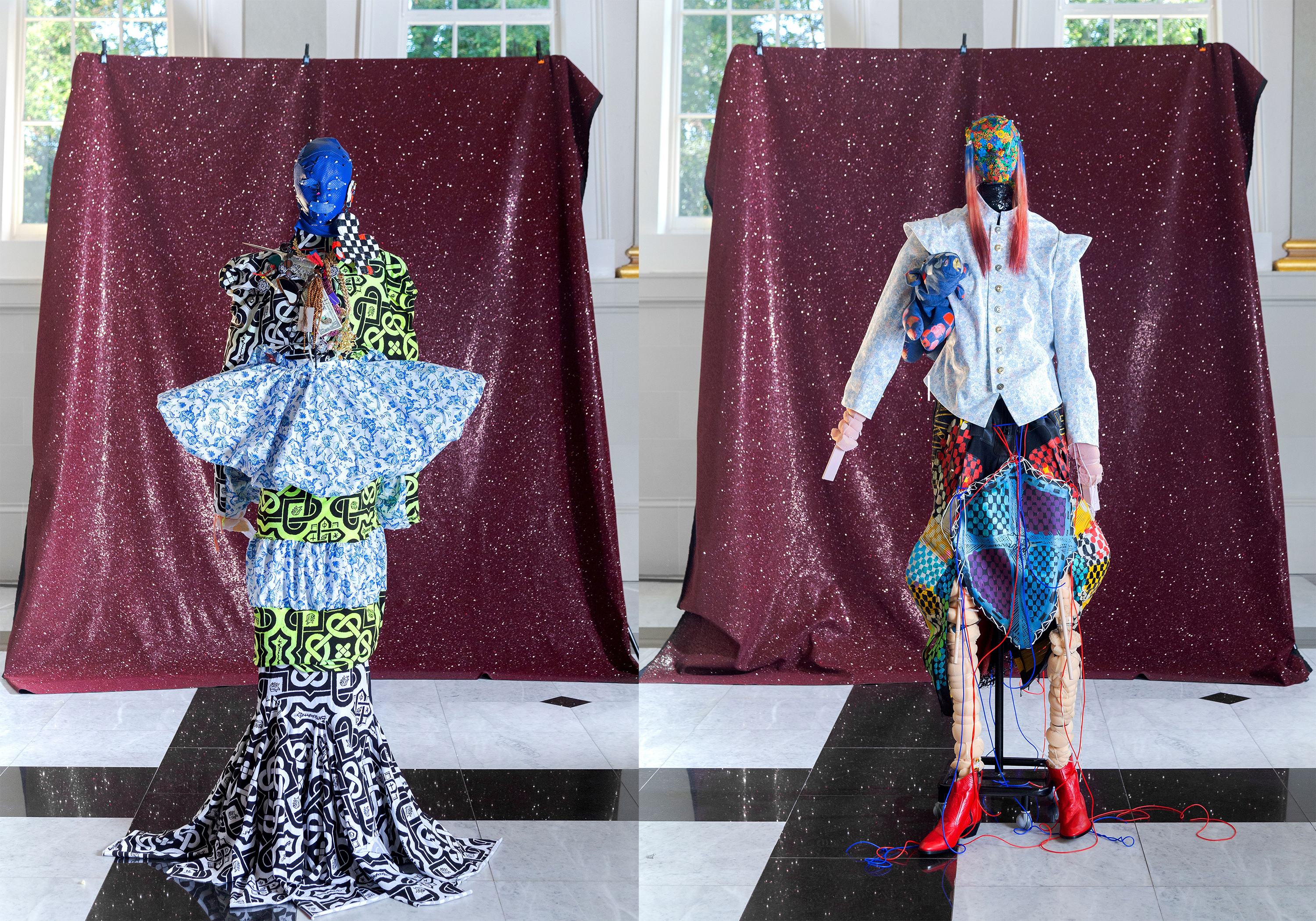 Bovan, who just turned 30 this past year, has been enamored with clothing for as long as he can remember. His mother, who was a secretary, always went all out when it came to getting dressed: "She always dressed up in coordinated colors and full makeup, full hair," he says. His first forays into design involved making clothing for his Barbie dolls, and learning how to knit from his grandmother at age 11. As soon as he picked up knitting, he developed a passion for it. "I was weirdly quite a crafty teenager—I wasn't maybe the coolest teenager by any means, let me say," he says. "I was making little embroidery cross-stitch things and stuff. I mean, I just always found some sort of real passion in just making stuff, and that's what I've basically kept doing." When it came time to apply to university, he put all of his energy into getting into Central Saint Martins, the prestigious design school located in London, where he pursued a degree in knitwear. Surrounded by countless weirdo creative types, he flourished and began to dream up the namesake brand he created after graduating in 2015.
In the years since, the designer has come into his own highly specific aesthetic. Bovan often draws inspiration from films, but not in a directly referential way: "I'm not necessarily an obvious designer in the fact that if I reference a film it might be more the mood or the atmosphere, the feeling. I don't really reference garments and clothes as such," he says. He loves heady thrillers like Suspiria and The Shining because of the tenseness they convey.
Tension, after all, is an essential aspect of Bovan's craft. He loves creating clothing that doesn't go in predictable directions. For his Spring 2021 collection, for example, the designer crafted a look that featured gold sequin draped over foam, a shape that hints at a scarf or a dickey, but its weight and mass make it look more like an enormous, extraterrestrial croissant. That's the other thing about Bovan's work. It's a bit Mephistophelean. You want to stare at it forever. It makes you giggle. It's purposefully confusing.
"Everything has to be subverted and everything has to have a tension of 'Is this too much? Is this too weird?' I really like something really beautiful with something really ugly. It's very important for me to have that kind of hard to swallow [attitude]," Bovan says when I ask him about his relationship to tension in his work. He tells me that his forthcoming Fall collection is more invested in tension and conceptual underpinnings than ever, and that he's telling a real story with these garments. Without giving away much, he shares that isolation under COVID has been particularly intense for him. "We are all being made to look in the mirror, aren't we? Not literally, but just made to look inwards a bit I think," he says of isolation in this strange year.
His clothing has grounded him; it's been an outlet for him to explore the inner workings of his own mind, and what he hopes to achieve as he continues to evolve as a designer. What he's learned is something that has always been present in his work: that the best clothing should challenge the viewer and the wearer. Bovan is excited that his clothing has the potential to confuse people. He wants to make something that will outlast him. In a perfect future, people will be wearing Bovan's complex, celestial finery hundreds of years into the future. Or maybe they won't, but they'll find his inspiration notebooks and think: "Oh, wow this is interesting."
Tagged: