Abloh stands in front of the "BLUE" rug prototype; the lettering is hand-shaved into the rug after weaving. Photo by Sean Santiago.
Virgil Abloh's IKEA Collection Is Challenging the Gatekeepers of Design
At an exclusive workshop for millennials, the Off-White and Louis Vuitton designer said that he wants to make design accessible to a wider audience.
Abloh stands in front of the "BLUE" rug prototype; the lettering is hand-shaved into the rug after weaving. Photo by Sean Santiago.
Virgil Abloh wants to know what I would do if I had a million dollars to spend on three pieces of furniture. Abloh, the founder of Off-White and the new artistic director of menswear at Louis Vuitton, is leading a workshop, attended by six millennial creatives. It is ostensibly about his debut collection with IKEA—titled MARKERAD, which means "marked" in Swedish—which won't be available in the US until 2019. His iPhone screen background is the Vuitton monogram, illustrated to appear cast in chrome, with a rainbow cascading from behind; on his sneakers, "PERSONAL PAIR" is written in orange marker. The official invitation posed the question: When does design become art? My takeaway: when Virgil Abloh says it does.
I tell him that, with a million dollars, I would have Misha Kahn design me a custom suite of furniture; MARKERAD is sort of the opposite of that. It's a collection of practical items with the familiar Off-White detournement: a display case (shown with a pair of Abloh's Off-White Nikes inside), a chair, rugs, a spin on the brand's ubiquitous Frakta bags, pillows. The chair is hobbled with a red door stop on one foot. The rugs feature text—a red rug marked "BLUE," the other, "KEEP OFF"—that contradict their appearance. At first glance, it all seems a bit self-serving. This is Abloh's party, so it's not a collaboration in the traditional sense, but an exercise in branding—something Abloh is particularly adept at. Once again, we ask: Is he trolling us? Are we in on the joke?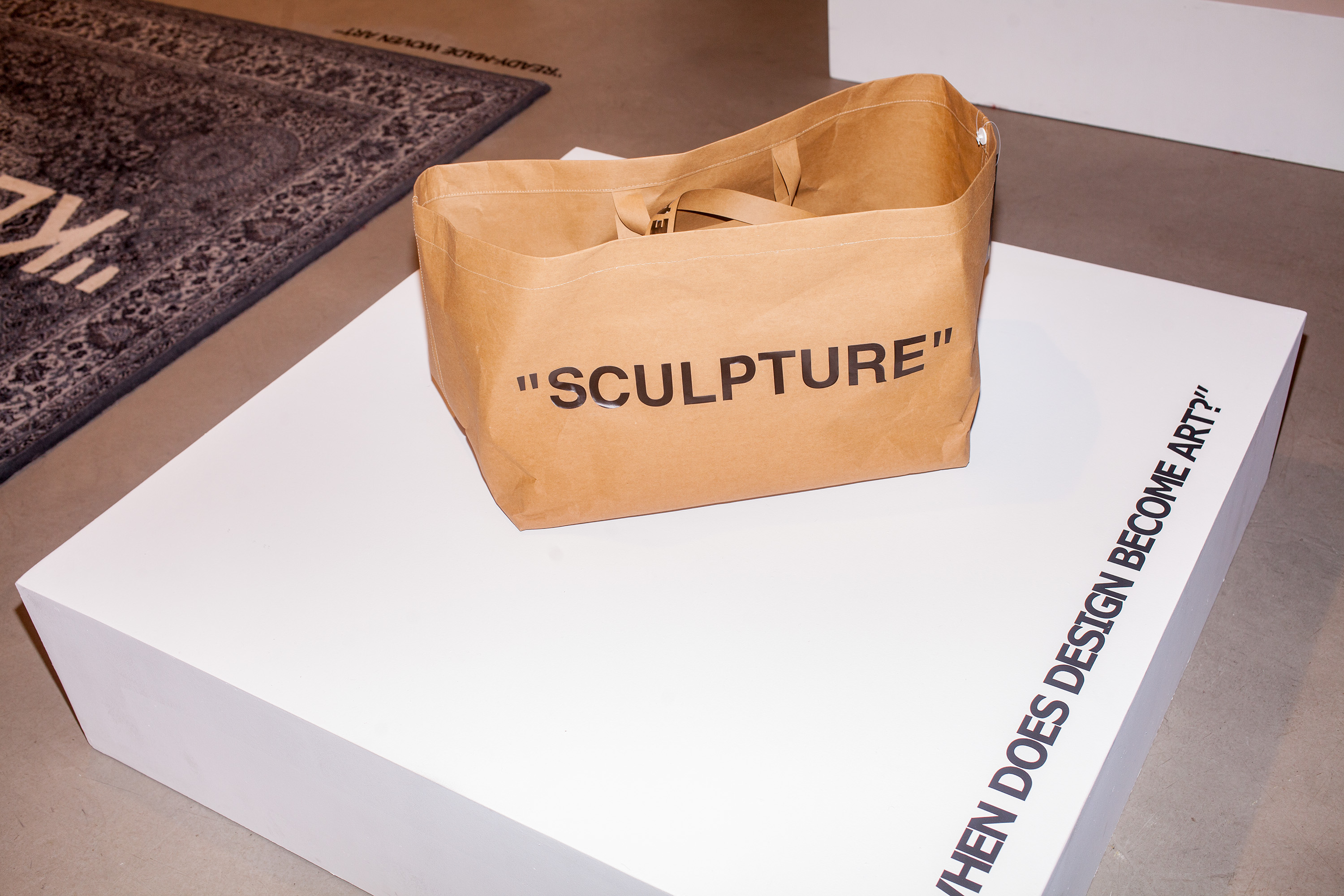 On a livestream on IKEA's YouTube channel, Abloh recalled growing up among "anonymous objects." To him, the goals of the collaboration were to give voice to the furniture itself, making good design an object for everyday contemplation, and to democratize the conversation around it—to give a new audience of young people the vocabulary to participate. According to Abloh, the work is about access, and to that end, he hasn't done much to keep the collaboration under wraps, broadcasting his first (typically top-secret) meeting with IKEA on Periscope, the start of a very public collaborative process.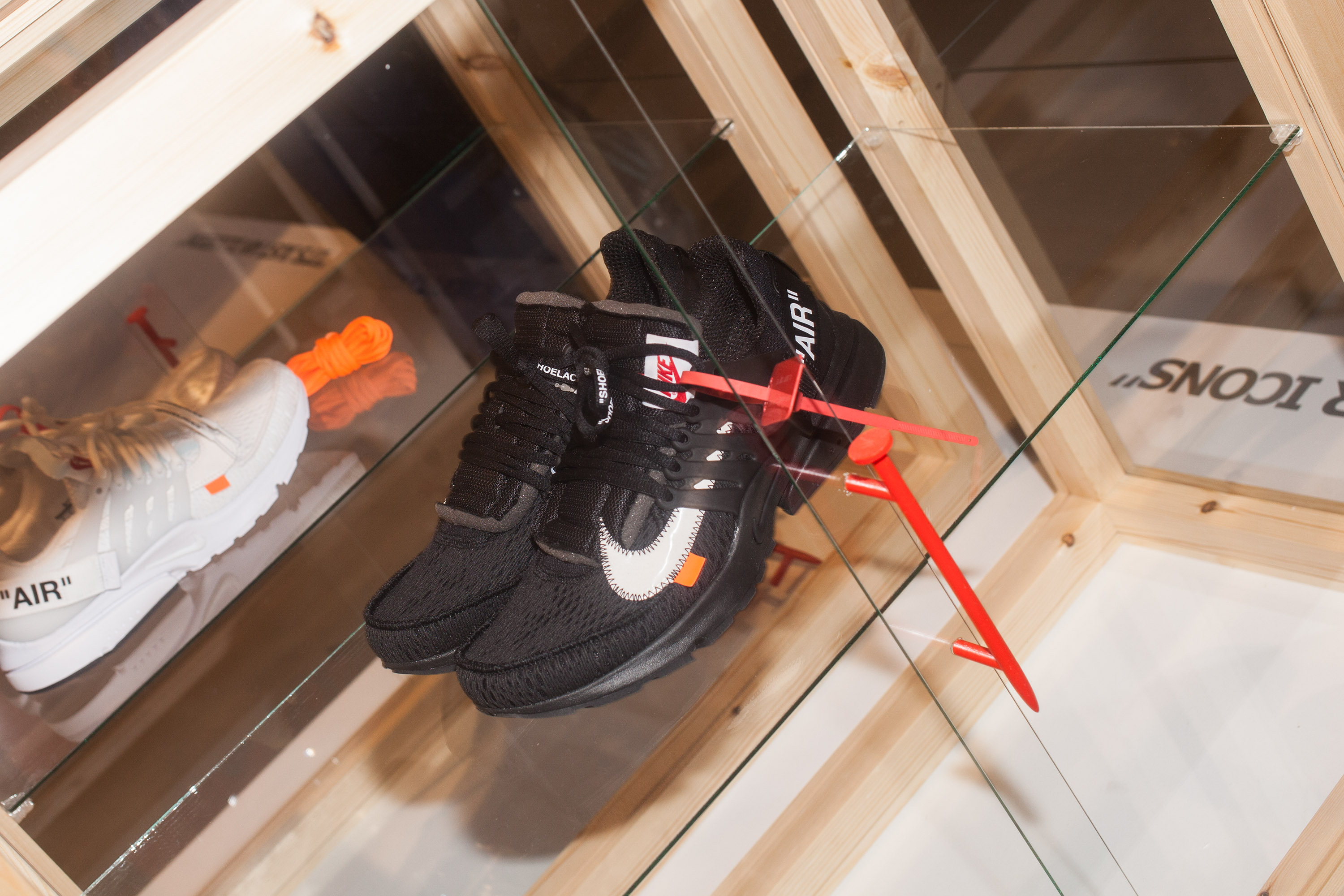 The pieces reference the history of design—Amish and mid-century modern influences are visible—with contemporary interventions. "That's how I think about what my interruption should be," said Abloh. It is very easy to imagine that some young hypebeast out there has been waiting to buy furniture until Virgil Abloh made it. Repeatedly called into question in Abloh's work is the difference between imitation and homage; the MARKERAD chair prototypes bear a striking resemblance to Paul McCobb's Planner Group spindle back chairs. Is their design "authentic"? But IKEA's own Frosta stool is a mercilessly literal interpretation of Alvar Aalto's Stool 60, so there is a precedent, at least in mass-market home furnishings.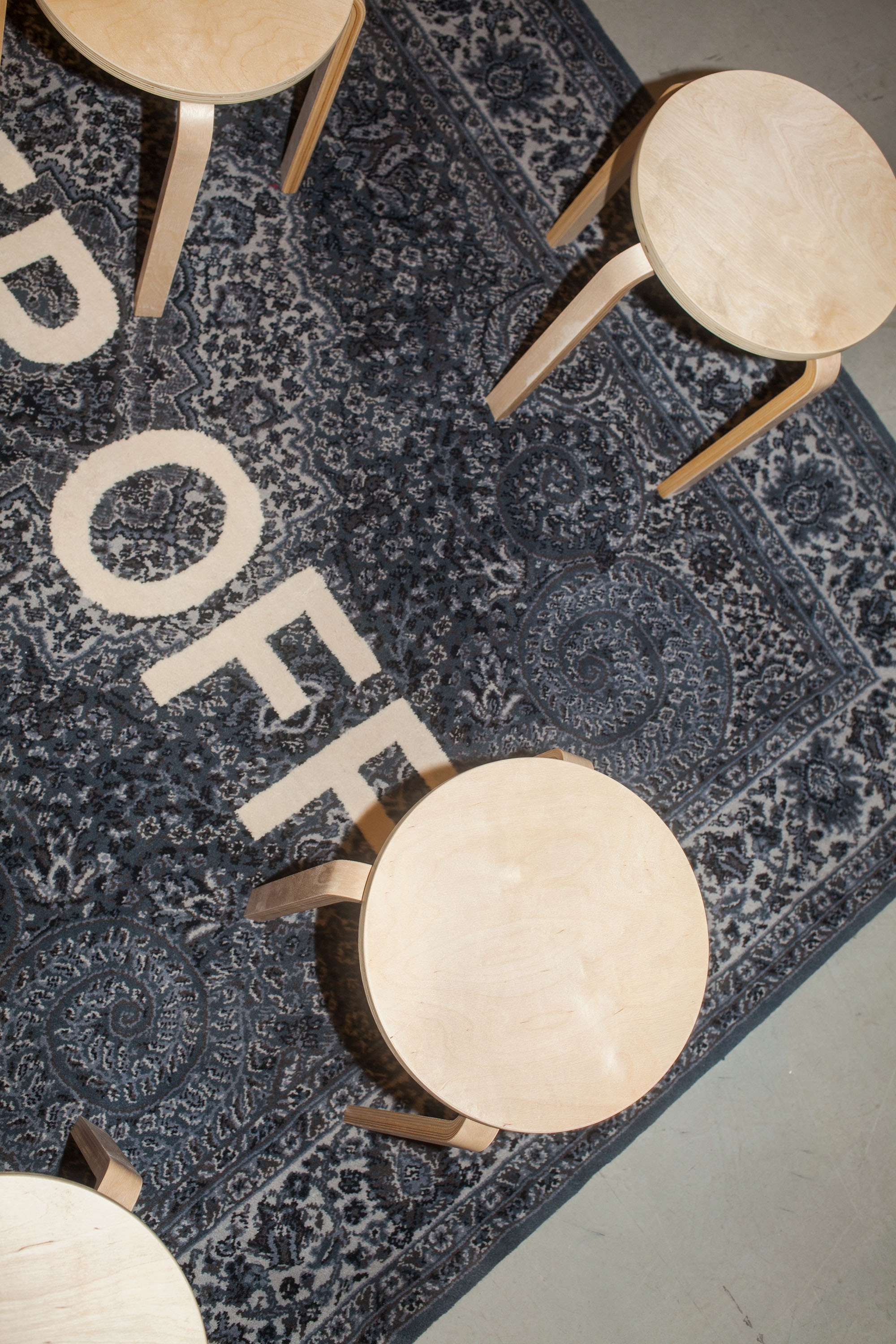 In 2017, fashion journalist Tim Blanks told System magazine, "I think it's much more about [Abloh] than anything he actually makes." Blanks isn't wrong. It's not uncommon to see fans commenting on Abloh's Instagram posts with accolades and pleas: "Virgil I'll work for free. I just want to learn and gain knowledge." The sentiment is indicative of the broader role Abloh plays in the industry: a crusader for the culture as much as an arbiter of taste. The point of this collection, then, seems to simply the new guard taking up space, with Abloh as our Duchampian leader. The designer's earnest desire is to give young people ownership over a narrative that has long been the purview of the white and well-to-do. Of course, Abloh has not started live-streaming behind the scenes at Louis Vuitton's ateliers. There are limits to what can be "interrupted." But maybe, in Virgil Abloh's world, not for long.