Claudia Comte, Cacti Park Photo Fstopmovies
Can an Underwater Desert Restore Jamaica's Ailing Coral?
Swiss artist Claudia Comte is betting on it.
Claudia Comte, Cacti Park Photo Fstopmovies
Dating back nearly seven hundred million years, the wildly varied and beautiful sea dweller known as coral has entranced—and confused—humankind. Ancient naturalist Pliny the Elder classed red coral as a plant. Some of his contemporaries tagged it as a mineral. Aristotle called it "neither quite one thing or another," between plant and animal. (It is, in fact, an animal.) Red coral earned a spot in the mythology of Ovid, who wrote that the blood of the Medusa, whose head Perseus set down on a beach, had stiffened the coral just as it turned men to stone. The Hindus called the crimson creature the blood of the demon King Bali.

But it may have been the Polynesians who were closest to the truth. Among the world's oldest species, coral are described in their lore as the first animal to arise from the primordial soup, giving rise even to the gods and to humankind. Indeed, it would be hard to overstate the importance of coral to the global ecosystem—or to exaggerate the threat it is under. As much as forty percent of the world's reefs may have died, including huge sections of the Great Barrier Reef. If the coral dies, so die the fish that live among it and provide the primary source of protein for hundreds of millions of people, possibly resulting in humanitarian crisis. The forecast isn't bright. UNESCO estimates that coral reefs may disappear by 2100 without drastic reductions in CO 2 emissions.
I recently strapped on scuba gear and visited one of the places where scientists are working to rejuvenate coral reefs, a fish sanctuary in Portland, on the northeast coast of Jamaica, established by the Alligator Head Foundation. There, the foundation TBA21-Academy has brought artists and scientists together in a residency at the conservancy, which it established in 2016 in conjunction with the University of the West Indies. I was there to visit three sculptures placed thirty-five feet under the sea by Swiss artist Claudia Comte, a TBA21-Academy artist in residency. Created in collaboration with the foundation's first-ever technology resident, Nathaniel Petre, the three-hundred-pound concrete sculptures take the shape of one of Comte's recurring motifs: the cactus.
Aquatic Cacti, a Habitat
"Obviously there is some irony in seeing a cactus on the sea floor," Comte told me. She pointed out that, inspired by a vision of widespread desertification, the irony isn't just humorous: "For me, they symbolize a future in which, rather than trees, the Earth is covered with cacti." Comte's cacti, though, will actually be host to a restorative project: coral cultivated at Alligator Head will be placed on these sculptures, whose concrete surface provides a hospitable and secure bed for the animal. Over the next two years, six more will be planted to form a sculpture park, complete with didactic panel.
The artist has been concerned with ecological issues ever since growing up in a chalet near the forest in Switzerland and observing its ecosystem at first hand, and has worked in naturally occurring materials like wood and marble as a result. "That's why I polish my wooden sculptures like a maniac!" she said. "That way, you can reveal the life inside the wood."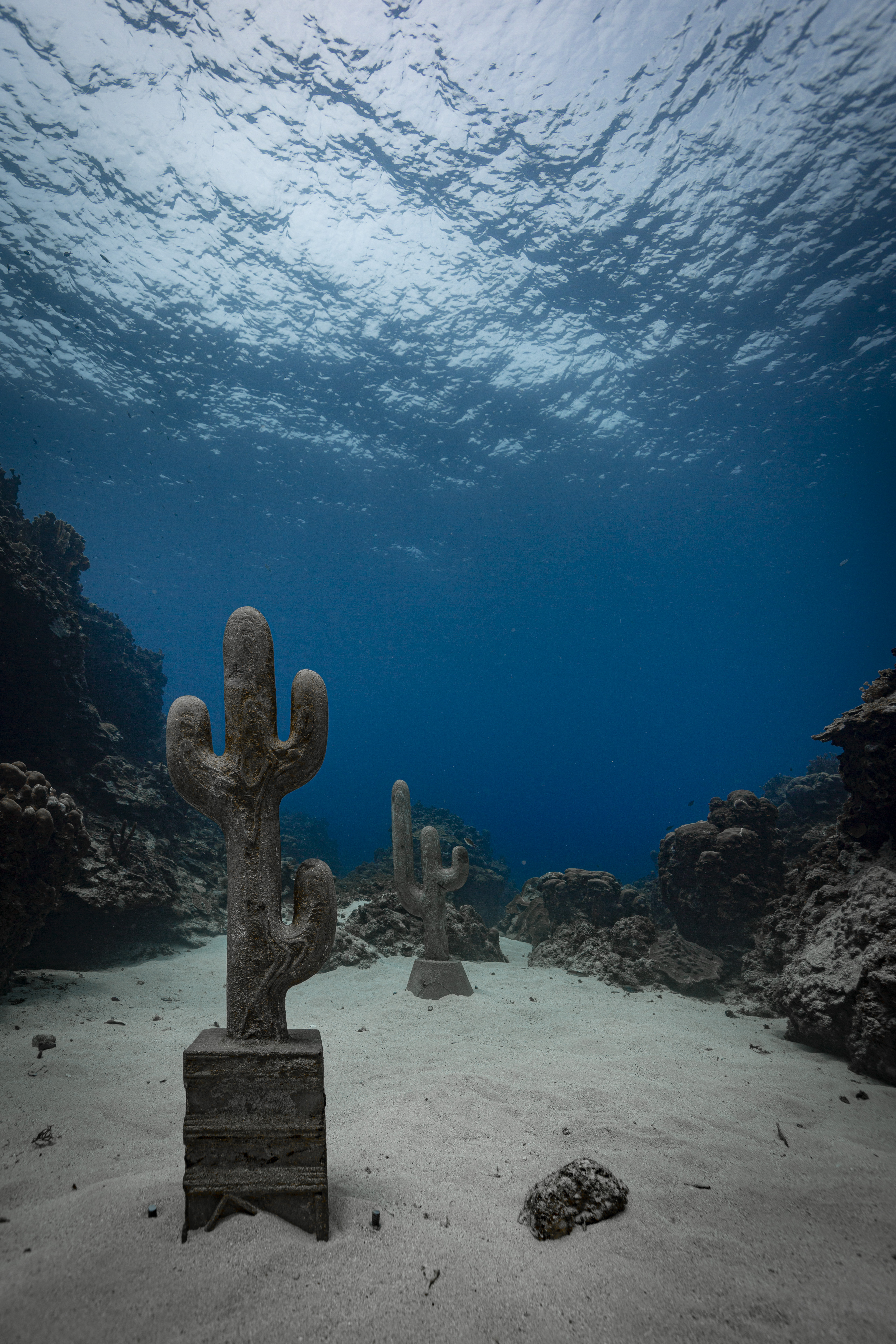 Since studying art in Switzerland, Comte has notched solo exhibitions at institutions including the Contemporary Art Museum St. Louis, the Museum of Contemporary Art Cleveland, and the Kunstmuseum Luzern, among others; her work has been featured in group shows at venues from Kunsthalle Basel to New York's Swiss Institute. Residencies have taken her to places like New Zealand, Yekaterinburg, Rome, and Johannesburg, and her work has earned a berth in museums like the Museum of Modern Art.
Despite her interest in natural materials and ecology, this is her first project that's quite so focused on ecological issues. "It's tricky," says the artist, who works in formats ranging from installation to wall painting and video. "I have had those concerns since I was a kid, but obviously it's not so easy to merge environmental concerns and producing artworks."
But her visits to Alligator Head showed her a way. "I was so impressed by learning about the incredible coral conservation the Alligator Head Foundation is doing. I first went there two years ago and I find it remarkable to see how much the ocean has changed." Indeed, the foundation boasts a four hundred percent increase in biomass and sixteen percent increase in species diversity.
"I didn't even know they were animals! I'm fascinated that though they're animals, they support all this biodiversity, like a tropical forest would do on land."
Near her sculptures is a nursery for coral, which Comte also loved. "It looks like clotheslines where the baby corals are able to grow. I like this idea that, for visitors, you don't dive just to enjoy yourself but also to learn something about the ocean." The dozens of local coral varieties caught the artist's eye. "It's the shapes that attracted me," she said, confessing that at first she was just as confused as Pliny the Elder. "I didn't even know they were animals! I'm fascinated that though they're animals, they support all this biodiversity, like a tropical forest would do on land."
Curator Neville Wakefield, who has included Comte in some of his exhibitions, happened to be in Jamaica at the same time as I was there. The sculptures are funny, he pointed out as we sat at the Blue Lagoon, a few minutes east of Alligator Head Foundation. Indeed, Comte's cacti are often undeniably jaunty, some with their limbs staggered, lending them a kind of contrapposto. Wakefield pointed out that the sculptures relate to forebears like sculptor Ken Price, who, like Comte, worked with funky shapes and was willing to go into territory often dismissed as craft—him with ceramics, her with carved wood. "It's almost like she's not afraid of the souvenir shop," Wakefield said.

A Family History of Art Patronage
The Thyssen-Bornemisza family's connection with art dates back more than a century, to when August Thyssen commissioned sculptures from Auguste Rodin after being taken by his works at the 1900 Exposition Universelle. Francesca Thyssen-Bornemisza built a collection of contemporary art and started the Thyssen-Bornemisza Art Contemporary Foundation in Vienna in 2002, and, in 2011, with Markus Reymann, established TBA21-Academy, which invites artists, scientists, policy-makers and other experts to conduct research during three-year fellowships organized by curators and artists that involve outings on the research vessel Dardanella. Heading up the current class of participants are curator Chus Martínez and artist collective SUPERFLEX. (Martínez is curating a show of sculptures Comte created onsite in Jamaica, at Madrid's Thyssen-Bornemisza Museum.) The organization has commissioned some of today's most prominent artists and architects, including David Adjaye, Olafur Eliasson and Joan Jonas, and has also assisted the Hawaii Senate in devising a strategy to implement the Paris Climate Accord after the US' withdrawal from the pact.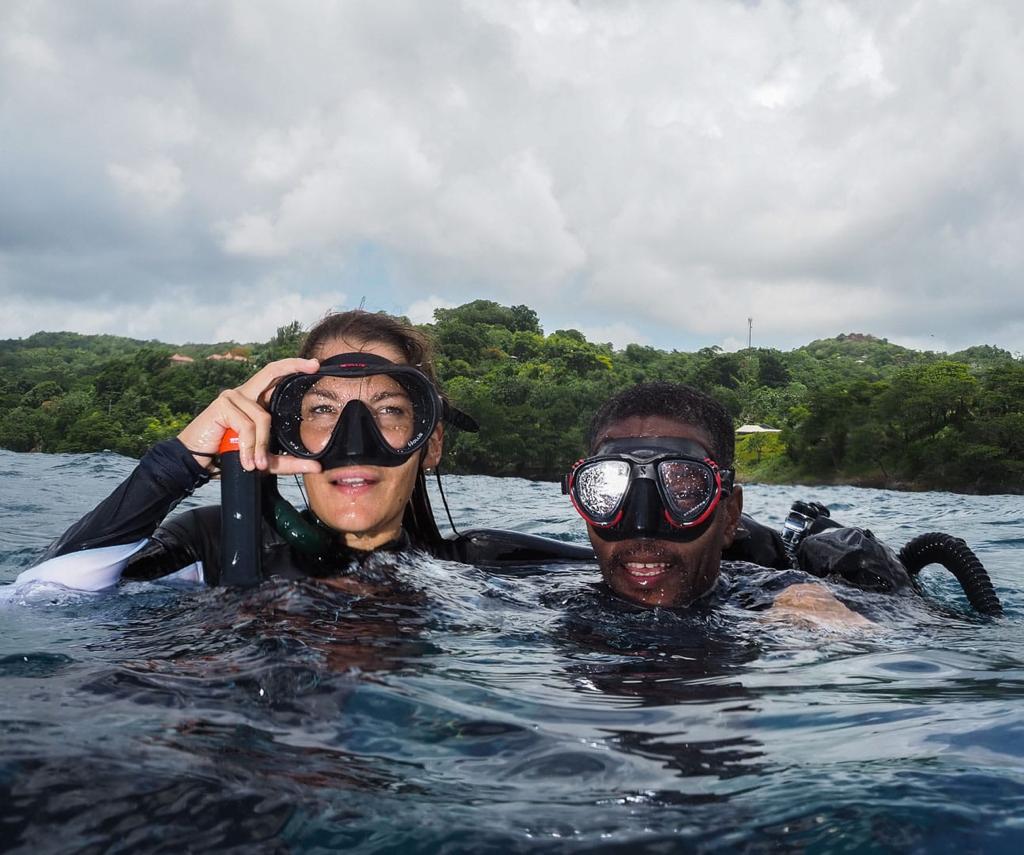 Several years back, the foundation invited Ruben Torres, a scientist who has led reef conservation projects and coral nurseries in the Dominican Republic, to see if Portland could support similar projects; he found that the conditions were perfect, and the Foundation set to work establishing the six-acre fish sanctuary where Comte's sculptures reside.
The foundation has worked with many artists who were accustomed to working in the field, and has invited a number of scientists who were previously largely "lab dwellers" to travel the world on the Dardanella, as Reymann, told me. "Let's get people outside of their comfort zones and see if we can start feeling together," he said over dinner the night I arrived. When Reymann was brought on, he proposed that the foundation carve out a niche as an institution that would research the ocean, which covers two-thirds of the world and of which only five percent has been explored.
Think Global, Act Local

Climate change is very real for Jamaica, and the island nation has started to develop a policy framework including climate-smart agriculture, clean energy, and land management, with USAID already involved. Local MP Anne-Marie Vaz told me that she's working to reduce the flow of pollutants into the sea, clean up beaches, and prioritize low-impact industries such as cultural and environmental tourism, while also limiting development to protect the Blue and John Crow Mountains, designated as a World Heritage Site.
The changes instituted by the foundation have required area farmers and fishermen to substantially change their lives, which hasn't been easy. "There was ninety percent resistance," said fisherman Andrew Lewis, who now works with the foundation as a warden, ensuring the safety of local plants and animals, and as a diver. "But once the fishermen learn that it can preserve the environment and provide new jobs, they get used to it. You can snorkel and see bigger fish now than before. The fish were getting low. I have seen the change firsthand."
The foundation's COO, Machel Donegan, an area native, made the case for the fish sanctuary among local fishermen by taking them to places where their peers have changed their practices successfully, such as Cabo Pulmo, in Mexico. "That trip was awesome," said fisherman Damion McIntosh, who now also works with the foundation. "I didn't know you could see so much fish in one area, and so large. We came back home with their advice and we're getting the result now."
McIntosh, too, acknowledged resistance from area fishermen. "They don't have a lot of areas to fish, and if the foundation takes six kilometers away from them, where are they going to fish? They don't have the equipment to go farther out. We still see some fishermen in the sanctuary but more of them are on board now."
"We acknowledge it's a sacrifice," Donegan told me, but if you can train fishermen as scuba divers, so they can accompany tourists on their dives, or as lifeguards for pleasure swimmers and boaters, they see that there can be new ways of living—if the area can draw travelers away from the large, all-inclusive resorts that are tourist magnets, that is.
There has been a distinct increase in tourism to the area, and Portland's relative remoteness is a blessing and a curse. The country is eye-poppingly gorgeous. It offers a pristine, undeveloped atmosphere, and it boasts a colorful history; Ian Fleming wrote his James Bond novels here, and movies including Dr. No and Live and Let Die were shot here, as were some scenes in the upcoming Bond flick, No Time to Die. Port Antonio's marina is named for Errol Flynn, a frequent visitor in his day.
When we swam a few feet over a coral head that stands atop a cliff scores of feet in height and I suddenly saw the drop-off, I felt as if I were flying. I even couldn't escape the sensation that I might drop into the yawning space beneath me.
On the curse side of the ledger, it's two and a half hours' drive from the airport in Kingston, and that's if you drive like the locals, who take narrow, winding roads leading through the mountains, with no lane markings and no shoulders, at knuckle-whitening speeds.
The Dive
I went on four dives with foundation staff, facilitated by Lee-Ann Rando, of local scuba company Lady G'Diver (groan, smile, shake head with appreciation). Accompanying us were Reymann; Denise Henry, a marine ecologist who is the Alligator Head Foundation's research program manager; and, shooting video, David Lee, a five-time record-setting diver who, in 2004, with no fins and no air tank, descended to two hundred and thirteen feet (at the Blue Lagoon, where I met with Wakefield). One of our dives was to spend time with Comte's sculptures; the other three were for viewing the coral and the fish populations.
This was just my third expedition. I mentioned that it would be my first time flopping backward over the side of the boat, rather than stepping forward into the drink; just before I fell back, the boat's captain, Trevor Douglas, joked that I was going in like a Navy Seal.
During the dives, we saw wrasse fish by the dozens, along with lobsters, crabs, a veritable rainbow of parrot fish, snapper, moray eels, a sea cucumber, and barracuda. Reymann shot and brought home several lionfish, an invasive species from the Pacific that has no natural predator in the Caribbean. They were enthusiastic about the number of fish they saw, and how few lionfish remain after concerted efforts. Though we didn't see them, there have been increased sightings of Loggerhead Turtles, Hawksbill Turtles, West Indian Manatees, and Longsnout Seahorses.
The topography of the ocean floor provides for riveting dives. When we swam a few feet over a coral head that stands atop a cliff scores of feet in height and I suddenly saw the drop-off, I felt as if I were flying. I even couldn't escape the sensation that I might drop into the yawning space beneath me.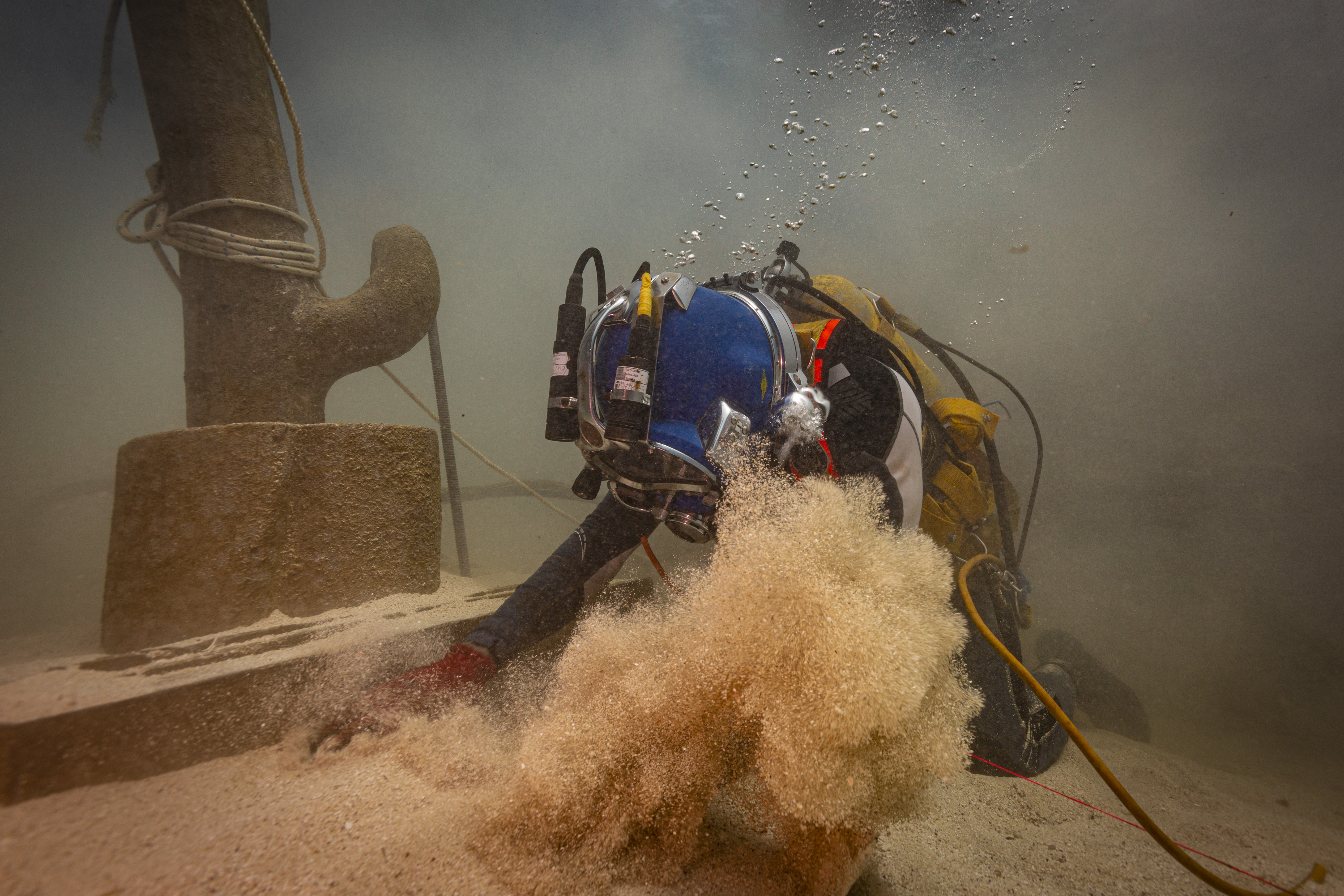 After we surfaced, Denise Henry filled me in on coral during a visit to the foundation's marine lab. She explained that the animal, which exists in forty-two species in the Caribbean, hosts a single-celled algae that aids in digesting nutrients from the water, giving it eighty percent of its food. When the coral is stressed by factors like warming water, it expels the plant like you shed a coat if you get too warm; but if the coral doesn't reabsorb the algae, it will die. The algae gives the various species of coral their distinctive colors, so when it disappears, the coral bleaches; some of these plants she brings back to the marine lab. To account for warming oceans, she can acclimate the coral to warmer water in the lab's tanks, where she showed me several pieces that are growing quickly on small pieces of ceramic tile.
Comte's sculptures, standing about six feet high, already seem at home on the ocean floor; two of them reside in a sandy alleyway between two coral heads, just wide enough for a diver to swim a circuit and view them in the round. They're slippery to the touch. They will offer a home to coral come November, when, after the summer's heat, the waters begin to cool.